A popular question asked by music lovers is, "Can you make your karaoke?" Of course, the answer is yes, and you can make your karaoke version. With the right karaoke maker, you can turn the music into Karaoke. Different people prefer using various tools to extract the karaoke version of songs; a popular example is Audacity software. However, this tool can sometimes prove difficult to apply.
That is why in this blog, we have come up with easier ways to make Karaoke online and for free. With our top 4 karaoke vocal removers, we will show you how to make a karaoke song online.
Part 1: The 3 smartest options: Online Free Karaoke Maker (Vocal Remover)
In your quest to find the most efficient free online vocal removers, you will find that not all tools can deliver as promised. That is why you need a guide to the best tools that have been proven to be powerful in converting music to Karaoke. You should try three alternatives to Audacity software; the top on the list is Media.io Online Vocal Remover.
Media.io Online Vocal Remover is a brand new online karaoke maker that turns songs into Karaoke in simple steps. The Artificial Intelligence (AI) technology embedded in this tool has been trained to understand music and extract acapella and karaoke versions of any audio sound you upload on the website.
The Online Vocal Remover comes with three different plans you can choose from. The aim is to serve users on all fronts. The free online program allows you to upload up to ten files of 100MB maximum for each file. If you register for free, the files you can upload are increased to 25. Finally, suppose you obtain the purchased version of the tool. In that case, you are guaranteed an unlimited number of audio files to upload for karaoke HD extraction, and the speed of separation is ten times faster than the free version.
Other impressive features of the tool include the following:
It extracts karaoke music onlyfor study sessions, meditations, and sleep.
It supports different music formats like MP3, OGG, WAV, and M4A. It also supports video file formats such as MOV, MP4, and MKV
It is super fast and easy to process as the karaoke extraction process takes only one automatic step to complete after you have uploaded the song to the site.
A high-quality karaoke maker gives you excellent audio quality for both karaoke versionand acapella.
The AI mechanism that has been embedded in the tool is very effective and reliable.
It includes a powerful music video editor with feature-rich editing capabilities.
To know how to get a Karaoke HD version from your songs on the Media.io Online Vocal Remover, follow these steps below:
Step 1: Add the Audio File
Select the "Choose Files" option to upload the audio file to Media.io Online Vocal Remover.
Step 2: Extract Karaoke from Music
Once you have uploaded the audio or video file to the provided field, it will automatically be processed to separate the Karaoke version from the vocals.
Step 3: Download the Karaoke Music Only
Preview the karaoke music and download it to your device storage. The final output you get is of top quality as the original audio file because Media.io Vocal Remover does not reduce the quality of your audio or video output. More so, the speed and efficiency are top-notch.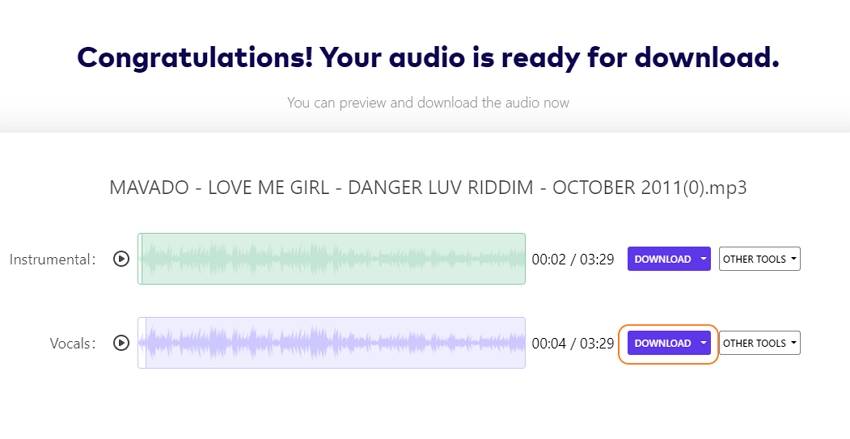 Two other Karaoke online free tools we recommend are PhonicMind and Vocal Remover Pro. Check out their functionalities below:
PhonicMind Vocal Remover is the next tool recommended for turning music into Karaoke. With PhonicMind, you can extract the instrumentals of a song such as bass guitar, drums, piano while also separating the vocals. The State of the Art AI technology embedded in this karaoke maker listens to the music, understands its pattern, and gives you the karaoke version, which you can enjoy at bars, weddings, birthdays, etc. If you enjoy creating song covers or mixing beats of different instruments, you can get that with PhonicMind Vocal Remover.
PhonicMind can be accessed online for quick and easy karaoke creation. However, if you do not want to extract Karaoke online, you can go to the app store to download it (for iPhone) or use Google Playstore to download it (for Android). In addition, the PhonicMind app allows you to change the music to Karaoke offline.
Note: You may not gain access to full features like other tools, and when it comes to using the tool online and for free, it is not a surprise that users find it difficult to save or download the extracted karaoke version file.
Vocal Remover Pro Online is a free karaoke music maker that you can instantly extract Karaoke from songs online. It is different from the app version of the tool, which requires space and takes time to get running. So, to convert your music to Karaoke urgently, the online version of Vocal Remover Pro is ideal for you.
Vocal Remover Pro Online supports different file formats such as OGG, MP3, AC3, and M4A. If you upload a file in any of these formats, the tool will generate the karaoke music version for you to enjoy during meditation, study, sleep, or entertainment.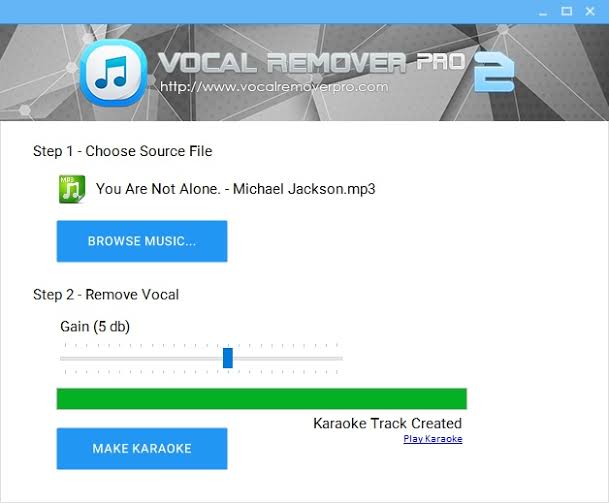 Note: The online version of Vocal Remover Pro has lapses in speed and quality compared to the app version. Thus, you need to download the Pro app to enjoy its total efficiency, and for people in a hurry to extract karaoke uploads from songs, this will prove not very encouraging.
Part 2: You may also wonder - How do you make Karaoke in Audacity?
You may wonder why we recommend Audacity vocal remover to you even after mentioning that it could be challenging to use. The truth is, it is still a powerful karaoke music maker, and many people still prefer it for its professionalism in delivering its promise even after all this time. More so, for others, the manual process of extracting Karaoke from songs is still entertaining.
Audacity is a free digital audio editor that allows you to record and process audio of all types and formats. It has a vocal remover feature that you will find helpful in creating Audacity karaoke. This open-source tool helps you add effects like trimming, normalization, fading in and out on your songs and podcasts.
Audacity is compatible with operating systems like Windows, Linux, and macOS/OS X.
Now, here is the guideline on how to make Karaoke in Audacity:
Step 1: Download and install Audacity Vocal Remover suitable for your device or operating system. Next, click "File" and open it to get access to your audio files. Finally, choose the song you wish to convert to Karaoke.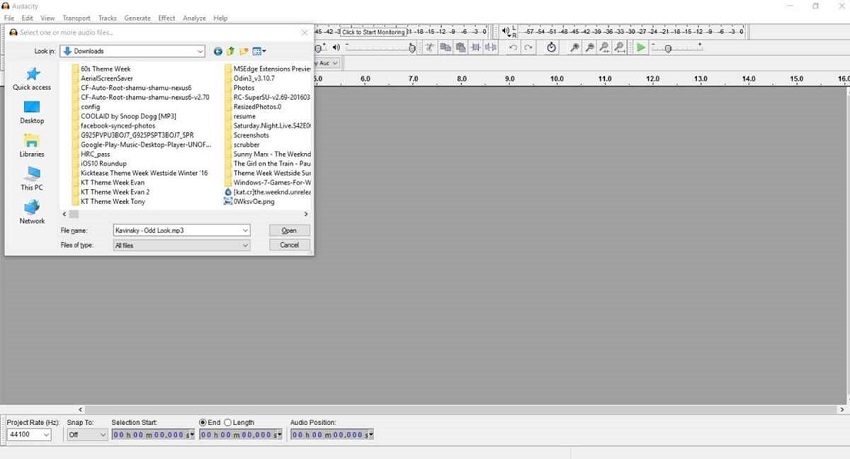 Step 2: After the track has been uploaded to the software, click on the track's drop-down menu. Click "Split Stereo Track". The music is now divided into the right and left channels.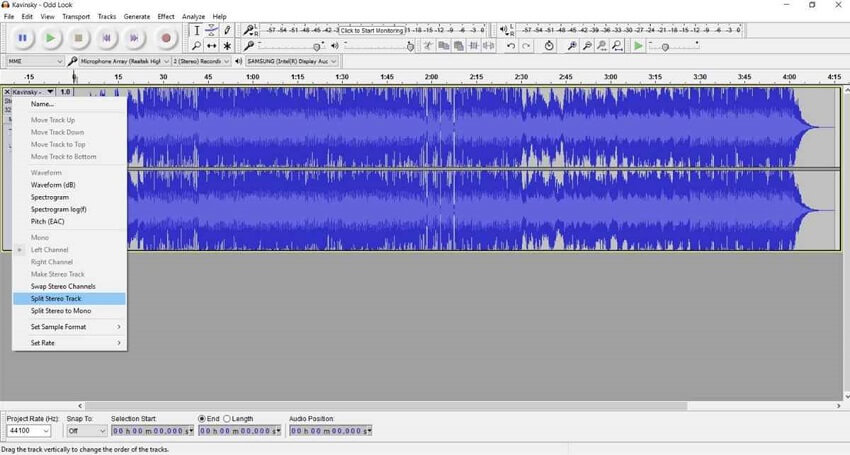 Step 3: Select the bottom channel and choose the "Effect" option. Next, click "Invert" a button on the menu bar.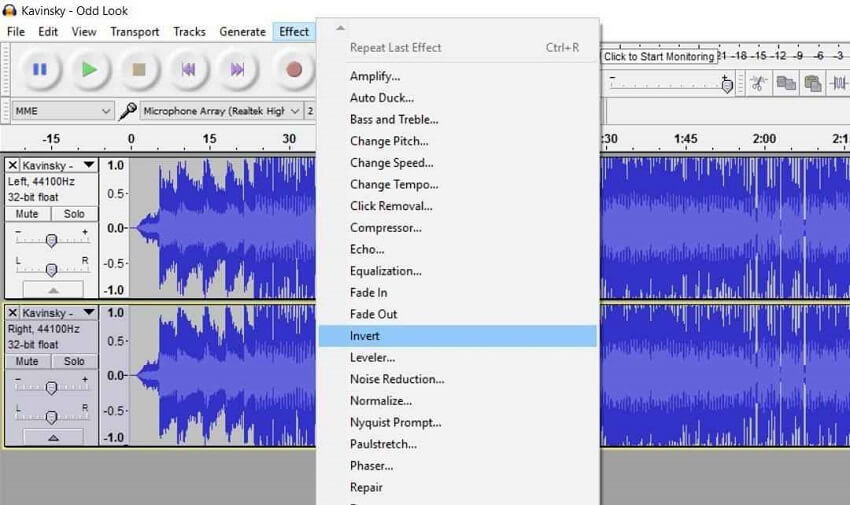 Step 4: For each of the tracks, you are going to set as "Mono". This option can be found under the drop-down button.
Now that you are done, save the track under the "File" button.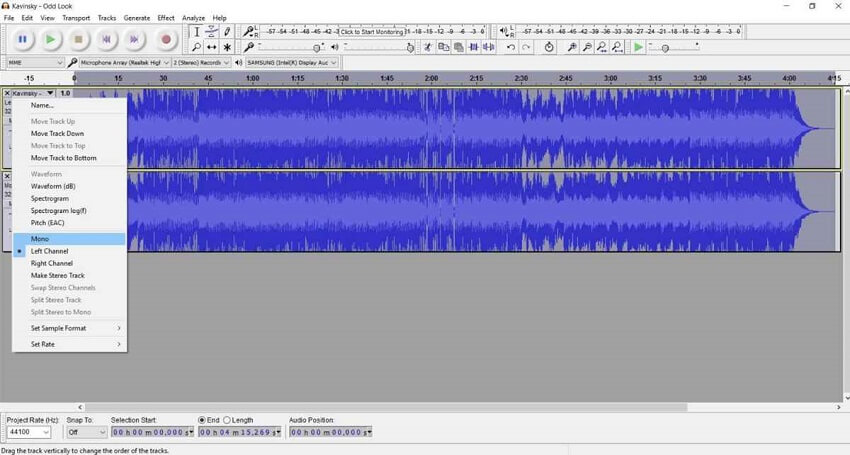 Note: You can click on "Amplify" under the "Effect" button to adjust or increase the negative level value of the extracted music. That will help improve the volume of the instrumentals or the acapella to suit your taste.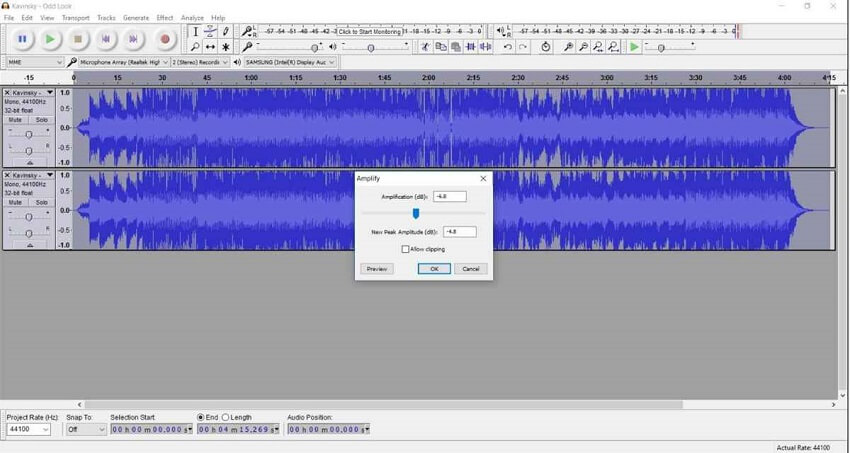 Part 3: FAQs regarding making Karaoke
1. Is making Karaoke illegal?
First off, almost all popular songs have been copyrighted by their owners. Hence you cannot legally play the music in public without the owner's permission. However, it can be considered "fair use" if you use the karaoke version of the song for non-commercial, private, or educational use, or even as a parody song cover. Thus, you do not need to get a license in such cases. However, you should seek legal advice based on your country's laws to know what is permissible as fair use and what isn't.
2. Which is the best Karaoke maker?
This blog has given you the four best karaoke makers you can get online, including Media.io Online Vocal Remover, PhonicMind Vocal Remover, Vocal Remover Pro Online tool, and Audacity Karaoke Maker. You can use any of these tools or even use them interchangeably. However, if simplicity in extracting Karaoke from songs is what you want, then Media.io Online Vocal Remover would be more ideal for you.
Conclusion
Now you can see that it is easy to make Karaoke HD from your favorite songs; you should get on it! The best Karaoke music makers have been provided for you, and you will find that they are easy to navigate. With tools like Media.io, extracting free karaoke instrumentals has never been easier. Now you can enjoy your relaxation sessions, meditation, sleep, study, bar hangout, and so on.