Coming up with podcast name ideas can be more challenging than you thought. Always remember things like the target audience, simplicity, SEO, and more. In other words, a podcast title can determine if your potential audience will click the "play" button or skip the show altogether. So, if you've scratched all hair off your head trying to come up with the perfect podcast name idea, this is the right post. Here, I'll furnish you with many podcast name suggestions to use for free. We'll also know how to create a unique podcast name and video quickly and easily. Let's learn!
Part 1. Good Podcast Names for Inspiration
Without wasting time, below are some podcast name categories with some real examples. Just make a pick!
-- Funny Podcast Name Ideas
According to researchers, humorous content garners higher remembrance rates than non-humorous content, although they are still unsure how this happens. If that's anything to go by, then you should make your podcast title a little funny to attract attention. Here are some suggestions:
Project Comedy
Gossip Girls
A Certain Pleasure
Single Decision Maker
Independently Comedy
Laughing Squad
Comedy Tidbits
Verbal Dissertations
Business in China
Best Sister Ever
Big League Boys
Savage Sports
Butt Dial
Athletes Podcast
Coaches Corner
Pod Squad
-- Cool Podcast Name Ideas
What is a cool podcast name? These are podcast names that use wordplay. Simply put, you intermix words creatively to make a short and memorable podcast name. You still don't get it? Here are some examples:
Pod in Cast
Pod for Dummies
Studio Blogging
Savage Crew
Mixtape Channel
Baking a Murder
Podcastlife
Between Innings
Football Daddy
Daily Wrestling
Studio Sop
Sideline Sports
Deluxe Dream
Single Synopsis
Digital Dish
Bad News Podcast
-- Creative Podcast Name Ideas
When thinking about a podcast name for your podcasting business, it's vital to be creative. For example, include the character's name in the podcast name to hint at what the content is about. Also, creative podcast names integrate nicely on social media platforms like Twitter, Facebook, and Instagram.
Professional Dads
Catch Me, Sir
Deep Dives
Prank Podcast
Escape Boys
Million League Athletes
The Entertaining Questions
Grand Slam Episodes
Daily Dish
The Witches
ZED Talks
Dark Diaries
Off The Clock Podcast
Chitchat Chatroom
Lifetime Leisure
Entertainment 101
The Sports Review
-- Clever Podcast Name Ideas
Clever podcast names use a unique blend of comedy and wordplay to deliver an irresistible podcast name. A clever podcast name should also be easy to remember without compromising quality.
Stoner Podcast
Exciting Event
Morning Muse
To The Galaxy
Popular Preview
Laughing Skull
Wide Open Plays
The World Today
Happy huddle
The Self-Love Fix
The Digital 411
The Gold Rush
Talk Show Podcast
Sensible Pod
Prolific Podcast
The Black Arts
Record Audible
The Splendid
Parenting Pod
-- Cute Podcast Name Ideas
Using a cute podcast name can be attractive, especially to the female gender. So, if your audience love watching cute pets or girls, below are some cute name ideas to ponder:
Girl on Guy
Ladies Who Launch
Friends Like Us
Black Girl Nerds
Dear Sugar Radio
The Kid Chatroom
Broadcast Bros
Dare Girl
Drop Hints, Sis!
Internet Explorer
Grammar Girl
The Tiny Cat
Ask Nicely
-- Unique Podcast Name Ideas
Being unique is one of the essential practices when creating a podcast name. Always use a unique podcast name to avoid copyright lawsuits and competition from similar podcasts. And the title should be memorable as well.
The Mpeg
1st Vlog Practice
Reply All
Steak for Breakfast
Deluxe Dream
Stream Podcast
Energy Podcast
Creative Cast
Favorite Hits Rewind
Trash Talk
The Downlow Download
We Heard Him Say
Who's My Mommy
BlogShow
The End
The Quality
Part 2. How to Create Your Own Podcast Name
Up to this point, you know some podcast name ideas to use. But don't worry if your niche doesn't appear on this guidepost or you don't find something that matches your video. We understand that there are hundreds of podcast categories. For this reason, we recommend choosing a podcast name generator in our 8 Best Free Podcast Name Generators article.
These online podcast name generators use Artificial Intelligence to generate thousands of original name and domain suggestions. In fact, you don't need to create an account to create a podcast name. Just enter the podcast content description or keyword category, and you'll get the name suggestions.
Meanwhile, use Media.io to edit and create captivating podcast videos online on your PC. It's an AI-powered all-in-one program with essential tools like a screen recorder, audio recorder, and webcam recorder. You can even record your podcast video with a picture-in-picture overlay, making it perfect for vloggers and YouTubers.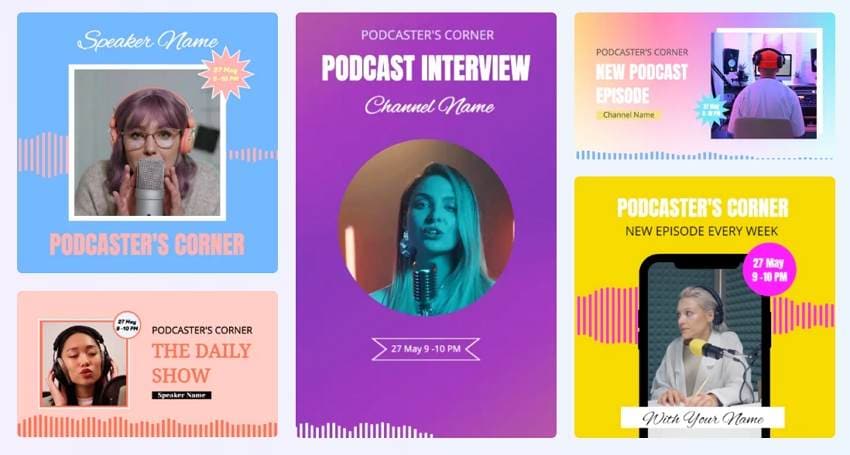 After capturing the HD podcast video or audio, Media.io allows you to customize it by adding texts and subtitles. You can use the speech-to-text converter to apply auto-subtitles in 100+ languages. In addition, you can edit the texts or download them in .txt or .srt files. And yes, Media.io lets you convert text to speech with fantastic accuracy.
Other vital tools to make your podcast workflow a breeze include the video trimmer, cropper, splitter, and merger. You can also add background audio, image overlays, stickers, emojis, and more. Then, after editing your video appropriately, Media.io lets you choose the output aspect ratio before exporting without any watermarks. You can create a podcast video for Snapchat, Facebook, Twitter, Instagram, YouTube, Pinterest, etc.