The present era is the age of video innovation and technology. Regarding both professional and personal, most people prefer video formats. Because it is an easy way to deliver your thoughts, the video format will help you to have a good presentation that will make it easier to understand.
Thus, In today's article, we will help you change the video's background. Whether you are using your computer or mobile, we will guide you properly on changing a video background and making it more attractive. You can give an aesthetic look to your video by just using one trick to change the background on the video.
Part 1: Useful Tips For Changing A Video Background
Every person desires to make a perfect video. It can be thoroughly related to your personal life or your business. For example, A man is running a cake shop. He usually makes videos on cooking tutorials. He will try his best to maintain his camera in the perfect place, Capturing all views. But as we all know, he can't be lucky all the time. Some interruptions can be the reason for his video not being a perfect one. 
In this case, He will need to edit to change the video background. This cannot only happen to a cake shop owner, But also to a teacher who's teaching in a video, a makeup artist who's giving tutorials, and a traveler who is making a vlog. We will provide you with some basic and useful tricks that can help you to make your video as perfect as you want it to be.
Use a large number of lights.
It would be best if you used plenty of light while making the video because it will help you to arrange A better setup and result of the video. Good lighting makes your video authentic and appealing even if you change the video background on mobile. That is why producers arrange several lights and set them at a particular angle while recording.
Background regarding content
The background should be related to the content of your video. For example, if you are discussing nature in your video. Then the background must come up with any natural scenery instead of a library or cinema background. This type will help you make your radio look authentic, even if you change the video background. These are little tips, but they are handy for making your video look perfect.
Simple editing skills
While editing your video, make sure to keep it simple. There should be less use of tools to make it look artificial. It is better to arrange the necessary material while recording, so you don't have to do so much editing. While editing the video, Make sure to use the tools to look natural and original.
Sustainability of object and Camera
Avoid shaking the object from which you are recording because it can disturb the smoothness of the changed background.
For example, if your head is shaking or your body is moving every next second, then the changed background will be disturbed and look artificial. Likewise, it is also essential to set your camera at the right angle and place.
Make a video with a proper plan
Before editing, they should be recorded with proper planning. Before making the video, you must know which background you will use later. You can also make minor attempts for the background to look natural while recording and what other necessary things you require for your video. Besides, you should be aware of the editing tools you will use to make your video look authentic.
Among all the websites and software to help users in changing the background of the video, Media.io is one of the most famous and widely used applications. It provides the best platform or site To change the video background into the desired one.
Part 2: How to change a video background with Media.io
Media.io is the best website to change video backgrounds because it offers free features that give your video a professional look. This website comes up with splendid tools and techniques to change the background of videos. It is a fantastic website that allows you to edit your video and Change the video background With different templates and your desirable picture. As a result, you will get a high-quality video with an appealing and stunning background. 
Steps To Change Video Background With Media.io 
The following steps will provide you with the whole process of changing the background On the video.
Step 1

Upload Video On Media.io.

First, you must open Media.io vd BG remover and click upload video .Then, it will be led to a page where you can upload your video from storage. You can change the video background on mobile. After the selection of the video, you have to wait until it's loading to get entirely up to 100%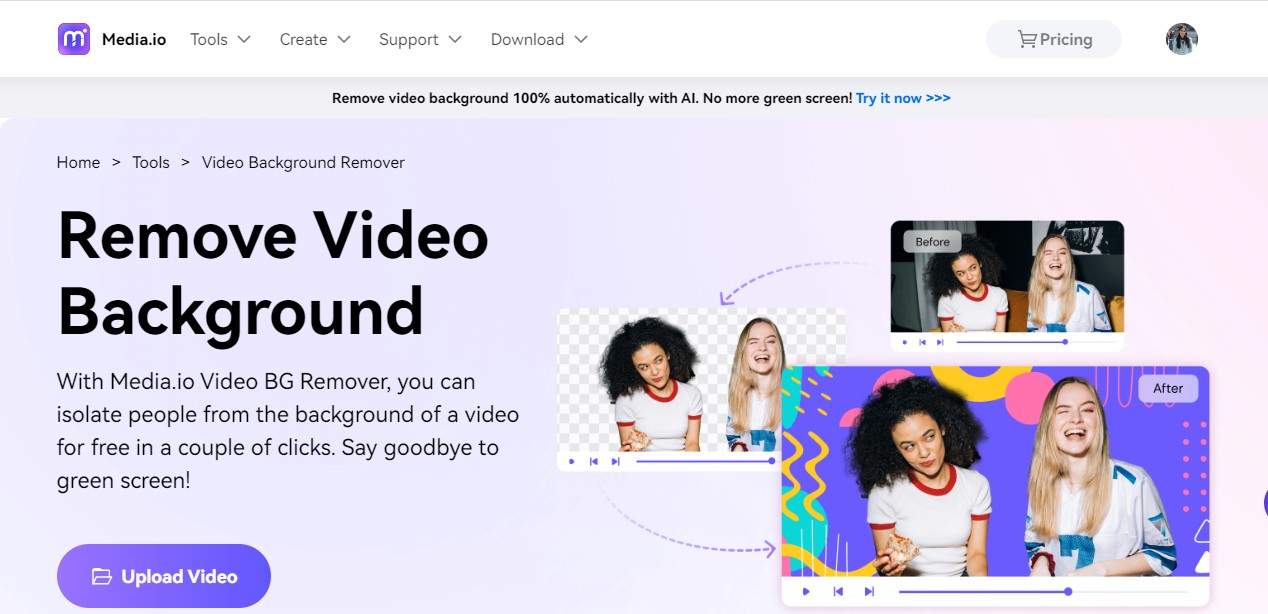 Step 2

Change Background On Media.io.

In this step, you will learn how to change the background; once your will is uploaded completely, the background will be removed automatically. Next, there will be some textures, colors, and gradients for you to change the video background on your laptop. Also, you can use any desirable background from your files that you already planned as our new background for the video.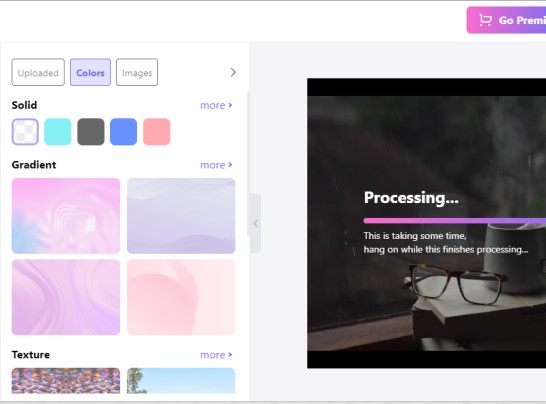 Step 3

Export File.

In the next step, you have to select the best background for the content of the video. The background change on the video should look related to your video content. Once you think you are done with all the editing, you are ready to save your file. Media.io allows you to export your edited video for free so that you can share it on social media or download it easily in your file.

Click Download>full video> download while downloading, you can select the video format and file name to find your file in the folder easily.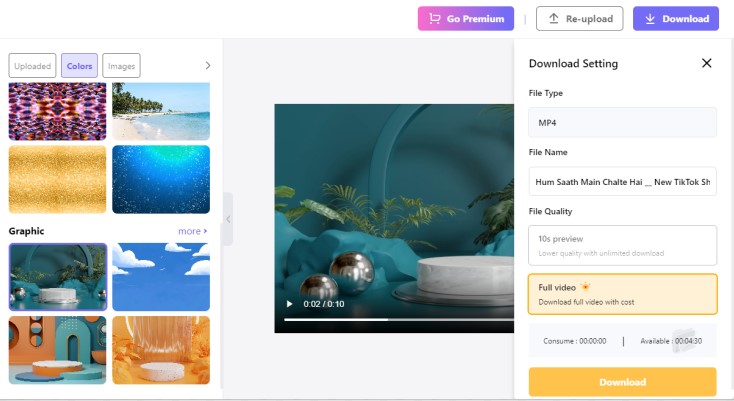 Change Background With Green Screen
Media.io helps you in changing the background of the video. A green screen is considered one of the best ways to remove the background on a video, and it is a way to change the background so that there will be complete accuracy and an original look even with the changed background. Hence, we will go through the steps with which you can change the video background with a green screen.
Step 1

Record Video With Green Background.

Make the video with a Green background, So the recorded background will be green. Or you can turn the background green either after recording or before recording. The green background is considered necessary when editing the background or changing the background on the video. Filmmakers usually arrange the green background during recording to change the video background on the laptop later. Thus, it is suggested to use a green background while recording.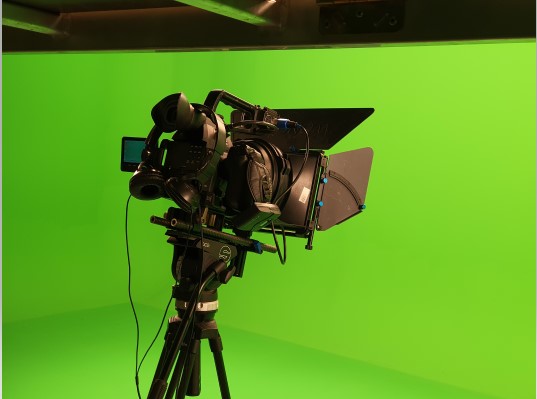 Step 2

Upload File On Media.io BG Remover.

Open Media.io vd BG remover on your browser. Once you open the website, an option is there that accesses you to upload your particular file to change the background on the video. As it is mentioned in the given picture, click upload files now .From here, the removal process will begin; you need to upload your file to edit your video. While editing on Media.io, you will realize that it is the only website that provides you with splendid features for free, along with an HD-quality downloading option.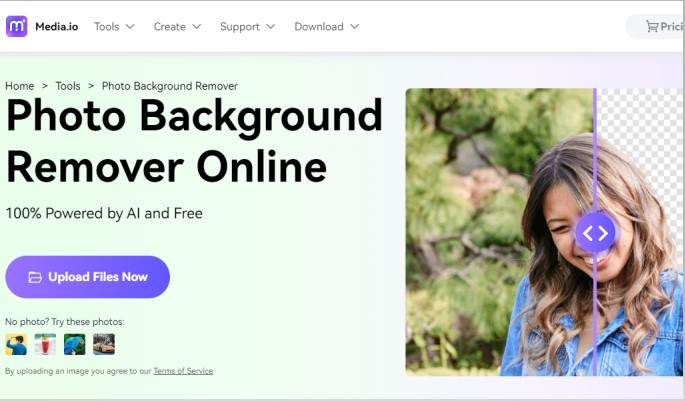 Step 3

Removal And Changing Of Background.

After uploading your video, wait for a few seconds until the file is complete, and change the video background on the laptop. The background will automatically remove, and you can change the background according to your desires. The green screen background will be removed, as shown in the picture below.

Step 4

Export Or Share The File.

After finishing touch and when you feel yourself doing all the necessary editing, you can export the file or share it on your social media. To download the video, click Download mentioned in the up-right corner, as seen in the given picture. After downloading the edited video, you will be satisfied with the best quality of the video.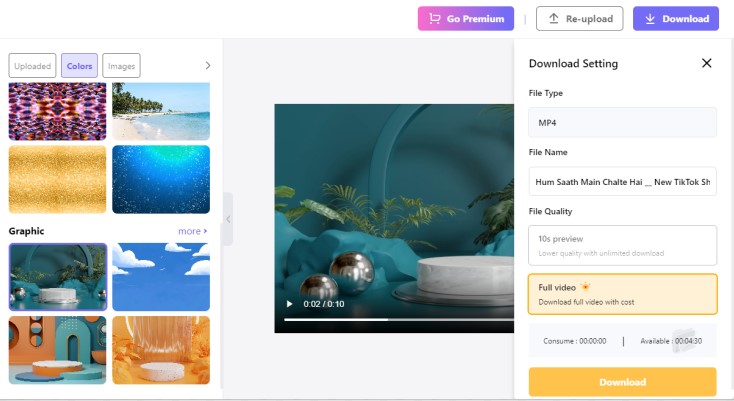 Change Background Without Green Screen
With Media.io, users can also change the video background without using a green screen. There is no restriction for people to record the video without a green background for better results. This website can also provide splendid results even without a green screen. Media.io comes with unique features that can help you to achieve satisfying results. The following steps will help you change the video's background without a green screen.
Step 1

Record Video With Any Background.

In the first step, you must make a video with any background. In this process, you don't have to record a video with a green background. Media.io provides you with the features to directly change video backgrounds.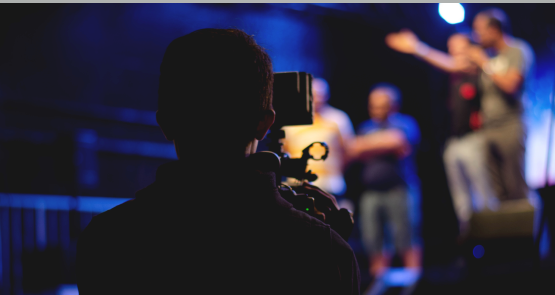 Step 2

Visit Media.io Website On Browser.

In the next step, visit the Media.io website to make the edits to your videos. Here you will find the option of removing the background. To proceed with the background change on the video, click Remove background now .After, you need to choose the video that you want to edit.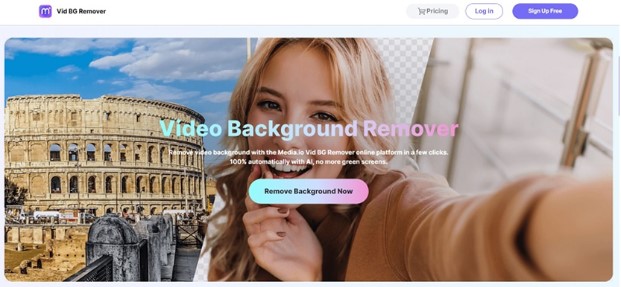 Step 3

Remove The Background Of the Video.

The background of the video will be automatically removed after uploading the file. Thus, you can also remove the background on a video without any green screen. Media.io avails their user of this fantastic tool to edit the background, and there will be the same smoothness and flexibility.

Step 4

Change Background And Download.

In the third step, you can download your stunning video with the great background that you have selected for your video. It can be done by selecting the image from the folder as a background or selecting it from the texture. Once done, the user can download the video while right-clicking Download.

Part 3: How To Edit A Video Background Make Tt Authentic?
Media.io is a website with several features to facilitate its users. People can enjoy all the tools and use opportunities to make their videos look professional. While editing a video, it is imperative to remember that every video needs the best editing to make it look authentic and original. Especially for commercial videos, it is imperative to appeal to people's attention.
Using Templates On Video Background
Media.io has a fantastic feature for adding templates to your video. These templates are used in editing commercial or professional videos to present the content in an attractive and appealing way to the viewers. Also, Media.io will help you to select the best template for your content.
Add Text On the Background
Users can add text or a link to their website at the bottom or upper side of the video. Different formats are available for text; you can use any that will look perfect on your video background and texture. Click "Text>select" and write what you want to on your video.
Transitions of Video
Use the transition feature at the video's beginning and end to make it look more authentic and appealing. The best transition in a decent way can attract the viewers and make them admire the editor for his editing skills. Thus, It will help you to make your background look attractive.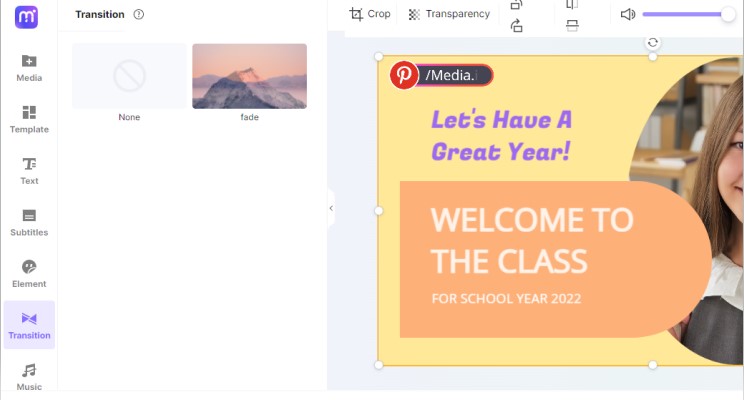 Subtitles
Media.io offers subtitle options during the video editing process. This feature is impressive and helps many people understand what it is saying inside a video. Most of all, it is beneficial, especially for those who want to watch a video in a foreign language. Thus, with this feature, you can facilitate people to understand well.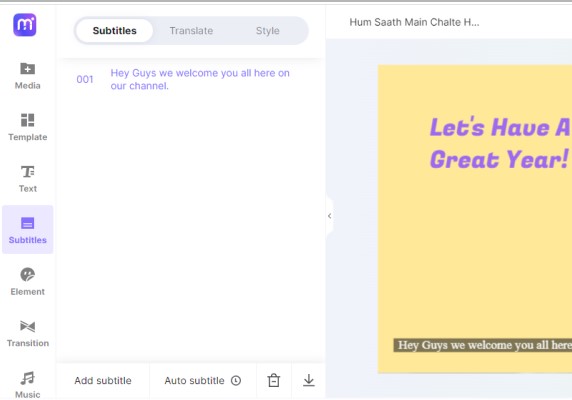 FAQs:
1.
Is A Green Screen Important To Change Video Background?
According to professional editors, a green screen must be used to change the video background. Besides, most websites and apps only support green screen background to change into a new background because it is easier and better.
But, Media.io is living in an advanced world that offers you to change video backgrounds smoothly even without a green screen. Thus, it is better and suggested to use a green screen while recording, but you can also make edits without it.
2.
How To Change Video Background Without Green Screen?
You require a tool if you want to change the video background without a green screen. Media.io is considered one of the best websites used by many professional users to edit their videos without a green screen free of cost.
Media.io told people that background change on video could be possible without a green screen in the free version, and the results would be as good as with a green screen. Hence, changing the video background without a green screen on Media.io is possible.