Remove Video Background
With Media.io Video BG Remover, you can isolate people from the background of a video for free in a couple of clicks. Say goodbye to green screen!
*Similar tool: AI BG Remover for Images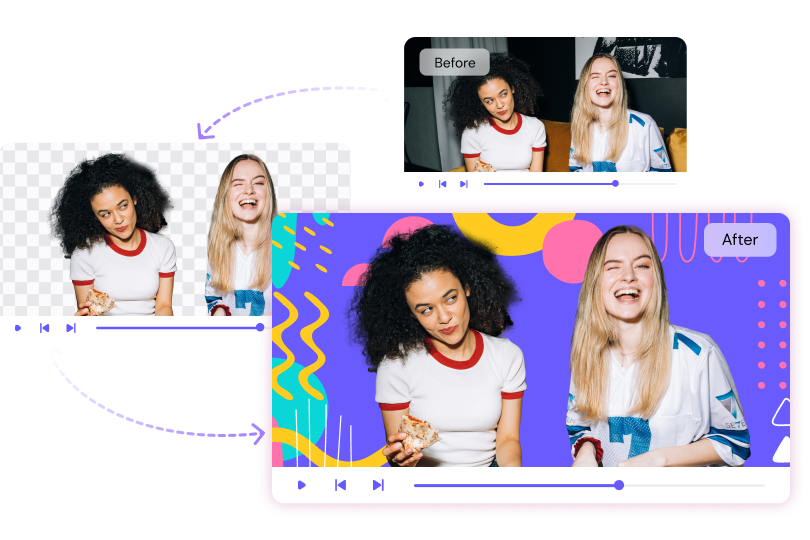 How to Remove Video Background Online
without Green Screen?
1. Upload Video
Upload a video from your local drive. You may need a video converter or video compressor before uploading your file.
2. Automatically Remove
Wait for Media.io AI technology to remove the background from your video automatically.
3. Download Video
Instantly download the video without losing quality.
*Bonus: Level up your video with AI enhancement.
What Can a Video Background Removal
Do for You?
Your viewer gets a first impression of your video from its background. Even before they hear a word from you or the subject of the video, it's one of the initial things your viewers will notice. It's crucial to make an impression on them. With the help of a video backdrop remover, you can swap out these obtrusive aspects for ones that emphasize your point. You can employ filters and visual effects to give your subject the ideal setting. We would be looking at Media.io as a proper video background remover. Now, let's dig in!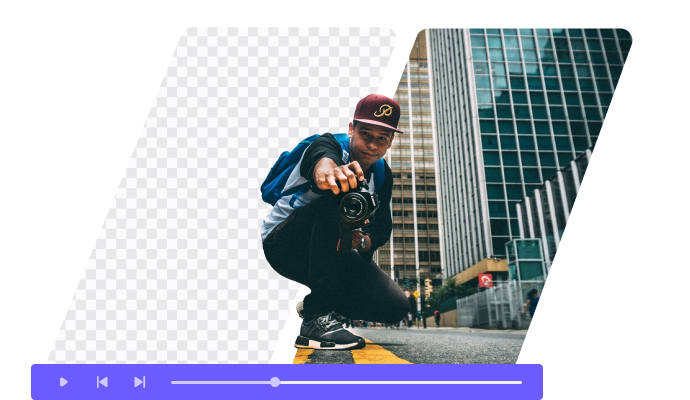 Say Goodbye to Green Screen
It used to be complex to create a background-free video using techniques like chroma-keying and green screens. However, some starters may find the green screen technique is not easy as they thought. Thanks to Media.io Video BG Remover, a newbie can easily change the video background, while a professional video creator can speed up the editing process.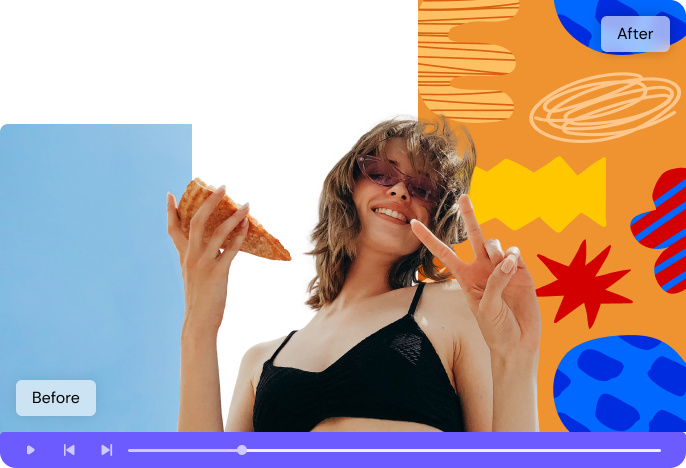 Remove and Change Video Background to Create Stunning Videos
You may end up recording the video against a background that looks chaotic. And yes, the first thing that comes to your mind is to open Adobe Premiere Pro and select "Green Screen." Hang on! The latest AI technology is able to remove and change your noisy video background and give it an appealing look in a minute.
Remove Video Background, Recreate, and Get Inspired




Add Reactions to Gaming Videos
Record your gaming videos and recreate them with better visuals and graphics, an excellent add-on feature for gaming enthusiasts. Change the gaming background for your online gaming videos, record and upload them on social media to garner maximum views. Add reactions, effects, and texts using the one-click option of the change background feature of Media.io Video BG Remover.
Make Stunning Presentations for Teachers
Media.io Video BG Remover can help teachers create in-person presentations for classes, how-to movies, informational webinar videos, remote internet training, and educational videos, among other things. A one-stop shop for teachers and students alike that simultaneously upgrades your videos to the next level by adding striking background visuals and high-quality audio.
Travel Vloggers Say Bye to Green Screen
Remove any video background to a more appealing one with just one click, making it ideal for social networking, graphic designers, sellers, and more. Travel vloggers can have an excellent time sharing better and updated videos with added effects to their travel video backgrounds—no green screen is required to change the environment.
Create Actions Movies Easier Than You Think
Media.io is the best tool to create action movies quickly and efficiently. Just upload your video and switch to change the background section. The best part is that you need not use a green screen to edit or revise the background. The new and updated technology of Media.io can make you a star director.
Why Choose Media.io to Remove Video Background?
Browser-Based
Media.io is an excellent web-based tool, and there is no need to download software or apps.
Stunning Results
Remove video background in just a click without losing quality.
AI-Powered,100% Automatically
Powered by AI technology, all you have to do is wait for the AI to do the work for you.
No Ads, No Spam
Trusted by over 100 million users worldwide, Media.io is a 100% safe website.
More Than Just a Video Background Remover Online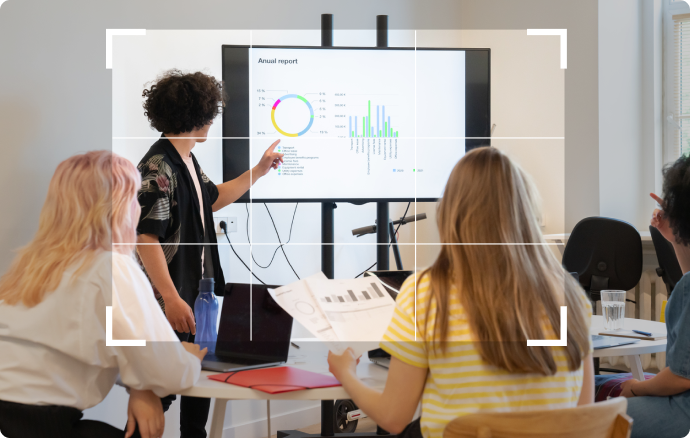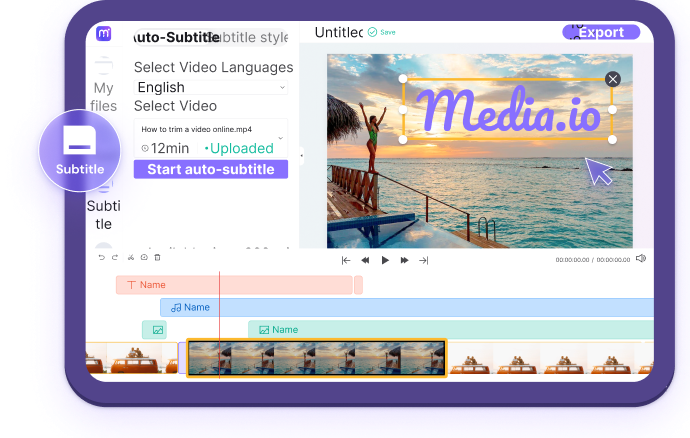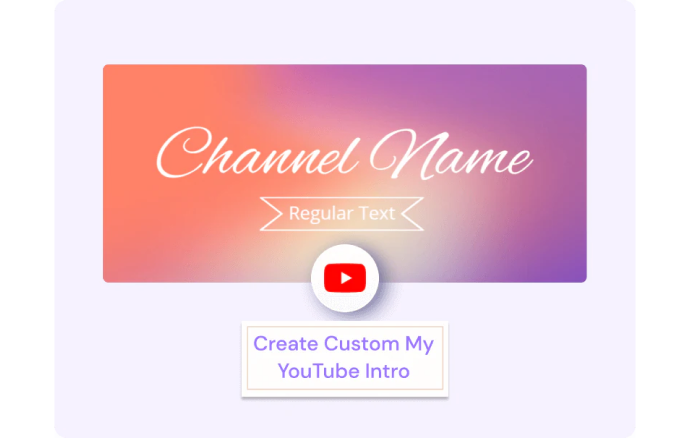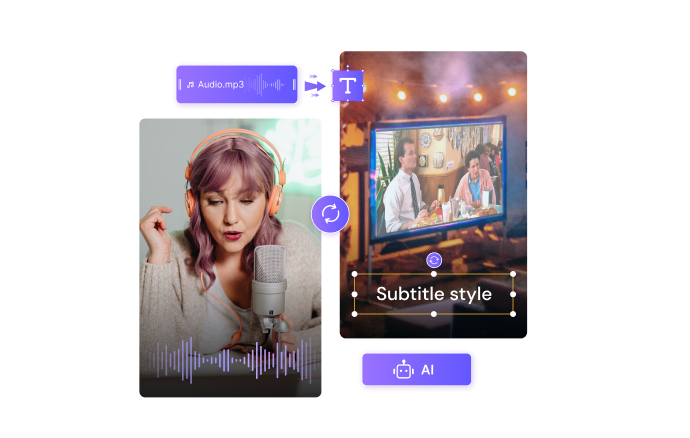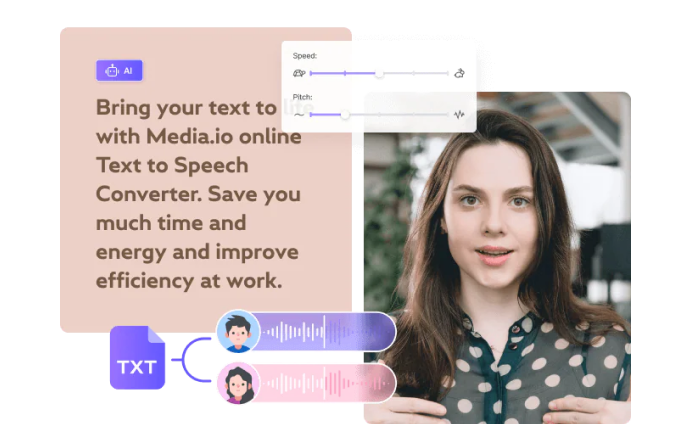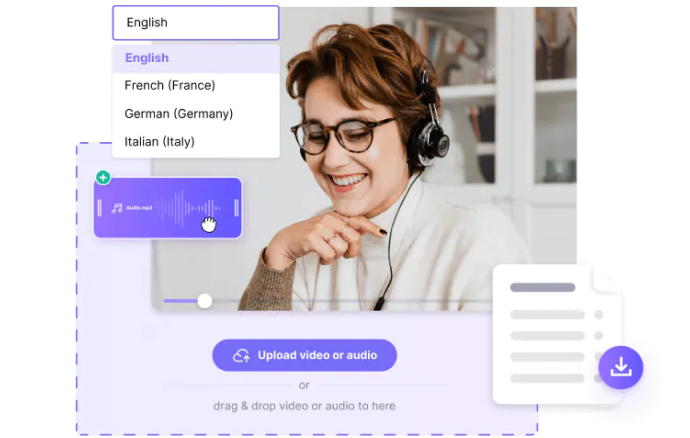 FAQs about Removing Video Background
Which app is best for removing the background of the video?

There are quite a lot of apps suitable for removing the background. Here are a few of them:

Media.io Video BG Remover

With the Media.io background remover, you can easily remove the unappealing background from your photos and videos. An easy-to-use program called a media.io background eraser gives customers eye-catching and lovely background images for their social media networks.

PowerDirector – Best Overall

Our best recommendation for background removal in video editing software is PowerDirector. Chroma key, green screen, masking, mixing, sky replacement, and overlays are just a few effects and tools in this multi-award-winning, AI-powered video editor.

Hitfilm Express – Best for Amateur Filmmakers

To remove the background from videos quickly, amateur filmmakers should use Hitfilm Express, a video editing program. The free edition includes:

A green-screen tool.

A color difference key.

A hue/RGB slider for quick backdrop removal.

VSDC Video Editor

With special functions, including background removal, video file merging, cut, zoom, effects, audio, and many more, VSDC is a video editing program that can edit movies and presentations. The tool has a multi-color chroma key to make your film look polished.

Adobe Premiere Pro

Leading film, television, and online companies frequently use Adobe Premiere Pro, a leading video editing program. Adobe makes it easier to transform ordinary footage into beautifully produced and polished videos and films. Create a new sequence in Premiere Pro, drag the background into the series, and position it beneath the green screen film.

Can I change the background of an existing video?

Yes, you can change the background of an existing video easily with media.io.

How do I remove the background without losing quality?

Follow these step guides:
Step 1: Go to the Media.io Video BG Remover website.
Step 2: Upload the file you want to have the background removed.
Step 3: Remove the backdrop using the background removal tool.
Step 4: Download to your device and export.

Is there a free background remover app?

Of course, there are a lot of free background removal apps, and they include:

Media.io Video BG Remover

With Media.io's background remover, you can easily remove the unwelcome background from your photos and videos. An easy-to-use program called a media.io background eraser gives customers eye-catching and lovely background images for their social media networks.

Apowersoft Background Eraser

Apowersoft Background Eraser is one of the top-most well-known apps that is simple to use and user-friendly. You only need to upload a photo to receive a rapid, accurate cutout. This app is the best choice if accuracy is essential to you.

Ultimate Background Eraser

With the help of the Ultimate Background Eraser, you can easily remove the background from any image you want. You can go as near the environment as you can using a variety of modes. This background remover for Android also allows you to save the image in JPG or PNG format, just like any other photo editing program.

Picture Cutout

An approved program from the Tint Guide website is Picture Cutout. You can get rid of the computer's image background using this app. The Windows operating system is compatible with this software.

Fotomix

With the help of the free software Fotomix, you may quickly and easily remove the background from images. This software is compatible with Windows PC without any problems. The application is entirely free and is accessible to all Windows OS users.

Which is the easiest way to remove the background?

You can follow this simple step guide to remove the background from a video.

Step 1: Upload Video file

Drag and drop your photo or tap the Upload video option.

Step 2. Remove automatically

The background of your video will be automatically removed by Media.io AI technology.

Step 3: Download the modified video

With just one click, you will instantly obtain a transparent background.

How can I change my video background without a green screen?

Follow these simple steps:

Step 1: Upload Video file

Step 2: Change the background of the video

Step 3: Download the edited video file
I'm looking for a simple yet powerful video background remover. No green screen, no timeline, and video editing experience are needed. Now, I meet it, Media.io!
Karen
As a YouTuber, especially a gaming YouTuber, this kind of video background remover is so important! Media.io Video BG Remover does help a lot!
Judy
Yay!! Very cool! If you are considering this app, I highly recommend it!
Titus F.
I have been using the Media.io online video editor for some time. Now, this online video background remover gives me more efficiency in video editing.
Clair
Remove & Change Video Background to Make It Unique
Remove video background 100% automatically with AI and no more green screen is needed!
Remove Video Background Now