Sometimes you take photos, and they just come out to be too dark. It's sometimes unavoidable when shooting in low light or high contrast. The good news is that there are a bunch of excellent online photo editing tools that simplify brightening dark images.
This guide will introduce you to those online tools. All of them are very easy to use, but one stands out by giving you the perfect photo in just a single click. Check out this article to learn the best ways to lighten that dark snapshot you've taken.
Top 4 Online Photo Brightening Tools Picked For You
Lighten dark photos online and make them more attractive with the top 4 photo brightening tools chosen for you.
Automatically and without any effort, Auto Color Correct by Media.io will help you achieve better digital photography and video editing results. Auto Color Correct in Media.io makes fixing the color and contrast of photos taken in low light an easy task, and the results are stunning.
How to Brighten Photos Using Media.io Auto Color Correct
Here are the simple steps on how to use Media.io Auto Color Correct for brightening your photos online.
Step 1
Launch the AI photo color-corrector application from Media.io in your browser. Click the Upload Image/Upload Video button to import your files. You can also drag and drop your image files directly into the program.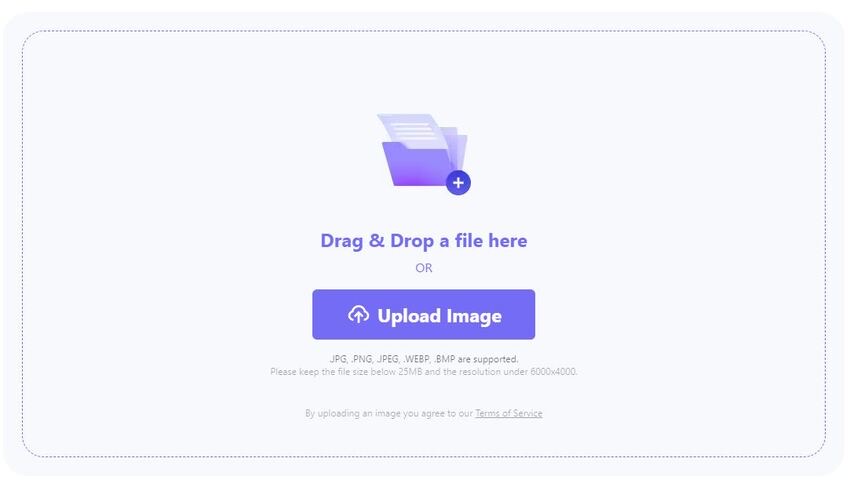 Step 2
Once the photo has been successfully uploaded, then Media.io Auto Color Correct will automatically correct the colors in your image by tweaking its exposure, contrast, saturation, etc., to perfection.
Step 3
Click the "Compare" icon in the upper left corner of the screen to compare the original and edited image. Then click the Download button to save your file successfully.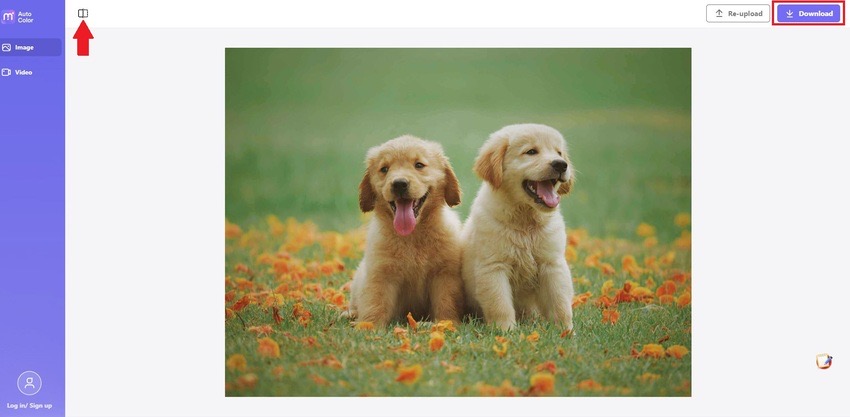 Fotor - Flexible Photo Online Editor
You won't be able to see the finer details in your image if it's too dark and underexposed. With Fotor's free online tool, you can instantly lighten dark or underexposed photos. Fotor is an HDR photo editor that instantly enhances your pictures, bringing out the finest of your designs and detailing.
How To Lighten Photos Using Fotor
Below are the three easy steps on how you can brighten images using Fotor.
Step 1
Launch Fotor on your browser, then click the Open Image button to upload your file.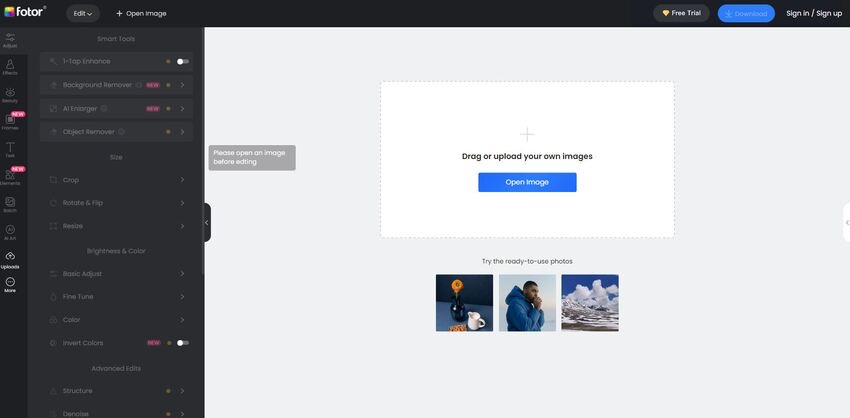 Step 2
Navigate to the left of the screen and click the Basic Adjust button to see the Brightness tool. Drag its slider to the right to increase your photo's brightness level.
Tip: You can also adjust your picture's Contrast and Saturation level and Sharpen it according to your liking.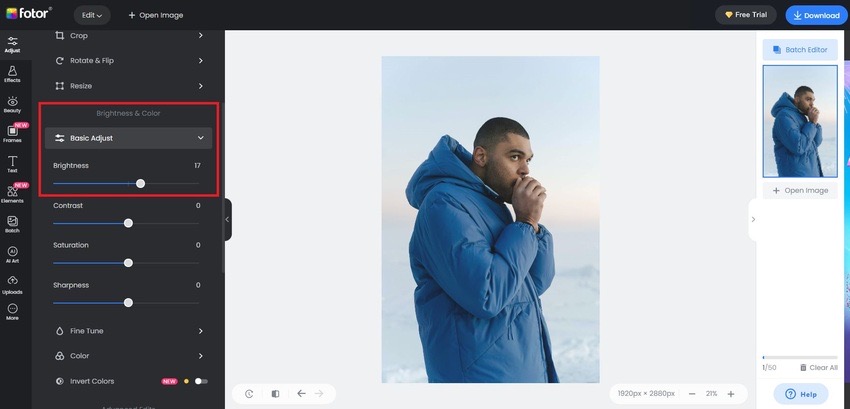 Step 3
Simply click the Download button found on the screen's top right corner to save your file.
Pixelied - Free Photo Editing Toolkit Online
The possibilities for making and altering images with Pixelied's extensive set of tools are practically limitless. Ensure that the colors and tones are as warm and vibrant as possible. This photo editing tool helps you consistently stand out from the crowd.
How to Use Pixelied in Brightening Your Images
Adjust your photo's lighting to emphasize certain areas. Check out the steps on how to achieve this below:
Step 1
Open Pixelied on your browser, upload an image in PNG or JPG format, or drag and drop it into the editor.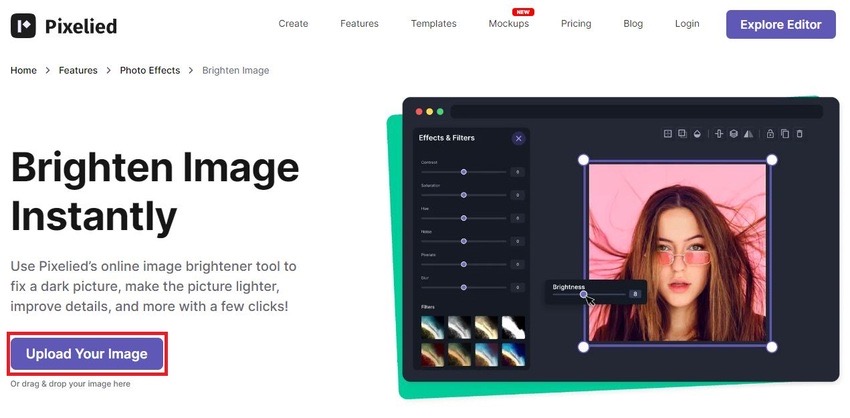 Step 2
You will find the Brightness function under the Basic Adjustment tool found on the left side of the screen. Drag its slider to the right to increase your photo's brightness level.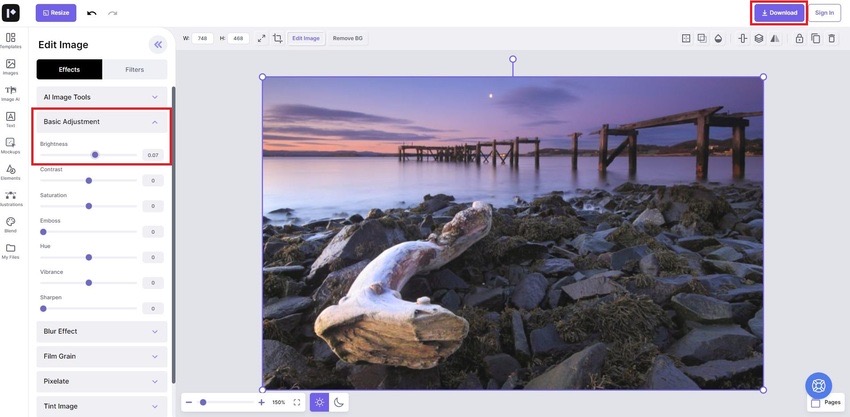 Step 3
Once done, simply click the Download button on the top right corner of your screen.
Luminar Neo - One-Click Image Brightening Solution
Luminar Neo is an all-inclusive solution with a full raw photo editing workflow. It can be used as stand-alone software or as a plugin for Photoshop, Lightroom Classic, or Apple Photos to integrate it into your existing workflow. It has everything you need to make colors that pop. Tools like RelightAI can intelligently brighten any part of your image with one slider.
How to Use Luminar NEO to Lighten Your Images
Control every aspect of light in your photo using Luminar Neo. Read the steps on how to do it below:
Step 1
Launch Luminar Neo on your browser, then import your image.
Step 2
Under Tools on the right side of the screen, go to Adjustments, then drag the Exposure slider to the right to increase the brightness level of your photo.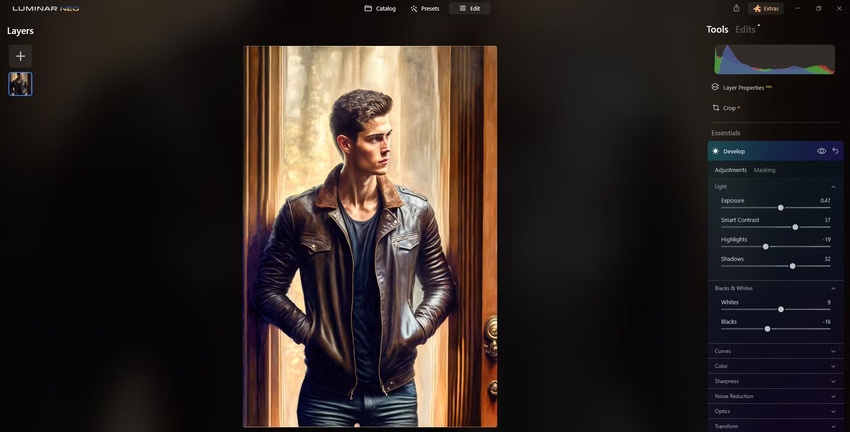 Step 3: Save your file once you're done.
Comparison of the 4 Online Tools
A detailed table comparing their pricing, pros, and cons is provided below to give you a better insight into the online image-brightening tools introduced above.
Online Tool

Pricing

Why It Was Picked

Limitations

Media.io Auto Color Correct

100% Free Photo Editing Tool
· Automatically balances colors and removes color casts for clarity and vitality
· Amazingly natural results
· 100% free online color-correction tool
· Works with photos and videos
· Supports JPG, PNG, MOV, MP4, etc
· Since it's an AI-powered tool that automatically corrects color, users can't change specific settings such as exposure, saturation, etc.

Fotor

Fotor Pro


· USD 8.99 per month
· USD 39.99 Billed Annually


Fotor Pro+


· USD 19.99 per month
· USD 89.99 Billed Annually
· Simple to use
· The extensive feature set, even at the free level
· Loaded with basic and advanced photo editing tools
· The app can sometimes lag.
· More advanced features can be difficult to learn.
· The final resolution of a collage can be low.

 




Pixelied




 

Pixelied Pro


· USD 4.9/month
· USD 59 Billed Annually


Pixelied Pro+


· USD 8.25/month
· USD 99 Billed Annually
· Layouts are relatively simple to create
· Offers limited features in its free version
· Its graphic design tool is very intuitive
· Some small bugs need to be ironed out
· The Background removal tool can sometimes fail
· No settings to fine-tune results

Luminar Neo

Luminar Neo Explore


· USD 8.25/month
· USD 99 Billed Annually


Luminar Neo Pro


· USD 9.92/month
· USD 119 Billed Annually


Luminar Neo Lifetime


· USD 149


Luminar Neo Lifetime

with Extension Pack


· USD 299
· Fun and easy to use
· User-friendly interface
· Powered with AI
· It handles tasks that Adobe Lightroom can't
· Lack of a fully functioning UNDO feature
· The program can be slow to respond sometimes
· Plans can be a bit expensive
· Exporting multiple images can be slow at times
Frequently Asked Questions
Here are answers to some of the most common inquiries about lightening dark images.
How Do You Edit Dark Pictures?
With the following simple editing tips for dark and moody photos, you can make your images pop and create stunning imagery easily. These tips include correcting your image's exposure, creating contrast, adding textures, paying close attention to your picture's local adjustments, and laying low on the vignette feature.
How To Brighten the Background of a Photo Online?
Get a convenient photo editing software like Media.io Auto Color Correct. By using it, you can quickly perfect your picture in an instant. Launch the program in your web browser and upload your image. Its AI feature will automatically correct your image's color flaws, such as its background being too dark.
Which Else Software Can Brighten Photos?
Adobe Photoshop has the tools you need to lighten a picture instantly. Use its image brightener tool to adjust and customize the appearance of your image. However, Adobe Photoshop demands many PC system requirements, and its subscription plan can be costly for others. As an alternative, you can use Media.io Auto Color Correct instead. It's a totally free program that works seamlessly on a web browser.