Voice Maker
Automatically convert text to lifelike voices online in seconds.
Greatly simplify a sound generation process.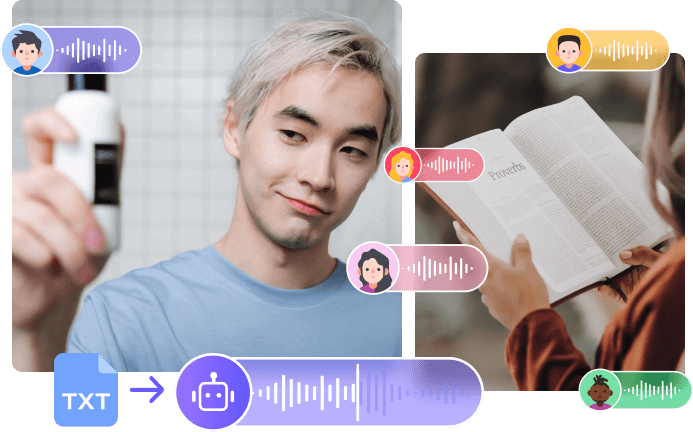 Robust AI Voice Generator
A voice maker is basically a program that lets you read out texts loudly. In other words, it converts text to speech. This can be helpful when creating voiceovers for a video or song lyrics. Or, you may want to convert short notes to audio and play it whenever you want to revise your coursework. You can also use it to read out your written text to spot any punctuation errors, etc.

Having said that, Media.io easily generate synthetic male or female voice online. It uses advanced AI and deep learning to accurately scan and convert text to human-like sound. Media.io AI voice generator supports various languages, including English, Spanish, Japanese, Korean, French, German and more. It empowers you to customize the audio playback speed and pitch. Plus, you can download the auto-generated audio in MP3 or add it to the timeline and use as a video voiceover. And, it's free. Give it a try today.
How to Create Audio from Text?
Open Media.io AI Voice Maker, and then type or paste the text you want to convert on the space provided. (You can convert up to 1500 characters at a time.)

Step 2. Select Language, Voice, Pitch and Speed.

Pick a voice gender, language, like English, French, Danish, Spanish, or more. Then, adjust the audio playback speed, voice, and pitch to perfection. Once set, click Generate and wait for a while.

Step 3. Download Your Generated Voice File

You'll see a "Successful" pop-up once the conversion process is complete. Now click Download to save the audio as MP3 or tap Add to Timeline to add the audio to a video. There you go!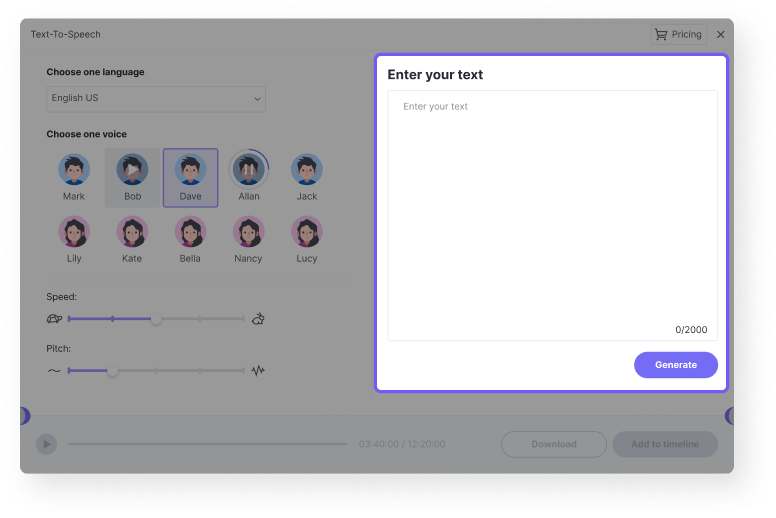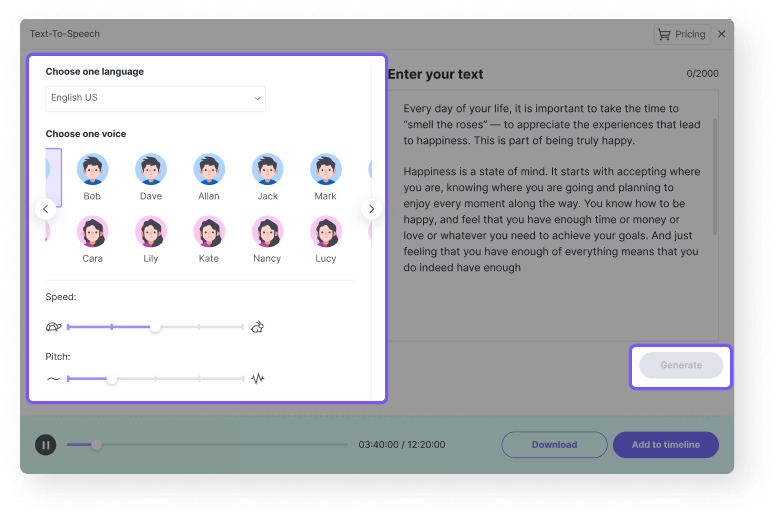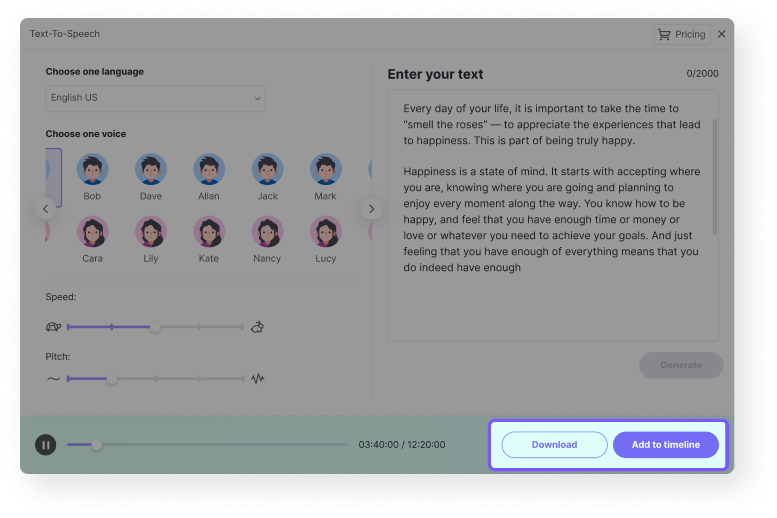 Limited Time Offer From KwiCut - Register For Exclusive Perks
√ Unlimited AI Transcribe, Clone, Overdub, and Voice Enhancement

√ Unlimited GPT-4.0 Accessibility to Create Talking Head Videos

√ Unlimited Cloud Storage and Export Without Watermark
Media.io - Your Best Bet for Voice Creation
Stylish & Intuitive UI
Media.io boasts a stylish and intuitive user interface that doesn't require any prior skills to use. Fire up the AI voice maker, enter the text, and convert text to audio.
AI Studio-quality Voice
Media.io employs the latest AI to produce studio-quality audio from texts. You can't hardly distinguish it from real human voice actor. Effortlessly gain high-quality MP3 voice for your other use.
40+ Voices [Keep Growing]
Currently, the voice library provides you with hundreds of exciting voice types in multiple languages. You can preset a male or female voice that you prefer.
Voice Recorder Integrated
Media.io comes baked with a online voice recorder to record and create your own voices before converting to text or exporting as MP3. It's compatible with any external microphone or headphone.
Flexible Audio Controls
Before making voice from text, Media.io lets you customize the output language, playback speed, and pitch. After that, you can trim, cut, split, change volume, and add crossfade effects and add the modified audio to a video.
Sync Voice to Video
Media.io features a multitrack timeline where you can easily sync the generated voiceover to video. You can even apply auto-subtitles to the video.
Generate Quality Voices for Your Need
Convert Text to Podcast Audio for a Broader Audience
Easily transform your writing podcasts or motivational quotes to emotional voice for a broader audience. Most people would gladly download a podcast in audio format instead of a text document. The thing is that audio is more engaging and easier to understand than text. And without forgetting the millions of podcast fans with visual impairments.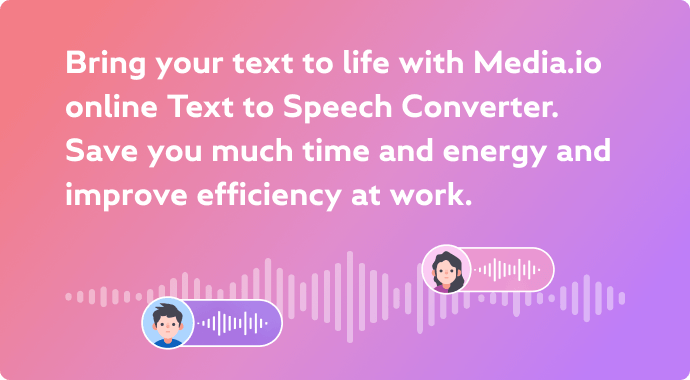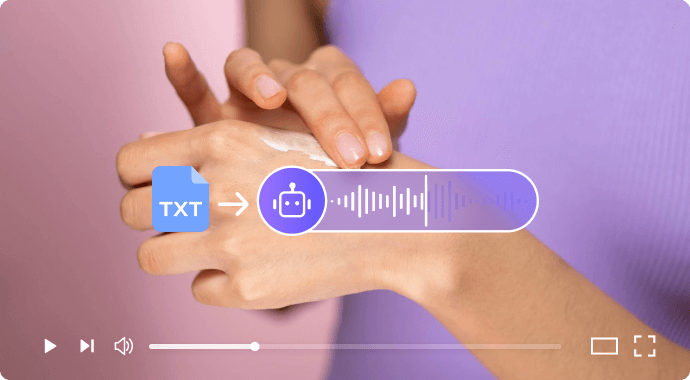 Create Text-to-speech Videos to Promote Business
According to research, at least 70% of marketers believe that videos leads to more sales conversions than text contents. The reason is that video is more engaging and memorable. With Media.io voice maker, you are capable of instantly converting the marketing text to voiceover and add it as a video overlay. It's not just a single-purpose TTS service, but a feature-packed video editor that most marketers tend to use.
Read Text Out Loud for Skills Improvement
For some bloggers or writers, reading out your contents can help quickly find what need improvement. For learners with dyslexia, text-to-audio materials definitely aid reading, improve comprehension and literacy skills.

If you're a teacher or lecturer, you'll know that teaching a big class can be painful and exhausting. This is true, especially when you're reading notes to your students. So, instead of going through all that stress, convert the text notes to audio and play them loudly on a sound system in the lecture hall. This will produce even better results if you have voice problems.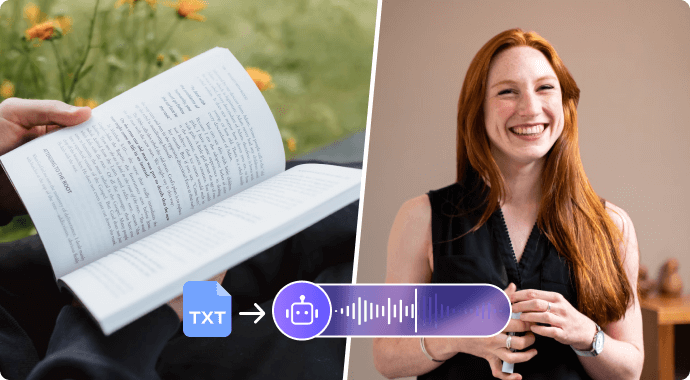 FAQs - Make Human-like Speech Synthesis Online
What is an AI voice maker?

An AI voice maker is a program that uses Artificial Intelligence and deep Machine Learning to analyze and convert text to neutal voices or natural sounding voices. In return, an AI voice maker is simple, fast, and accurate.

How can I quickly generate realistic voices from texts?

Media.io Text to Speech Converter allows you to generate voices from texts online quickly and automatically. Just copy and enter the text to convert, then pick a speaking style, click "Generate" to create sound. You can download the audio directly or use as video voiceover.

How can I create a TTS video without any prior experience?

Creating a TTS video is a breeze on Media.io. Assuming you've already generated audio from scripts, click "Add to timeline" and upload your video. Now edit audio and video by cutting, reordering, applying effects, auto subtitles, motion elements and so many more to enhance the whole visual look.
This voice maker is perfect for the visually impaired. I often use it to convert text to speech with unreal accuracy. I've used multiple Play Store apps, but nothing comes close to this.
Winnie Peterson
I've been using this smart voice maker for a while now, and I've never found a word it can't recognize. This is one of the busiest apps on my laptop these days.
Neil Dart
This voice maker app has been a godsend since I lost my original voice to a throat injury. I occasionally use it to convert text to speech before adding to my videos. Thanks, guys!
Ankit S
This is the best app I've come across in 2022. It helps me convert my lecture notes to audio so that I can listen on my way home. I'm not a good reader, that it.
Sharly
I love this voice generator. It allows me to listen to my eBooks and college assignments as I do other things. I also like that I can choose my preferred language from several options. Recommended!
Dan
Make Voice Online with Your Voice or

TTS Technology

.

Create audio contents for your followers.