Create Your Desired Characters with AI Styles
AI (Artificial Intelligence) model training has become part and parcel of most industries nowadays. For instance, this technology simplifies the character creation workflow when creating images for gaming content, e-books, social media profiles, and blog posts. All you have to do is give the AI character generator a prompt to generate your images instantly.
With Pixpic AI Character Generator, you can quickly generate captivating AI characters with a single click. After uploading your photo, you can transform it into multiple character styles, including fantasy, anime, cartoon, artistic, etc. You don't need to enter any text prompts to create AI photos that perfectly bring out your personality. Please give it a go!
How to Make AI Characters Online?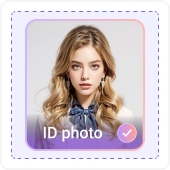 Specify AI Character Style.
Launch Pixpic AI Character Generator and specify your character style from the available options. For example, you can choose outdoor, casual, charming, and more.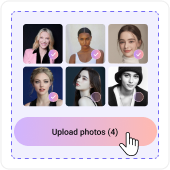 Upload Your Photos.
Next, upload the images you want to transform into captivating artwork. This AI character creator works with PNG, JPG, TIFF, and other formats.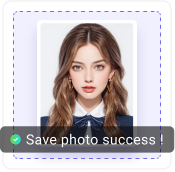 Download Your AI-generated Characters.
After submitting your photos successfully, wait a few minutes for the AI to scan it and generate your new picture. Once complete, download the image and use it anywhere online or offline. It's that quick and easy!
Craft AI Characters with Unlimited Freedom
FAQs of AI Character Generator
An AI character is a representation of yourself created using an AI character generator. These programs use deep machine learning and Artificial Intelligence technologies to analyze your photos or text prompts before creating human-like characters. An AI character could be an anime, cartoon, sketch, sci-fi, etc.

How to quickly generate AI characters from photos?

Most tools create AI generated characters with text prompts. But with Pixpic, you can create characters from any image file. This online AI character generator can transform your photos into AI cartoons, animes, drawings, cyberpunks, and other characters. Just upload your photos and let the program do the rest.

Is there a widely used anime art generator for free?

With the widespread AI technology nowadays, it's only logical that you can find several AI anime generators for free. An excellent example is Midjourney, which generates incredible AI images based on text prompts. However, this tool is only based on Discord servers as a bot, meaning you'll need a Discord account. Also, Midjourney could be complex for a beginner and doesn't transform photos into anime art. For this reason, use Pixpic, which allows you to create anime images for free.

What is the best AI character generator?

Pixpic is the best tool for creating an AI generated character design. This tool comes with a wealth of advantages over other competing programs. Below are some of the reasons to use the Pixpic AI character generator:
• It's simple to use, and users don't need to enter text prompts to generate AI images.
• Pixpic has numerous AI character styles, giving you unlimited options to create AI characters.
• It lets you customize your AI characters with effects like smiles, beards, depression, gender swaps, and more.
• Pixpic boasts a quick image-rendering process, taking just a few minutes to generate AI images.
• It has additional AI tools like background remover, text-to-speech converter, auto-color, video compressor, and more.
Hear from Our Valued Testers & Users
Pixpic AI Character Generator was created after much demand and consultation with our online community. We are constantly working to make the AI model even more effective and will soon launch more styles to suit your needs. If you have any suggestions on making this feature better, please feel free to share them with us.

AI Characters- Where Endless Creativity Begins
Just one click away from taking your photos to a realm of superior quality and boundless imagination.