After making exciting YouTube videos successfully, the next big issue you're likely to face is how to get YouTube thumbnail pictures quickly. You have to figure out what text and font to use, what image to use, and even the image resolution. Some creators even become frustrated and abandon the whole idea altogether. Luckily, you can overcome all these issues by using some online YouTube thumbnail grabbers. So, this article will teach you how to get YouTube thumbnail images with seven excellent methods.
URL: https://www.media.io/youtube-thumbnail-downloader.html
Online UniConverter, originally Media.io, is a beautifully designed online file converter. Here, you can convert between plenty of audio, image, and video formats with ease. It supports MP4, MOV, MP4, M4R, JPG, PNG, and many other file formats. However, it's the ability to download thumbnails from YouTube URL links that make it a top contender on this list today. Just paste a URL link on the search box, and Online UniConverter will create thumbnails in 1080p, 720p, 480p, 360p, and 180p. And of course, you won't part with a penny to use this app.
Pros:
Free and simple to use
Exports thumbnails in various pixels
Multiple file manipulation tools
Cons:
No thumbnail customization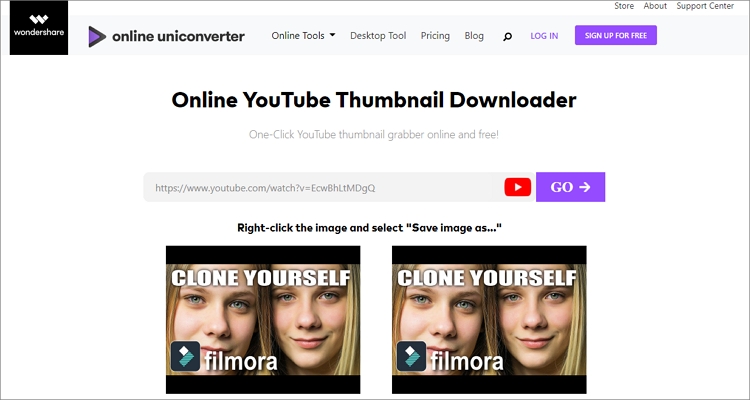 Next, you can download YouTube video thumbnails easily with YouThumb. After pasting a URL link, this online YouTube downloader will immediately start generating thumbnails in multiple qualities. There are up to five thumbnail qualities here, including 1080p, 720p, 480p, 360p, and 180p. However, that's just about it because YouThumb is a pretty basic site that gets the job done easily anyway.
Pros:
Simple UI
Imports thumbnails in multiple qualities
No adverts
Cons:
Basic UI
No customization options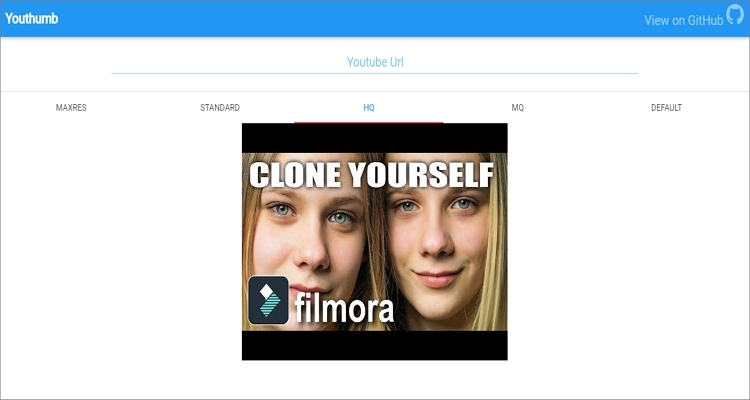 URL: https://youtubethumbnailimage.com/
Want to make a YouTube thumbnail image in an instant? Try YouTube Thumbnail Image. It's a beautifully-designed site that requires no prior knowledge to use. Within seconds of pasting your YouTube video URL link, YTI will begin processing thumbnails in multiple qualities. You'll get thumbnails in 1080p, 480p, 360p, and 180p. Moreover, you can email the support team for further assistance.
Pros:
Multiple thumbnail image qualities
Friendly customer support
Simple UI
Cons:
No customization options
No 720p downloads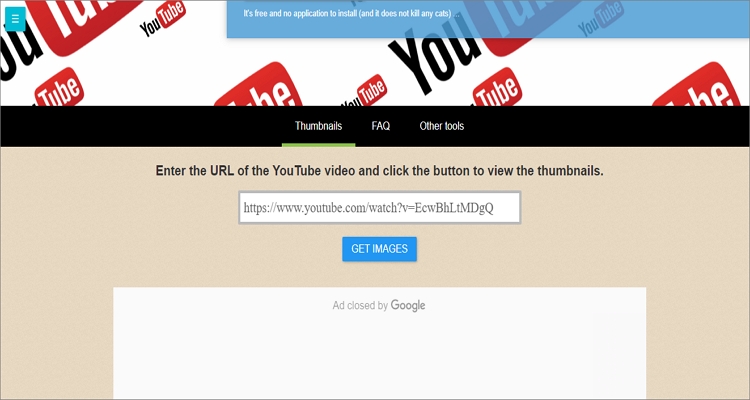 URL: https://commentpicker.com/youtube-video-id.php
Another beginner-friendly app that you can use to download any thumbnail image from YouTube with zero restrictions is Comment Finder. After entering a video URL link, this tool will find the YouTube video's ID and thumbnails effortlessly. Using this site is free and doesn't need any sign-in whatsoever. Like YTI, you can reach the support team via Facebook here, which is a plus, honestly.
Pros:
Multiple thumbnail qualities
Simple to use
Helpful customer service
Cons:
Ad-laden user interface
Exports thumbnails in URL links only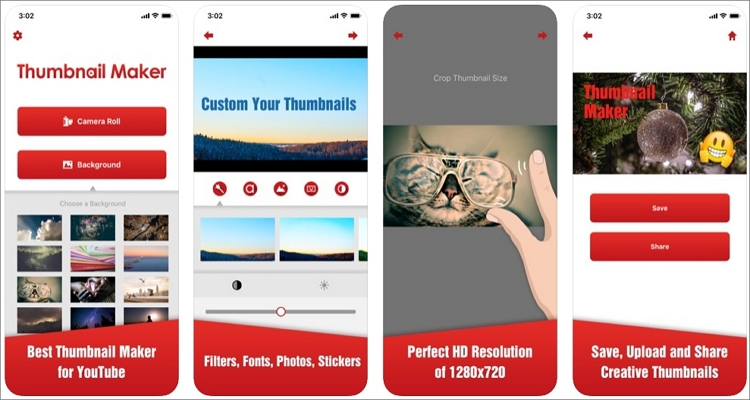 URL: https://yt-thumb.canbeuseful.com/en
YT-Thumb is a useful video thumbnail downloader app developed by Dkios. It's absolutely free and doesn't necessarily require you to install anything to use. The site allows you to retrieve YouTube video thumbnails by merely pasting a URL link. After that, you can proceed to download the thumbnails from the URL results. And lest I forget, you can access YT-Thumb site in either English or French.
Pros:
Easy to navigate platform
Free to use
Multilingual user interface
Cons:
Cluttered user interface
Imports thumbnails in URL only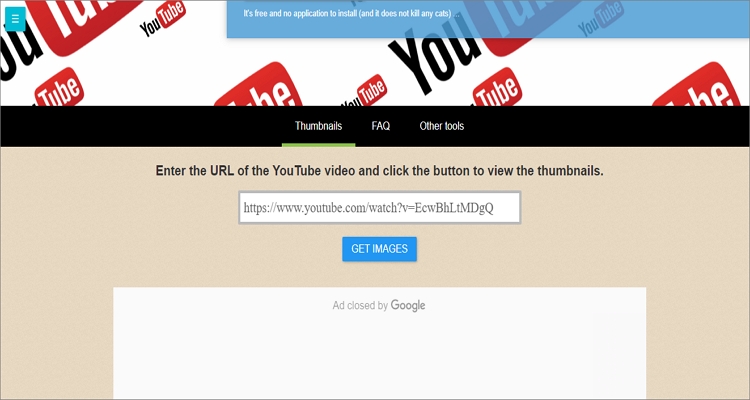 URL: https://boingboing.net/features/getthumbs
With BoingBoing, downloading YouTube video thumbnails has never been easier. That's because there are no buttons to press here as you only need to paste a URL link and leave the rest to BoingBoing. It imports YouTube video thumbnails in multiple qualities, although the site doesn't specify the resolution. Also, because there are no download links/buttons, all that you have to do is to right-click on a specific image thumbnail then choose "Save as."
Pros:
Several thumbnail qualities
Only a click to import thumbnails
Super-fast extraction process
Cons:
No download buttons/links
Doesn't specify the thumbnail quality
Get YouTube Video Thumbnail Image
URL: http://www.get-youtube-thumbnail.com/
With this site, you'll do just that – get YouTube thumbnail images quickly. It employs a highly minimalistic approach on the user interface, making it perfect for any skill level. Like the other online options, it's easy to use. Disappointingly, however, this site only extracts thumbnails in two resolutions. Even worse, it doesn't specify the resolution. But disappointments aside, it's a straightforward website.
Pros:
Straightforward download process
Minimalistic UI
Cons:
Only two download qualities
Ad-supported UI
Doesn't specify the thumbnail size/quality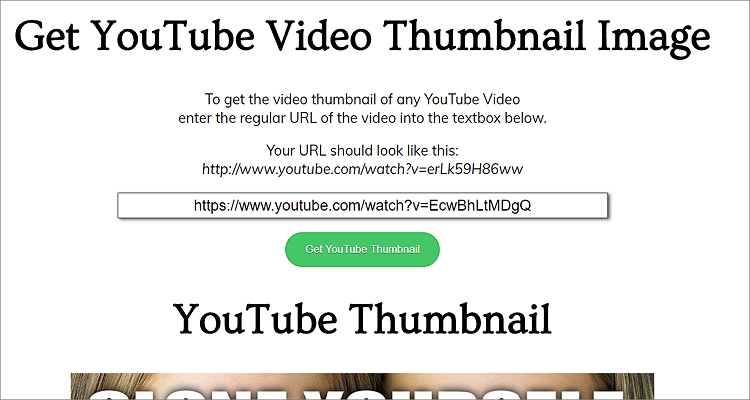 Summary
Now the onus is on you to choose which method to get YouTube thumbnail images with ease. Although all the apps mentioned here are simple to use, some have serious drawbacks like limited pixel support and ad-laden interface. So, I recommend all-round options like YTI and Online UniConverter for hassle-free download of thumbnails.