Free Video Cartoonizer
Convert videos to visually striking cartoons in only a couple of clicks. 100% Automatically and FREE! Animate your video now!
Online Browser-Based
Media.io cartoon video maker is a versatile web-based tool and there is no need to download software.
Turn Video to Cartoon Quickly
Convert your videos into amazing animated videos with high quality. Export with HD cartoon video files!
Powerful AI Cartoon Generator
Powered by AI technology, generate your actual video into a virtual cartoon with vivid actions and expressions.
No Ads No Spam
Media.io is a 100% secure HTTPS (SSL) connection website to upload files without worries, keeping privacy safe.
How to Turn Videos to Cartoons Online without Hassle?
Professionals frequently utilize a video cartoonizer program to produce extensive animation projects. However, amateur creators can make a 3D cartoon with some AI tools. Videos with cartoon characters can convey a message more effectively visually and elicit the required feelings in the audience.
See how Media.io AI Animation Generator to cartoony video.
Step 1. Upload Video File

Launch Media.io AI Lab on your browser, click the Add Videos button to upload your video files (MP4 or AVI) for cartoonize.

Step 2. Start to Convert Video to Cartoon

After uploading the videos, wait for Media.io AI animation video online maker to convert your videos into cartoons automatically. You'll only be one click away from the results!

Step 3. Download the Video with Cartoon Filter

Now click the Download button to get the video after cartoony. It's super easy and fast!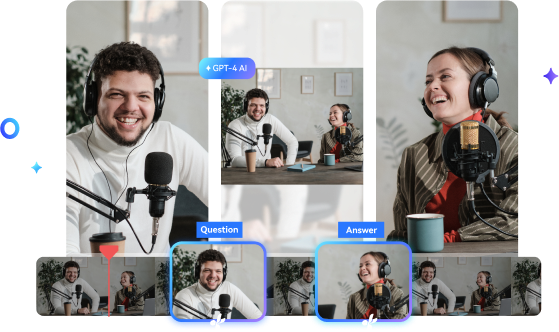 Transform Long Videos into Short Ones Instantly
√ Turn long videos into viral clips. Effortlessly transform lengthy videos into engaging, shareable clips.

√ Edit Video Seamlessly Like As Editing Text

√ AI Voice Cloner Ends Reshoots
Why Need to Cartoonize Video?
Cartoonize a video is more exciting and enjoyable in some scenarios like science fiction, sense of future and technology, act yourself as one of the characters in the virtual life. Make your video more outstanding and cool.
FAQs about Video Cartoonizer
1. How can I change a video into a cartoon?

Use media.io to turn a video into a cartoon with these simple steps:

Step 1. Open the Media.io AI Lab Center on any web browser. You can choose to drag and drop your video files or click the "Add video" button to upload a local file.

Step 2. Wait for Media.io AI technology to transform your video into a cartoon after pressing the Start to Process button. The outcomes will be just one click away!

Step 3. Click the Download button to obtain your cartoonized video file. It is pretty quick and straightforward.

2. Is there an app that turns a video into a cartoon?

Yes! You can turn a video into a cartoon with the following apps listed below:

Media.io: With a simple button click, the free web-based Media.io Cartoonizer application transforms a picture into a cartoon. It is accessible on all devices. Its simple interface rapidly turns any photo into a cartoon with no log-in required or prior knowledge.

Cartoon yourself video effects: The program gives you access to many emotions to be really happy or even flirtatious in your new cartoon photo.

Artisto: Artisto is a fantastic alternative if you want to have fun and make cartoon versions of your selfies and other photographs and videos. Artisto is a video and photo editor with art filters.

Clip2Comic & Caricature Maker: With Clip2Comic, you can make a comic of yourself using the camera on your phone or already-posted pictures and videos. You can turn images you've generated into cartoons even after you've snapped a photo or recorded a video, thanks to the eight different comics, toon, and sketch art filters available.

PicsArt: The program gives you access to many emotions to be really happy or even flirtatious in your new cartoon photo.

3. What's the cartoon filter everyone is using?

Here are the popular cartoon filters used:

Media.io: With Media.io, the go-to AI cartoon maker driven by artificial intelligence, you can quickly make a photo into a cartoon and save time. Easily cartoonize a picture of you, your surroundings, your fluffy pets, or stunning sunsets for any social media post like a pro.

Painnt - Art & Cartoon Filters:: This is one of the best cartoons on your apps available. With this picture editor's ability to enable you to change an image's transparency, saturation, or brightness, you can practically do all you want with it.

Cartoon Photo Editor: With this program, you can turn photos from your gallery into creative cartoons. Additionally, the software lets you record videos and snap pictures using your phone's front and back cameras. Before taking a selfie or starting a video recording, you may observe all effects in real-time.

Cartoon Pictures - Cartoon Photo Editor: This software explicitly made for changing photos to cartoons with a single click. When you want to create a cartoon shot, selfie mode can simplify photo editing. Allowing the cartoon effects to take effect takes a few seconds. Try out this capable photo-to-cartoon tool today!

ToonCamera: If you have an iPhone, you'll adore using Toon Camera to record movies and turn photos into cartoons because it provides a wide variety of cartoon, stipple, ink, and pencil effects. Additionally, it provides a real-time preview of each effect you choose, allowing you to see how your images and videos will turn out even before you take them.

4. How do I make my live-action look like animation?

For free, use Media.io to make a cartoon version of yourself. Increase innovation and productivity right away. Follow these steps:

Step 1. Upload any video you want to use for the cartoon.

Step 2. Watch for AI technology to easily cartoon you.

Step 3. View your video that has been cartoonized and save it to your device.

5. How can I make animation videos online for free?

You can easily make use of media.io to do this.

Step 1. Drag and drop your video onto Media.io or add a video.

Step 2. With just one click, begin the conversion process.

Step 3. Download the finished cartoon and edit as necessary.

6. How do you edit a cartoon video on YouTube?

Follow these simple steps to achieve this:

Step 1. Upload video files from your devices using the Media.io editor, or simply paste a YouTube video URL to add it.

Step 2. Start editing by dragging and dropping your files.

Step 3. Save and share the YouTube video.
More Tips and Tricks for Video Editing
When it works it really can put the finishing touches on photos from the multiple effects. It takes much time to upload large video files.
Billie
You may edit your picture by adding text, stickers, and different color schemes. It is simple to install and has slick features.
Josh
I enjoyed this program and was able to get a decent resemblance of myself. Although that may have been so much fun, it couldn't be used too much.
Tania K.
This software is amazing! One of the top-best cartoon apps I have ever used, by far. I appreciate how straightforward it is and how limited the modifying options are. I've had several of the photographs printed for my gallery wall since they always come out beautifully.
Ashley Phelps
Simple to use, and the effects greatly enhance photographs. It would be fantastic if there weren't advertisements every time you looked at a new image.
Onika Malulu
Convert, compress and edit files online
in minutes.
Make video editing simple like never before!