Getting a video translator is not an option if you have a video to translate into English, French, Spanish, or any other language. For instance, you may want to add subtitles and captions to a YouTube video to reach a wider audience. Also, you can translate video in different languages before downloading the text version for other use. Whichever the reasons may be, try Media.io. It's a simple browser-based video translator, supporting more than 120 languages, lets your video more accessible. The AI-powered video translator enables you to transcibe and translate subtitles for the videos based on the background audio or narration. Another thing, you can edit and download them in .srt or .txt formats.
How to Translate a Video Online?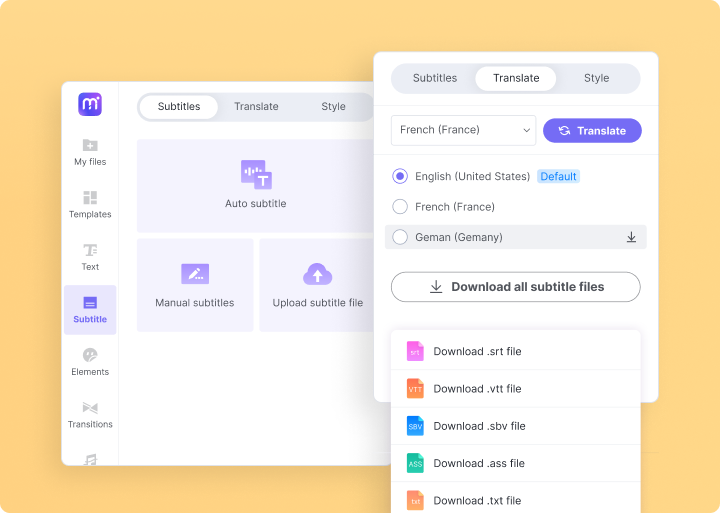 Launch
Media.io Editor
and tap
Upload media
to load the video to translate. After that, move the clip to the storyboard and select it.
Optionally, trim, cut, split, and delete the video. Then, tap the Subtitle tab on the left rail and choose the translation language to convert video language into another.
When completing the auto translation, tap the Download icon to export it. There you go.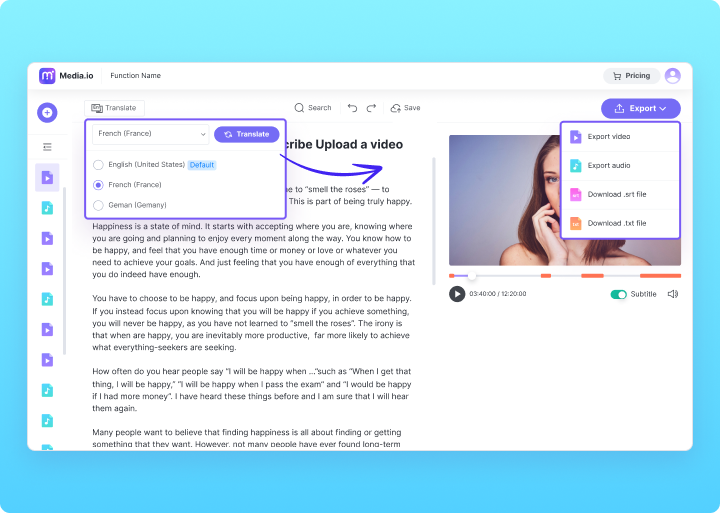 2
Choose a Language to Transcibe & Translate.
Next, select the spoken language of your video and start an automatic transciption and translation.
3
Download the Translated Video Text.
After generating the texts, you can edit and download them to a .txt file. Alternatively, copy the translated video text to your clipboard.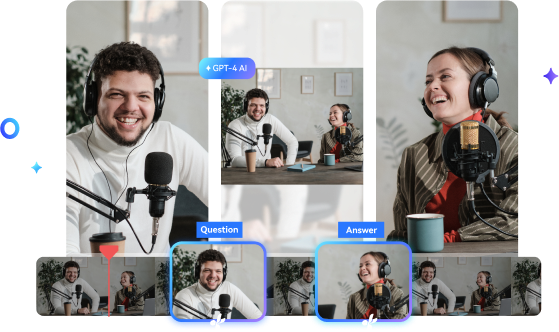 Transform Long Videos into Short Ones Instantly
√ Turn long videos into viral clips. Effortlessly transform lengthy videos into engaging, shareable clips.

√ Edit Video Seamlessly Like As Editing Text

√ AI Voice Cloner Ends Reshoots
Frequently asked questions
How can I translate a video easily and quickly?
Translating a video has never been easier, thanks to Media.io. You can use the Auto-Subtitle Generator or the Transcription tool to accurately change video language. Both functions are AI-powered, meaning you'll only need to upload a video, choose a language, and sit back as the program does the heavy lifting.
Can Media.io translate a video from and to any language?
Yes, Media.io Video Translator supports numerous languages. Simply translate English into Japanese, Chinese, Arabic, Spanish, French, and more. Just select a translation language and extract the texts.
How to translate audio from a video?
Media.io can translate audio on your video, whether background audio or voice narrations. In addition, you can decrypt pure sound files like MP3, OGG, AAC, M4A, etc.
What is the best video subtitle translator?
The best video translator should tick vital boxes before you consider using it. For starters, it should be fast and super accurate. Also, a reliable video translator should support numerous international languages. You should also consider features like text editing, simplicity, cost, etc. Fortunately, you don't need to look further than Media.io for all these features and more.
Reach New Audiences Like We Met You


Diana Kate

This video translator runs smoothly without any glitches. It's clean and straightforward to use with accurate text translations. The application allows me to translate unlimited audio, which is a big plus.

Willis Jones

I love how this translation service that automates sound-to-text transcription. I occasionally use it to extract texts from foreign language podcasts so I can use them on my blog. It's perfect!

Alisa

This app is much quicker than listening to audio and manually typing on a text editor. In my view, it looks 99% accurate, as I'm yet to experience inaccurate translations. Also, it works perfectly with background noises.