Image colorization as a process mainly involves assigning colors to grayscale photos to make them conceptually meaningful and artistically appealing. For this, users can operate picture colorizer software to perform sophisticated tasks that with proper adjustments in its dimensional level. These tools adjust the color scale of the image content, too, for high-quality image optimization.
Thus, many people utilize these programs to change old black-and-white photos into colored ones. It helps you to colorize the images without damaging them.
The types of picture colorizer apps help with advanced digital editing, whether for professional-level editing or recreational. Here, we will share the 10 best picture colorizers that will help you colorize your picture without much hassle.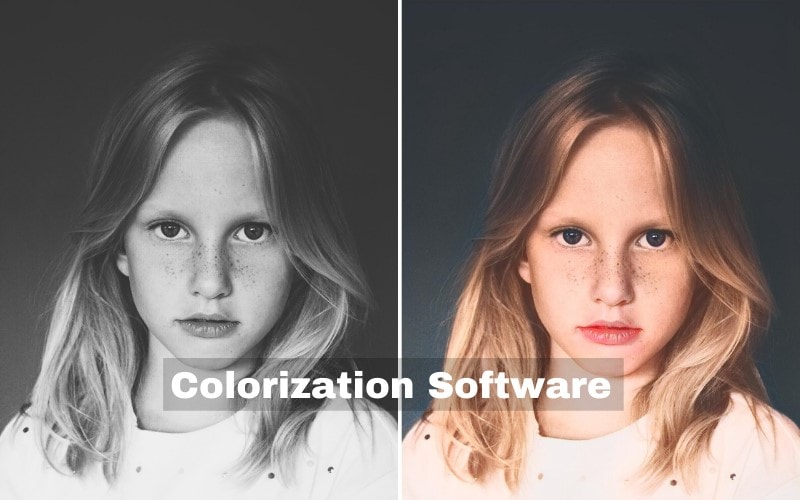 Part 1: Comparison of Available Image Colorizer Tools
Many colorized tools are available in the market now, both paid and free. So, even if you do not possess the skills or expertise of photo editing, you can still use an image colorizer to get your old photo colorized and colorized smartly. Here is a quick comparison between the colorized tools we will discuss further.
| | | | |
| --- | --- | --- | --- |
| Name of the colorized tool | Ease of use | Cost | Free Trial Availability |
| Photoshop | A bit complicated for the new user | USD 9.99 per month | No |
| DeepAI Colorizer | Very easy to use | Free | It is free to use |
| Luminar | Not so user-friendly | USD 89 | No, it is chargeable |
| Image Colorizer | User-friendly | Free | It is free |
| Color Surprise | Easy to use | USD 39.99 | Yes |
| Movavi | User-friendly | USD 44.95 | Yes, up to 10 pictures |
| | | | |
| Colourise.com | Offers faster results and user-friendly | Free | It offers free services |
| VanceAI Photo Colorizer | A bit difficult to use | $9.90 per month and $59.88 per year | Yes, upto 5 images |
| Deoldify | User-friendly but a bit difficult for the beginners | Free | Free service |
| MyHeritage | Easy to use | $39 | 14-day free trial option |
Part 2: Top 10 Image Colorizer Software Options To Try Out
We have listed the best 10 AI Photo colorizer software options that you can use to convert your old pictures into new colored ones with minimal effort.
Photoshop is one of the best applications for colorizing old black-and-white pictures. Users can also customize it as per their preferences. For instance, you can convert grayscale images into colorful ones with color settings.
But it requires excessive time and manual work to edit the photo. Instead, consider trying the AI photo colonizer of Photoshop to have the base color and then play around with Photoshop to refine them.

Compatibility: Mac and Windows
Key Features
Users can quickly fix all the swap backgrounds and flaws by clicking some words.
You can add remix colors and effects and even change the expression of the individuals in the picture.
You will find some new and exciting plugins in this application.
How To Download/Use: https://www.adobe.com/products/photoshop.html
The DeepAI Colorizer is mainly an AI Colorizer that allows users to colorize photos for free. This platform adopts a trained deep-learning model to help convert black-and-white pictures into colored photos.
The result of DeepAI Colorizer will mesmerize you as it makes everything realistic. However, the users cannot upload pictures beyond 1200px for any dimension. Otherwise, it will shrink the picture.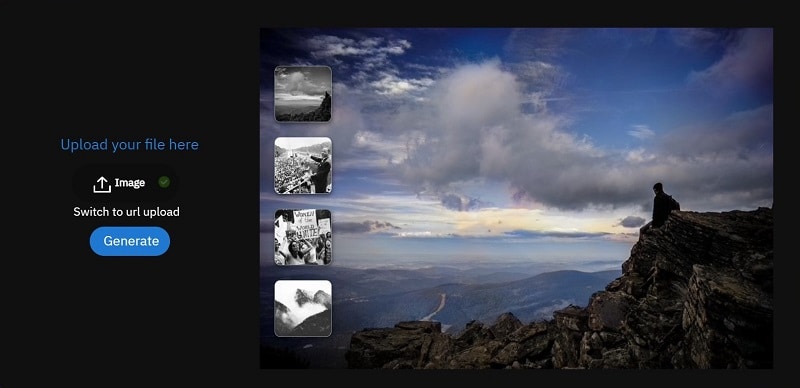 Compatibility: Mac and Windows.
Key Features
The users can add the spice of life to their old photos within a few seconds.
With excellent effects, you can get a quality photo after you colorize the grayscale picture into color images.
Users can also edit older videos by adding different colors to each frame.
How To Download/Use: https://deepai.org/machine-learning-model/colorizer  
Luminar is mainly a popular professional colorized photo editor with exceptional editing features. It works as a plugin or a standalone application that creates premium-quality colorized pictures.
Consider using the brushing tools available on Luminar to do so. Powered by AI technologies, Luminar offers incredible image enhancement features. As a result, it is an excellent pick for professional photo editors.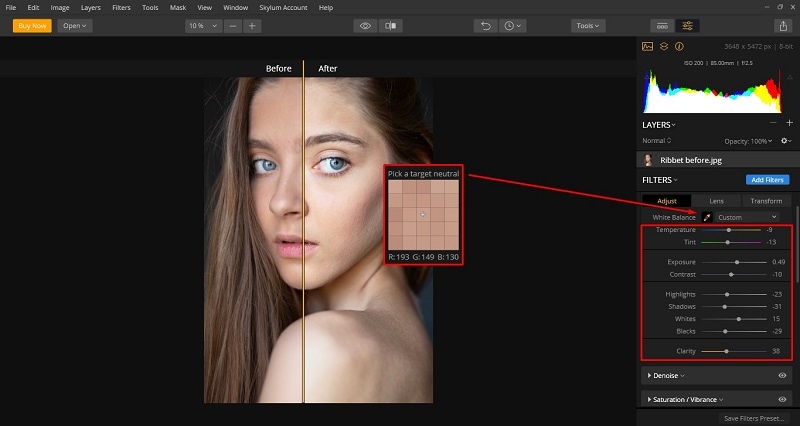 Compatibility: Mac and Windows.
Key Features
You can add artificial sun rays to improve your picture.
With the help of a portrait enhancer and an AI skin enhancer, you can add realistic effects to your portraits.
With AI structure, it can identify the area that requires enhancement to make the image look the best.
How To Download/Use: https://skylum.com/checkout/luminar-neo/sub-special-offer
It is an AI image colorizer that allows users to convert old black-and-white pictures into colored ones for free. You can use its free version online, which offers accurate results. But it is worth noting that you cannot upload pictures smaller than 500 Mb.
The best part is that you can colorize your old pictures in one go.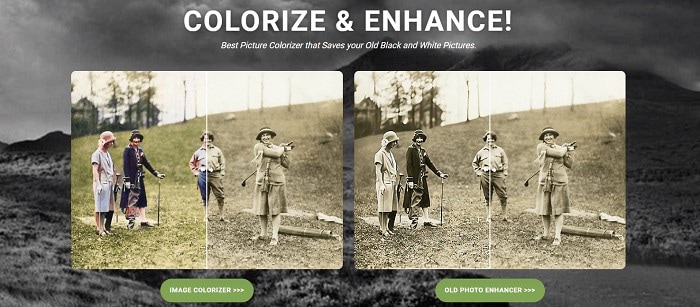 Compatibility: Mac, Windows, iOS, and Android.
Key Features
It offers clarity in poor quality and blurry pictures to make it look better.
You can compress the image size before uploading.
The AI repair can repair any damaged picture within a few seconds.
How To Download/Use: https://imagecolorizer.com/colorize.html
It is a user-friendly image colorizer that you can use for free. The software uses AI to do the processing. It can also help you adjust the intensity, color temperature, gamma, and contrast. Then, with the help of brush tools, you can quickly fix colorization and get impressive results.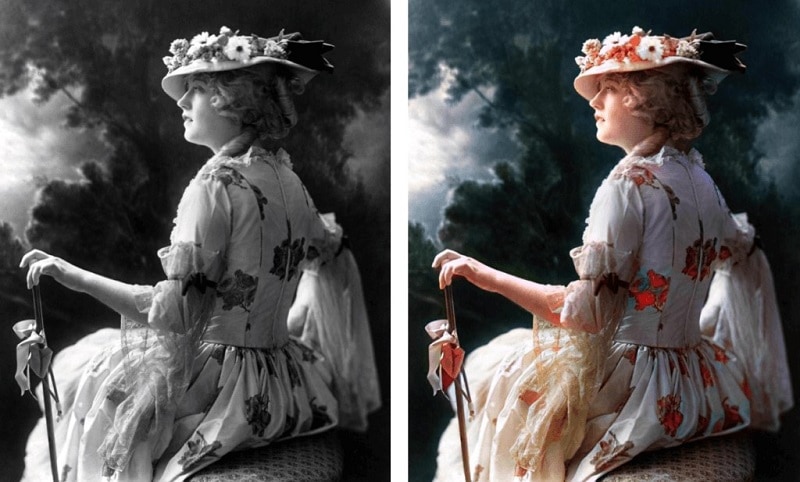 Compatibility: Mac and Windows
Key Features
With deep technology, users can colorize black-and-white images.
You can remove text, objects, or other things using Object remover.
Users can also enlarge the picture's resolution.
How To Download/Use: https://pixbim.com/colorize-photos
It is a powerful colorizer that offers impressive editing features. It generates colorized images with excellent quality. However, the users need to install the software to use it. Overall, one can remove text, background, and objects easily here as well, making it a suitable choice for many.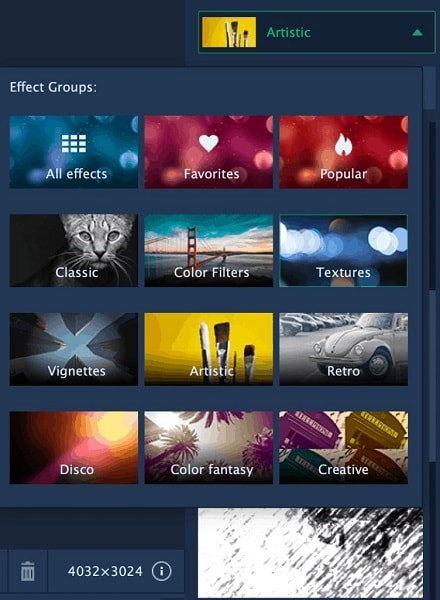 Compatibility: Mac and Windows
Key Features
It helps to organize your photo automatically.
There is a recording option available.
It comes up with lots of effects and filters.
How To Download/Use: https://www.movavi.com/photo-editor/buynow.html#main
It is one of the powerful colorizing tools that help users to colorize old images for free. Whether it's a landscape or a face picture, you can colorize them in a few seconds. This platform's hassle-free process and user-friendly approach make it a popular colorizer in the list.

Compatibility: Mac and Windows
Key Features
Offers faster and more accurate results.
Users can colorize the picture in one click.
It is a free online platform.
How To Download/Use: https://colourise.com/?source=ttai
It is a picture colorizer pro algorithm that allows users to colorize old pictures in seconds automatically. You can easily colorize old photographs based on deep learning and AI technology. It supports PSD file format, which is helpful for professional users.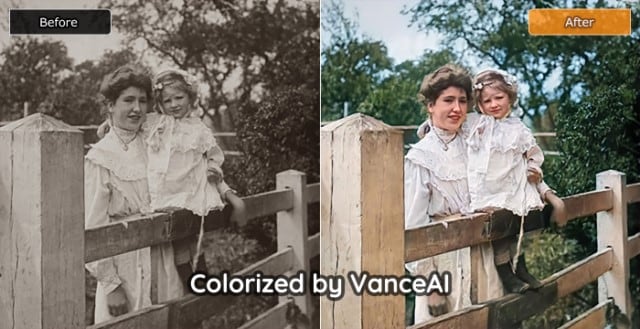 Compatibility: Online
Key Features
It automatically colorizes old black-and-white photographs.
Pro users can take advantage of the PSD file format.
It uses a deep neural network to restore the color to the pictures.
How To Download/Use: https://vanceai.com/colorize-photo/
It is a python-based colorizing tool that can colorize old photos and videos. The tool runs on Ubuntu, and you require knowledge and skills to install it on your system. Getting full access to this application is difficult for first-time users. It is simple to add black and white images to this tool and handle quick editing processes.
Compatibility: Windows and Mac
Key Features
It uses the U-Net architecture and is trained in the GAN architecture.
Deoldify is a free platform due to its open-source nature.
Access the free notebook from Google Colab that includes usable videos and images for use.
How To Download/Use: https://deoldify.ai/
It is a popular online AI photo colorizer you can use to colorize your old photos. The users can get high-quality and realistic photographs. It comes up with sophisticated matching technology that helps the users connect to their present, past, and future.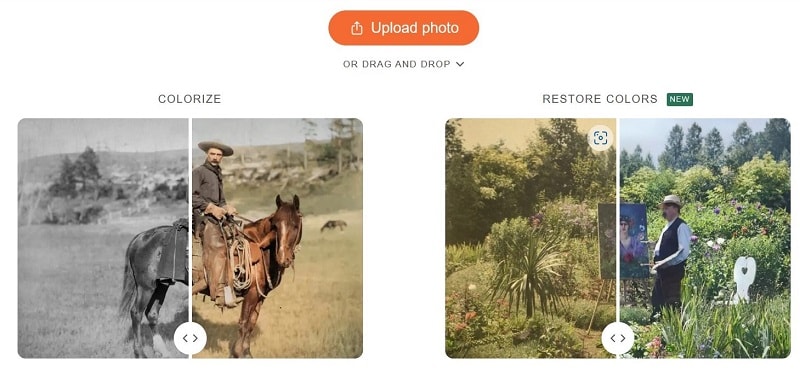 Compatibility: Mac and Windows
Key Features
The users can restore the faded colors of old photographs.
It is user-friendly software that offers faster results.
Users can animate their family picture through its advanced technology.
How To Download/Use: https://www.myheritage.com/incolor
FAQs
What is the top AI image colorizer?
You can select colourise.com from the given list due to its accurate results, simplicity, and free-to-use. You can opt for MyHeritage and Movavi if you want to get colorized photos in high resolution.
Can I colorize old historical pictures?
Yes, of course. With unique features and powerful AI technology, you can also colorize historical pictures. Select the right tool and use the correct features to complete the process.