Create AI Covers with Your Favorite Voices
Ever dreamed of recording yourself singing a popular song but worry you don't have the voice of an artist, singer, politician or cartoon character? Worry no more! That's where Media.io AI song cover generator steps in.
With cutting-edge AI technology, it can clone voices from your favorite music and create a flawless AI cover song. You've treasure trove of celebrity voices to choose from, including Adele, Taylor Swift, Drake, Bieber, Donald Trump, Barack Obama, Joe Biden, Spongebob, Plankton and many more. 100% free! Just pick your preferred voice, and let the AI work its magic. Sing your heart out and sound amazing!
How to Make AI Cover Song Online Easily?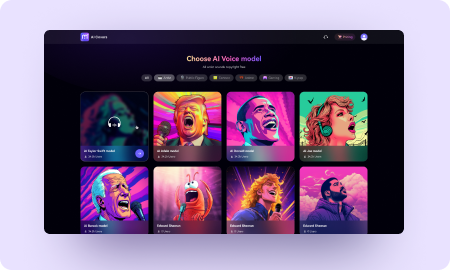 1
Choose An AI Voice Model.
Click on Create AI Covers Now button on your mobile or desktop browser, and select a cover song voice model based on categories like artists, public figures, cartoons, animes, and more.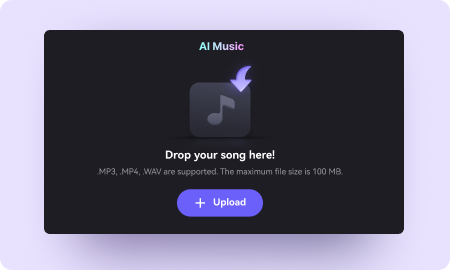 2
Upload Your Audio.
Add an audio file you want to generate from your device, or drap-n-drop in the specified area. The maximum file size limit is 70MB.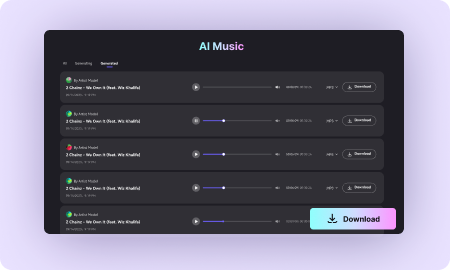 3
Preview & Download the Song Cover
Once the AI has finished processing the audio, click Play to preview it or change the cover song voice. If impressed, Download the AI cover song and share it. It's that simple!
Create AI Covers Now
Standout Features of Our AI Singing Voice Generator
Easy to Navigate
You need zero knowledge to use our AI voice generator. The user interface is self-explanatory. You only need to choose the AI voice model and upload audio to generate a cover song.
Multiple AI Voice Models
Our AI-powered cover song generator presents tens of free voice models to explore. You can generate a cover song with famous voice personalities like Drake, Adele, Justin Bieber, Joe Biden, Donald Trump, Taylor Swift, Plankton, and Spongebob.
Realistic Song Covers
Media.io is extensively trained with AI and machine learning technologies to perfectly understand musical vocal patterns, melodies, rhythms, and seamlessly transforming your own vocals into professional and impressive cover songs.
Any Musical Styles Accepted
You can create a smashing cover song in almost any genre or style. Whether it's RNB, pop, jazz, hip-hop, country, gospel, or anything else, this tool can analyze and produce music in your favorite vocals within minutes!
High Quality Output
Besides creating cover songs in MP3 or FLAC, Media.io supports music downloads in lossless WAV, making it ideal for musicians or music lovers to experience music in its purest form.
Enhance AI Covers
Besides creating an AI cover song, Media.io lets you fine-tune it further by adding AI royalty-free music tracks based on moods, styles, genres, and more. You can also isolate the vocals from the cover song, or do some audio trimming and cutting for your creative work.
Be the "Superstar" of Your Own AI Song Cover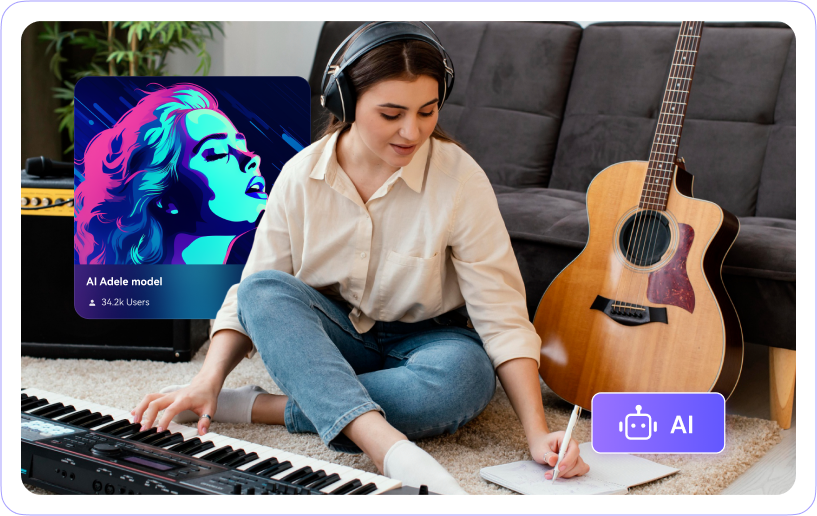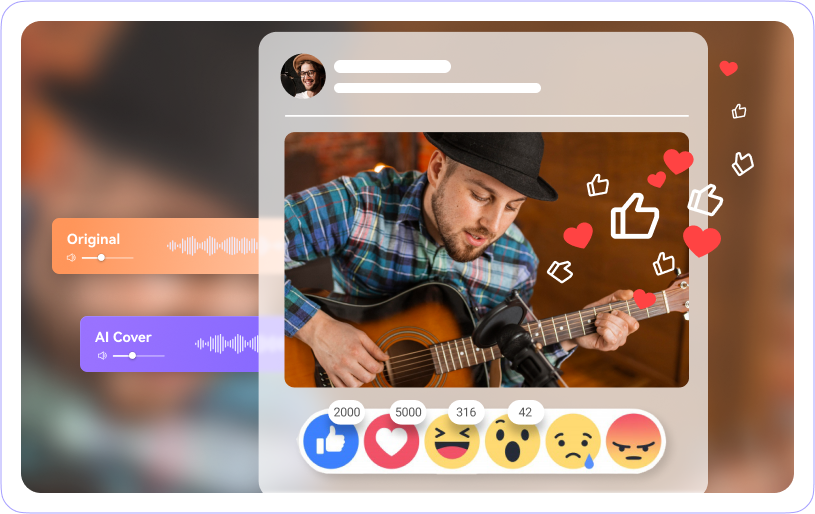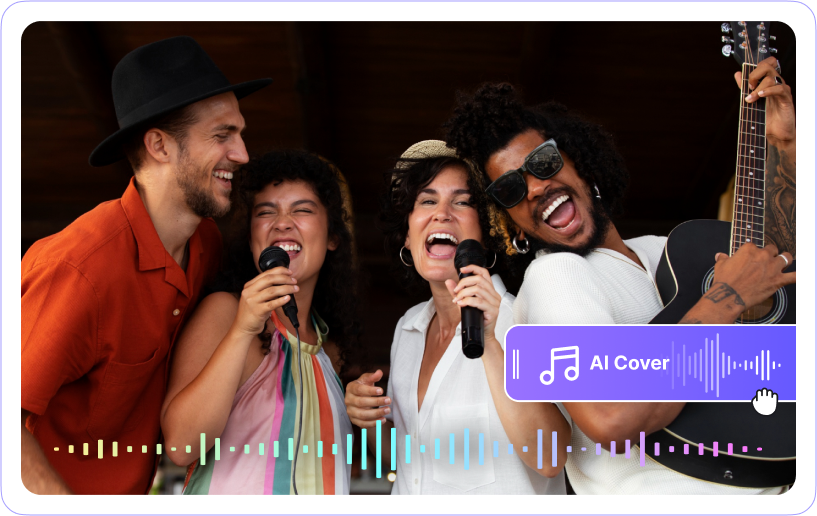 Be the Next-Generation Musical Legend

Are you inspired by famous music producers like Taylor Swift, Michael Jackson, Dr. Dre, Mark Ronson and Max Martin? Our AI cover song creator enpowers you to be your own music producer without investing in expensive equipment or studios. With it, you can create an impressive cover song for practicing your favorite song lyrics, composing fresh tracks and more!

Wow Your Social Media Followers

Almost everyone is trying to be a social media superstar, and you shouldn't miss the fun. One of the best ways to expand your social media profile and get more attentions is by sharing fun and creative content on YouTube, TikTok, Facebook, Instagram, Spotify, and more. With an AI cover song creator, you can prank and entertain your friends with popular music sung by a polar voice like Donald Trump or Plankton. In fact, you can use this tool to create your own unique identity on social media.

Reconnect with Your Music Heroes

Even the best music can sometimes feel noisy when you listen several times. You can avoid this scenario by creating your own custom music using our AI cover songs. For instance, if you cannot get enough of Adele or Taylor Swift's voice, use this cover song generator to transform any voice in your music tracks into these two celebrity personalities. This way, you can have more fun singing along to your favorite lyrics while showering, cooking, driving, training, and other activities. Frequently Asked Questions of
AI Song Generator
1. How can I create cover songs by artists using AI?

Use Media.io AI Cover Song Generator to create top-quality song covers in varying celebrity voices and other characters. Here's how:
Step 1. Pick an AI voice model.
Step 2. Upload the music file you want to transform and start the conversion.
Step 3. Listen to the generated cover song before downloading it in MP3, FLAC, or WAV format.

2. Is there an AI song generator online for free?

Yes, Media.io is the ideal tool to generate AI cover songs for free online. Just visit the website and upload audio to create a cover song without any subscription.

3. How to convert your voice into AI voice?

Try Media.io to convert your voice recordings into an AI voice like Adele, Drake, Taylor Swift, Donald Trump, Dio and more. But if you want to enjoy the best AI voice conversion quality, ensure the audio is crisp and clear without background noises. If possible, use an external microphone with noise-cancelling capabilities.

4. How to let AI singers sing your lyrics effortlessly?

In this AI era, you don't need to sing your song lyrics, especially if you have voice problems. So, let our AI song cover generator do the singing work for you. Record yourself singing your favorite tune and let this program do the hard work. The best part? It's entirely free!

5. Are AI covers of songs copyrighted?

In theory, AI cover songs are generally viewed as copyright-free. However, due to the evolving nature of this area, it's wise to exercise caution. Always follow legal regulations and secure necessary permissions.