Are you looking to start a podcast? Well, it's common to be unsure about the app for recording podcasts to use. But here's the excellent news; you can easily record high-quality podcasts on your Android on iPhone. But finding the perfect podcast recording app may be more challenging than expected. You must consider simplicity, subscription, audio quality, and more. So, to make your research easier, we've compiled a list of the best podcast recording apps to use for free.
Part 1. What is the So-Called Best App for Recording Podcasts?
Before learning the best podcast recording apps, let's first discuss how to find the best apps to record podcasts.
Compatibility: First and foremost, find out if the podcast recording app is compatible with your device. Although this can be obvious, you don't want to get stuck with an incompatible app. So, read the recommended Android or iOS versions on Play Store or App Store.
Subscription: You don't want to pay top dollar for an app for making podcasts, do you? There are many free podcast recording apps to download for free. So, ensure the developer doesn't ask for a hefty download fee. Also, be careful because some apps have lots of in-app charges.
Audio quality: This is the most critical podcast recording feature to consider in an app. If an app doesn't guarantee good audio quality, skip it altogether. Viewers will want your show to have crisp-clear audio before clicking the next podcast. So, create a podcast or two and test the audio quality.
Audio editing features: Podcast post-processing is critical whether you use a mobile app or desktop program. As such, ensure that the app to make a podcast features essential editing tools for trimming, splitting, and merging. Other features are a plus.
Meanwhile, we understand that finding the perfect app for recording podcasts can be challenging. Therefore, we recommend Media.io Podcast Recorder. It's an online app that records high-quality MP3 podcasts on mobile or desktop browsers. Simply connect and select a mic to start recording a 30-minute podcast for free. And best of all, you can edit the podcast by trimming, splitting, converting, adding sound effects, and more before downloading. Give it a try!
Part 2. Top 5 Podcast Recording Apps for iPhone/iPad
Without wasting time, let's discuss the best apps for making podcasts on iPhone or iPad. Most are free, by the way!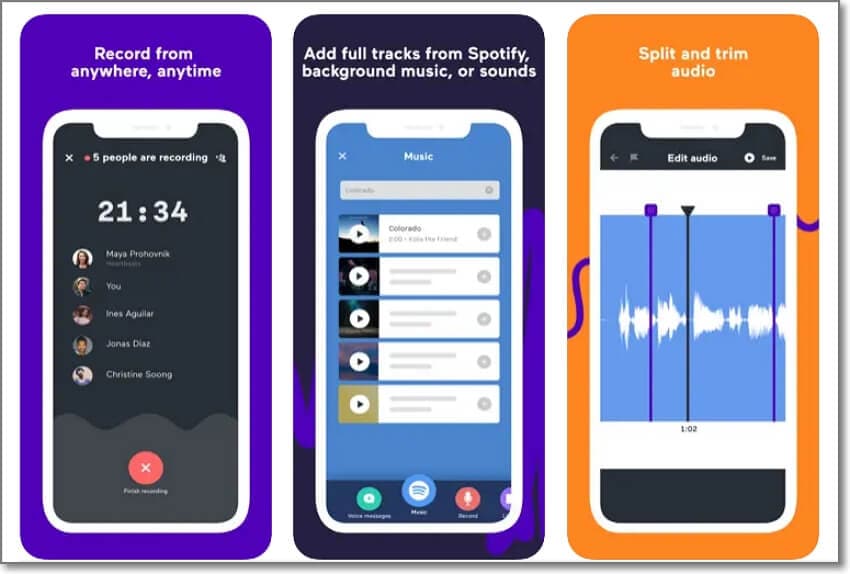 Rating: 4.9
Compatibility: iOS/iPadOS 13.0 or newer
How many apps are ranked higher than Anchor on App Store? This is undoubtedly the best app for recording a podcast on iPhone. With Anchor, you can record audio using your mic or capture podcasts imported from Spotify. After recording a podcast, Anchor lets you customize it with transitions, sound effects, and background music. Plus, you can design a beautiful podcast cover art.
Key features:
Record podcasts from a microphone or Spotify.
Free, unlimited podcast hosting service.
Customize podcasts with free music, effects, transitions, and cover arts.
Earn money when people listen to your podcasts.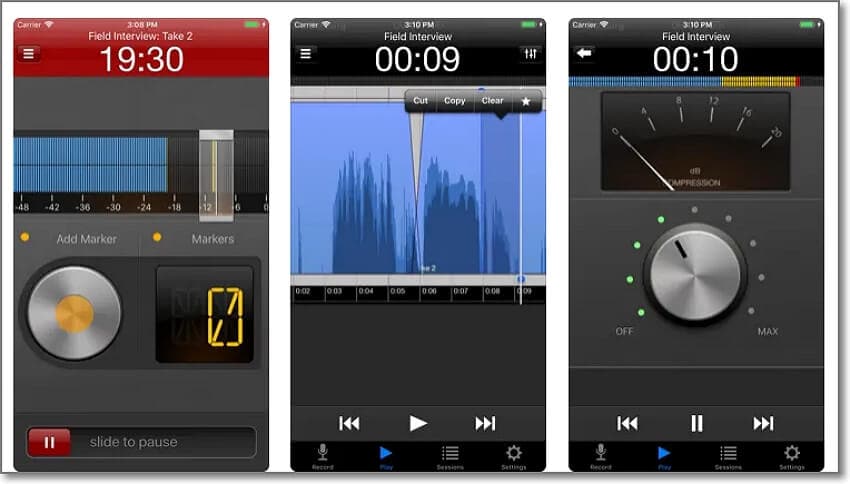 Rating: 4.2
Compatibility: iOS 11 or newer
Who said you shouldn't pay for the best podcast recording app for iPhone? Paid programs come with additional perks will round the clock support and ad-free interfaces. For $29.99, you'll enjoy a wealth of podcast recording and editing features. After recording a podcast, you can cut, copy, and paste. Also, this app allows you to change the audible scrub, volume, playback position, and more. Then, you can export the podcast to multiple destinations.
Key features:
Record high-quality audio in 16 or 24-bit.
No-destructive podcast editing with undo/redo.
Share podcast to email, SoundCloud, iTunes, etc.
Save podcast in WAV, ALAC, MP2, or AAC.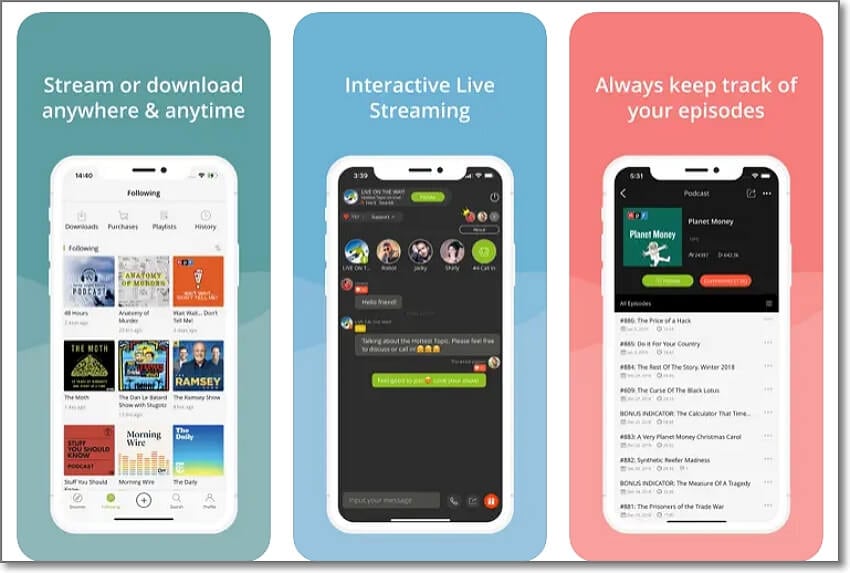 Rating: 4.8
Compatibility: iOS/iPadOS 10 or newer
Here is another highly rated podcast recording app to capture podcast episodes without paying a dime. With it, you can stream, record, and download over 10 million podcasts. The professional-grade audio recorder is simple and boasts a comprehensive collection of licensed music and sound effects. It also features powerful editing tools to split, trim, and merge podcasts before exporting.
Key features:
Listen to millions of live audio shows.
Engage podcast creators and listeners with questions.
Simple audio recorder with basic editing tools.
It supports batch podcast downloads.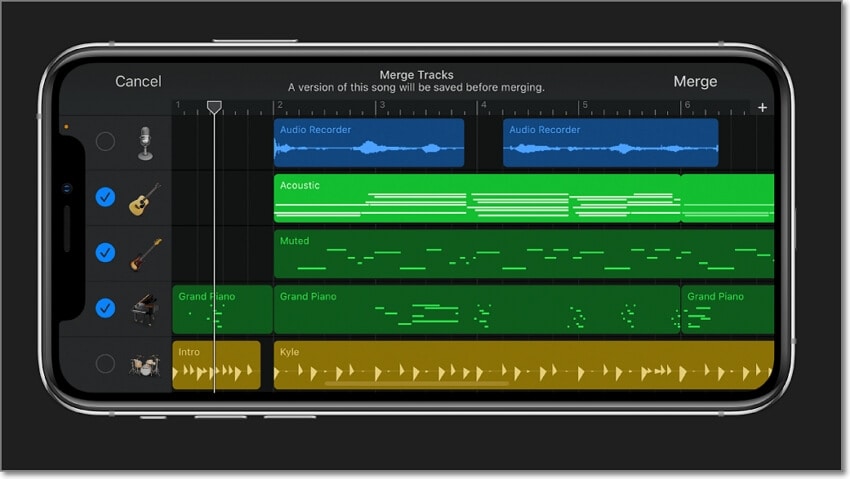 Rating: 4.1
Compatibility: iOS/iPadOS 15 or newer
Garageband is a free music recorder and editor from Apple that will transform your iPhone or iPad into a full-featured podcast recording studio. You can record, arrange, and mix your podcast with licensed sound effects and music. Garageband boasts professional mixing effects like Virtual EQ, Overdrive, and Bitcrusher. Also, you can trim and split audio before sharing it on iCloud, Facebook, YouTube, etc.
Key features:
Simple, free full-featured app.
Record audio with live loops and DJ-style effects.
Play and record musical instruments.
Customize podcasts with sound effects and music.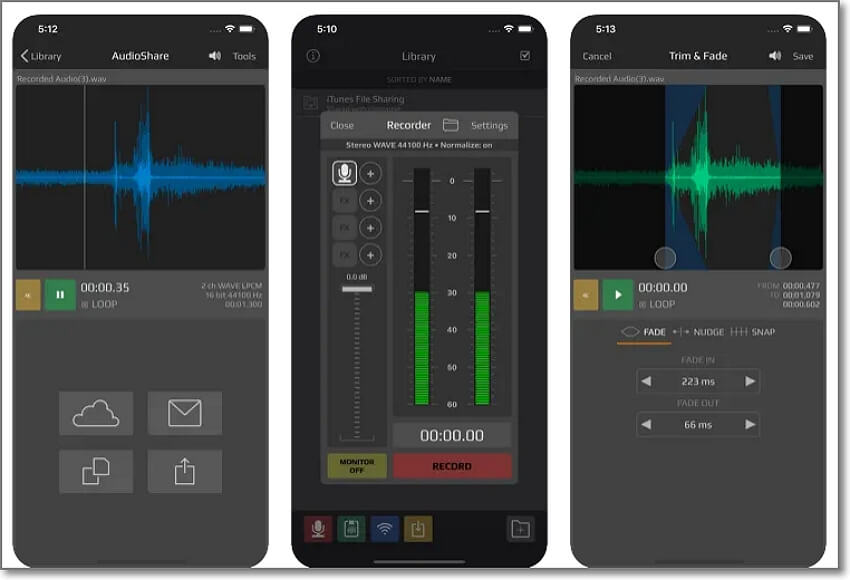 Rating: 4.7
Compatibility: iOS/iPadOS 10.0 or newer
For just $4.99, you'll get a powerful sound file manager with excellent import and export capabilities. AudioShare allows you to record, organize, manage, and share podcasts on your iPad or iPhone. After recording audio using a mic, you can play it to preview and edit by cutting, trimming, normalizing, renaming, and converting. You can convert audio to M4A, AAC, ALAC, WAV, and CIF. Moreover, you directly export audio to SoundCloud.
Key features:
Record, organize, and edit audio.
Capture podcasts using an external mic.
Convert between audio formats.
Export the recorded podcast to SoundCloud.
Part 3. Top 5 Podcast Recording Apps for Android
What iPhones can do, Android phones can do, if not better. So, if you're an Android user, head to Play Store and install one of these apps for recording podcasts:
1.Anchor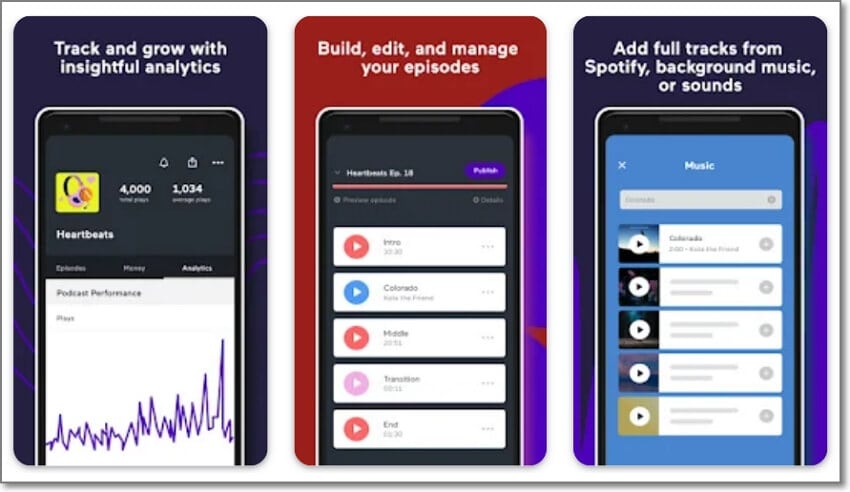 Rating: 4.3
Compatibility: Android 5.1 or newer
Surprised? No, don't be! Anchor is one of the best podcast recording apps for Android, with over 10 million downloads on Play Store. Like with iPhone, Android users can generate top-quality podcasts with Spotify imports. In addition, you can customize your podcast with transitions, background music, effects, and cover arts. And yes, you get a free podcast-hosting platform.
Key features:
100% free podcast hosting service.
Licensed transitions, sound effects, and music.
Easily create and apply podcast cover arts.
Record custom adverts in your voice.
2.Podcast Studio by Spreaker