Gender Swapper
Online Free
Smoothly change your gender from male to female or vice versa online with our AI gender swap filter. Transform your photos with the lifelike gender switches, making self-exploration enjoyable while revamping your social media game.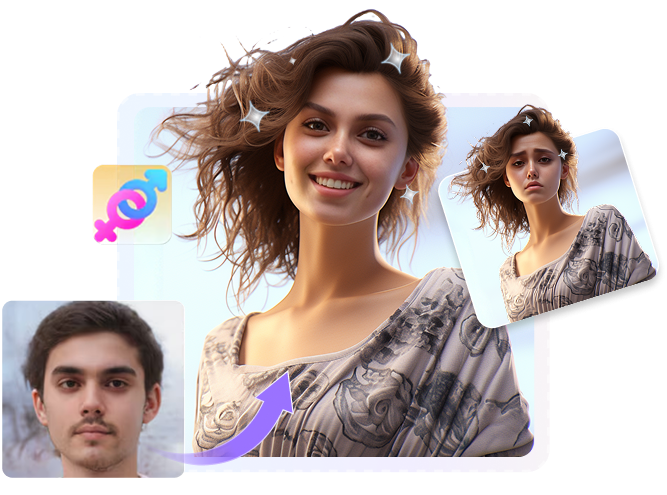 Easy of Use
Media.io is an instant gender swap filter online. It provides smooth cross-platform compatibility on Android, iPhone, Windows, and macOS platforms. Upload a photo, choose a gender, and the AI will do the dirty work. No Photoshop skills are required!
Accurate Gender Changer
It employs advanced AI technology to automatically scan and modify facial features and create lifelike masculine or feminine looks in real-time. Media.io adds a realistic makeover to your photos to deliver the best selfies.
Extensive Editing Options
Besides Gender Swap Filter, Media.io provides an extensive list of editing options like age transformation, emotion expression, cartoon filters, artistic creativity, and much more. It also has fun accessories like
AI beards
, sunglasses, double chin, etc.
Data Privacy Assurance
All your uploaded data on this gender swapping app are safe from unwanted hands. It will delete all your uploaded files automatically after a few hours.
AI Portrait Generator NEW
Unleash Your Ideal Self with AI Magic!
Create your professional headshots or creative
profile pictures in endless styles and scenes.
5 Selfies + Our AI = Your Enhanced Digital Charm! 🌟📸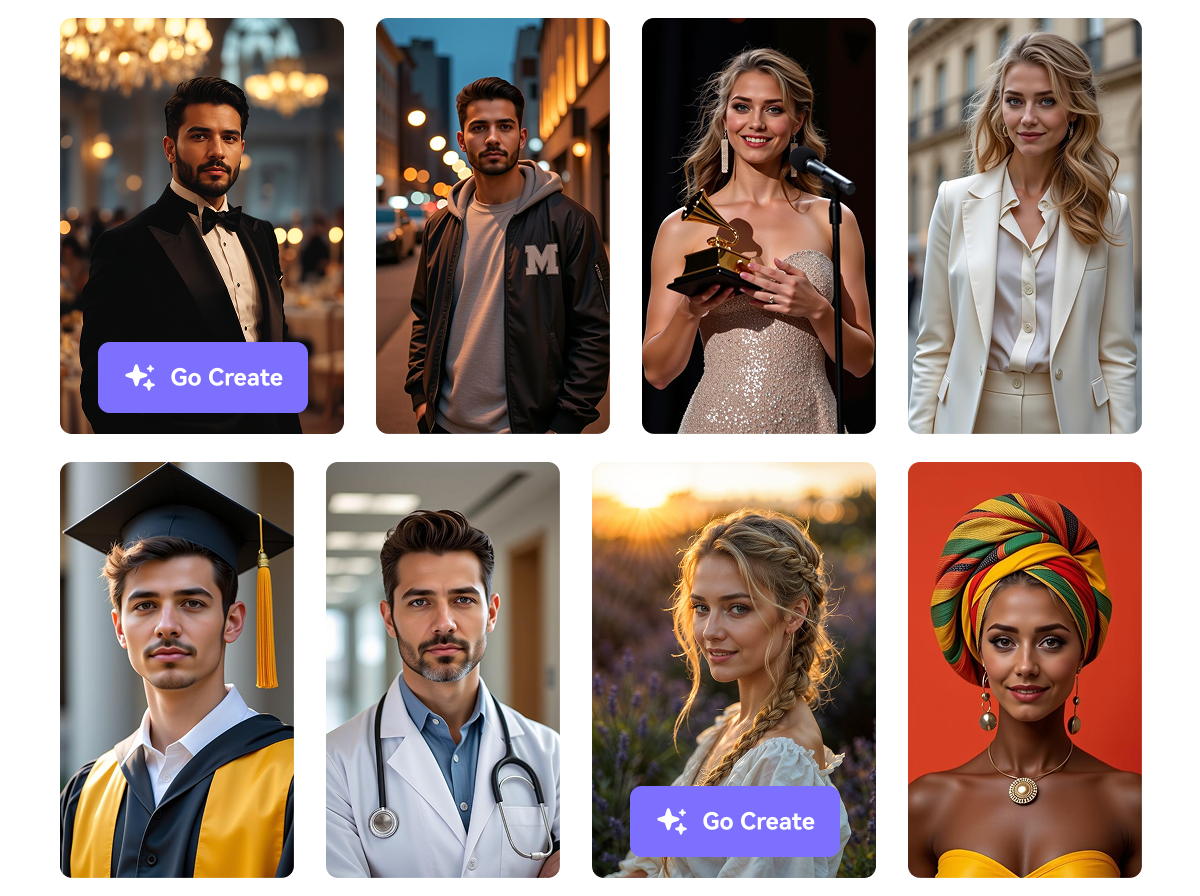 How to Add a Gender Swap Filter to Your Photos?
Step 1. Upload Your Photo.

Launch the AI gender filter swap tool, then upload the photo you want to transform. This tool supports most image file formats with file sizes under 5MB.

Step 2. Choose a Gender.

After uploading a photo successfully, select the target gender as Male or Female. Then, click Start to process to start transforming your gender.

Step 3. Download the Photo.

Before downloading the gender-swapped photo, you can retouch it or experiment with other playful gender swap filters. If satisfied, tap Download to save the fresh picture.
Discover the Different You with Media.io Gender Swap Filter
Ready for an exciting journey in gender transformation through your photos? Whether it's for social media, fun with friends, online profiles, or more, our gender swap filters are your creative gateway to diverse expressions.
More Handy Tools for Image Editing
Noel Sherry
One of my favorite gender swap tools! I have a lot of fun with the filters to find the ideal gender swap idea for me. I didn't notice any leftover marks or brushes. Nice app!
Becky
This is an app that every social media enthusiast should try. After transforming my photos, I try out different filters to find the ones that suit me the best. The best gender swapper online by a mile!
John Mark
This gender swap tool has a variety of filters that you should definitely try. I really enjoyed the cartoon filters that allow my other gender to look more like an animated cartoon character.
Joe
This online gender swapper works flawlessly. It has various fun features and tools to make your swapped gender look natural and unedited. It's also easier to use than most gender swapping apps I've used.
Wes Stinger
This app has a collection of good filters and various features to make swapped photos look rich and unedited. I like the gender-switching filter quality and the cartoon filters. It was worth it!
FAQs about Gender Swapper Online
1. What is the best free gender swap app online?

Media.io is one of the best tools to help you swap your gender on the go. It uses bending technology to transform you into a guy or a girl. This fun tool also comes with other filter effects to make you look old, young, or glow up.

2. How to convert man to woman or woman to man instantly?

You can quickly transform your face into a man or woman using Media.io AI gender swapper. This simple tool will automatically detect your facial features before transforming you into a realistic different gender.

3. What are the applications for gender swap tools?

If you're an avid social media user, there are many gender swap ideas to explore. Below are some of them:
• Prank your friends with new looks.
• Make fun of celebrity characters.
• Generate creative videos or GIFs.