You might want to create explainer videos, presentations, team demonstrations, or how-to videos simultaneously with screen and webcam recording. If you are looking for the right solution of how to record screen and camera from your phone or PC at the same time, we have the right solution for you!
Today, we will share a free and easiest screen and webcam recorder that can be accessed online for you to capitalize on! So let's get into it.
Part 1. The Easiest Screen Recorder With Camera - Media.io
If you are looking for an online screen recorder with face cam for your Windows, Mac, or mobile, Screen Recorder by Media.io is the easiest to use and most practically built online Recorder. All you have to do is visit the official website of the free Screen and webcam recorder and start recording your camera and screen simultaneously. You can also add the Media.io Screen Recorder extension to Google Chrome for quick access to the online screen recorder with a webcam on the go.
The most enticing features of Media.io Screen Recorder are:
You get different recording modes like only camera, only screen, voice only, or camera+screen
Record your screen with or without audio
Choose what to record with the chrome tab, specific window, the entire screen, etc
Multiple video format support like 480p, 720p or 1080p
Webcam recordings can be exported in different formats
In-built editor to add background music, trim the videos, do transitions(crop, rotate, flip, etc.)
How To Record Screen and Camera Video Simultaneously?
Step 1. Select The Recording Mode.
Go to the official Screen Recorder and tap on Record Screen Now. Choose what you want to record: screen only, the camera only, voice only, screen+camera. In our case, go for Screen & Camera.
Also, choose the recording input from the drop-down menu. Once selected, tap on Start Recording.
Step 2. Customize Screen Recording Settings.
A new window will open to ask what to record. You can choose the entire screen, the window only, or the chrome tab.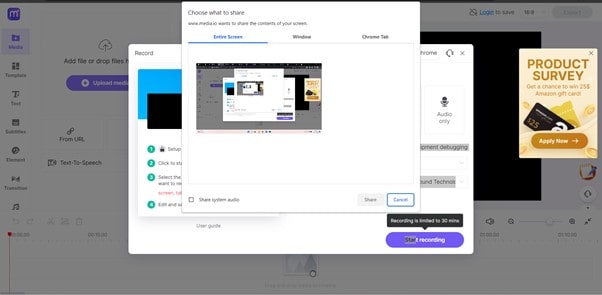 Step 3. Ready, Set, Go!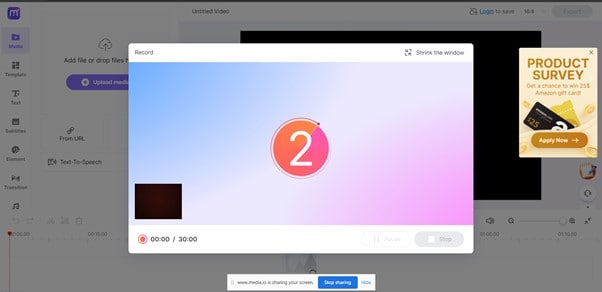 Tap on the Share, and the recording will start in 3, 2, and 1! Record as long as you want and tap on Stop Now once you want to stop it!
Step 4. Export The Recorded Video.
Once you have stopped recording, you can download the recorded video in the desired format. If you want to edit your video, tap on edit and make the most out of Media.io Video Editor Online.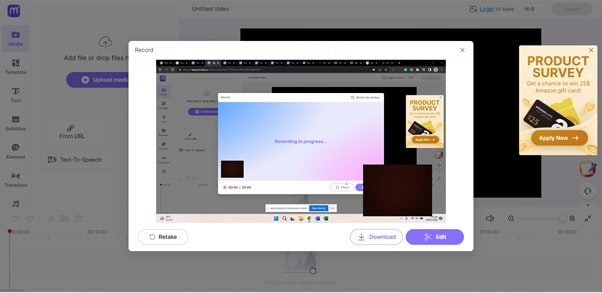 What We Like:
A user-friendly interface enhances the overall user experience
Online Recorder eliminates the need for software installation
Accessible from all devices, be it iPhone, Android, Windows, or macOS
Multiple recording and exporting formats with high video quality
Notes For Recording Screen And Camera Simultaneously
To make the most out of the Media.io screen and camera recorder, you are suggested to install the Chrome Extension and record your screen+camera on the go every time you need it. Here is how to  install a free screen recorder with face cam extension:
Visit Media.io Screen Recorder Website
Tap On Add To Chrome

You will be redirected to Chrome Web Store. Tap on Add To Chrome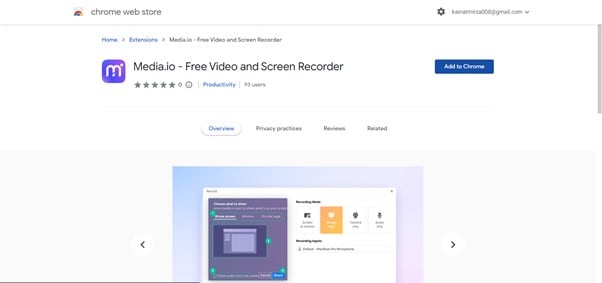 Next time you want to use a screen recorder with a webcam, you can access it from Chrome Extension.

Part 2. Pro Tips - Edit To Level Up Your Recorded Video
Already recorded your screen & camera with a free screen recorder with webcam on mac, mobile, or Windows? How do you make your videos perfect for uploading on YouTube, your Social Media, or whatever purpose you have recorded?
Here are the tips for you to edit your recorded videos and make them just perfect:
Add transition effects to explainer videos or presentation videos with changing slides. *Make faster transitions so that you explain your point and do not linger on.
You can also add subtitles to your videos to make them more comprehensible for audiences having a language barrier.
Don't leave the opportunity to share your social media handles with your audience.
You can use video templates or make intros and outros for videos to make the content personalized.
Add sound effects and background music to make the videos more engaging.
You can also add elements like emojis, icons, etc., to deliver the meaning more clearly.
Are you overwhelmed to see these tips for editing your videos? Must be wondering if there should be a professional video editor to do all of this!
But guess what?
You can use the in-built editor of Media.io to make perfect edits to your screen recordings. In fact, you can import other media files from your PC or mobile to make the explainer videos or presentations more engaging and fun for the audience. Here is what you can do with the Media.io Video Editor:
Add subtitles
Use Video Templates
Add Transition Effects
Add Elements To Your Videos
Add Social Media Tags
Add Text To Videos
Remove audio, add music or audio recording to your videos
Try it now to record and edit your videos perfectly!
FAQ
Can you record the screen and camera at the same time?

Yes, you can record the screen and camera at the same time if you have access to the right tool. There are many webcam recorders, voice recorders, or only-screen recorders available, but Media.io Screen Recorder is what you need to record screen and camera simultaneously.

How can I record my phone screen and camera at the same time?

Media.io screen recorder with the camera is a free screen recorder with a face cam that lets you record your phone screen and camera at the same time. All you have to do is visit the screen recorder from your web browser, tap on the record screen, choose settings and inputs, and start recording your phone and screen at the same time.

How do I record my screen and webcam simultaneously, Windows?

You can record your screen and webcam simultaneously on Windows by using Media.io Screen Recorder. The online screen recorder with facecam can be used from the web browser without any long-term commitments, subscriptions, or signups. Check out the method as discussed above on how to record screen and camera on Windows at the same time.