Online Video Editor
Create and edit videos for free using Media.io online
video maker. Make a video from video clips, images,
and music within a few clicks without a watermark.

Unleash Creativity with Media.io Free Online Video Editor
Creativity and customization need well-equipped tools – and we bring you that at your fingertips in terms of Media.io free online video editor. This video editor online is a platform where you can upload, edit, stylize, and customize your video shots and wrap them in a modern look in minutes from scratch. It works with most popular media formats such as MP4, WebM, MKV, MOV, WMV, PNG, JPG, MP3, WAV, AAC, OGG, and M4A, and provides the necessary tools for effortless video creation.
Mostly, high-end video editors require prior experience due to complex functionalities, but Media.io brings the easy-to-use UI from where you can upload, trim, edit, and export right from your browser— no need to download software! Furthermore, with Media.io, no creator will face the resource tools problem as this online video editor allows you to upload images, audio, and video or record the screen or webcam.
How to Edit A Video with Media.io Free Online Video Editor
Unlike most online and offline video editors, Media.io is entirely free and leaves no watermark when exporting your video. Media.io can help creators and storytellers to edit and portray videos in a completely different manner.
Step 1: Upload Media Files

Add images, videos, or music tracks to the media library by clicking the Upload button. You can also record the screen or webcam with the audio or paste the video link to upload directly.
Drag the media to the timeline one by one and place it in correct order to create your video.

Step 2: Edit, Trim, Combine and Stylize

Trim, split, rotate, flip your footage, add fade in and fade out effects to audio, add texts or elements that make your video standing out.
You can also try the auto-generated subtitle feature to add captions to video automatically to save your time.

Step 3: Review and Save

Once you're done with editing, click on the Export button and select the resolution and click on Continue. The video will be rendered in minutes, depending on the length.
You can download it without watermark or click the Edit again button to re-edit.
'Editing Video Online' Tutorial
Media.io Gives Everyone the Freedom to
Socialize your Stories
You need different aspect ratios to fit in various social media platforms? Worry not! Media.io has got you covered. You can customize the aspect ratio as square, vertical or horizontal to post the full-view video to your social media.
Market your Business
A video with random frames and lag in transitions cannot make up to trending list! Edit with Media.io to add elements, texts, and auto-subtitles to make product videos, marketing videos, video ads, promo videos, and business videos to boost your brand's sales.
Collaborate cross team
The project's deadline can't be fulfilled without cross-team collaboration. You can create and edit your videos on online editor from multiple devices with all security measures in practice.
Make How-tos Video
Every creator's dream is to make evergreen videos that can last longer in the audience's heart! How-to videos are one of them— and you can create and edit perfect how-to videos to help people solve problems with Media.io.
Showcase how your product or service works to increase leads and conversions. Storytellers and content creators who are into such videos where they need to explain something in detail or train the audience needs continuous flow and explanatory subtitles— that's where Media.io Auto-Subtitle comes in!
Share with Family & Friends
Edit your personal videos and share them with your loved ones on special occasions to add a sense of emotion. Media.io brings in various love elements and graphic texts to add to the videos as well.
More Great Features of Media.io Online Video Editor
In-app Recording
Not only upload images, videos, and audio files from your local file, but you can record them live! The in-app record feature lets you record a video from the webcam or screen to edit it on the spot.
Auto Subtitles Generator
Vloggers, creators, and storytellers know the struggle of typing subtitles manually— not anymore! Media.io brings the auto subtitle generator feature to add captions and subtitles to the videos automatically.
Timeline-based Editor
A creator can have complete control over the editing timeline! This timeline-based editor enables you to trim, combine and manipulate the media files on the track/timeline with few clicks. You can add sounds or images to a video scene using layers.
Make Videos for All Social Media Platforms
You cannot post a YouTube video to TikTok due to aspect ratio problems, and Media.io has got you covered! You can create videos for YouTube, Instagram, Twitter, TikTok, and more with different aspect ratio settings in Media.io.
Why You Edit Videos Online?
Operating System Friedly
If you don't have a high-end PC to accommodate heavy editing software— Media.io can be your best bet. This free online video editor can be run on any platform or operating systems such as Windows, Mac, Linux and Chromebook. If you have multiple devices with different operating systems, there is no need to worry about the editing now.
No Equipment Needed
You don't need to wait for the rendering for hours! Media.io Online Video Editor can work on any platform or device, and the rendering speed is not affected by the operating system's specifications. You need a high-speed internet connection with enough bandwidth and some creative ideas to start!
Teamwork and Collaboration
If your whole team is working on the same project, each having its own job, online video editors make collaboration and teamwork easier. With online video editors, you can upload the files to the same project from different devices. No need to share files via emails and flash disks.
Cost-Effective
Whether you're a beginner or professional, offline video editors will cost you very high! Media.io is a completely free online video editing platform working on the freemium model where you can edit and stylize your videos for free. Moreover, this online video editor offers simple and advanced editing features, enough to monetize your content on social media platforms.
Discover More Features about Media.io
Any Question? We Answered!
What is the best free online video editor for beginners?

Plenty of Online Video Editors are in the business, with each having its own functionalities, and everyone's definition of best will differ. Generally, content creators love functional yet straightforward video editing software, which they can utilize on the go— and Media.io offers trimming, editing, stylizing, and rendering all at a single place. What's more, you can export video at 1080p without a watermark.

Does Media.io online video editor leave a watermark on my exported video?

No, Media.io is a completely free online video editor tool that leaves no watermark on the video. You can export the video in 720p or 1080p by simply signing up.



Is there a free online video editor without a watermark?

There are plenty of online editing tools that claim to be free but leave a watermark on the video or export with limited resolution. Media.io is an entirely free editing tool that enables you to use advanced functionalities such as auto subtitle generator, text editor, etc.

Can I edit the video online?

Yes, you can utilize Media.io online editor to edit the videos online. Here's the best part? You can upload images, videos, and music without any size limits.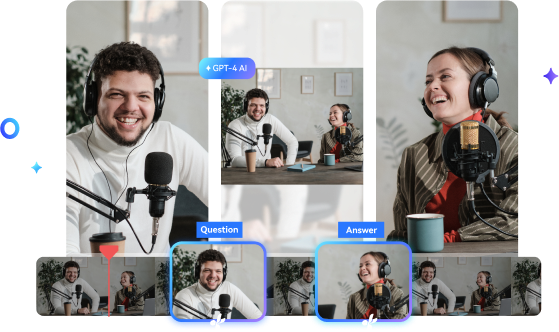 Transform Long Videos into Short Ones Instantly
√ Turn long videos into viral clips. Effortlessly transform lengthy videos into engaging, shareable clips.

√ Edit Video Seamlessly Like As Editing Text

√ AI Voice Cloner Ends Reshoots
Simplified
Online Video Editing Solution
Video editing has never been easier! Create amazing videos, record webcam and screen, generate captions and subtitles automatically, and grow your audience.