Auto Subtitle Generator & Caption Generator
Automatically generate subtitles or captions for any video with an AI-powered generator. Save your time in transcribing audio to text, or adding text manually! Fast and high accuracy with AIGC.
Automatic Subtitle Generator Online
A subtitle generator is a must-have tool for any professional video editor, movie lover, vlogger, or short video maker. With this tool, you can automatically apply captions and subtitles to your videos to make them more engaging without the hassle of work.
Compare to ChatGPT for generating captions by a brief description, this subtitle generator is more convenient for creating a foreign language video and movie by analyzing the video by itself, it can create subtitles and captions in different languages in one click to reach a wider audience all around the world, instead of writing serval CC captions to match different languages.
Try AI-powered Media.io subtitle generator to add auto-subtitle or captions for videos (MP4, MOV, etc.) or convert audio to text in an efficient manner. Just upload an audio file and let the program do all the heavy lifting. Let's try!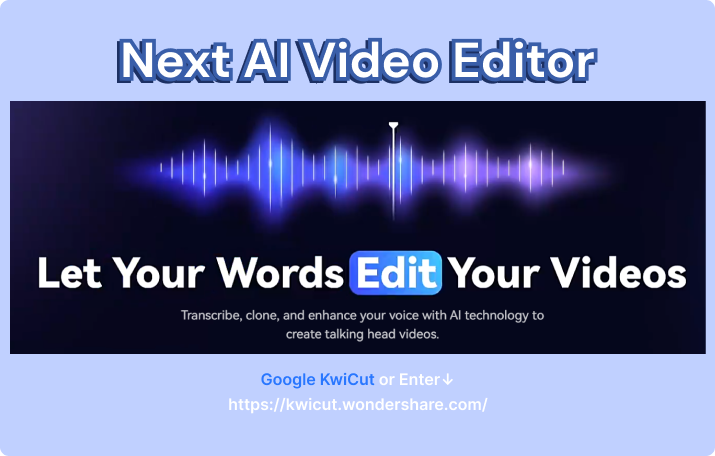 New AI Video Editor - KwiCut
How to Auto Subtitle and Caption a Video?
Step 1. Upload Video Files

Launch the Media.io Subtitle Generator online, then drag & drop to upload a video file from local storage to generate subtitles from video. The AI software will promptly begin transcribing the video.

Step 2. Add Subtitles & Caption to the Video Automatically

To easily add automatic captions and subtitles to your video by toggling on the Auto Subtitle switch in the top-left corner of the video preview screen. Media.io will take care of the rest, accurately detecting and seamlessly syncing your subtitles with the video.

Step 3. Edit the auto-subtitles and download the video

After loading the subtitle tracks, edit the texts further to correct minor errors. When satisfied, choose a target aspect ratio and click Export to save the caption.

Extra Tip: Download SRT file for flexible use on most platforms.
Why Choose Media.io Auto Subtitle Generator?
Create Subtitles with High Accuracy
This free auto subtitle and caption generator use advanced machine learning to recognize audio and place them in the video. You don't even need to correct the subtitle tracks manually.
Multiple Languages Supported
This speech-to-text converter supports up to 90 subtitle languages. You can transcribe English, German, Chinese, Indian, Spanish, and so on and enables to translate video to almost all languages!
No Watermark
Media.io Auto Caption Generator generates subtitles and captions without a watermark attached. It's totally free to auto add texts to videos with non-watermarked outputs.
Burn Subtitles to Any Video
No matter what video formats are, you can burn subtitles into a video quickly and easily. It supports MP4, MOV, MTS, 3GP, MKV, FLV, and WebM, among others, perfectly fits a range of format needs.
Beyond Auto Caption Generator
After automatic video captioning, you can customize and edit to optimize the words to look more attractive and close to the content. And if you need a quick summary of your subtitles, you can always turn to the AI assistant for assistance, making it even more useful for your needs.

Cross-Platform Compatibility
Media.io Auto-Subtitle Generator can work online on any HTML5 web browser. You can create auto subtitles on iPhone, Android, Mac, and Windows without a barrier, add subtitles on target device directly.
Why Caption or Subtitle a Video Automatically?
FAQ about Creating Subtitles for Video
1. How do I auto-subtitle a video?

Auto-subtitling a video can save you the time and energy that you would spend creating captions for a long video. Therefore, use Media.io Auto Subtitle Generator to enjoy a fast and efficient subtitle adding process. With this auto subtitle maker, you can generate subtitles for any video format on iPhone, Android, Mac, or Windows. Just load a file and create a subtitle.

2. How do I convert speech to text online?

You can easily convert speech to text online using Media.io Auto Subtitle Generator. With it, you can convert all standard audio to subtitle text and lets save as an SRT file. This includes OGG, FLAC, AU, MP3, M4R, M4A, and more. In addition, it supports over 85 speech languages, including English, Spanish, German, Arabic, Chinese, etc. Just choose a language and create.

3. What is the best auto subtitle generator?

When looking for a software to add auto-generated captions, look at features like intuitiveness and format support. Also, the best subtitle adder should support text editing and be accessible on mobile or computer. Fortunately, Media.io Subtitle Generator ticks all these boxes.

4. How do I generate automatic subtitles for social media platforms?

Media.io online video editor allows you to create videos for almost all popular social media platforms. Adding captions to video is a piece of cake.
1. Visit Media.io online video editor on your favorite website.
2. Click upload to load an audio speech. This auto caption app will automatically recognize and add subtitles to the video.
3. Edit your subtitle tracks and choose an output aspect ratio for the video. Lastly, tap Export to save the video.
More Tips and Tricks for Video Subtitles & Captions
Angelina Russell
This is the best online subtitle maker by far. It lets you perform automatic video captioning in your native language. For someone captioning long videos, this tool is a must-have.
Ann Lee
This online application transcribe speech accurately. It doesn't confuse words with others. Overall, it's excellent for converting audio to text.
Luciano Guardado
I've used this subtitle generator for a month, and it's actually pretty good. The UI is self-explanatory and supports manual and automatic video captioning. I love it!
Scott Johnson
This is the best auto subtitle generator I've ever used. It's free yet full-fledged. It feels more like a desktop video editor.
Stacy K
One of the most accurate subtitling apps (I've tried several, trust me). It's free, easy, and the captioned videos don't have those annoying marketing watermarks. You should try it!
Generate Subtitles Automatically Online
in Minutes.
Make video editing EASY like ever before!
Media.io Online Tools

Quality Rating: