How to Remove Background Noise from Video Online - 3 Steps
It is hard to find a quiet place to take videos, or record your life without other noise interference. To clean these unwanted sounds in videos, you need a perfect noise reducer for helping you remove those sounds. Media.io only needs 3 easy steps to reduce different kinds of noise from your video, whether in the form of wind noise, ticking clock sound, or even traffic beep, you can use a perfect video noise reduction online tool - Media.io to achieve this. See how it works!
1. Upload Video File

Upload your video files that need to erase noise to media.io from any browser by clicking the 'Upload' button, or drag & drop the file to the area.

2. Select the Type of Noise to Remove

Choose the type of noise you want to remove from your audio file, click 'Reduce Noise Now' to start the process!

3. Download and Save the Noise Removal File

You can preview the result file first, then save the noise reduction video files to your computer or cloud storage.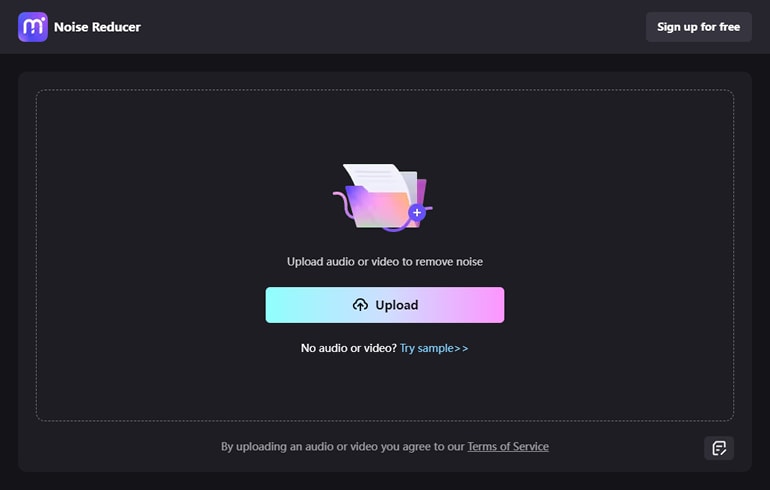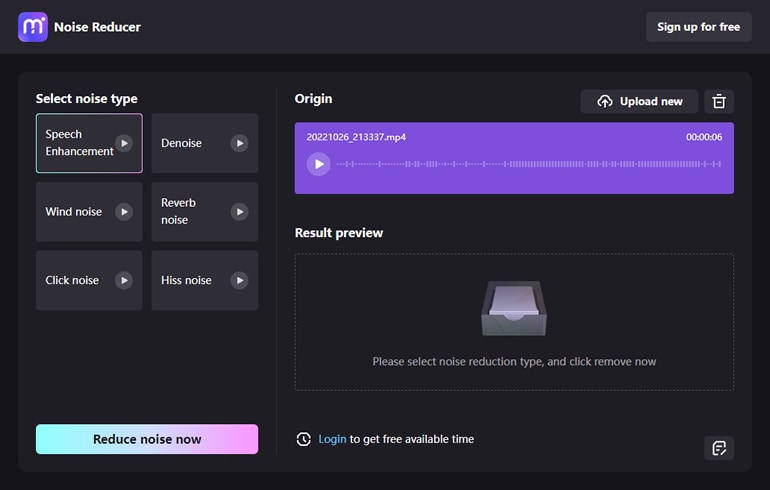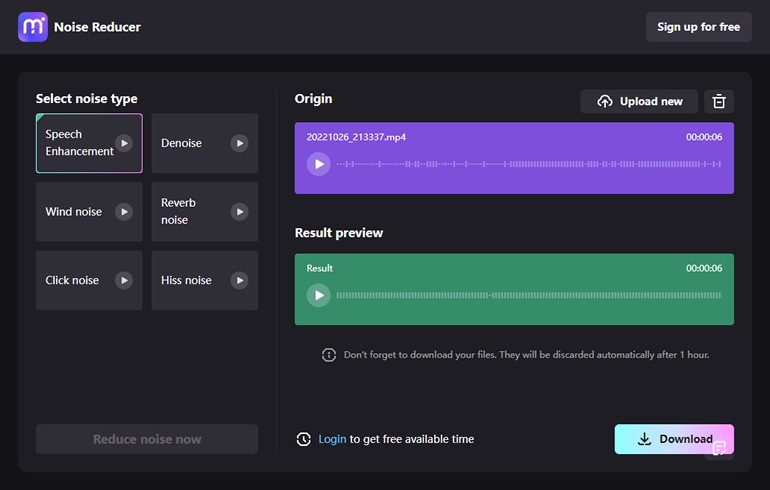 Why Choose Media.io Video Background Noise Remover?
There is no need to re-record a video or purchase an expensive mic for better sound effects. Media.io use its AI noise removal technology to reduce and clean the useless background audio in your video. No matter what video formats are, Media.io can extract and delete noise without breaking the video.
Reduce Different Types of Noise
No matter what kind of background noise - wind, rain, traffic, - Media.io is always there for you to wipe clean your background sound in no time.
Powered by AI Noise Remover
Media.io uses advanced AI technology to mute noise and unwanted sound in a video. It saves your time and helps you get rid of dull work.
Can Customize the db of Noise
Media.io provides more options for you to adjust the db of the background noise. You can easily customize the volume of the audio as you like.
Support All Video File Types
No need to worry about the video file types because Media.io supports MP3, M4A, OGG, MP4, MOV, VOB, MTS, and More. You can export videos to various formats as well.
Easy and Fast to Use
Mute and clean the background noise of your video in 3 steps. Before exporting, you can preview the video after the noise removal process in advance.
Safe and Secure
All the uploaded video files will be automatically deleted after 24 hours. This website is also SSL encrypted to prevent unauthorized data access.
Reduce Noise in Video to Make High-Quality Videos
Media.io video noise reduction is what you need to achieve a clean video free of wind noise, hiss noise, or anything that makes your video quality looks not so good. Posting a video with clear background sound and music can get more views and likes on your social media. Now, level up your video quality with Media.io!
Edit for Video Speech, Online Courses or Zoom Recording
Media.io is the top online tool to remove background noise from your video. In a Zoom recording, online courses, product explainer videos, or a business video speech, background noise interference gives an unprofessional look. Worse, it may also lead to your views or business partners losing interest.
So, with Media.io noise blocker, it becomes easy to reduce noise in video effectively. You can edit and clean the video sound by uploading the file itself or directly from YouTube. Media.io will help to clean your video free from all background noise forms.
Remove Noise for Travel Vlogs, ASMR Videos, and More
Media.io is useful for reducing noise in your travel Vlogs or ASMR videos. Travel Vlogs get affected mainly by wind noise and traffic while the background noise in ASMR will hamper the video's aim and distract the concentration.
All the disturbing background sounds can't let your viewers focus on your videos. It's better for you to use Media.io to clean your video of every form of background noise, bring you a better video and viewing experience.
FAQ about Video Noise Reduction
1. How can you remove background noise from a video?

To remove background noise from your video, you need to do this.
Step 1. Firstly, upload your video file.
Step 2. Then, select the type of background noise you want to remove, either wind, hiss, or hum. Wait for a while for it to process.
Step 3. Thirdly, download and save the video.

2. How can you remove background noise from a video for free?

You can remove wind noise from video or any other kind of background noise from your video for free using our online tool, media.io. It is one of the most versatile video editing tools to remove background noise from video for free.

3. How do you remove background noise from a video on my computer?

You can reduce noise in a video on your computer using the media.io online tool. Media.io is an online tool that allows you to clean your video of background noises. It can work on your computer or mobile. The process is to launch the tool online first. Upload the video file and select what kind of noise you want to remove, download, and save. That's it!

4. How can you remove background noise from a video on my phone?

This is a seamless activity. Media.io is a mobile responsive site, and it works well on all mobile browsers such as chrome, firefox, etc. You can reduce noise in a video on your mobile as quickly as on your laptop.
Step 1. Launch Media.io noise remover and tap Choose Files to load your video.
Step 2. Select the type of noise, either wind noise, hiss noise, traffic, or more. Then remove it.

5. How do you cut the wind out of sound?

There are applications and software that you can use to do this, but the benefit of using an online tool such as media.io cannot be overemphasized. Media.io video noise reduction feature cuts any noise, including wind noise, and gives you a clean video with no background interference.
More Tips and Tricks for Noise Reducing
After frantically searching for online editing platforms to use for my videos, I found media.io, and since then, it has been one of the best I've worked with. Before media.io, I tried others, disappointing me without giving me what I wanted. With media.io, my search stopped, and I've been enjoying a seamless service ever since.
Nora Truman

Media.io has the best quality video editing features! Despite being an online software, it is still capable of running all the edits including video noise reduction without reducing the quality of your video. Awesome!
Naveen Roul

I love using media.io because it has all I need for my video content production! I could do auto transcriptions for my videos, I could also select custom fonts for consistency in my brand visuals. More so, I haven't experienced any issues since I started using media.io as a background noise blocker for all my videos. My vlogs turn out clean and clear!
Kumi Yoshi

Not Just a Noise Reducer ...
Convert, compress and edit files online
in minutes.
Make video editing easy like never before!