When it comes to digital media, images are amongst popular visual items. After all, they store essential memories of our lives alongside other achievements. Meanwhile, many of our pictures are victims of noise that may ruin the image's aesthetics. In general, images look good when they're clear, sharp, and colorful. Thus, in this regard, you need an AI photo denoiser to sort out this issue.
To help you find the best AI denoiser, this article illustrates 5 popular tools. This way, you will make your photos great again.
Part 1: How AI Image Denoiser is Better than Manual Methods for Removing Noise
Image noise is a set of pixel variations that make your pictures look blurry. Meanwhile, there exist AI denoiser online tools by which you can remove image noise. Using these tools is better than manual ways of removing noise. But why is it so? Let's find the answers here:
1. Reliable and Efficient
AI Image denoising tools have AI technology embedded that ensures automated working standards. This means that image denoising gets executed in an efficient way in real time. The process is much faster than removing noise in a manual standard. Thus, it will save you valuable time and resources. Meanwhile, you don't have to put in extra effort while using the technology.
2. Faster Adaptability
Compared to manual image denoising involving traditional methods, AI denoisers feature advanced mechanisms. After all, they're trained on datasets involving different images, including clean and noisy content. Hence, the denoising tools can better adapt to changing patterns, textures, and other parameters. This way, they can accurately perform image denoising.
3. Consistent Results
In manual noise removal, there exist chances of human errors. This is where inconsistency becomes a reality that can hinder our desired results. In such a scenario, image denoiser assists with consistent and reliable results. The image denoising process will be applied in an equal way on all images.
4. Continuous Improvement
It's possible to make AI denoisers much more advanced with continuous improvements. Thus, you can refine the functionalities with advanced features within diverse datasets. This makes AI denoiser capable of noise removal in unlimited possibilities. Meanwhile, manual noise removal requires extra effort to bring innovation.
Part 2: The Best 5 AI Image Denoisers of All Time
Upon searching the internet for the best AI photo denoiser, you'll find several options. This will make decision-making difficult for you. To make things easier for you, find here the top AI image denoiser tools:
Image upscaling becomes easier and smarter with Media.io - AI Image Enhancer. By using this AI denoiser online tool, problems of image noise get eliminated. After all, there exists an intelligent AI solution that provides super-resolutions to your images. This way, your blurry photos with noise and grain get upscaled efficiently.
You can even sharpen your portraits, unblur images, restore old photos, and correct colors. The supported file size is 25MB which allows you to even upload large-sized images.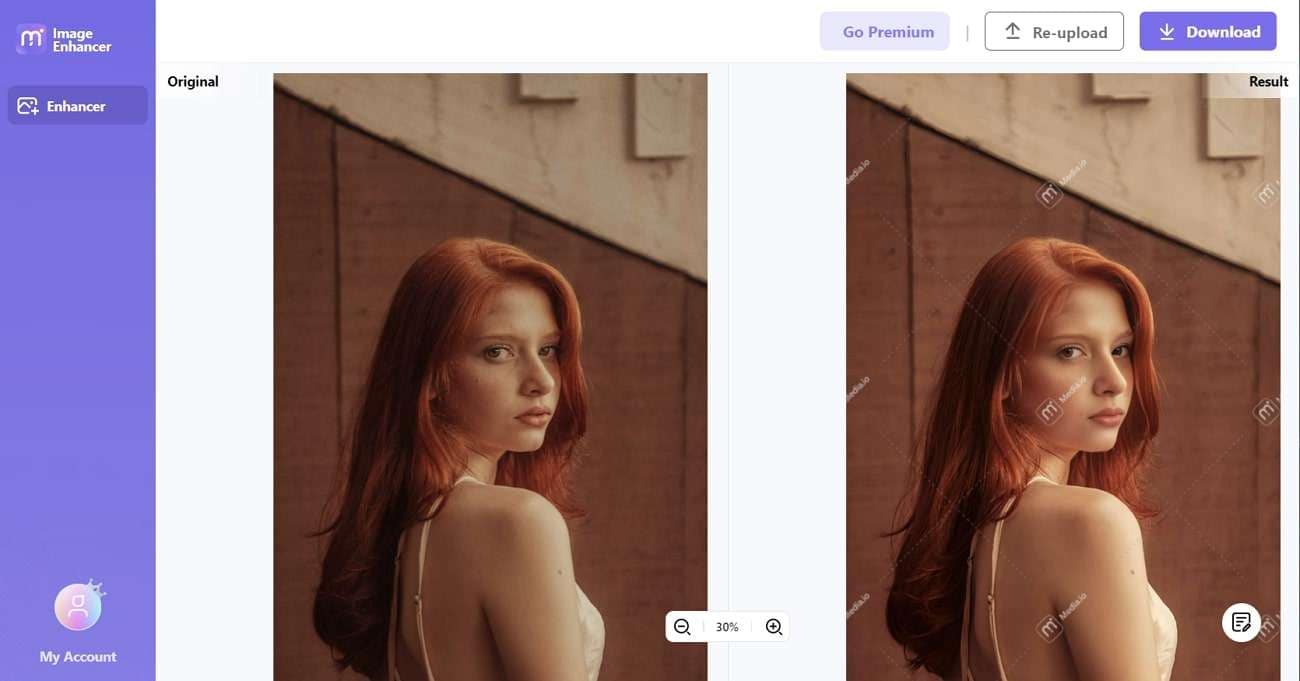 Key Features:
Apply modifications as per your requirements through preset scale and customization scale. This way, you can adjust the enhancement as needed.
All the images get downloaded in high-res graphics. Hence, you can use the upscaled visual media on social media platforms.
If you have old yet retro black-and-white pictures, you can even colorize them. The colors get added to an accurate standard with more incredible details.
Quality Ratings: 4.9 out of 5.0
Enhance your portraits with high-res upscaling through AI Image Enlarger. After all, this AI image denoiser-free tool provides high-end visual upscaling to noisy pictures. There exist intelligent algorithms that analyze deteriorated pictures to provide efficient noise removal. This way, your portraits will appear clearer, brighter, sharper, and more engaging.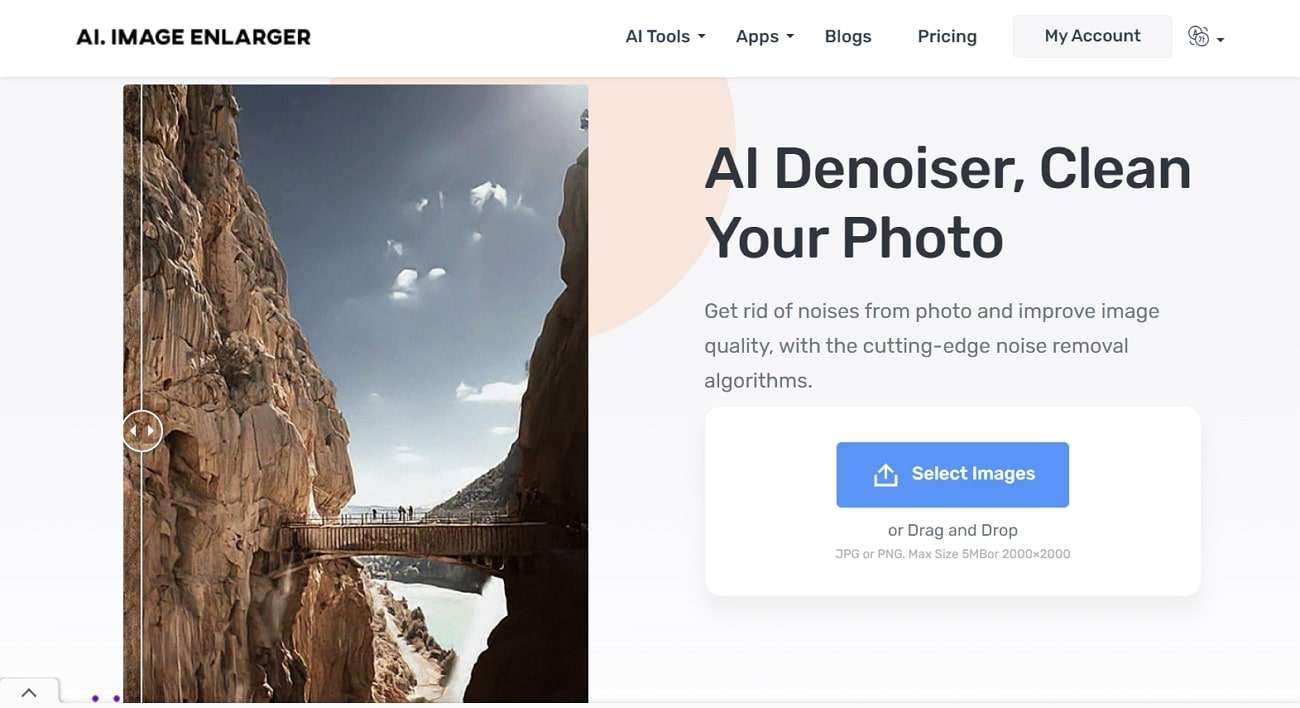 Key Features:
Get your images enlarged up to 200%, 400%, and 800% resolutions without losing quality. This way, your pictures get quality restoration with improved visuals.
With the AI face retouch option, upscale your portrait image to the next levels. Hence, you can enhance the looks of your eyes, nose, and lips or remove blemishes.
You can also edit your picture by means of cropping, filtering, redacting, annotating, and finetuning. Your image will become more adjusted to your requirements.
Quality Ratings: 4.5 out of 5.0
Restore the quality of all your noisy pictures to excellent quality with AVC.AI Image Denoiser. When you use this AI denoiser online, you can make your photos great again. There exist deep learning algorithms that transform visual quality through AI image enhancement. So, you don't need to worry if your image has blur, noise, or color imperfections.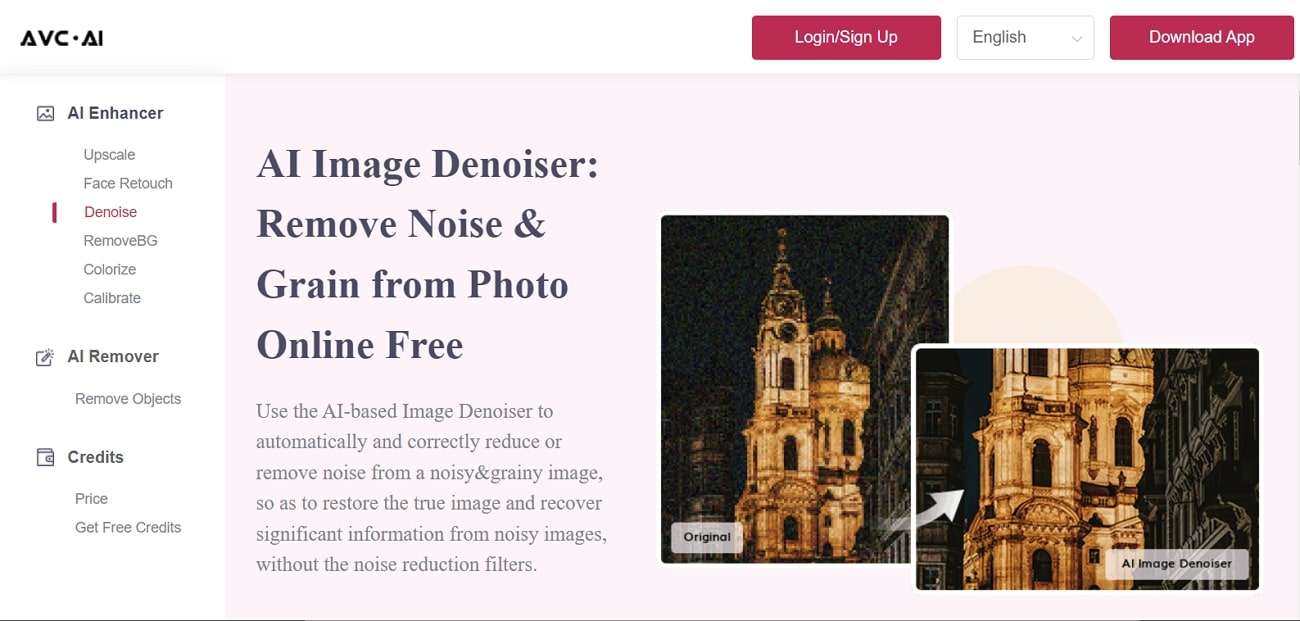 Key Features:
Your data privacy gets protected on this platform, as all the files get deleted in 24 hours. So, you don't need to worry about data getting breached.
With the available AI remover, remove all sorts of unnecessary objects within your images. This will make your image more enchanting.
This advanced AI enhancer comes with different AI functions. This includes denoise, face retouching, colorizing, calibrating, and more.
Quality Ratings: 4.6 out of 5.0
Looking to denoise your all-important images? Using Visual Paradigm Image Noise Reduction, retain high-res images in your gallery. The available AI denoise algorithms perform efficiently to remove image noise of all types. You can even preview your denoised image after starting the upscaling process. Thus, continue to download the image if satisfied.
Key Features:
You can remove the background from your image and create transparent backgrounds. The backgrounds are then adjusted in different visuals.
With available filter effects, repair and restore old yet retro images. The color schemas get enhanced, while images become sharper.
There exists a special cartoonist effect that turns your portraits into cartoons. So, you can see a cartoon version of yourself as an avatar.
Quality Ratings: 4.4 out of 5.0
Eliminate grain and noise from your image portraits using ConverAI Image Denoiser. This AI denoiser online tool has cutting-edge AI technology that denoises images with lossless quality. In doing so, the photos get transformed into crispy clear resolutions. Afterward, you can share and upload your high-res images on social media platforms.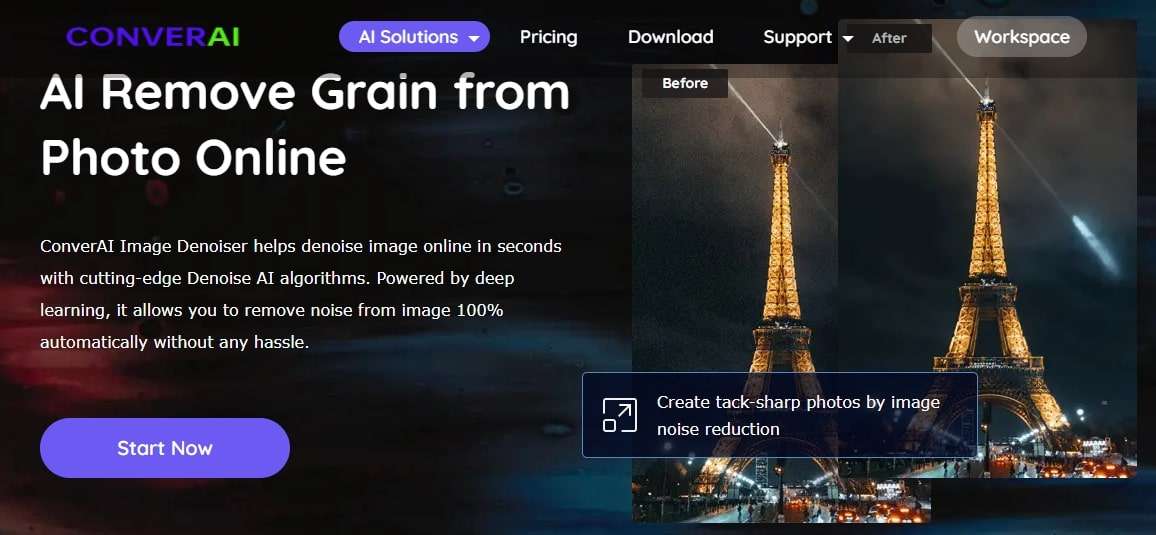 Key Features:
Using this image denoiser is very easy and straightforward to use. With simple tool navigation, you will not face problems or any inconveniences.
Within just 5 seconds, you can enhance the pixels of your image. After all, the platform is equipped with automated tech that works fast and efficiently.
Through available sliders, you can even adjust the parameters of your noise reduction. Thus, personalize noise adjustment as needed.
Quality Ratings: 4.5 out of 5.0
Part 3: Author Recommendation: The Best AI Tool to Denoise Images in Premium Quality
We have already discussed several AI photo denoiser tools. In general, these tools are best known for upscaling image quality and resolutions. Meanwhile, Media.io - AI Image Enhancer is the recommended option amongst them all. After all, the platform is simple to use, and you can perform A to Z image enhancement. For using Media.io for image denoising, follow the simple steps here:
Step 1

Open Media.io – Image Enhancer and Upload Image

From your browser, open Media.io - AI Image Enhancer and access the "Enhance Photos" AI tool. Continue to click on the "Upload Images" button to select and upload your image. The supported file formats include "JPG," "PNG," "JPEG," "WEBP," and "BMP."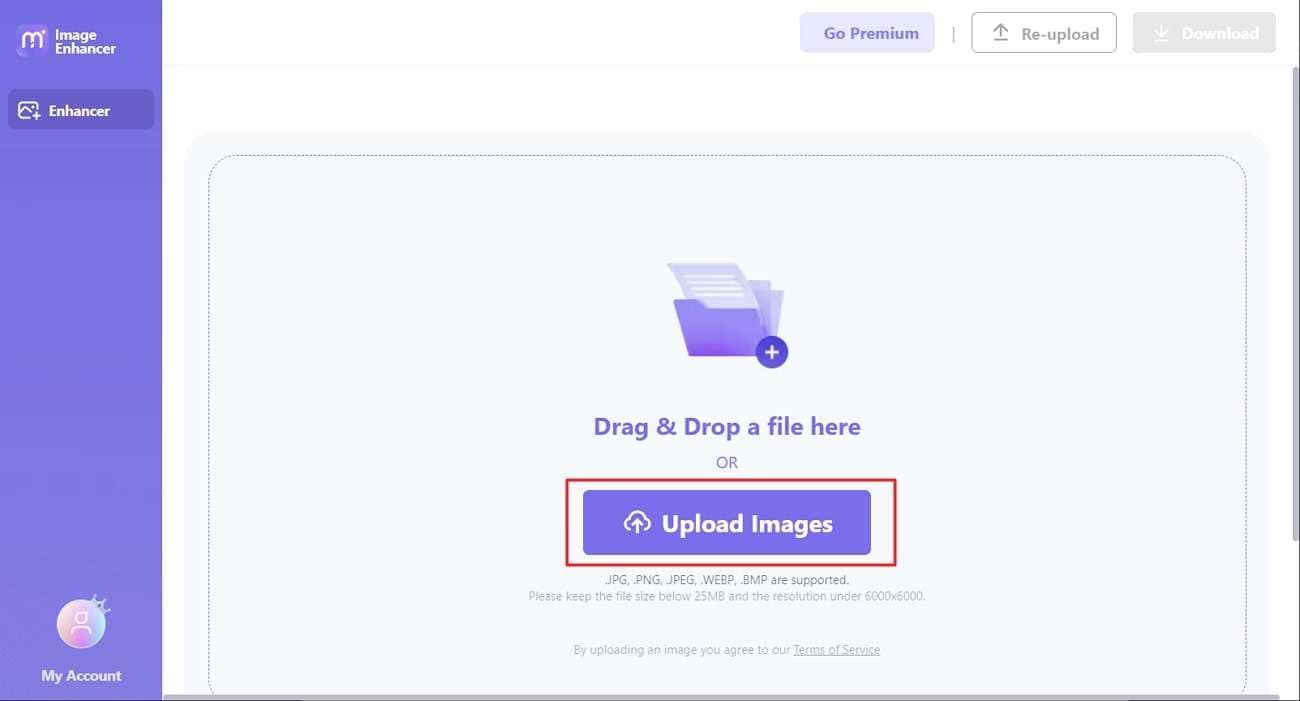 Step 2

Adjust Image Resolutions and Scale

Following this, Media.io will run its denoise AI algorithms on your noisy picture. Once the process is completed, preview and click the "Download" button from the top-right corner to save the denoised image.