In today's digital age, passport photos are more important than ever. Whether you're planning an international adventure, renewing your passport, applying for a visa, or even signing up for a new job, having the perfect passport photo is essential. Gone are the days of rushing to a photo studio for these small yet crucial images, thanks to the advent of passport photo maker apps that empower you to create compliant and high-quality photos from the comfort of your own home.
These apps have you covered, from precise sizing and background specifications to ensuring a flawless expression. But with so many choices available, how do you determine which ones are the best for your needs?
That's where we come in. This article will guide you through the seven best passport photo maker apps you may need in 2023. We'll explore their features, ease of use, and the quality of photos they produce, helping you make an informed choice.
Part 1. Why do we Need Passport Photo Maker Apps?
When you travel internationally, your passport is your most important document. It serves as your identification and entry permit to foreign countries. Your passport photo is the first thing immigration officers see when you arrive at a new destination. It needs to be clear, well-lit, and meet the official requirements of the country you're visiting.
Aside from passports, many visa applications also require specific photo sizes and backgrounds. Applying for a visa can be a tedious process, and having the right photo can make a significant difference in the approval of your application.
However, obtaining the perfect passport photo can often be a time-consuming and frustrating experience. The traditional method of visiting a professional photographer or a photo booth is not only inconvenient but can also be costly. Additionally, adhering to various government authorities' specific guidelines and regulations can be daunting.
Passport photo maker apps come to the rescue for the following reasons:
Convenience
Passport photo maker apps eliminate the need for appointments and long waits at photo studios. You can create your photos whenever and wherever you like, fitting them into your busy schedule with ease.
Cost Savings
With passport photo maker apps, you can save money by avoiding the often steep fees charged by professional photographers.
Control
These apps put you in the driver's seat, allowing you to ensure that your photo meets the specific sizing, background, and expression requirements imposed by different authorities. You can retake and edit the photo until it's just right.
Privacy
Creating your own passport photos means you don't have to share personal information or images with a third party, enhancing your privacy and security.
Speed
Passport photo maker apps offer quick turnaround times. You can have your photos ready in minutes, which is especially beneficial when you need them urgently.
Part 2. Best 7 Passport Photo Maker Apps You May Need
The following are our top recommendations of the best seven passport photo maker apps that can help you create perfect-sized passport photos at any time, from anywhere, and with ease.
Media.io's passport photo maker stands out as a cutting-edge, AI-powered tool designed to simplify the process of creating original passport-size photos with impeccable precision. This advanced application not only streamlines the entire passport photo creation process but also ensures compliance with official standards.
This passport maker app goes a step further by allowing on-demand background color changes. This feature caters to various requirements, ensuring that your photo aligns perfectly with your preferences.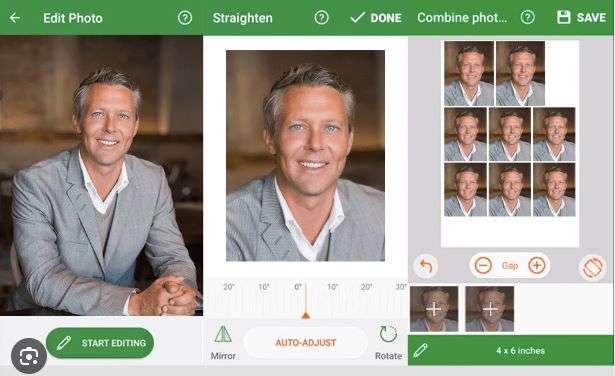 Key Features:
This passport maker app automates the cropping, resizing, adjusting, and centering of the photo on the face to meet official standards.
Media.io's passport photo maker can be used to create various types of photos for different purposes, including ID cards, visas, resumes, business cards, and more.
It provides a range of templates to facilitate online dress changes
The passport photo creator app offers preset passport photo size templates for over 60 countries.
It automatically generates passport photos with the required white background, adhering to official standards.
You can change the background color as needed.
This passport size photo maker app allows users to make manual adjustments further until they are completely satisfied with the results.
Passport Photo Maker (ID Photo Maker Studio) is a user-friendly yet robust passport-size photo editor app. It is a standout choice among free passport photo makers, editors, and photo printing apps. This passport size photo maker app not only simplifies the process but also offers a practical way to save money by consolidating standard passport, ID, or VISA photos into a single sheet with various size options such as 3x4, 4x4, 4x6, 5x7, or A4 paper.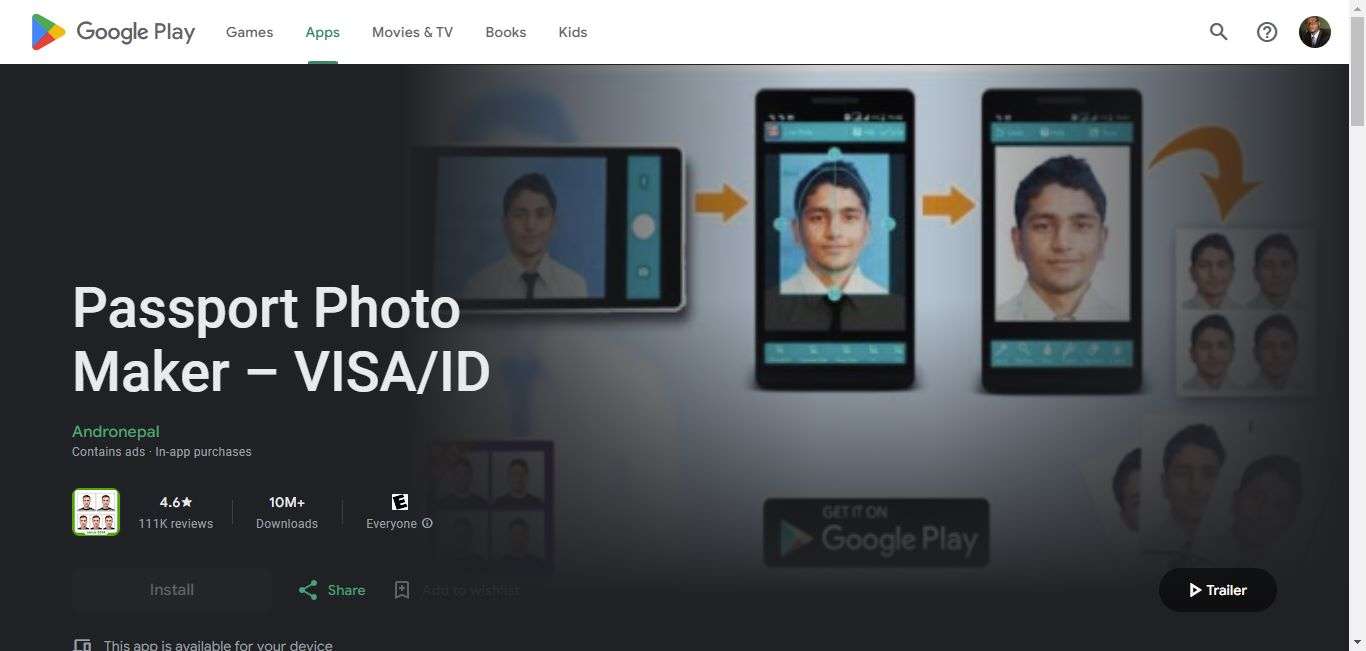 Key Features:
The ID photo maker app offers a user-friendly interface, making it easy for anyone to create passport photos.
It provides efficient tools for swiftly removing backgrounds from photos.
Users can expect high-quality photos without artifacts or pixelation.
The passport size photo maker app automatically tailors photos to meet specific requirements.
It allows users to optimize and maximize the number of passport pictures on a single sheet of photo paper.
It offers photo tips, sample photos for reference, printing cost estimation, and more.
It supports all countries worldwide, including the USA, Spain, Germany, etc.
ID Photo Application offers a simple and convenient way to generate ID photo data directly from smartphone-captured photographs. It provides the flexibility to save individual photo data, ensuring ease of use and organization. Whether for official documentation or personal identification needs, this passport photo maker app offers a user-friendly solution for creating and managing passport photo data with ease.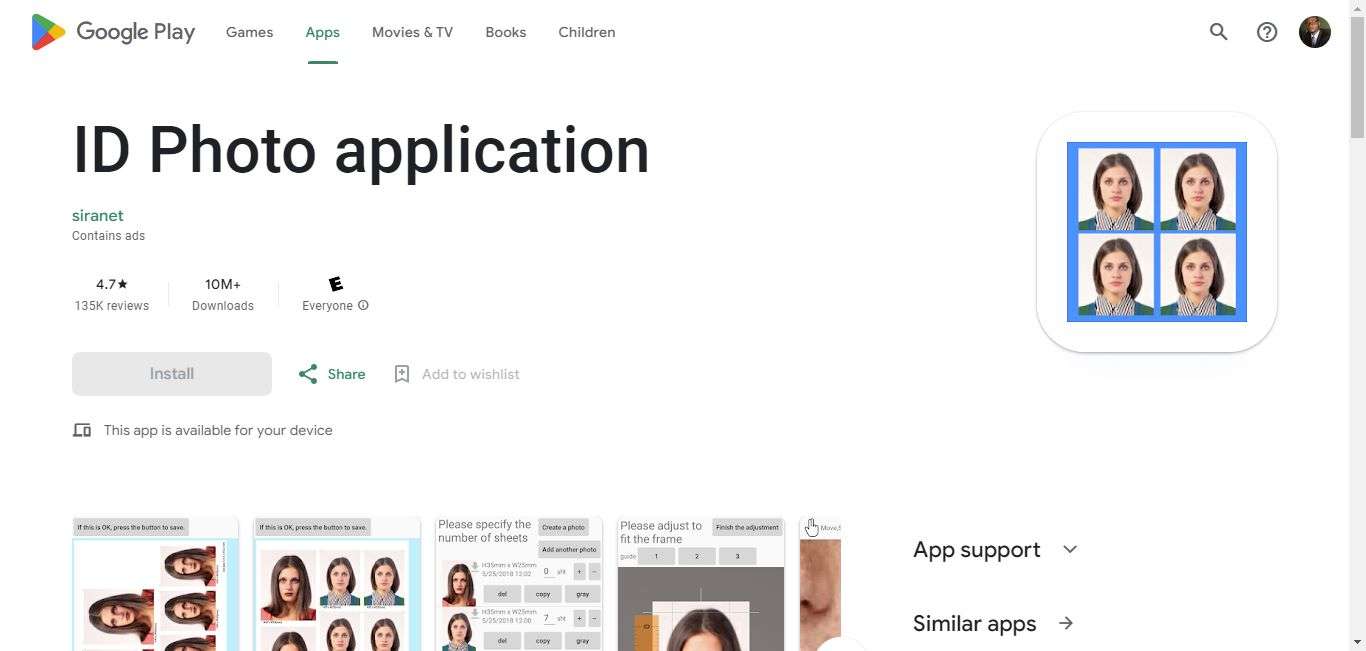 Key Features
The passport photo creator app creates photo data that conforms to the general print size of 4x6 inches (101.6mm x 152.4mm)
Users can retake photos as many times as they need.
The application offers an intuitive and user-friendly interface.
The app allows for easy adjustment of the number of photos on a single sheet.
Users can fine-tune photo size, contrast, and brightness to achieve precise results.
This ID photo maker app supports passport specifications from different countries.
This Passport Photo Maker app is a mobile application designed for creating photos suitable for a range of identification purposes. Whether you need photos for identity cards, election cards, PAN cards, visa applications, school identification cards, or any other photo card, this app provides a comprehensive solution. It streamlines the photo-making process, ensuring that you have the right-sized and formatted images for your specific identification requirements.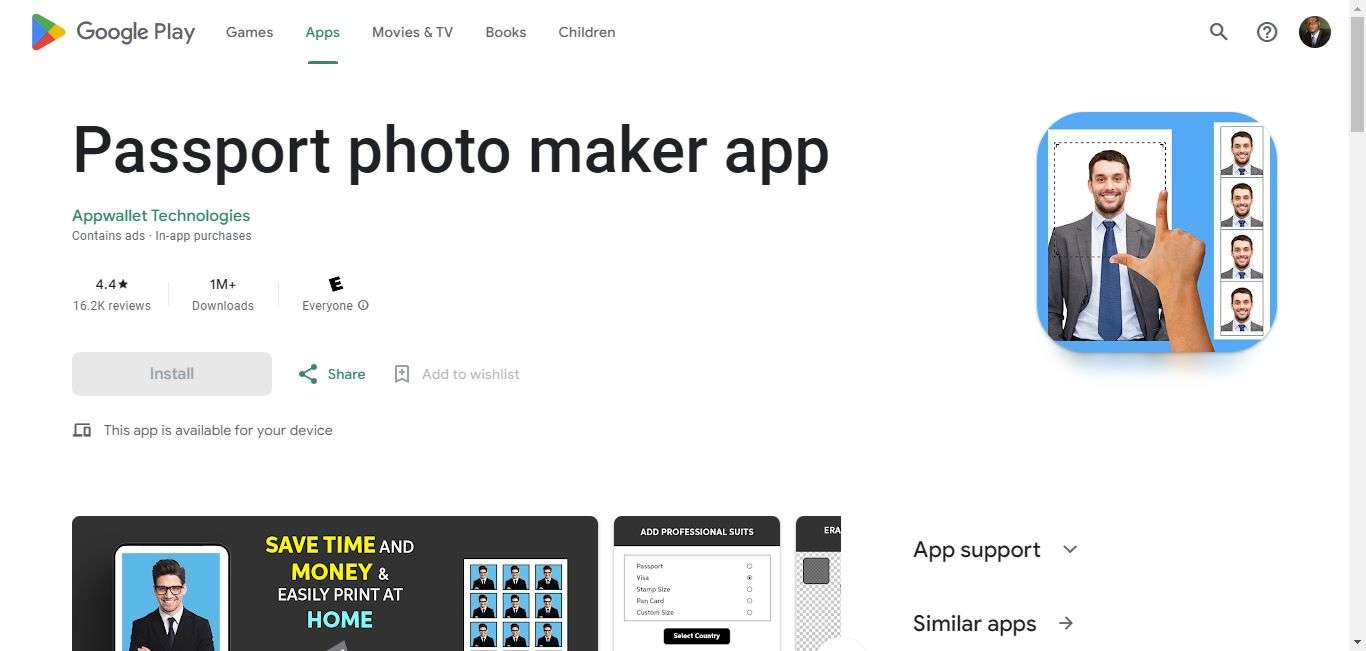 Key Features
The passport photo creator app is straightforward to use.
It can generate photos suitable for various identification purposes, including identity cards, election cards, PAN cards, visa photos, etc.
The app supports numerous countries and offers different sizes of passport photos.
This passport size photo maker app excels in editing and cropping photos to meet specific standards and preferences.
The app effortlessly erases backgrounds, replacing them with a full white color background.
Passport Size Photo Maker is a sophisticated AI-powered tool that empowers you to produce professional passport-size photos tailored for official use. With this tool, your smartphone becomes your passport photo studio, eliminating the need to visit a physical studio. This convenient passport maker app puts the power of professional-quality passport photos right at your fingertips.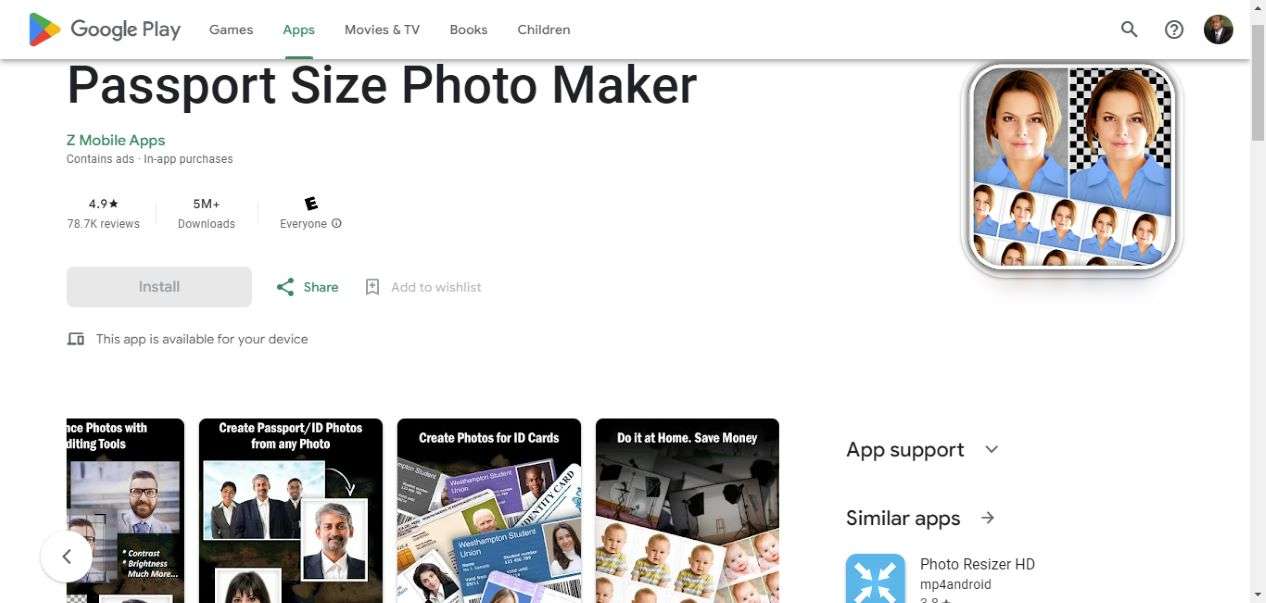 Key Features
It provides a comprehensive suite of editing tools.
It accommodates the passport and visa standards of more than 150 countries
It provides the ability to change the background of your photos
The passport photo creator app is designed to be user-friendly and intuitive
Users can create single or multiple ready-to-print passport photo pages and send them to various print shops, including Amazon, Walgreens, CVS, etc.
With Smartphone iD, you have the power to effortlessly generate officially approved passport photos for various official documents using your smartphone. Once created, you can receive these photos conveniently via email or regular mail. Whether you require a photo for your driver's license, passport, ID card, or any other official document, this ID photo maker app serves as the ideal and hassle-free solution for your needs.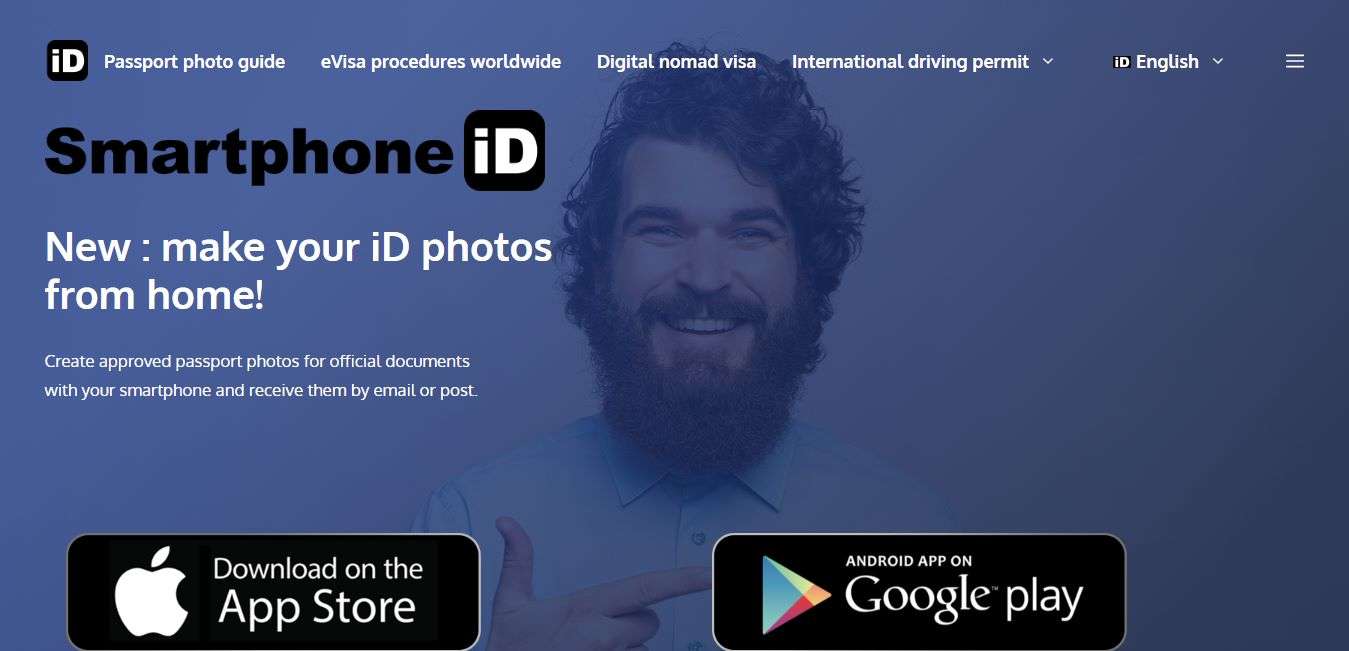 Key Features
This passport maker app is compatible with the photo requirements of various countries around the world.
The app streamlines the photo creation process, making it quick and convenient.
It offers a simple and easy-to-use interface
Users can make unlimited attempts to capture the perfect photo.
It provides editing tools that empower you to fine-tune the photo according to your preferences.
Users receive a conforming and verified photo of their ID, passport, or Visa via email or regular mail.
Whether you're looking to obtain your own FREE US (2x2) passport photos or ID photos, PassportBooth has you covered, and it's compatible with both iPhones and Android devices. With this app, all you need to do is position yourself in front of a wall, and like magic, it automatically recreates the required white background. With PassportBooth, you'll have your photo ready for saving or emailing in just a matter of seconds – it's that simple!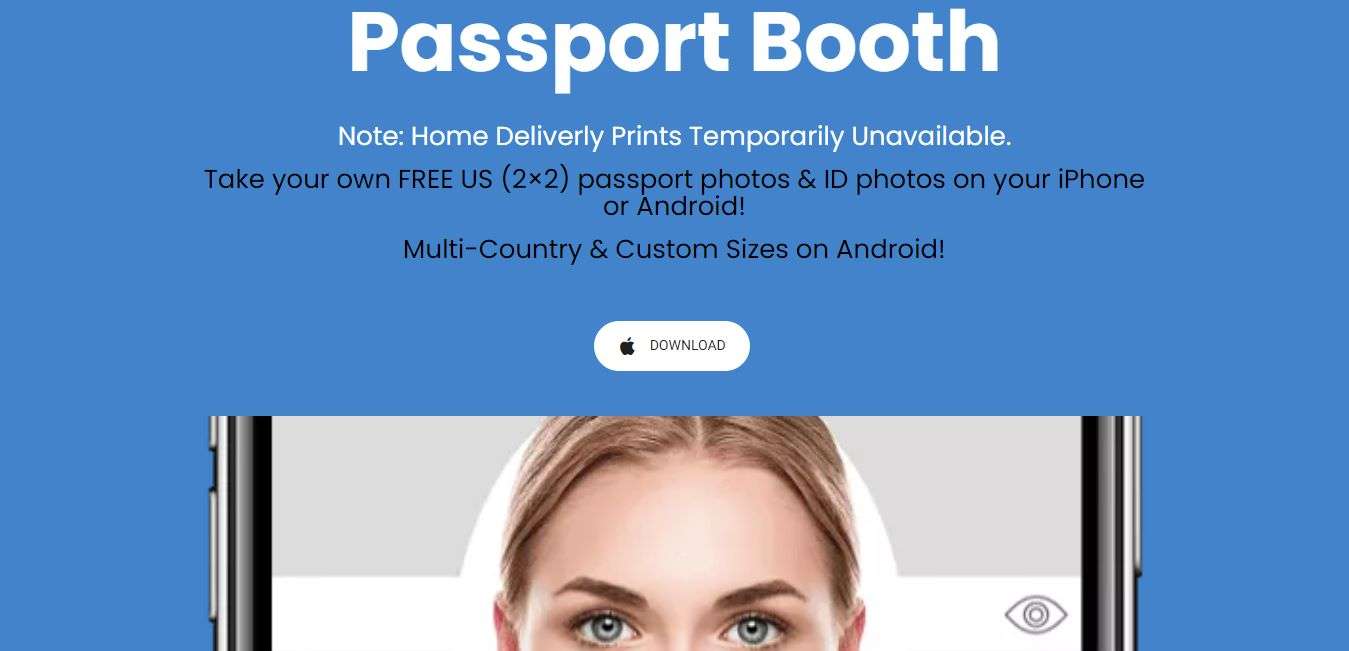 Key Features
PassportBooth offers support for multiple countries.
The app is designed for ease of use
You can conveniently email, save, or share your passport photo for free.
PassportBooth allows users to snap as many pictures as needed to achieve the perfect shot.
The passport photo creator app is suitable for capturing passport photos of children.
Users have the option to turn the timer on or off, aiding in photo preparation and reducing camera shake.
Part 3. Hot FAQs about Passport Photo Maker Apps
1.Which app can I use to create passport?
You can use the Media.io Passport Photo Maker to create perfect, compliant-standard passport photos for various applications. This user-friendly app simplifies the process of generating passport photos and supports the requirements of over 60 countries. With Media.io Passport Photo Maker, you can ensure that your passport photos meet the necessary standards, making it a convenient and versatile tool for all your passport photo needs.
2.What app can I use to edit passport photo?
You can use the Media.io Passport Photo Maker not only to create but also to edit passport photos. This versatile app allows you to replace the background of the original passport-size photo with a white background that adheres to official standards. It also offers the convenience of a high-resolution portrait with precise cut-outs.
Additionally, Media.io Passport Photo Maker provides support for on-demand background color changes, catering to a variety of requirements. Additionally, the app features an automatic cropping, resizing, adjusting, and layout tool, ensuring that the photo is centered on the face and perfectly meets your specific needs.
3.Do passport photo apps work?
Yes, passport photo apps can be highly effective and efficient when used correctly. These apps are designed to help you create passport-sized photos that meet the specific requirements and regulations set by various authorities, such as government agencies and immigration offices.
It can streamline the process of capturing and formatting your photo, ensuring it adheres to official standards for size, background, lighting, and more.
Conclusion
The need for passport photos remains a constant in our lives, whether for international travel, official documentation, or identification purposes. The advent of passport photo maker apps has revolutionized the way we create these crucial photos, offering convenience, cost savings, and customization like never before.
In our exploration of the best seven passport photo maker apps for 2023, we've witnessed a range of features and capabilities that cater to the diverse needs of users worldwide. From AI-powered precision to intuitive user interfaces, these apps have made the process of creating compliant and high-quality passport photos accessible to all.
Whether you opt for the simplicity and versatility of Media.io Passport Photo Maker, the user-friendly experience of Passport Size Photo Maker, or any of the other top-notch apps on our list, you can trust that these tools will empower you to produce flawless passport photos that meet official standards with ease.