Listening to instrumental music while doing yoga or meditation can help you in gaining focus. Moreover, it can help you to relax during your stressed time. If you want to use the instrumental music of your favorite song, you have to remove the vocals from it.
In this article, we will discuss the top 3 tools through which you can remove vocals from a song within a few clicks. We will also provide you with easy instructions for these tools to help you in removing vocals from any song.
Part 1: How to remove vocals from a song with Media.io Vocal Remover Online
Have you ever tried a tool to remove vocals from a song online? Media.io is an online tool that you can access with any web browser. It contains various distinct features that can help you edit your audio clips.
Moreover, it also consists of a free vocal remover through which you can isolate vocals from a song using AI-powered technology. Once you have removed the vocals from a song, you can use other features to merge or convert the audio file.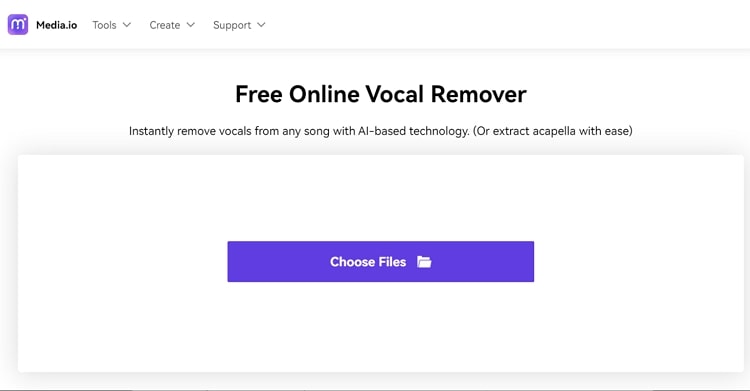 Key features
The vocal remover of Media.io supports all popular file formats, such as M4A, MP3, MP4, MOV, MKV, OGG, and WAV.
This tool comprises enhanced audio capabilities that maintain the original quality of your audio even after removing vocals from it.
It provides ultra speed to

remove the voice from a song

without taking extensive time.
Steps to remove vocals online using Media.io
Are you excited to use the vocal remover of Media.io? To use this advanced feature without any complications, read the below instructions.
Step 1

Access the vocal remover tool

First, visit the official website of Media.io through your web browser. Afterward, locate the "Vocal Remover" feature among its other tools.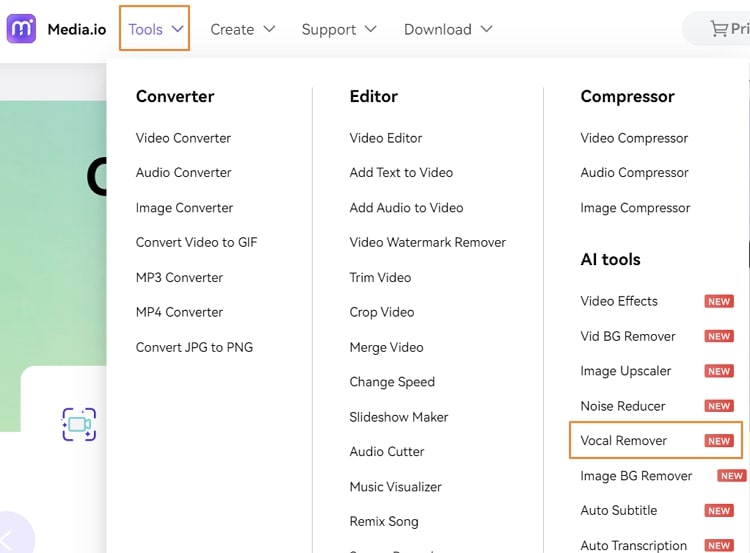 Step 2

Add your media file

A new window will open for its free online vocal remover. From there, click on the "Choose Files" button and browse the file that you want to import from your PC.
Step 3

Download the required audio

Once the desired file has been uploaded, the tool will begin extracting vocals from your file using artificial intelligence. As the process finishes, you can click on the "Download" button of your instrumental or vocals file. You can also choose the option of "Other Tools" to perform further editing on your audio file.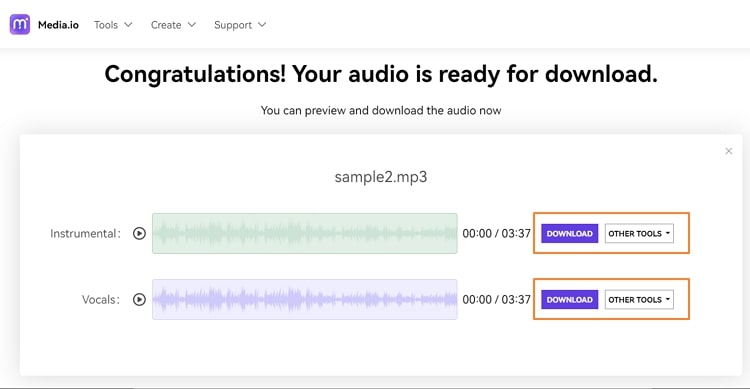 Part 2: How to split vocals from music with UniConverter on PC
Do you want a desktop tool through which you can remove vocals from audio? UniConverter is a great desktop tool that shows compatibility with Windows and Mac platforms. You can use this desktop tool to modify your videos and audio files effortlessly. When it comes to isolating vocals from any audio clip, UniConverter offers a powerful vocal remover. By using this feature, you can instantly fetch instrumentals and vocals from an audio clip separately.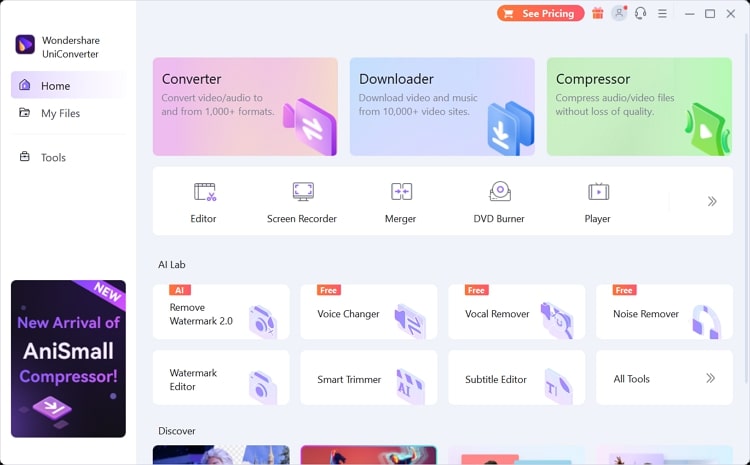 Key features
This desktop tool does not contain ads and provides the user with a delightful experience.
You can import the audio file on this tool without facing any restrictions related to the size.
This tool can convert a video file into audio at a fast-processing speed.
Steps to split vocals from music using UniConverter
To use UniConverter for removing vocals from a song on your desktop, you can proceed to the below instructions:
Step 1
Download and install the UniConverter tool on your PC/Mac. Once done, open its interface and select "AI Vocal Remover," among other options. It will instantly initiate the interface of AI vocal remover on your PC.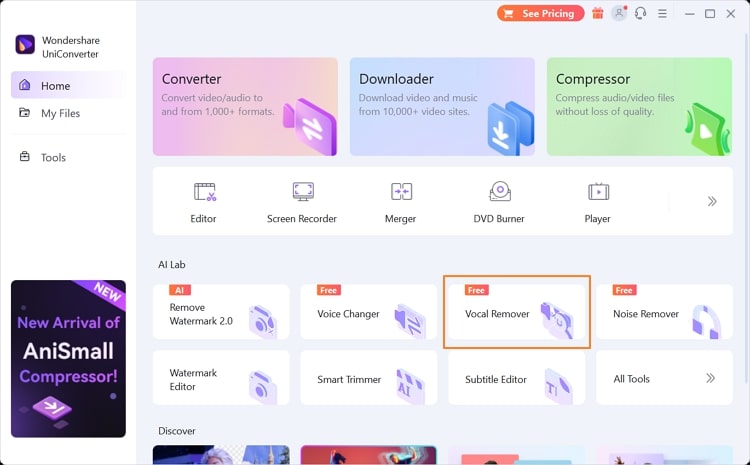 Step 2
Now, hit the "Add File" button and import the desired file from your computer. The tool will automatically begin analyzing the file once you add it successfully.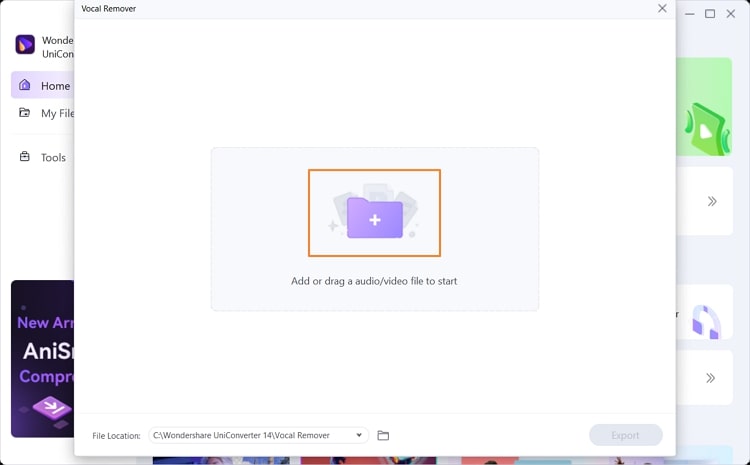 Step 3
After the analysis process gets finished, the tool will create two tracks: Music and Vocals. You can click on the "Export" button of any track to save the desired file.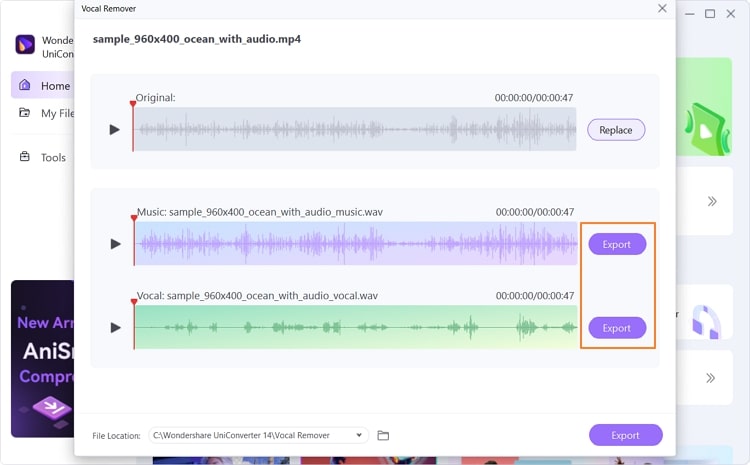 Part 3: How to delete vocals from a song with SplitHit on mobile
Many people also prefer using a mobile app to remove vocals from audio due to easy access. In this regard, we will recommend you use SplitHit: Vocal Remover app. This vocal remover app is available for both iOS and Android users. With this special karaoke maker, you can separate music from vocals with a single tap. Apart from removing vocals, you can also enhance the quality of instruments played in the song by boosting the volume.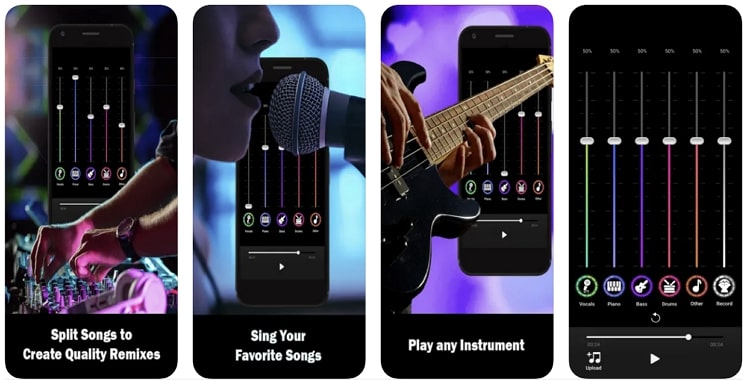 Key features
Apart from removing voice from a song, you can also eliminate drums, bass, piano, and guitar music.
On this app, you can record yourself singing as a practice session and later share it with your friends.
You can also easily increase the volume of the piano, bass, drums, and other instruments.
Steps to remove vocals on your mobile using SplitHit
To use SplitHit effectively and without any hassle, here are the simple steps given below:
Step 1
Download the SplitHit app on your phone and launch it successfully. Afterward, tap on the "Local Songs" button to upload the audio clip from your phone.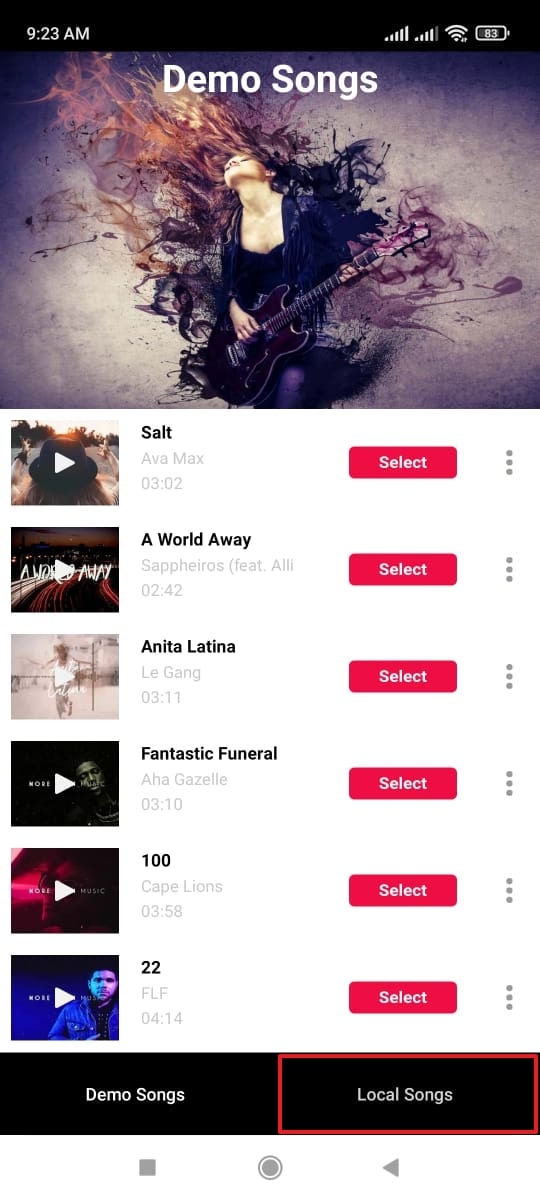 Step 2
Once the file gets uploaded, you can see different sliders on your screen. To remove vocals, just decrease the slider of the "Vocals" to 0%. It will instantly remove vocals from your audio file. Once done, tap on the "Save" button.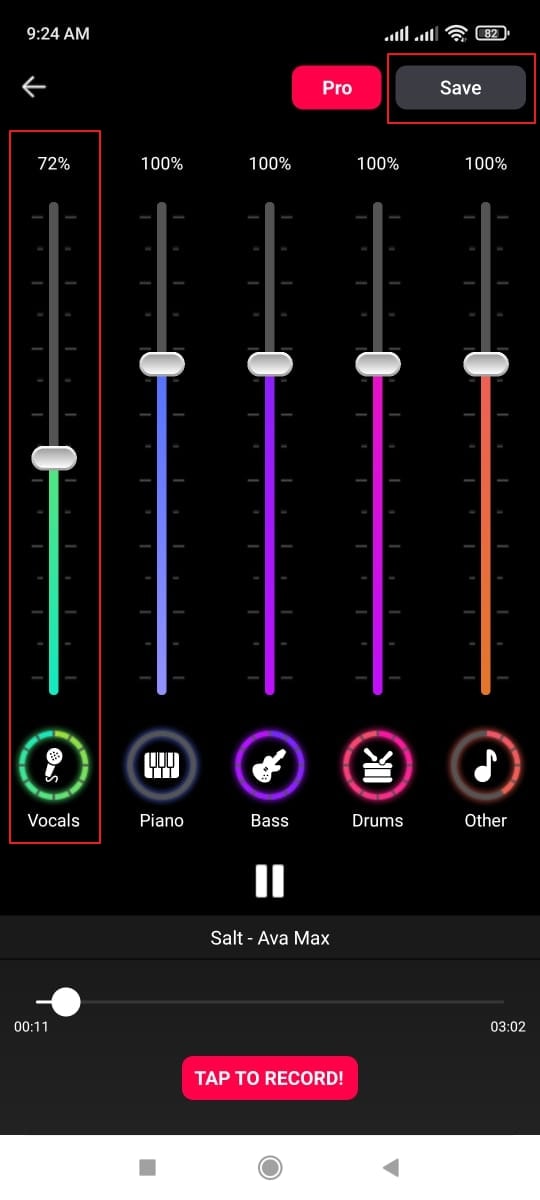 Extended reading: What's the feature of a good vocal remover
Do you know what the qualities of a professional vocal remover are? Here are some of the must-have features of a reliable vocal remover:
The tool should be capable of generating high-quality output so that you can enjoy listening to the instrumental sounds.
It should use AI technology so that the results can be created flawlessly and easily.
The vocal remover should offer complete security so that you can upload any file on it without any hesitation.
It should support all popular formats so you can easily upload any file type without restrictions.
As discussed earlier, Media.io comprises all the features that an excellent vocal remover should contain. It has an easy-to-use interface through which you can easily remove vocals from the song. You can also access this online tool on the Linux, iOS, and Android platforms easily. Moreover, it uses AI-powered technology to accomplish high-end results.