How can I add an audio track to MKV video online? I have tried different platforms, but all resulted in vain? Is there any online tool that supports video in MKV and adds an audio track to it with ease?
MKV is one of the most familiar file formats for a video that runs on pretty much every device. However, when it comes to editing MKV files online, the circumstances become tricky. Many online tools aren't able to merge audio with MKV video. Still, you can learn how to add audio track to MKV file by following our tutorial.
Part 1: Why would you change an MKV file format?
It is common knowledge that the MKV is not a simple file format but a dedicated container that allows you to store video, audio, and text into a single file. Nevertheless, there are some issues with the MKV file type, which could prompt you to change it to another format. Here is the list of reasons why you would change the MKV file format of your video.
Despite MKV being an open-source format, it is still not compatible with some devices, such as smartphones. If you have a video in MKV and no access to a media player supporting the file type, it could be very time-wasting and annoying. Under such circumstances, it is ideal if you change MKV to a popular format, such as MP4, and then play the video.
Moreover, common media players such as Windows Media Player on Windows 8 and Windows 7 don't support MKV videos. However, in Windows 10, you can easily play such clips using the latest Windows Media Player version.
MKV files are generally larger, which could be off-putting for users of smaller devices. Smartphones do not offer much file storage for users to store MKV videos with significant file sizes. The best thing is to switch the video's file type to MP4 or MOV to avoid storage-related issues.
Part 2: How to add audio to MKV using Online UniConverter?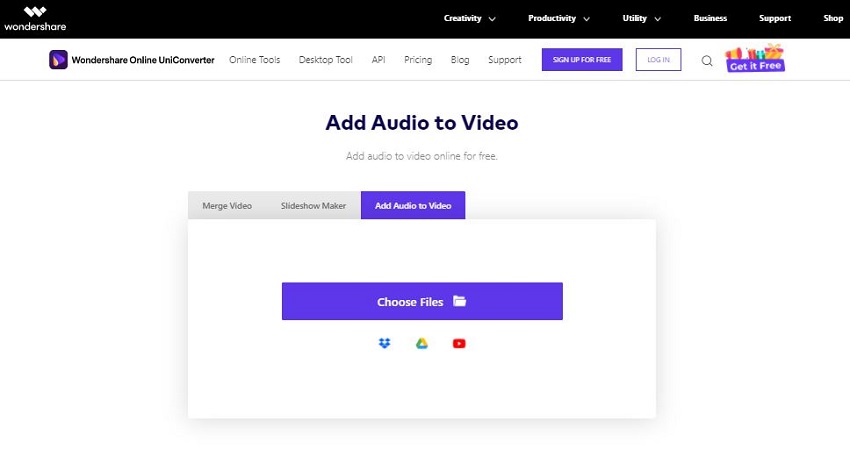 Online UniConverter Add audio track to MKV easily
We recommend using the Wondershare Online UniConverter to add audio tracks to videos in MKV and 1000+ file formats. It will maintain the entire quality of the MKV file throughout the editing phase.
Additionally, you do not need to install any added software on your device to access the Online UniConverter. The tool is entirely browser-based. It means that you can perform the whole audio mixing activity from any platform, including Windows, macOS, Linux, Android, and iOS.
Please view other powerful functions offered by the Online UniConverter in the list mentioned below:
It converts both audio and video files to the desired format.
Audio/video file compression is also available.
You can merge multiple videos into one clip using the Online UniConverter.
The platform offers you to speed up or slow down a video.
Online UniConverter can also reverse the entire MKV video.
The audio mute function enables you to remove unwanted noises from the video before adding your music.
The steps to add audio to the MKV file with the Online UniConverter are mentioned below:
Step 1: Add the MKV video to Online UniConverter
Open the Online UniConverter from your phone or desktop's browser and access the Add Audio to Video section. Click on Choose Files to import the clip from the device. Else, press the Dropbox/Google Drive/Youtube icon to upload the video from the stated online platforms.
Step 2: Merge audio with video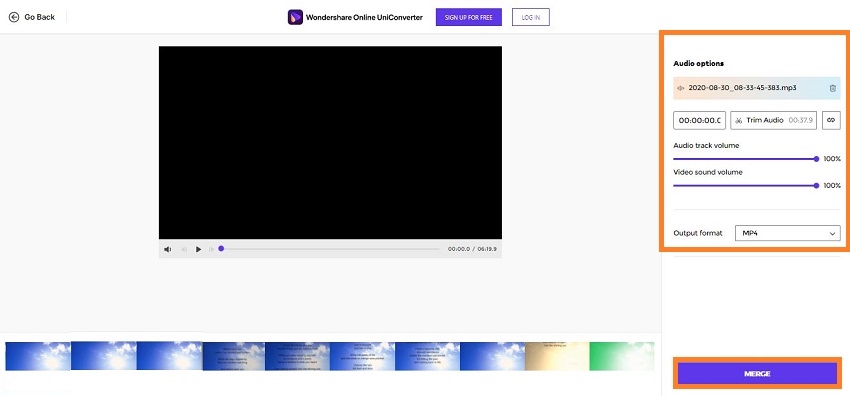 Under the Audio Options section, click on Add Audio tab and upload the song you wish to mix with the MKV video. Click on the Output Format tab to select a new file type for the video if you want to change the MKV format. Hit Merge for the process to start.
Step 3: Download the finished video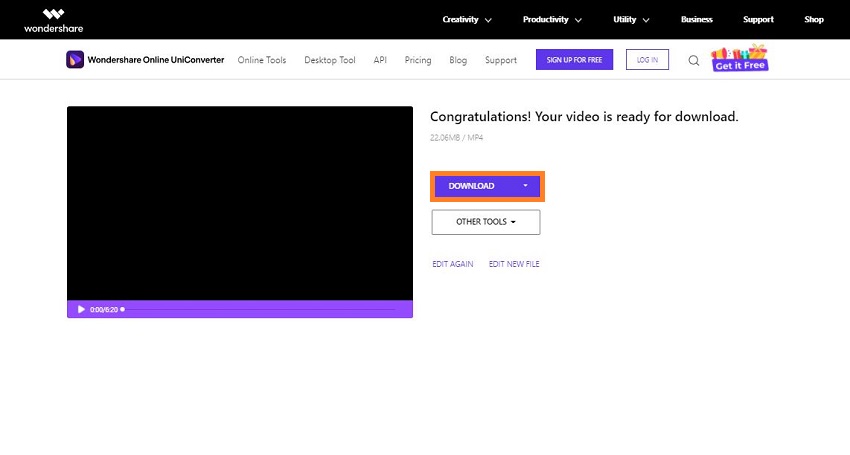 Finally, click Download to save the edited video to your device. You can also store to your Dropbox or Google Drive cloud storage accounts.
After following the three steps, you will know how simple the task of adding audio to MKV video using the Online UniConverter really is!
Part 3: FAQs for adding audio to MKV with Online UniConverter
If you are a beginner at video editing, you must have questions about adding music files to MKV video using the Online UniConverter. We have tried to answer the commonly occurring queries here in this section.
Q1: Can I edit my audio file after adding it to the video?
Ans: If you use the Online UniConverter to perform the audio merging process, you can easily edit it after adding it to the video. As you upload the audio, the tool will provide added Audio Options, which will enable you to trim, delete, or loop the music.
Q2: What are audio formats accepted by Online UniConverter?
Ans: You can add pretty much every audio format on the UniConverter. Moreover, it lets you convert the audio file to your preferred file type. The top forms accepted by the tool include MP3, WMA, WAV, AAC, AC3, APE, MKA, FLAC, DTS, AU, and several others.
Q3: How do I add audio to MKV video on my iPhone?
Ans: You only need access to your iPhone's browser to add audio to MKV video. It is because the Online UniConverter runs on every device and platform. Head over to the Add Audio to Video section of the online tool and follow the instructions to precisely merge music with the MKV file.
Q4: How do I add an audio track to MKV on Mac?
Ans: The Online UniConverter allows you to add audio to video on Mac and every device. It would be best if you had a working browser at your disposal, then you will be able to mix audio with MKV video in no time.
Part 4: Add audio track to MKV | Tips on how to make a creative video
A dull video will not help you gather a large number of viewers. If you wish to wow your audience, then you must make a creative video. For that, you have to apply the following tips:
1.Add catchy music
There is no purpose for posting a video on social platforms without music. An interesting or attractive piece of music will keep the audience hooked. You can experiment with the video's audio layers.
2.Apply effects and filters
It is wise to add various effects and transitions to enhance the picture quality, which will help deliver the message behind the video more effectively. However, too much of anything is bad, so you should only apply suitable filters to the video, which doesn't distract the viewer.
3.Make the video interesting
Whether you are sharing the video for advertising or personal use, you can keep the viewer attached to it by adding the staple of storytelling. It will form a somewhat emotional bond between the viewer and the content shared on the video.
4.Create the video short!
Viewers online do not a big attention span. It is why the video you are creating should be short and to the point.
Part5. Conclusion
Though video editing is a fun hobby and a potential full-time career, things could quickly go sideways if you cannot perform the simplest task, such as adding audio to video. However, with a reliable online editing platform at your disposal, you can quickly become an expert at the said job.
In this post, we have shared the tips to make a creative video and why you should convert the MKV file to a more manageable format. You can apply both techniques to your video using the Wondershare Online UniConverter.
I had storage issues on my desktop, which prevented me from saving video files on the system. It also meant I was unable to perform video editing on my computer. However, with the Online UniConverter, I was able to add audio to MKV video by uploading and downloading the file straight from my Dropbox account.