The world of artificial intelligence has been growing its influence, directing itself to provide essential services that most people seek. Creating avatars and images through basic photo editors is a skill not everyone inherits. The use of an AI avatar generator changes it all. You can now create simple and elegant avatars and pictures by inserting a simple command with your requirements.
With no skillset required, AI avatar creators have made it all seem too easy to cover. For this article, we will be providing you with a comprehensive list of avatar generators that are available across multiple platforms. From online to desktop and mobile utilities, find the best options available in the market in this article.
Part 1: Top 8 AI Avatar Maker for Online/Windows/Mac/Linux
For the first part, we will mention the top-rated AI avatar maker available for desktop users. Being a computer fanatic, these platforms will make it worth a while for you. Look through all these platforms to find the best options for creating the perfect avatars.
People usually look for professional AI avatar creators to utilize to generate the perfect image. While they seek the need to share it on social media platforms, creating the best avatar version of yourselves is important.
That is why Media.io – Cartoonizer comes with a prolific system of creating AI avatars. Moreover, you can embed multiple filters within the system and even create avatars of the opposite gender . The platform is a wholesome version of AI art generation.
Key Features of Media.io – Cartoonizer
You can find a variety of styles embedded within the platform. From Kawaii to Barbie, there are multiple style formats available.
Media.io – Cartoonizer is one of the most accessible options that you can come across in the market.
It supports multiple file formats, which include JPG, PNG, or JFIF format.
Steps to Create AI Avatar From Media.io – Cartoonizer
After learning much about this intuitive AI avatar generator, we will determine how it is utilized. Learn more about this impressive tool from the steps provided below:
Step 1

Start Media.io - Cartoonizer

Open the official tool of Media.io – Cartoonizer from your computer's browser. As you proceed to click the "Upload Profile Picture Now" button, this will open up the tool on a new tab.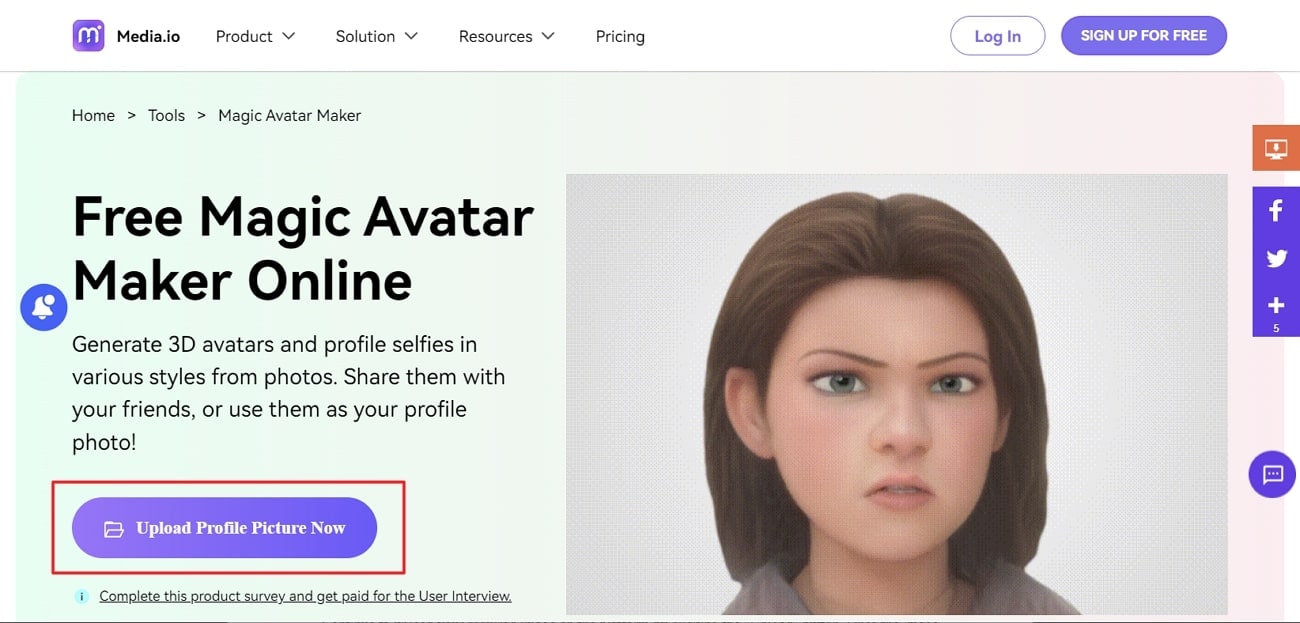 Step 2

Upload the Image and Apply Style

Continue to upload your required image on the platform by clicking the "Upload" button. Once the image is uploaded, select any style from the list available on the left panel. Click "Apply" after choosing a style and let the platform make the changes.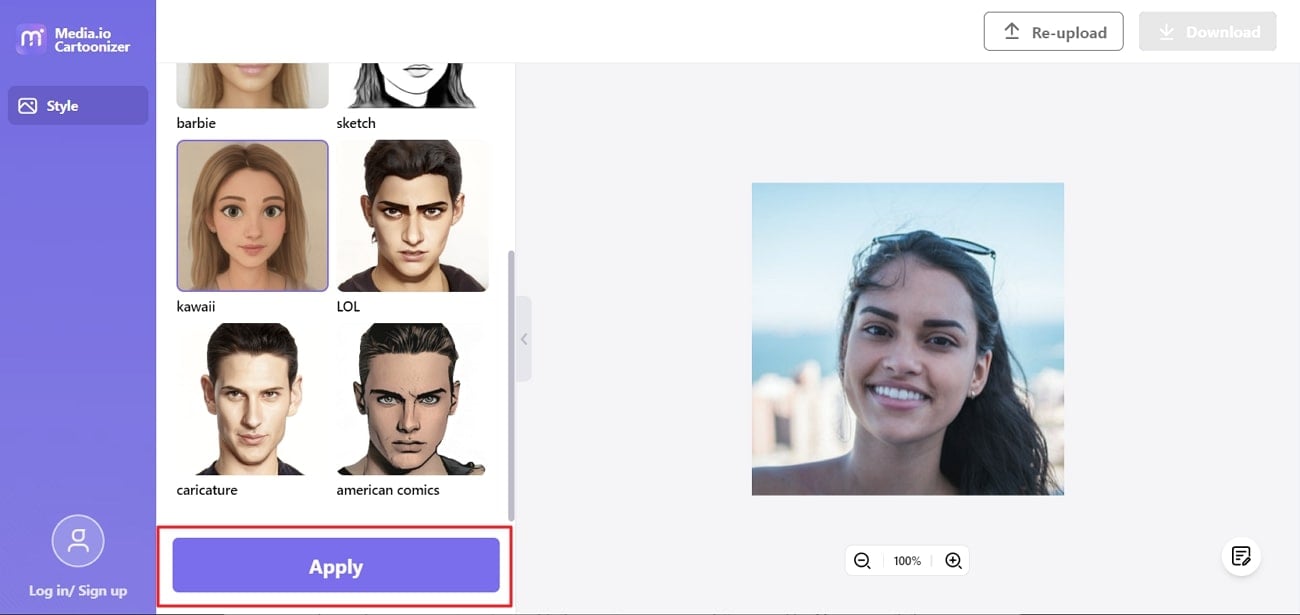 Step 3

Download AI Avatar on Computer

After successfully converting the image into an AI avatar, click the "Download" button on the top-right of the screen to download it on your computer.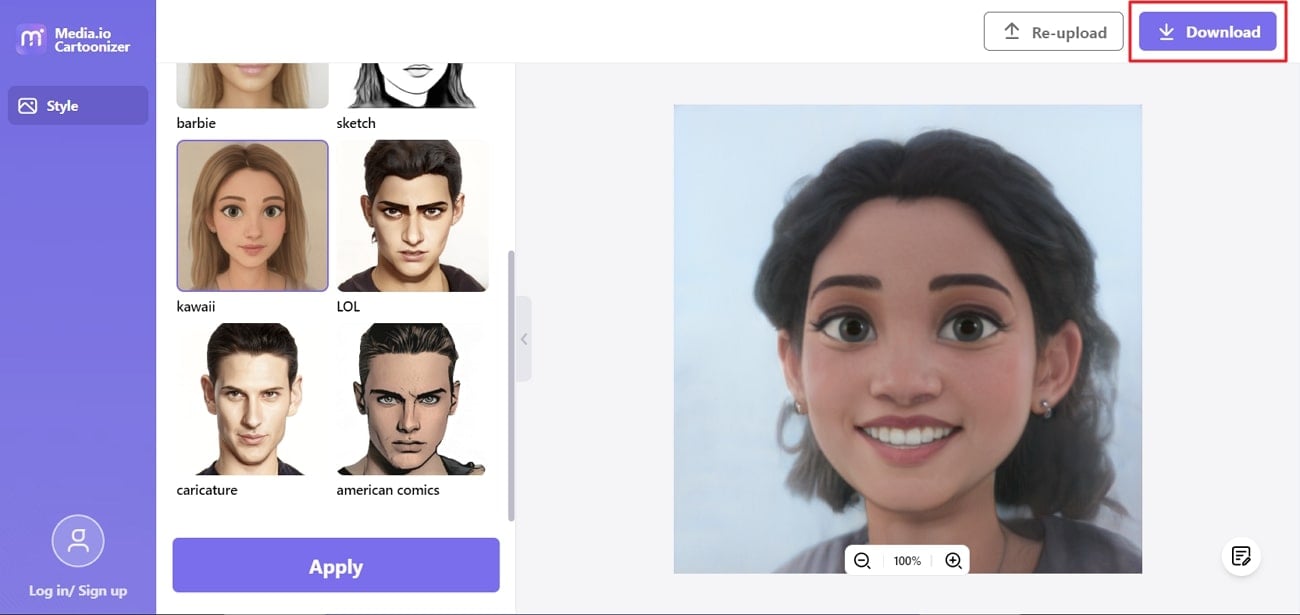 Fotor AI avatar maker is a great option for creating impressive avatars for yourselves. With the right keywords, you can create professional-looking avatars across any platform you like. Moreover, with the option of setting the aspect ratio for your avatar, you can utilize the variety of styles available across the platform to create your required avatar.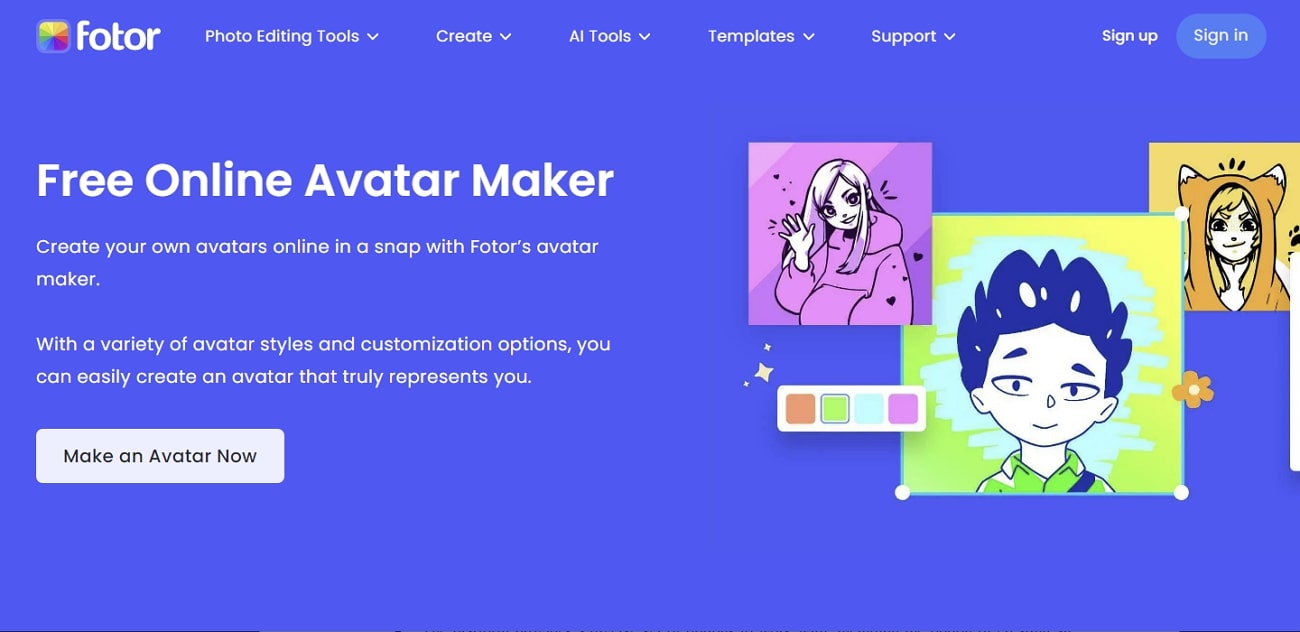 Key Features
The platform allows the creation of a defined number of images against the provided keywords for creating an avatar.
This AI avatar generator features a simple and exceptionally clean interface.
The Fotor AI avatar tool features the option of creating AI avatars from text and images.
If you are looking to create a magical AI avatar from your imagination, ZMO.AI can be another great option as an AI avatar platform. While being an online platform, it provides a dedicated service for creating AI anime and avatars out of your imagination. With a specific categorization according to the required photo, you can create a good portfolio out of this AI image creator.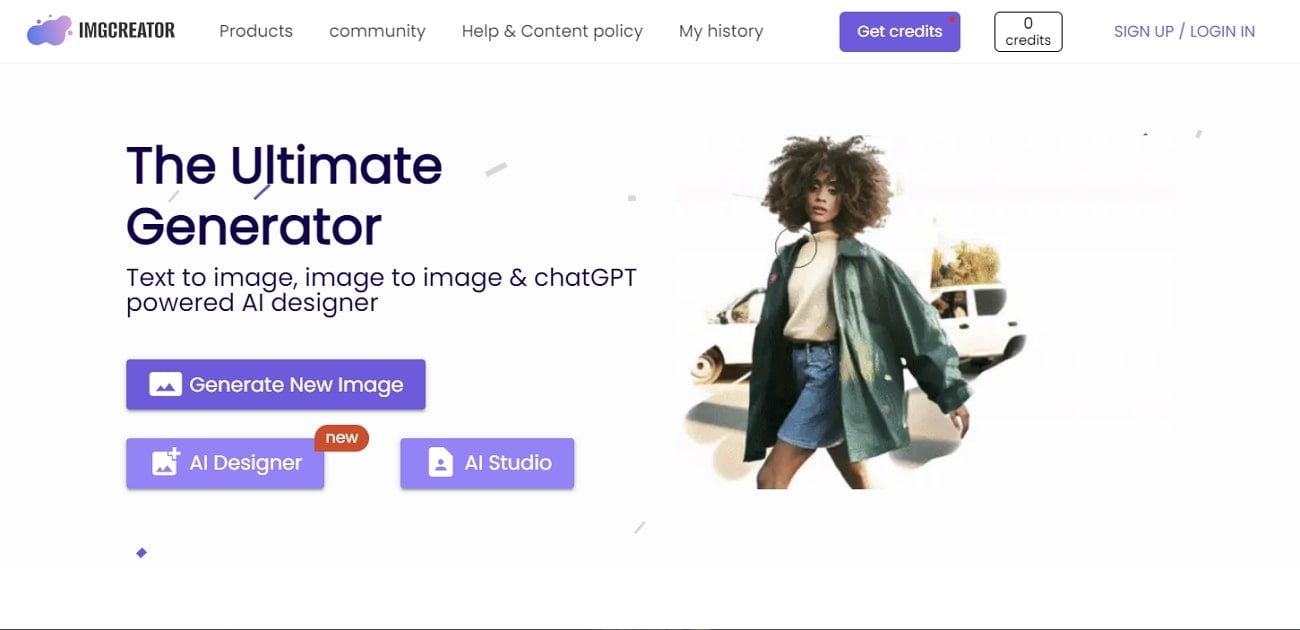 Key Features
Adds up the option of setting up a resolution for your AI avatar image.
You can select the appropriate style along with the category for creating a perfect AI avatar.
The platform provides a diverse set of options to work with, including the option of creating an avatar from text or image.
PFPMaker works differently than the other AI image generators providing a couple of images from the input parameters. This AI avatar maker can help you get more than 100 images from the provided photos. With diverse styles and scenes across the platform, you can easily create the perfect AI avatar gallery of yourselves or anyone you want.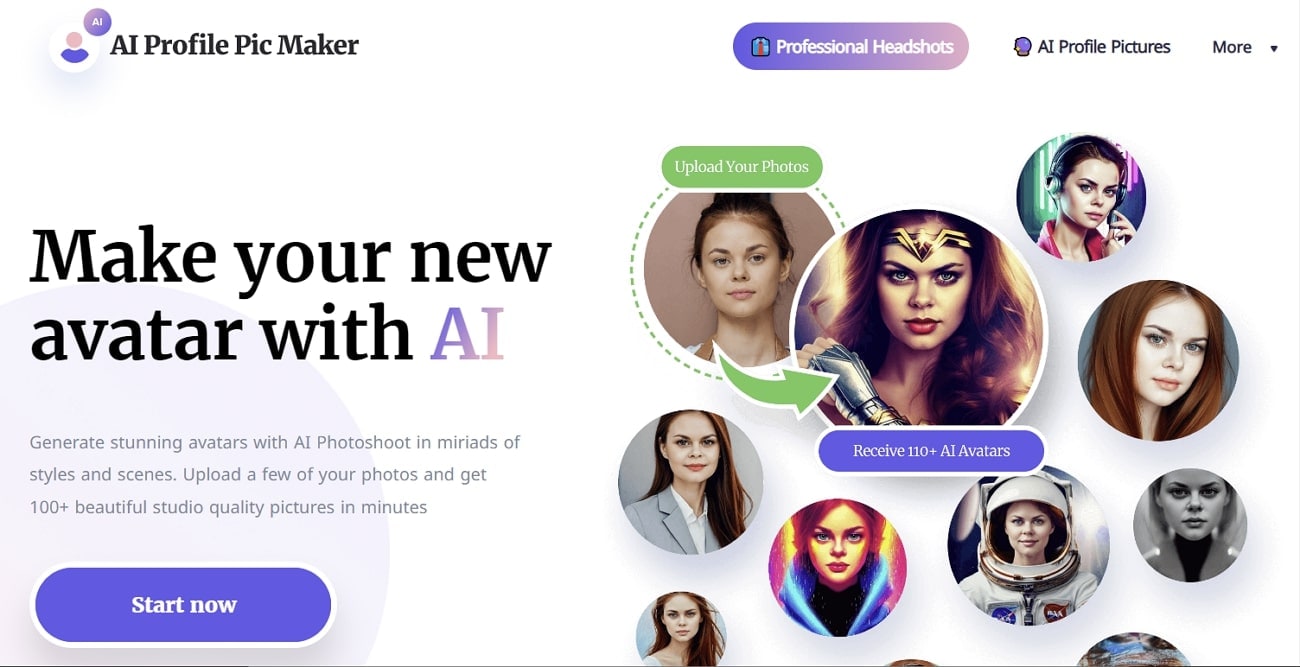 Key Features
The quality provided by PFPMaker matches 4K 300DPI for every image created through AI.
You can select at least 15 styles and generate more than 120 images.
Utilizes custom stable diffusion technology to create the perfect images for you.
For unique AI avatars and exceptionally diverse results, AISEO has presented its avatar creator. This prolific tool provides a complete resort of AI models to select from. While it presents a basic interface, you can quickly create high-resolution images. Along with some basic settings, you can use the advanced settings to specify your creation and make it more effective.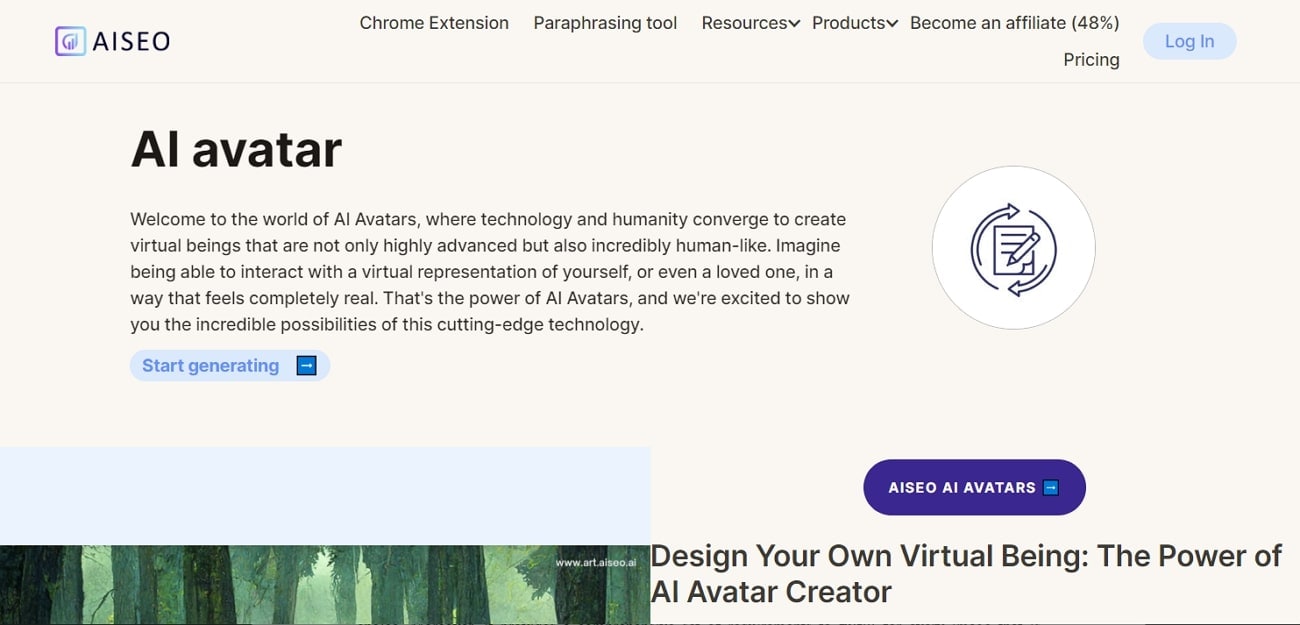 Key Features
Multiple models are available, including Disco Diffusion, Analog Diffusion, Red Shift, and much more.
You can create reproducible images by setting up a "Seed" value in the advanced settings.
AISEO AI Avatar Creator provides a variety of samplers to select from.
Webit is another professional AI avatar-creating platform to try. It provides a simple option of importing images or pasting the URL of your favorite image. Once done, you can easily create AI avatars of your choice. Moreover, it provides a comprehensive set of requirements to fulfill for every image that is imported. If followed, you will get the finest results in AI avatar creation from Webit.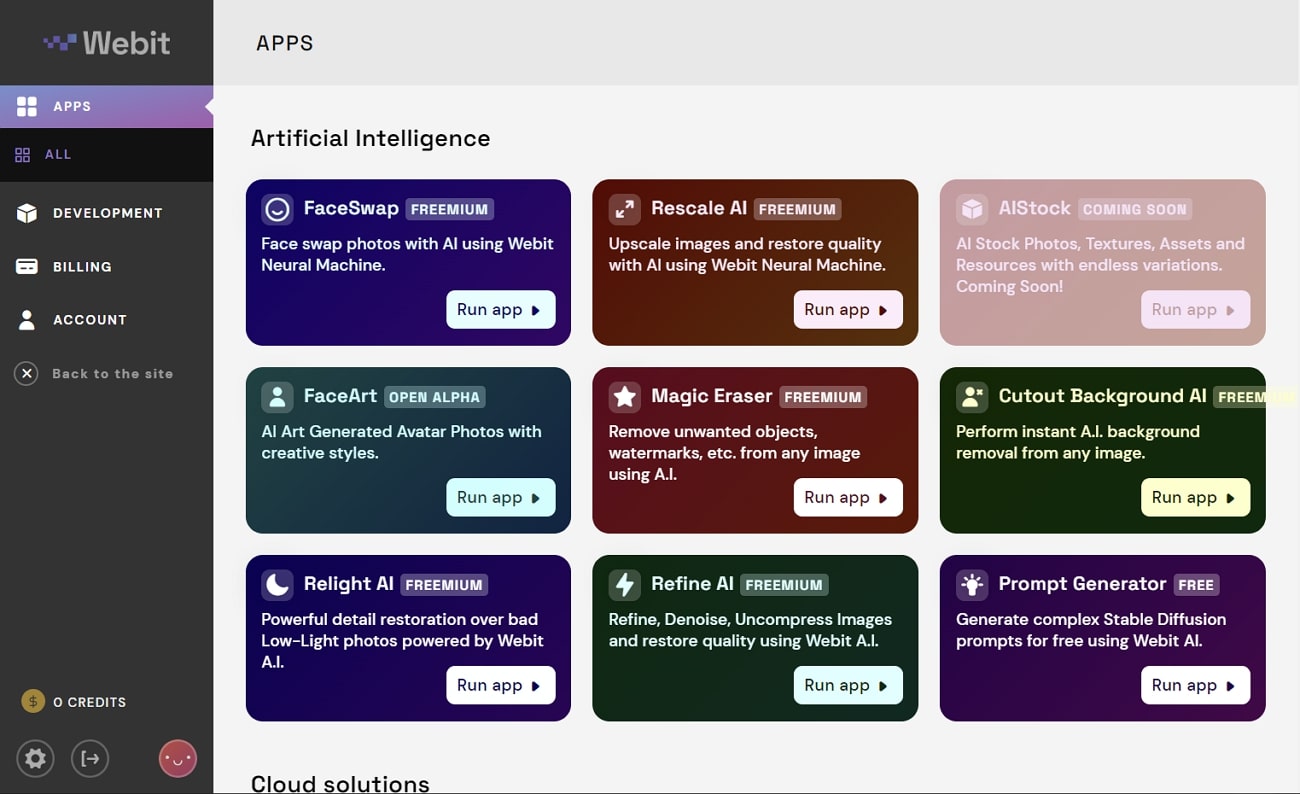 Key Features
With the right package, you can get the required number of images with the right resolution.
Select the appropriate style to create the AI avatar of your choice.
Webit provides several other AI tools, making it a complete set of toolkits for automatic creation.
Midjourney is believed to change the AI avatar creation narrative with its exceptional feature set. The platform provides a limited set of queries to its users to start from. Although the operations are not direct and effective at the instant, Midjourney is improving itself to become one of the best options for creating AI avatars in the market.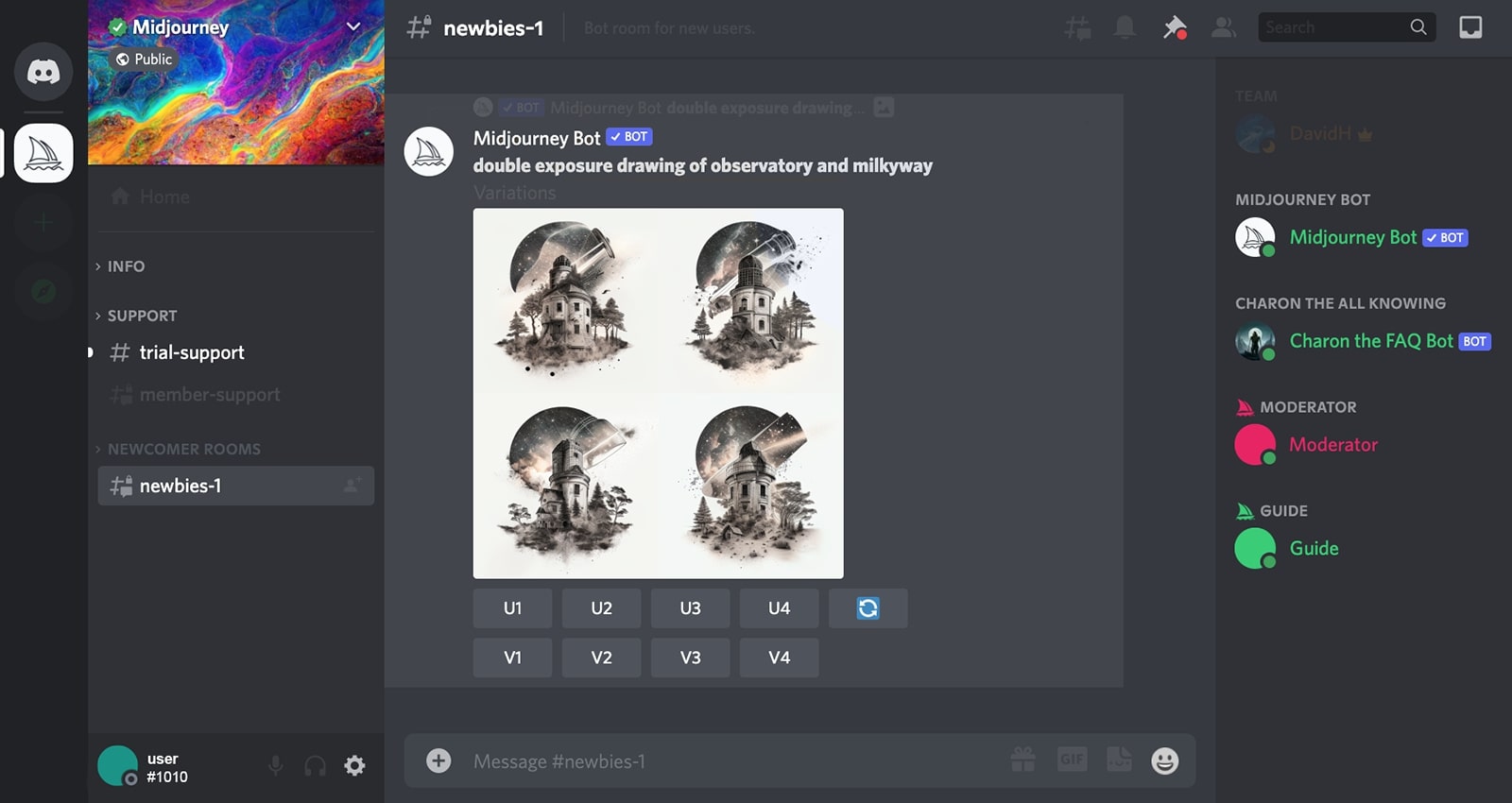 Key Features
Upon a provided query, the platform returns 4 unique AI avatars within a timeframe of 60 seconds.
After getting the first result, the user can upscale and vary their imaginations with the help of simple commands.
The user can vary their overall results with the help of some commands provided in their guidelines.
If you want to create a quick NFT art collection for selling on some platform, the Appy Pie Avatar Maker gives you the platform. With the option of defining the layers and attributes, you can easily create the finest of imaginations for your NFT collection. These AI avatars, if consolidated as a collection, can be used for minting across Polygon or Ethereum.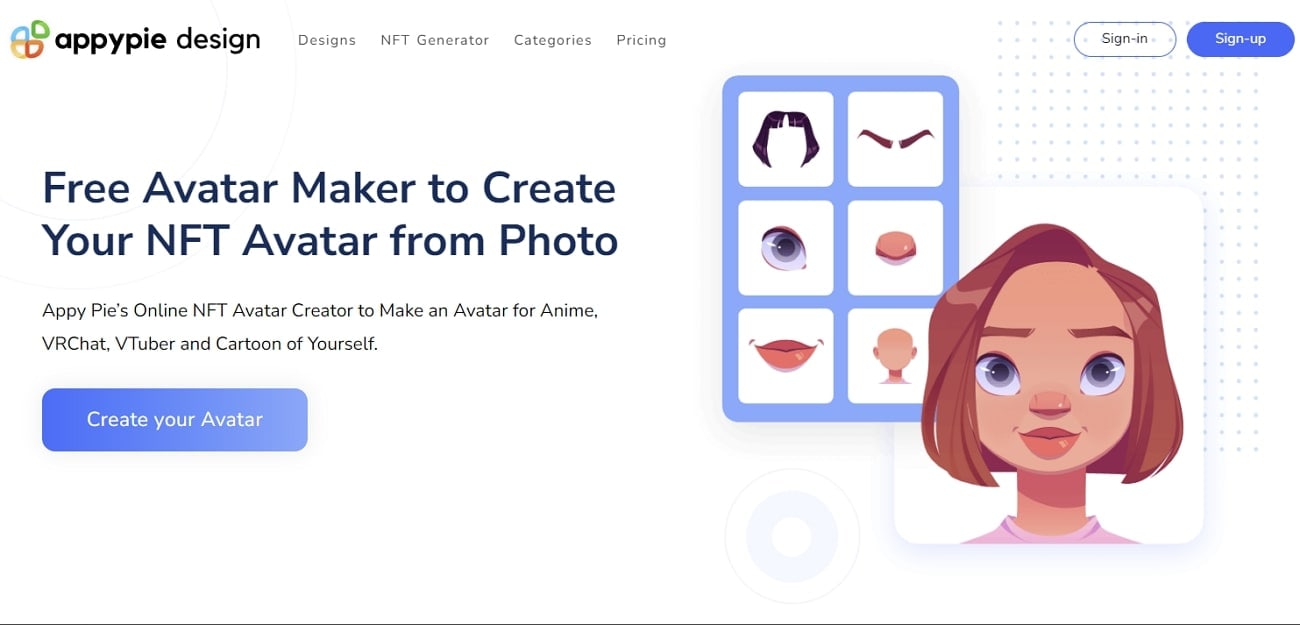 Key Features
There is no need to provide any code to create metadata across this AI avatar maker.
The platform offers thousands of customizable templates to design the AI avatar of your choice.
You can adjust and add filters to your created images, which gives you the leverage to expand your imagination.
Part 2: Top 7 AI Avatar Creator for Android and iOS Devices
While you have gone through some great online and desktop choices for creating AI avatars, find some options for creating avatars on the smartphone. For that, go through this list of some top-rated AI avatar generator apps for Android and iOS devices:
1. AI Art Generator – HitPaw
For impressive artwork, you can consider using the AI art generator presented by HitPaw. It will help you create the AI avatar of your choice. All you have to do is to provide the right terms and text to create the avatar you need. Combined with other powerful tools to operate, HitPaw helps you make and share a fabulous set of avatars. Moreover, you can utilize the filters and effects to create a better version.
Download Links:
Key Features
You can define a customized size of your AI avatar according to your needs.
The platform helps you define the saturation of your AI avatars to create a prolific picture.
It allows you to automate repetitive tasks to help you save more time.
2. Dawn AI - Avatar Generator
Combined with the latest technology, Dawn AI – Avatar Generator creates a complete environment for you. Furthermore, you can set up your required AI avatars in no time with the help of its unique styles and settings. While the platform creates loads of avatars for you, it also helps you organize hilarious results. With its cutting-edge AI technology, this AI avatar tool comes up with numerous options.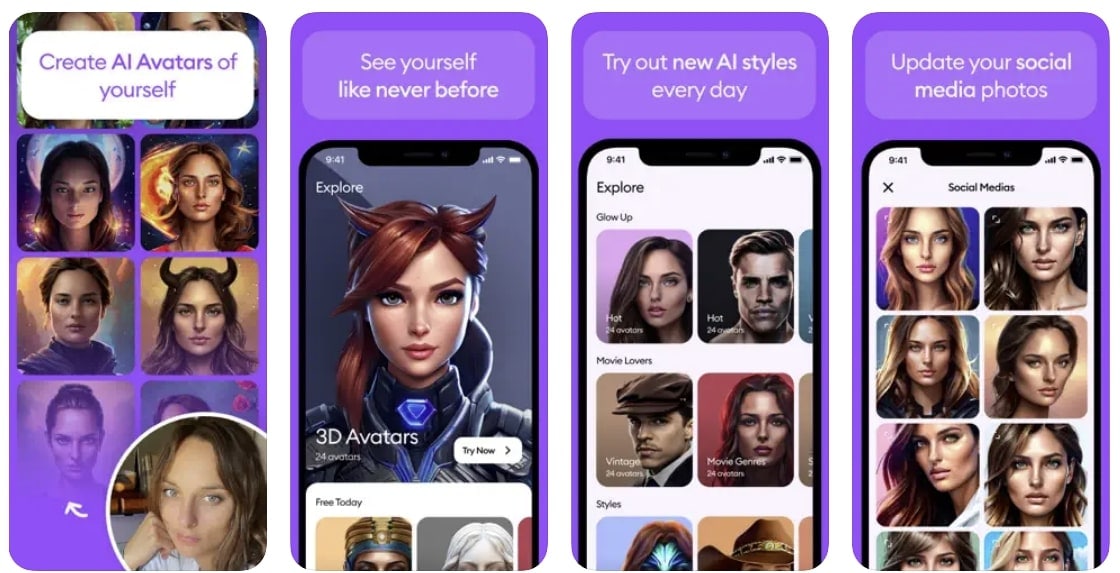 Download Links:
Key Features
The AI avatar tool allows you to share your avatars easily across multiple social media platforms, including Instagram, TikTok, Clubhouse, and Roblox.
It includes functionalities such as hyper-realism, cell shading, and anime.
You can also try face-swapping with Hollywood celebrities across your creations.
3. FacePlay - AI Art Generator
This AI avatar creator helps you generate various AI avatars based on multiple characters. The diversity and variability in selecting the attributes are commendable for this particular tool. You can create comic videos from live videos imported across this platform. Moreover, the ability of this tool to create the animation required by the user makes it among the best options.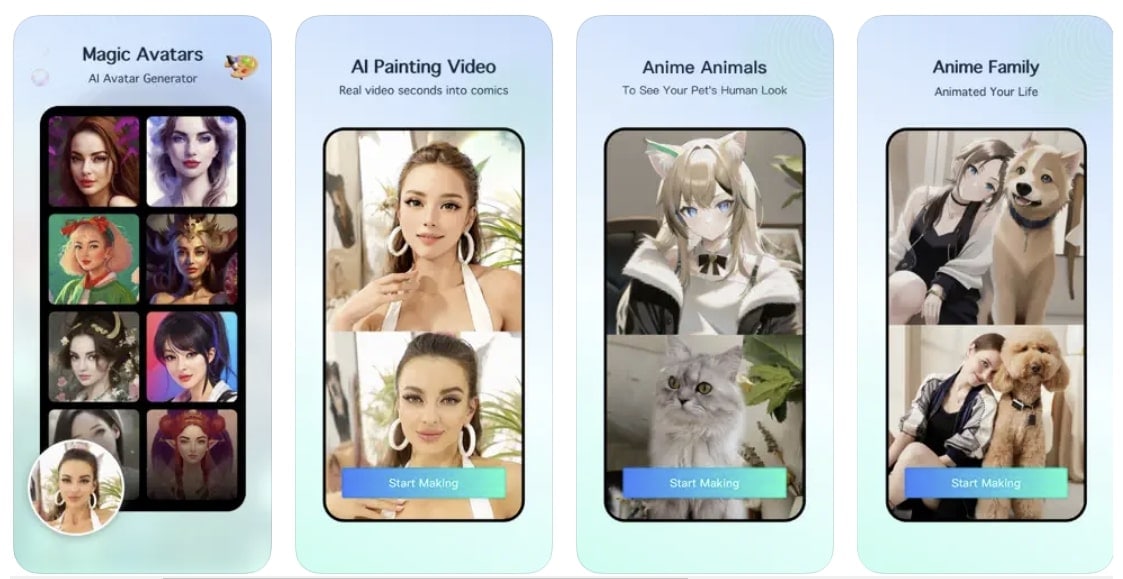 Download Links:
Key Features
The option of 3000+ customized video templates helps you generate unique content.
You can also create specific animations with the help of animals on your AI avatars.
There is a dedicated functionality for trying AI-animated art generation on couples.
4. AI Avatar Generator — Dyvo
If you are searching for a tool that offers fast operations and functionality in creating AI avatars for you, this application is the solution. AI Avatar Generator – Dyvo promises to make the finest versions of avatars for you in no time. Moreover, it generates more than 100 pictures according to the provided input, which gives users a big pool of options. All you have to do is to import some images of yourselves to create the perfect AI avatars.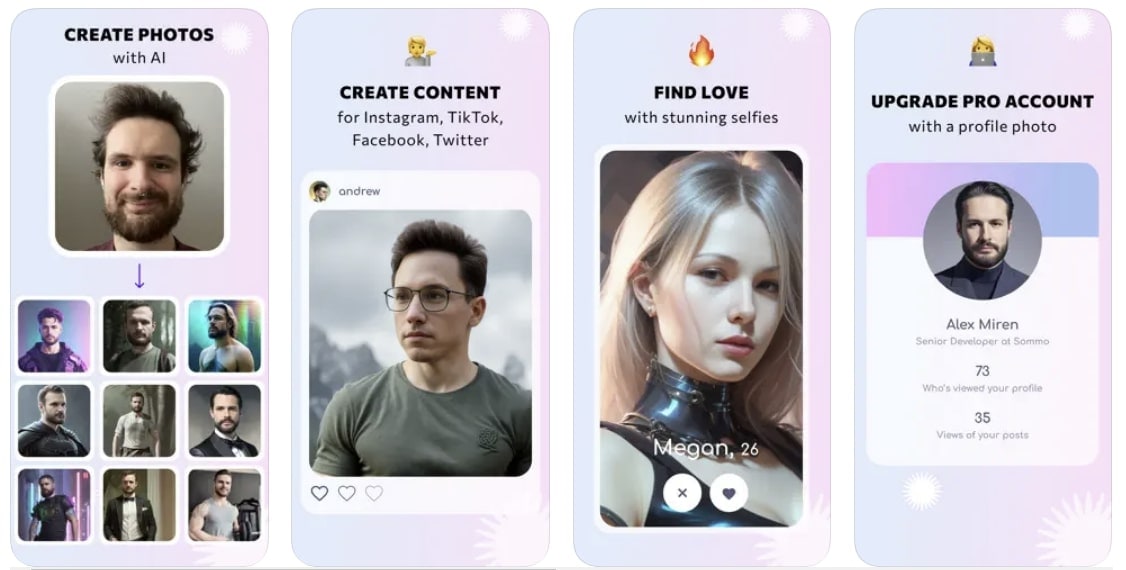 Download Links:
Key Features
You can create photos of different niches, which include professional images, dating profile pictures, and portraits.
Induce your mood into the AI avatar that is to be generated through the tool.
The AI avatar tool is exceptionally easy to work with, with no learning curve for users.
5. Avatar Factory - Avatar Maker
People who wish to make something more than a facial avatar should consider using Avatar Factory. This AI avatar maker gives a perfect experience of AI image generation with the help of its features. From dressing up your avatar, create the fanciest options for yourselves. After creating the avatar, you can share it across any platform according to your requirements.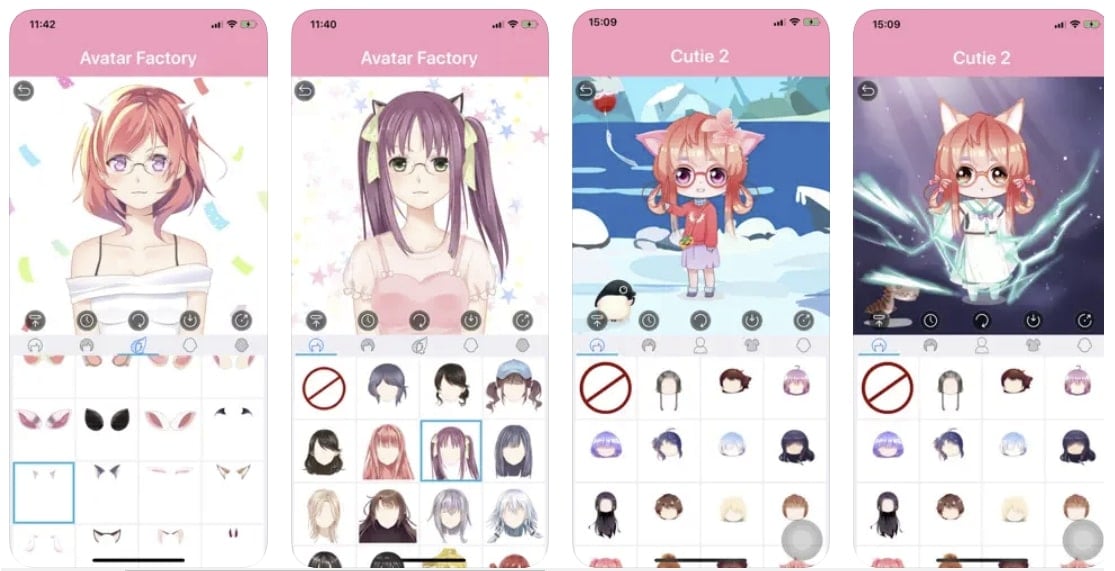 Download Links:
Key Features
You can also access the history of your avatar creation across Avatar Factory – Avatar Maker.
There are multiple classifications existing across the platform, giving users a variety to work with.
Take images from the server and create avatars directly on the platform.
6. Avatar & Cartoon Maker: Zmoji
Do you want to make an AI avatar that looks just like you? Avatar & Cartoon Maker: Zmoji is your go-to solution for this requirement. The platform is designed to input your images and create a perfect avatar. Along with its avatar creator function, you can find multiple utilities that make it a great application. Moreover, this AI avatar creator ensures that the animated version depicts your personality to the fullest.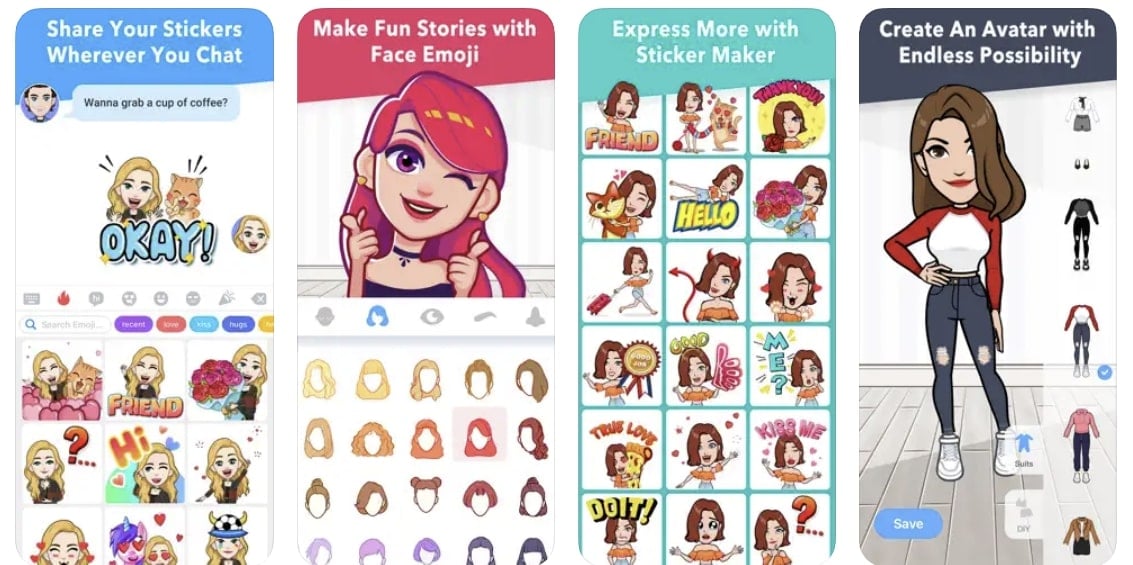 Download Links:
Key Features
It allows you to create a cartoon avatar similar to your original image.
Use multiple fashion elements to customize your avatar properly.
To enhance the quality of your AI avatar, you can use facial features across the platform.
7. AI Art & Avatar Generator - Arta
Many people are not fond of creating simple AI images from image generators. Arta – AI Art & Avatar Generator levels the game with its intuitive functionality. The AI art and anime generator presents a variety of styles to take help from. Moreover, it binds in a great set of elements to present unique AI avatars that can be utilized on professional platforms.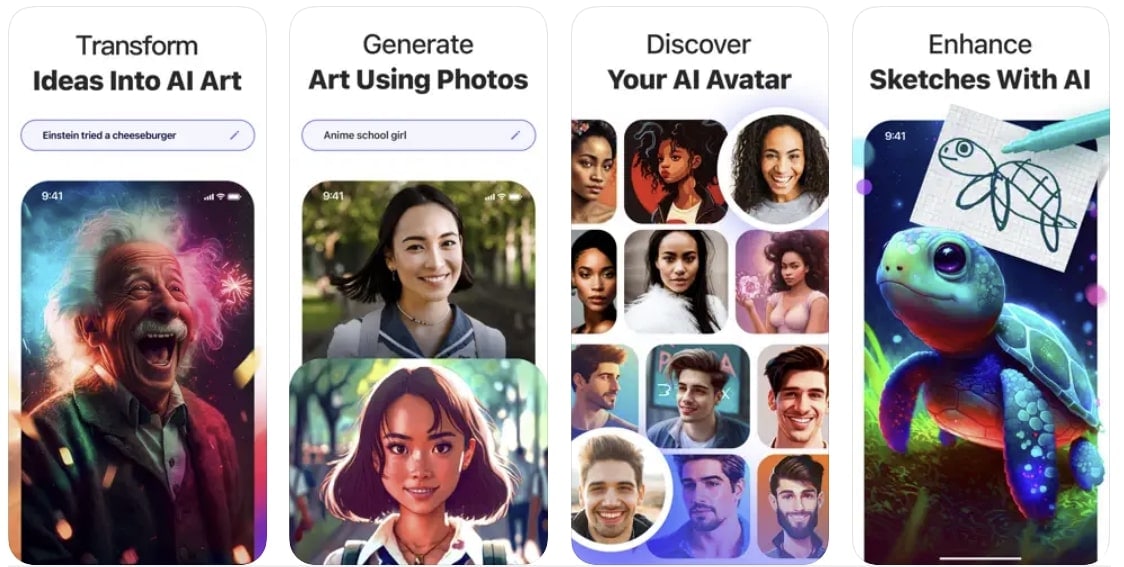 Download Links:
Key Features
You can add multiple ideas along with your image to create innovation.
Add different roles within your input parameters to create a perfect AI avatar.
The platform blends cartoonish styles with photo-realistic designs for creating avatars of different levels.
8. Starrytars | AI Avatar Generator
Simplicity is another requirement of users when they are looking to create AI avatars. Starrytars AI is a prolific AI art generator that creates the perfect cartoonized version of the provided image. With a very simple interface, there is not much that the user has to input to create the ideal avatar. Also, multiple styles are available to help you generate your required results.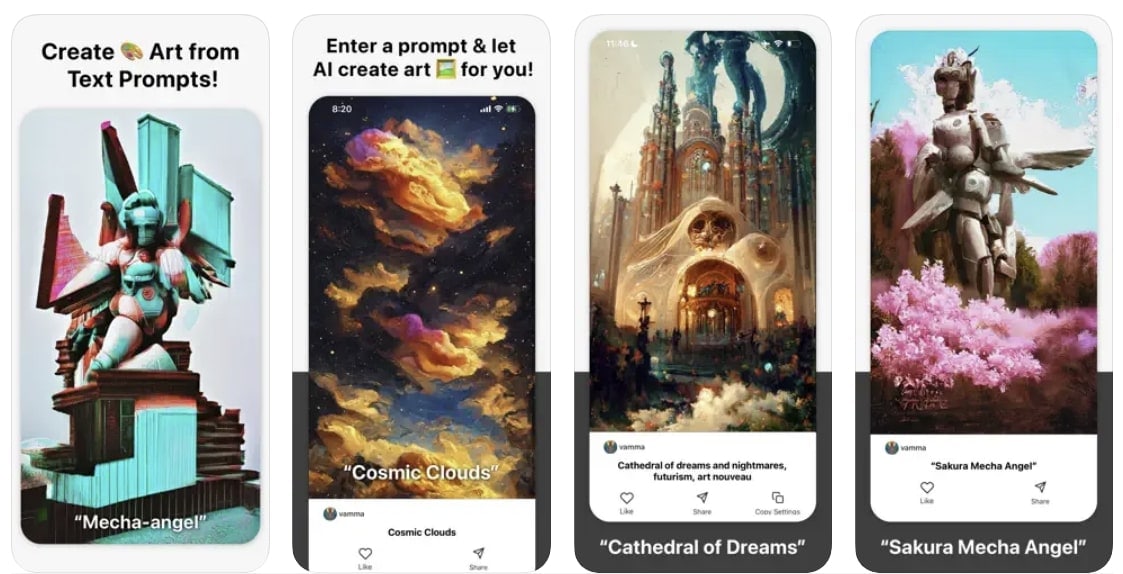 Download Links:
Key Features
After uploading 10-20 photos, you can obtain more than 100 AI avatars of yourself.
The process of creating avatars with this explicit tool is straightforward and efficient.
You can also generate artwork with the help of the styles available on the platform.