The demand for 2x2 photos remains ever-present. Whether it's for official documents, passport photos, or personal use, these small photographs play a crucial role in various aspects of our lives.
However, the traditional process of visiting a physical photo studio for 2x2 photos is time-consuming and often expensive. That's where online 2x2 picture maker tools come to the rescue.
But, finding a convenient and free tool to create these precise 2x2 photos can be a task in itself. That's where we come in – in this article, we will introduce you to the Best 6 Free 2x2 Photo Makers Online for 2023. These digital resources will simplify the process of crafting 2x2 photos, helping you save time, money, and energy, all while ensuring your photographs meet the necessary standards.
So, if you've ever needed a perfect 2x2 photo, read on to discover the online tools that will make the task a breeze in 2023.
Part 1. Is 2x2 a Standard Passport Photo Size?
The 2x2 photo size is one of the standard dimensions for passport photos, but it's not the only one. Various countries have their own specifications for passport photo sizes, and understanding these variations is crucial to ensure your documentation is accepted without a hitch.
The 2x2 inch (or 51x51 mm) passport photo size is the recognized standard in countries such as the United States and India. This square-shaped photo provides a clear and uniform portrayal of the individual's face, making it suitable for various identification purposes. When you require a passport or visa for these countries, the 2x2 size is your go-to choice.
However, it's important to note that not all countries adhere to the 2x2 standard. For example, in the UK, Australia, Japan, and Russia, the standard passport photo size is 45x35 mm, a rectangular format that differs from the 2x2 inch size.
China's passport photos are typically 33x48 mm, another example of a unique size requirement. Brazilian passports require a 50x70 mm photo, emphasizing a larger format than many other nations.
These are just a few examples, and it's essential to research the specific size requirements for your destination country when preparing your passport photos. Failure to comply with the prescribed dimensions can lead to rejected applications and unnecessary delays.
Part 2. How to Generate 2x2 Photo?
You can make 2x2 photo online free using an all-in-one media toolkit Media.io. The following are the steps to achieve that:
Step 1. Upload a photo and select a preset size:
Begin by uploading a suitable photo to media.io. Then, choose a preset standard photo size from a variety of templates designed for over 60 countries. Look for the one that specifies 2x2 inches or its equivalent dimensions.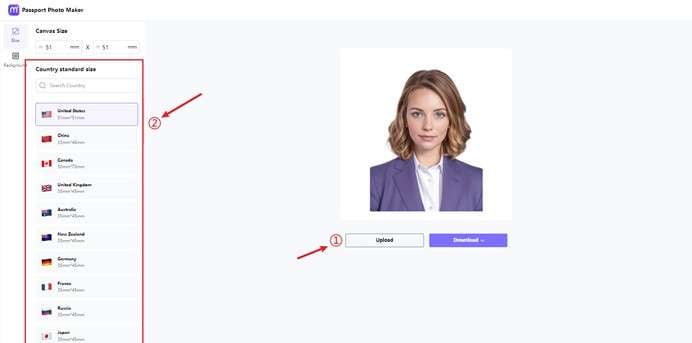 Step 2. Let AI do the Magic
The AI technology takes the stage. It automatically centers your face in the frame, removes the original background, and replaces it with a white background or any other color you prefer.
Step 3. Download Passport Photo: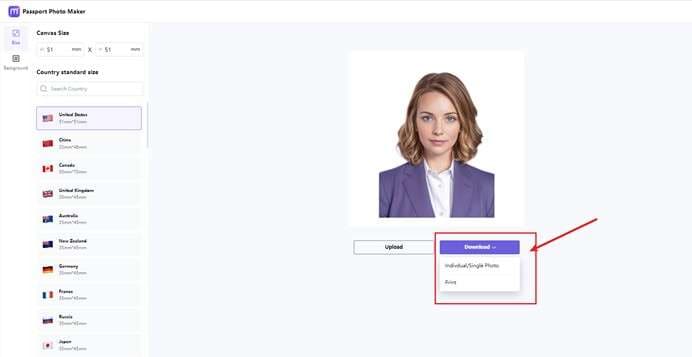 After the AI processes your photo, click the button to generate the final result. You can download the photos combined into a single sheet of standard print paper size or as a single, individual piece of the required standard size.
Part 3. Best 6 Online 2x2 Picture Editors
Without further ado, let's explore the list of the best six online 2x2 picture editors that can help you achieve the perfect passport or ID photo:
Media.io Passport Photo Maker boasts a built-in editor that automates the often tedious tasks associated with passport and ID photo preparation. The 2x2 photo editor ensures your photo conforms to the 2x2-inch standard or other specified passport photo size, eliminating any worries about your picture being too big or too small.
One of the standout features of this 2x2 picture editor online free tool is its ability to replace the background of your original passport-size photo automatically. It replaces it with a clean, crisp white background, adhering to official standards. This not only ensures compliance but also enhances the overall quality of your photo.

Key Features
It auto-generates a compliant white background, adhering to official standards.
It features preset passport photo size templates for over 60 countries, including the USA, China, Spain, France, Germany, etc.
This tool automatically crops, resizes, adjusts, and face-centers the photo to meet the specifications for official documents.
This 2x2 photo maker offers the freedom to crop photos manually until you are completely satisfied with the results.
It can generate other types of photos for various purposes, such as ID cards, visas, resumes, business cards, etc.
A wide range of templates for dress changes for personal or official occasions.
idphotodiy is a straightforward and free 2x2 photo maker that enables you to generate 2x2 photo size with ease. With its intuitive interface and efficient features, this online 2x2 ID picture maker simplifies creating compliant 2x2 photos for official documents. One standout feature of idphotodiy is its automatic resizing and formatting capability. You can upload your photo, and idphotodiy will take care of the rest. Your image will be adjusted to meet official requirements, saving you the task of manual resizing and formatting.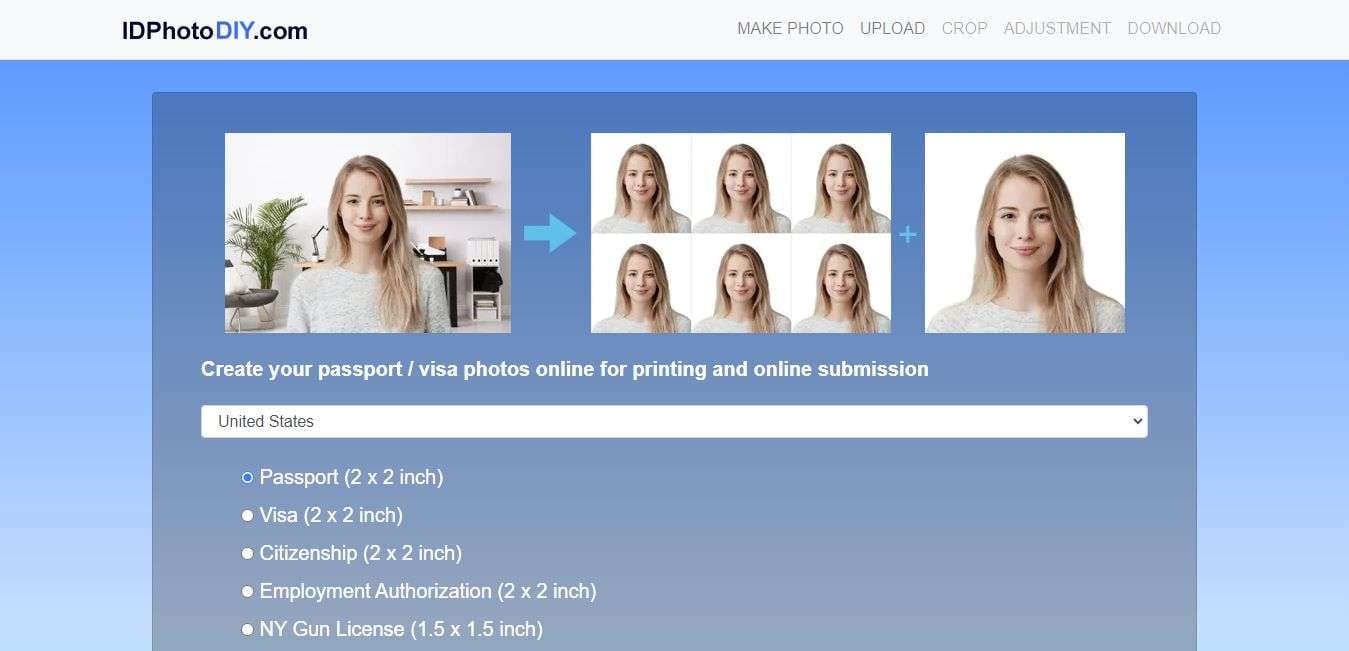 Key Features
idphotodiy offers visa photo size templates for over 70 countries.
It provides a user-friendly process for taking baby passport photos.
It takes less than five minutes to generate a passport photo.
The tool features an automatic background remover, ensuring your passport photo meets official standards.
You can take as many photos as possible until you achieve the perfect shot.
imResizer is a user-friendly platform that streamlines the process of resizing photos, including creating 2x2 photos for official documents. Whether you're a professional photographer or a casual user, this 2x2 photo editor offers a hassle-free solution. With its straightforward drag-and-drop interface, you can effortlessly upload your image and adjust the dimensions of your photo to meet the specific 2x2 size required. This precision ensures that your photos are perfectly formatted for official documents. What sets this 2x2 picture editor free platform apart is its versatility in resizing. You can adjust your photos in centimeters (cm), millimeters (mm), inches, or pixels without sacrificing image quality.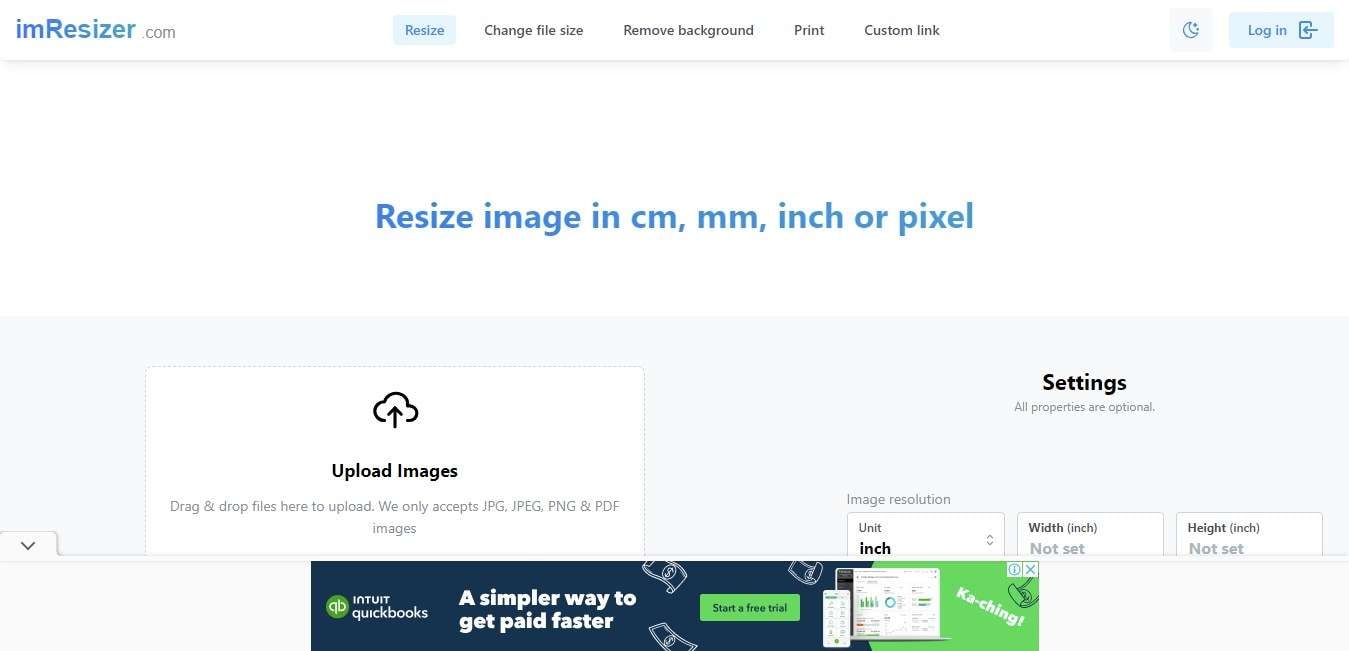 Key Features
imResizer boasts a user-friendly and intuitive interface.
It allows manual adjustments, allowing you to fine-tune your photos according to your preferences.
This 2x2 ID picture editor supports various image formats, including JPG, JPEG, PNG, and PDF.
The tool offers exceptional speed and flexibility.
imResizer supports all major measurement units, including centimeters (cm), millimeters (mm), inches, and pixels.
It works on all devices and does not need software installation.
PicResize is your go-to online tool for all things related to photo resizing, including the creation of 2x2 photos for official documents. It offers a comprehensive platform that caters to your specific needs, whether you're preparing passport photos or other image-resizing tasks. With this 2x2 picture generator, you can upload your image and effortlessly adjust its size to meet the strict requirements of official documents. This ensures that your photos are perfectly formatted and compliant with official standards. This 2x2 maker goes a step further by providing various editing options. This flexibility allows you to fine-tune your photo before finalizing it.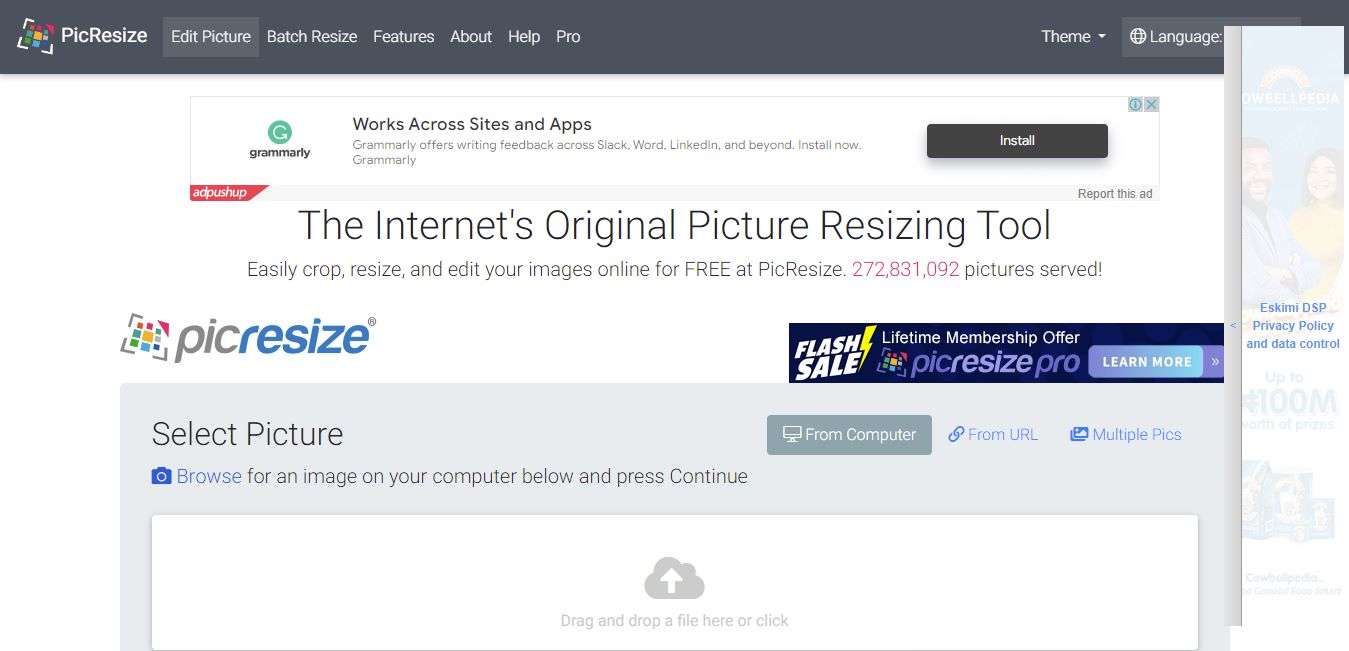 Key Features
PicResize offers a wide range of special effect options, allowing you to enhance and customize your photos.
You can save the edited picture in various formats, including PNG, JPG, BMP, and GIF.
The tool provides the capability to crop images and apply the perfect background.
You can efficiently reduce the file size of your pictures while maintaining the desired quality.
The 2x2 photo editor free tool caters to international users by providing preset sizes of ID photos for different countries. This thoughtful inclusion ensures that your photos are formatted correctly, regardless of where you need them for official purposes. With just a few clicks, you can upload your photo, adjust it to the correct 2x2 size, and download the perfectly formatted image. One of the standout features of this free 2x2 photo editor is its ability to resize your photos and change the background. This customization allows you to achieve the desired look for your ID photos.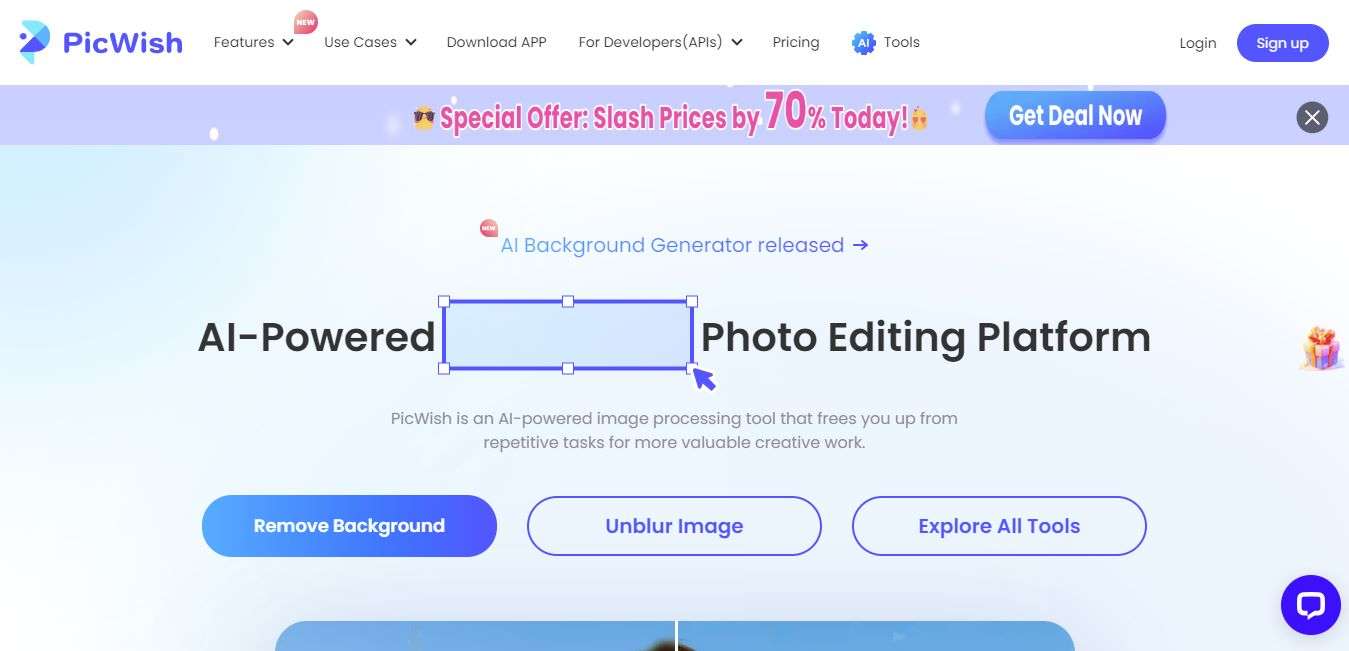 Key Features
PicWish offers an automatic free background remover.
You can process images automatically in bulk.
It boasts rich background color to choose from
PicWish features a user-friendly interface that is easy to navigate.
The tool provides preset passport-size templates, including 2x2 inches, 30x40mm, and 35x45mm.
This 2x2 ID maker ensures your photo composition fits in without losing its original quality.
Fotor's free online photo editor is designed for effortless photo editing. You can easily upload your image, crop it to the required dimensions, and make any necessary adjustments, all within the same platform. This streamlined process simplifies the creation of official 2x2 size passport photos. With the automatic enhancement feature of this 2x2 picture editor online tool, you can improve colors, adjust lighting, remove blur, and refine details, ensuring that your photos look their best for any purpose.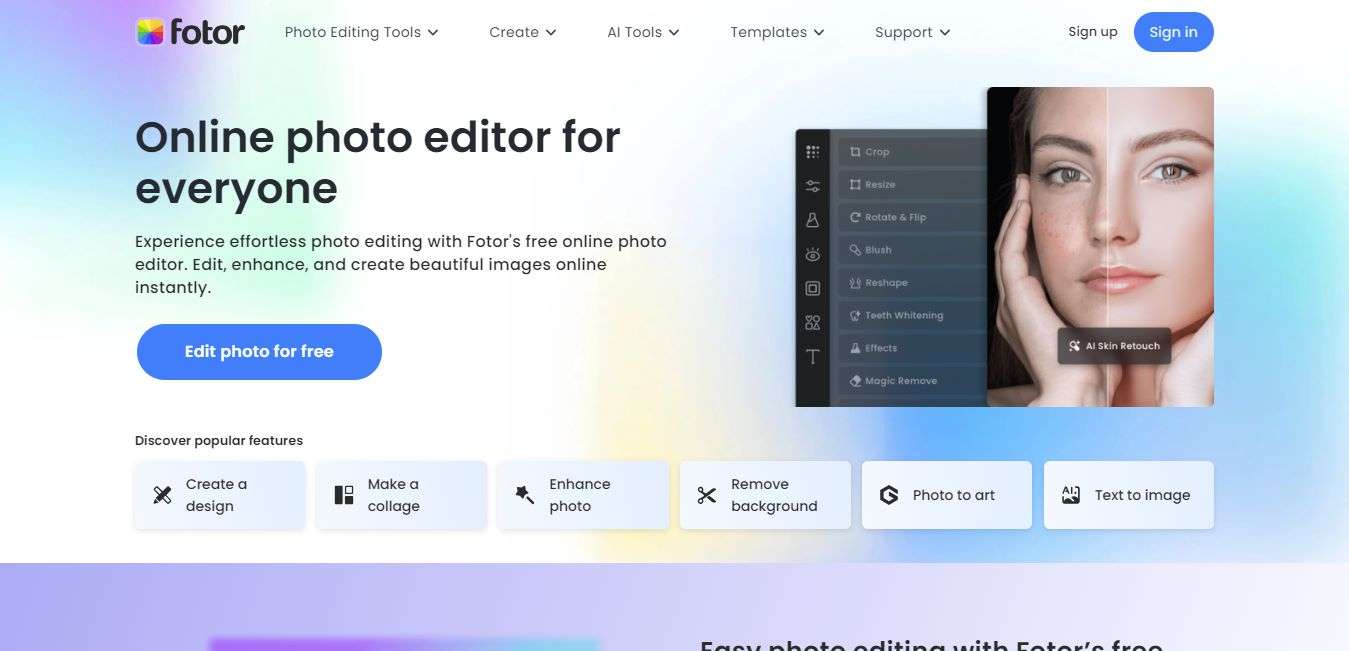 Key Features
Fotor's Passport Photo Editor can automatically remove the background and replace it with white.
Fotor offers three preset passport photo sizes, including 2x2 inches, 30x40mm, and 35x45mm.
Fotor provides a wide selection of passport photo background colors.
Fotor's Passport Photo Editor boasts intuitive editing features.
The tool offers an array of customizable templates.
Fotor facilitates the seamless sharing of your passport photos.
You can download your passport-size photo in high-definition (HD) jpg, png, and pdf formats.
Part 4. Hot FAQs about 2x2 Photo Makers
1.What is the size of 2x2 photo?
The size of a 2x2 photo is 2 inches by 2 inches (51 x 51mm). It's a square-shaped photo with 2 inches on each side, equivalent to 51 millimeters by 51 millimeters. This size is commonly used for official documents in some countries.
2.Can I take a 2x2 photo with my phone?
Yes, you can take a 2x2 photo with your phone. You can use your phone's camera to capture a photo and then upload it to Media.io's passport photo maker. The 2x2 picture maker free tool will help you adjust and format the picture to meet the standard 2x2 passport photo size required for official documents.
3.How do I make a 2x2 photo for free?
You can make picture 2x2 size for free using Media.io passport photo maker.
Simply visit Media.io through your web browser on a computer or mobile device.
Look for the option to upload your photo and click on it to select the picture you want to use for your 2x2 print.
From the variety of 60+ templates, choose the one that specifies 2x2 inches or its equivalent dimensions.
The AI-powered platform will automatically edit the photo, remove the original background, and replace it with a white background or any other color you prefer. You can then proceed to save the resulting 2x2 photo to your device.
Conclusion
We've explored six best free online 2x2 photo makers, each offering unique features to cater to your specific needs. Whether you're preparing passport photos, visa pictures, or any official document images, these online platforms simplify the process, saving you time and money.
With these tools, you can effortlessly generate compliant 2x2 photos from the comfort of your own home, eliminating the need for expensive photo studios or complex software.
It's important to note that while these tools offer simplicity, always ensure that your photos meet the specific requirements of your intended use, such as background color, dimensions, and facial positioning. With these free online 2x2 photo makers at your disposal, creating official documents has never been easier.