How to Auto Enhance Photo Losslessly
Media.io is the most straightforward photo enhancer online to turn low-res pictures into high-res photos on desktops and mobile phones. You don't need to master any expert skills as they would with complicated apps like Photoshop or Lightroom.
Step 1. Upload Your Low-Res Photos.

Launch Media.io Photo Enhancer on your mobile or desktop browser and add any photos you'd like to improve. This AI-powered program supports all major image formats, like JPG, PNG, WebP, BMP, etc.

Step 2. Let AI Increases the Images Quality.

After uploading the photo, AI (Artificial Intelligence) will auto-detect, analyze, and increase the resolution of your image while maintaining the original details. The process only takes a few seconds!

Step 3. Enjoy the Enhanced Photos.

Are you happy with the improved photo? If yes, click on the Download button to export the processed images without a watermark.
The Best AI Photo Enhancer Covers All Common Needs.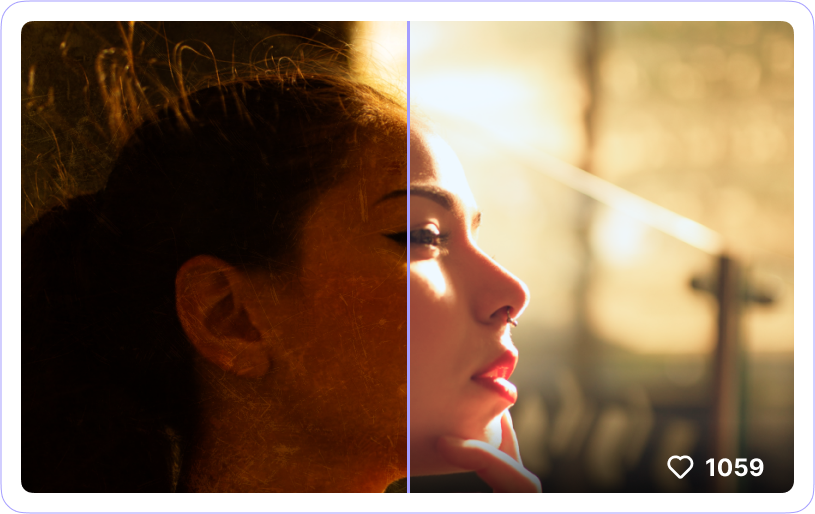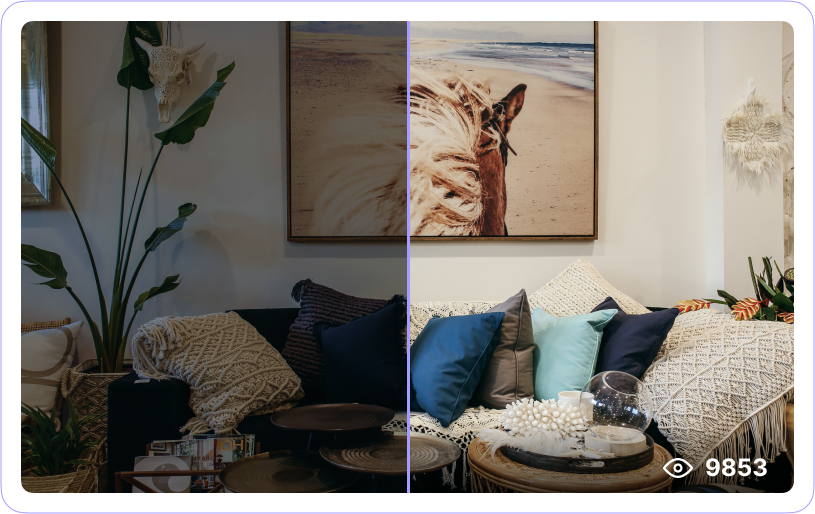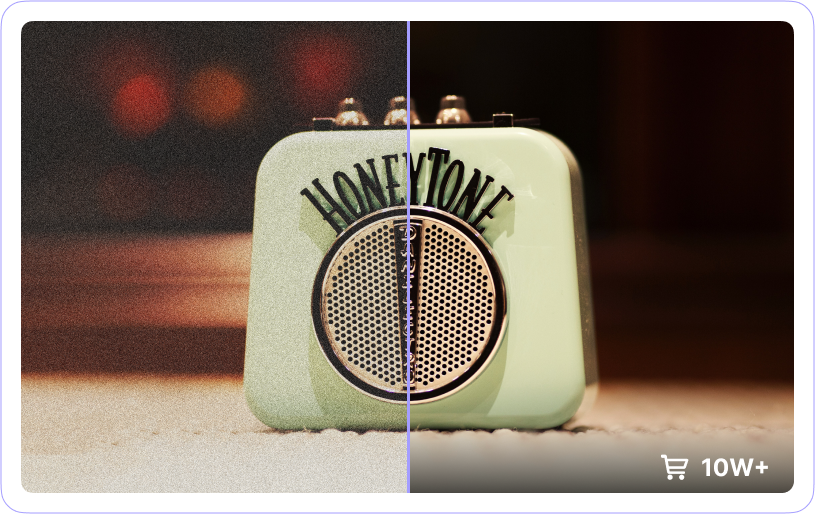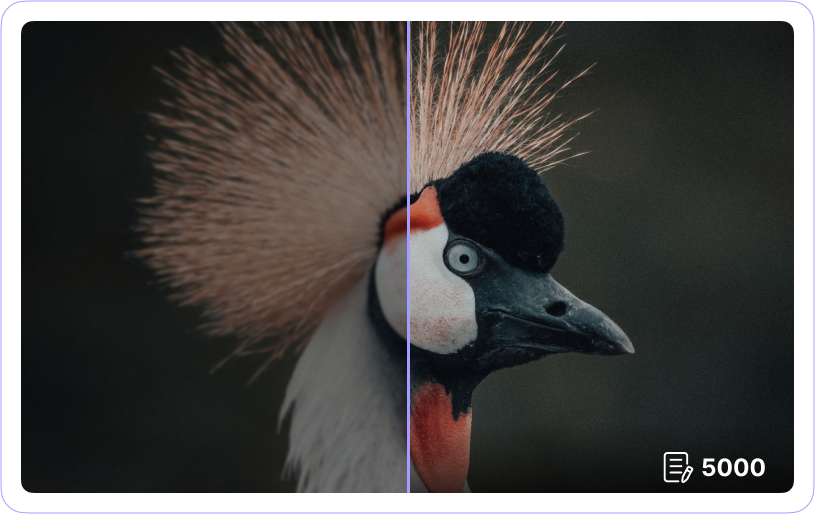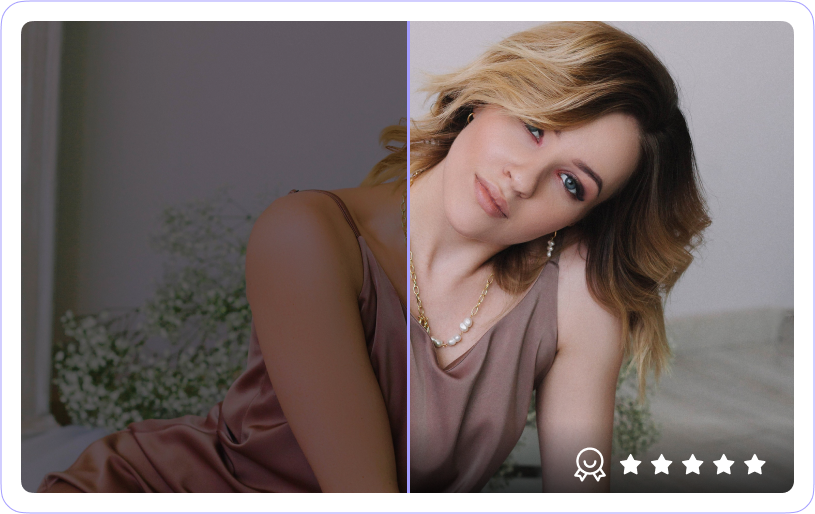 Social Media UGC

With Media.io, you can stay on top of your game on social media by consistently churning out high-quality content for your followers. For example, social media are awash with flashback challenges where people share their old photos. Use Media.io to improve these photos before sharing them with your friends.

Real Estate Business

Real estate marketers should know how critical photos are in this industry. Before closing a deal or attracting prospective clients, you must share high-quality images that appeal to your buyers. And you don't have the whole day to take multiple photos in the same spot, do you? With Media.io, you can quickly enhance your real-estate images with new resolutions, brightness, contrast, and more.

Digital Marketing

E-Commerce is another industry that can significantly benefit from Media.io AI Photo Enhancer. Now answer this; how many grainy photos can you find on online marketplaces like eBay and Amazon? Probably none! In fact, some of these platforms have specific image specs before you are allowed to upload anything. Use our JPG enhancer to retouch your product photos and make them more appealing to prospective buyers.

Digital Art

Media.io should also come in handy for digital artists. This free program allows you to enhance your artwork and bring your creations to life. You can use it with digital drawings, paintings, sculpting, animations, and more. For instance, you can have a beautiful illustration of your dog only to realize the lighting is a little low. Or you may want to sharpen the edges and remove any graininess on the painting.

Portraits

Your online profile or portfolio speaks much about you before someone reads your biography. It's even safe to say that this is the gateway to your online presence. For this reason, uploading the most professional-looking profile picture on your CV, LinkedIn profile, Facebook PFP, and more is vital. Our AI photo enhancer online free helps you sharpen and improve your portrait photo, giving you the most professional appearance online.
Stunning Features of Media.io Free Pixel Enhancer
Reliable AI Capability
Our AI photo enhancer uses advanced Artificial Intelligence abilities to create high-quality photos. Just upload the image on Media.io Photo Enhancer and let the AI do all the dirty work.
Fast, Easy & Safe
This online photo enhancer has an intuitive user interface, meaning users don't need prior skills. You'll only need a few taps to upscale and enhance your images.
Smooth Compatibility on Mobile/PC
Our online image quality enhancer offers cross-platform compatibility on Windows, Mac, Android, and iOS.
Watermark-Free Result
Unlike other professional image enhancers that leave branding watermarks on the first free output, Media.io's outcome is free of watermark. Just visit the website and enhance your photos. Frequently Asked Questions of
Auto Photo Enhancer
1. How to enhance images online fast?

With Media.io AI photo enhancer, you'll enjoy fast image processing sessions and various photo enhancement tools. All the features are AI-powered, meaning you'll only need a few touches to enhance your photos. Get started to upload your first image here!

2. What is the best free AI photo enhancer?

Media.io is one of the best free image enhancers you can find in today's market. Besides being 100% free to use, the program allows you to access all the auto image enhancement features without using other tools.

3. How to upscale and increase photo resolution online?

You can improve image resolution online with Media.io Photo Enhancer. This AI program can upscale photos by up to 800% (8x) with lossless quality. Just load the picture and choose the upscaling rate.

4. How to sharpen a blurry image for free?

Media.io Free Photo Enhancer lets you sharpen blurry photos in a flash. It focuses on the image's smooth edges, leaving you with sharp and clear photos.

5. Is it possible to restore the old photos without details loss?

Yes, Media.io lets you enhance old photos and bring them to life. This photo enhancer removes any image scratches and blurriness, making your old photo look brand-new.

6. Can I enhance multiple photos at once with Media.io?

Currently, Media.io AI Photo Enhancer doesn't support enhancing multiple photos. But you can be sure that we are working on adding the convenient batch processing feature.