As a music enthusiast, you may wonder how to isolate vocals from audio so you can create your karaoke tracks, practice singing without accompaniment, or create acapella versions of your favorite songs.
Regardless of the reason, several free vocal removers can help you isolate vocals from audio without spending hours editing the track with a sequencer. Therefore, this article will recommend eight free vocal removers to help you with your specific needs.
Part 1: Top 8 vocal removers you should know
Vocal removers are software that removes or reduces the vocals in an audio recording. If you want to remove or reduce vocals in an audio recording, you will need a vocal remover. So, here's a list of the best free vocal removers:
(1) lalal.ai
Lalal.ai offers high-quality, AI-powered audio and video stem splitting. With cutting-edge machine learning algorithms, lalal.ai can provide users with high-quality, isolated tracks of vocals, accompaniment, and various instruments from any audio or video file.
Moreover, you can import multiple audio files at once. It is beneficial for streamers, producers, transcribers, and anyone else who wants to clean up the voice from audio, as it allows you to isolate the tracks you need quickly.
OS: Online (website browser)
Official website: https://www.lalal.ai/voice-cleaner/.
Highlight features:
Voice Cleaner with noise cancellation technology
Supports batch upload of up to 20 files
Supports popular file formats, including MP3, OGG, WAV, FLAC, AVI, MP4, MKV, AIFF, AAC
User experience:
This vocal remover online is free to use and can smoothly remove voices from audio recordings. We also found the user interface user-friendly, although it looked pretty lame and dull. Overall, the lalal.ai voice remover tool was impressive enough for a quality voice removal tool.
(2) Media.io vocal remover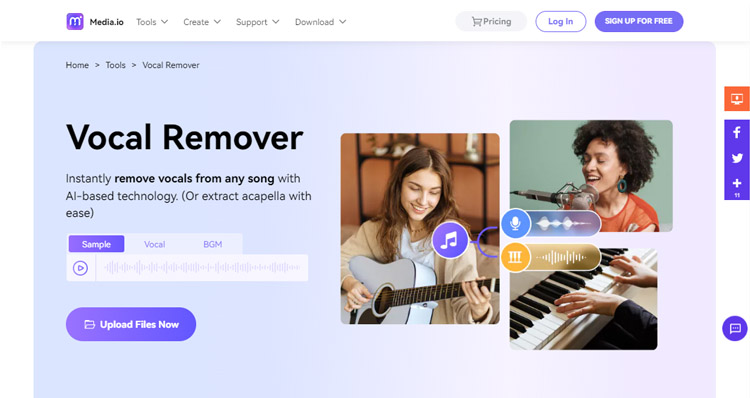 Media.io is a famous and easy-to-use vocal remover that can help you remove vocals from songs or audio files with just a few clicks. You can create acapella versions of your favorite songs, custom sound effects, or remove background noise from audio files.
Plus, its AI technology lets you remove vocals from a song at high speed. It can be the best tool anyone can ask for when creating custom karaoke tracks or enhancing your music production skills.
OS: Online (website browser)
Official website: https://vocalremover.media.io/.
Highlight features:
Produce high-quality output and maintain the original quality of the audio
Improve your audio recordings in some ways, such as combining audio tracks, converting, and changing the pitch of your recordings
Using an AI algorithm to extract the desired audio from your original recording accurately.
It supports popular audio and video formats, such as MP3, WAV, OGG, and M4A, as well as MP4, MOV, and MKV.
User experience:
The vocal remover feature of Media.io proved to be effective in reducing or eliminating vocals from songs without negatively impacting the overall quality of the audio. The results were comparable to other similar software programs tested. User experience was positive, with most users finding the interface easy to use and the results as expected.
(3) Vocali.Se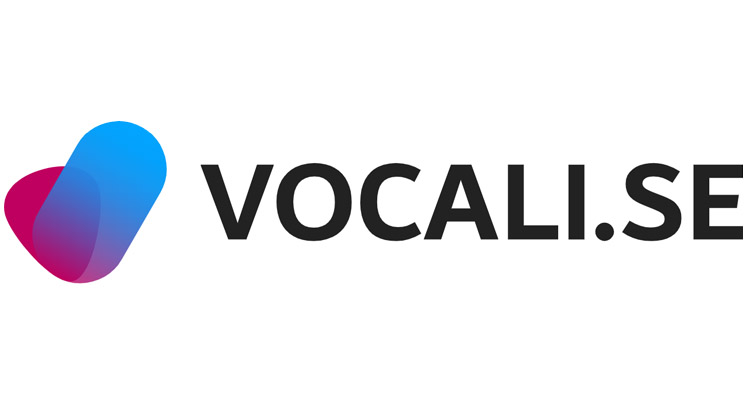 Vocali.se is a vocal remover online free that can separate vocals and music from any song or audio file. When using this platform, there is no necessity to install anything or even create an account.
OS: Online (website browser)
Official website: https://vocali.se/en.
Highlight features:
Using machine learning to separate the vocal
High-speed extraction that only takes around 2 minutes
User experience:
The user interface is made to be simple, with a minimal learning curve. Users can create high-quality recordings in just a few minutes. However, the program has limited features and only offers basic editing options for audio files.
(4) Audacity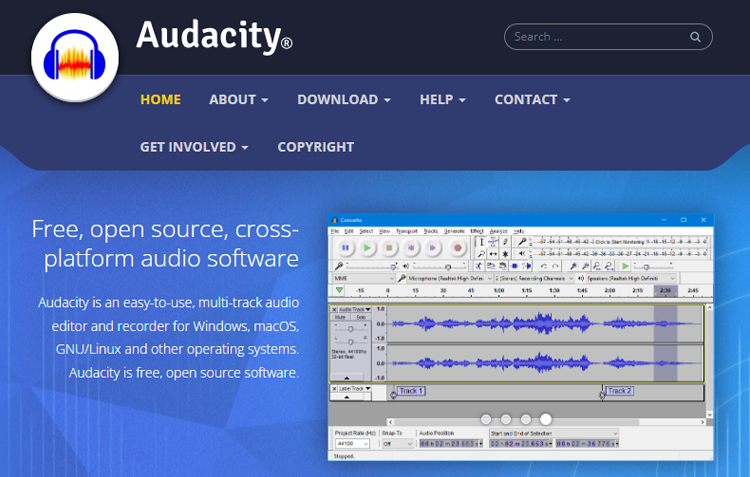 Some producers use Audacity to remove vocals or background noises from any audio recording on a PC. It's a free vocal remover software and an open-source program that you can use to extract vocals or isolate individual tracks from a song.
OS: Windows, Mac, and Linux
Highlight features:
Cutting, copying, splicing, and mixing sounds
Built-in effects and filters for vocal remover, noise reduction, or audio enhancement
Allows you to export in many audio formats
User experience:
The vocal remover tool in Audacity is sufficient but may need improvement. You need prior knowledge in audio editing to use it, so it's not beginner-friendly. But in general, the tool does an incredible job of removing the vocals without significantly affecting the quality of the instrumental track.
(5) UniConverter vocal remover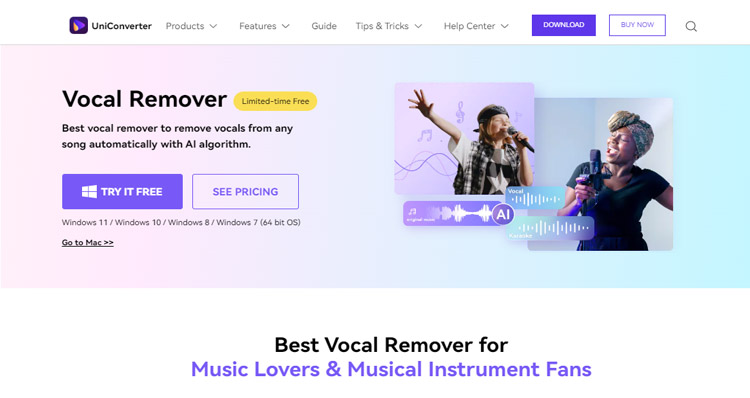 UniConverter is the best vocal remover on the market. With this software, you can create karaoke tracks from your favorite songs or strip the vocals to create unique remixes. In just a few clicks, you can say goodbye to the vocals in your files and create high-quality karaoke tracks or instrumentals.
This vocal remover is free to download. You can visit their website at https://videoconverter.wondershare.net/.
OS: Windows and macOS
Highlight features:
Noise Remover
Identify and set apart individual voices and instruments using an AI algorithm
Convert your audio to karaoke
Ads free software
User experience:
The process was pretty simple. You only have to go to the Vocal Remover tool, then drag and drop the audio files into the UniConverter interface.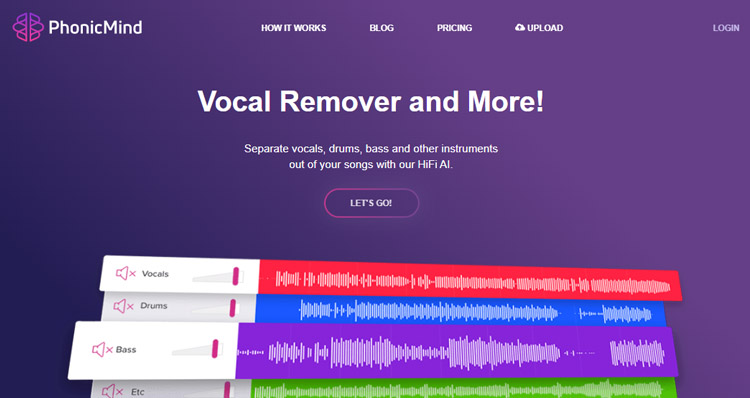 PhonicMind can separate vocals and instruments from your songs using HiFi AI. It allows you to isolate drums for practice or remove instruments from a song altogether. It can be a helpful tool for DJs and producers who want to remix a song or for those who simply want to create a new version of a song without the original vocals.
OS: iOS and Android
Highlight features:
Vocal extraction
Music remover
User experience:
PhonicMind works fine for an audio remixing program but has limited features. PhonicMind can be frustrating for users who want to do more with the program than simply extract the vocal and remix the audio. While the PhonicMind user experience is good overall, the lack of features can be a hindrance.
(7) WavePad Audio Editing Software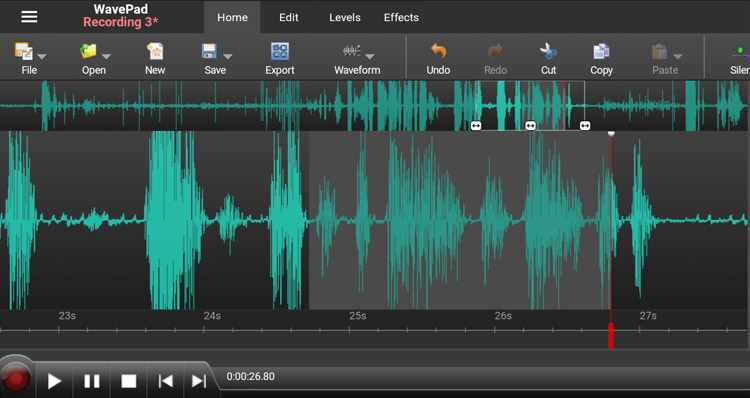 WavePad is an advanced audio editing software for PC. It is a full-featured audio editor that supports various audio formats, including WAV, MP3, AIFF, AU, FLAC, OGG, and more. WavePad also allows you to add effects to your audio files, such as echo, amplification, and noise reduction.
OS: macOS and Windows
Highlight features:
Using DirectX and VST support to access thousands of additional tools and effects
Royalty-free sound effect media library
Batch processing
Search and bookmark audio for easier editing
User experience:
WavePad Audio Editing Software is designed to be a professional-grade audio editing tool. It offers a wide range of features to its users, including a vocal remover tool.
After testing it out, the results were remarkable. This program can remove vocals from a track, leaving only the background music. However, it will require some technical expertise to operate.
(8) notta.ai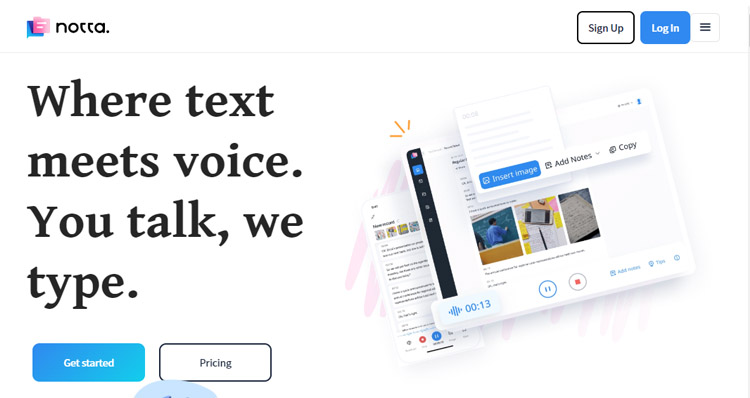 Notty is an app that allows users to transcribe speech in real time using voice-typing technology. This app is ideal for transcribing interviews, lectures, or audio recordings.
OS: Online (website browser)
Highlight features:
Adjustable playback speed
File synchronization to other devices
Share your work with others
User experience:
Notta.ai is best for simple tasks such as taking notes or transcribing audio. Unfortunately, you can't edit or extract the vocal from the audio with this app.
Part 2: How to choose a suitable vocal remover
After learning many different vocal removers on the market above, do you find difficulty in choosing the right one? There are a few factors you should look for when selecting one, including:
The software should be able to isolate and remove vocals from a track without damaging the quality of the music.
It should handle various file types and be compatible with your favorite audio editing software.
It should be easy to use so you can remove vocals from your favorite tracks right away.
With these features in mind, you can check which tools meet your standards.
Part 3: How to use the best vocal remover
Out of the vocal removers mentioned above, Media.io is by far the best. It's accurate and doesn't distort the audio like some of the other removers do. If you're looking for an effortless but professional quality vocal remover, Media.io is the way to go.
How to use Media.io Vocal Remover:
Step 1

Upload the file on the Media.io Vocal Remover website.

Click "Choose File" and select the audio/video from your computer storage.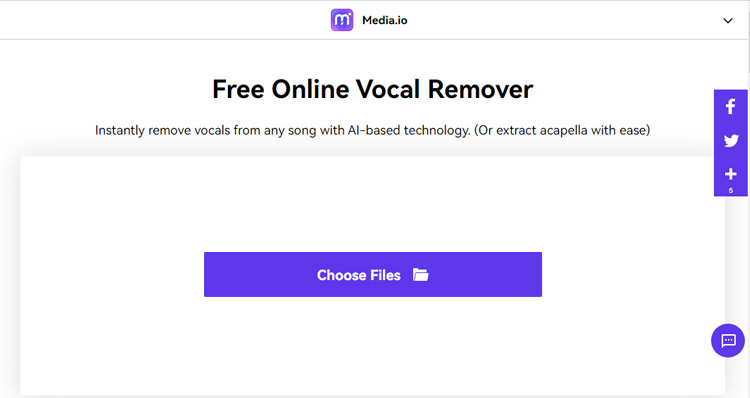 Step 2

Download the instrumental or the vocals.

After the tool has finished the process, it will separate the instrument and the vocal of your audio. You can click Download on the one you want to keep, then save it to your computer folder.