If you love music, singing along to your favorite tune can be irresistible. And if you're lucky, a karaoke performance at the church, school, or birthday party might not be far away. But although this might sound fun, you'll need to practice the vocals at home to avoid unnecessary embarrassments. And that's precisely why you need an acapella app for Android. This app allows you to record a video of yourself singing along to your favorite music without any instrumentals. So, if you're looking for the best vocal remover app for Android free, keep reading.
Part 1. What is Acapella Music?
Acapella, popularly known as Cappella, is a song performed by a group or an individual without instrumentals. In plain language, the singer performs karaoke without instrumentals like beats, piano, bass, etc. All they do is set up a camera, grab a mic, and start singing.
That said, acapella music was widespread in the 50s and 60s. Examples of groups who made a name from this music genre include The Drifters, The Marcels, and The Harptones. Even today, this music is still common in large churches, music auditions, college competitions, home parties, etc. However, most people simply call it karaoke performance.
Part 2. Top 4 best acapella apps for Android
Now that you know what acapella music is, it's time to create one on your Android smartphone quickly and easily. Just choose an acapella creator from the list below and get going: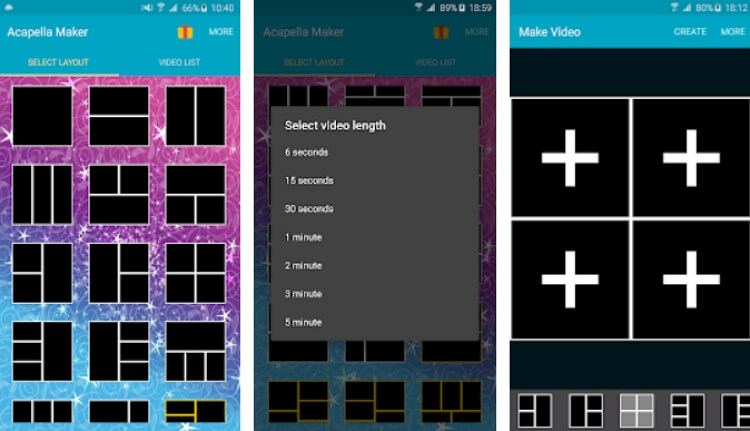 This Android app makes it seamless for you to create a multi-track video anywhere, any time. With it, you can create a five-minute clip of yourself singing along to an uploaded or recorded tune. Interestingly, it features several screen layouts that you'll use while recording the video. This makes it perfect for recording acapella for platforms like TikTok, Likee, Instagram, YouTube, etc. However, some layout designs aren't free. You'll have to pay $2.99 to purchase your favorite layout.
Below is how to make acapella on Android with Acapella Maker:
Step 1: Download and install Acapella Maker from Play Store and fire it up.
Step 2. Now select a recording layout that you like. The ones marked in yellow are premium layouts.
Step 3. Choose the recording duration and then tap "Plus" to upload a local audio file that you'll sing along to. You can also directly record audio before uploading.
Step 4. After adding audio successfully, press the Record button and sing along to your favorite song. For the best output, plug in a headphone to your phone.
Step 5. Tap Create and then click the Ok icon to save your video.
Unfortunately, you may not like your experience with this app. For example, the background audio and the voiceover don't sync properly. Also, there is no option to preset the video aspect ratio. Even worse, the limited recording time is a big letdown. In that case, you should get an acapella app alternative from the options below: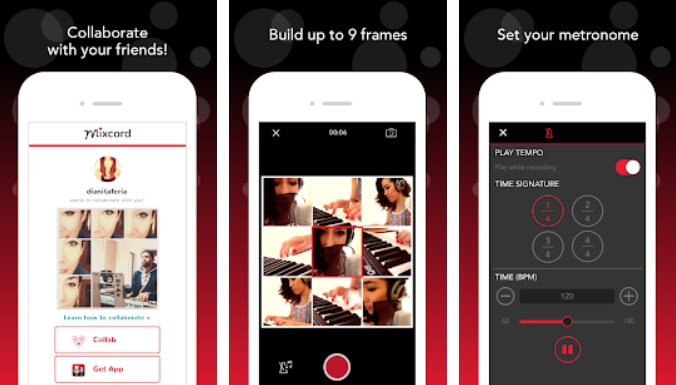 Acapella from PicPlayPost is a beautiful free app that allows musicians and song enthusiasts to create amazing Cappella videos with a mere screen tap. Using it is excitingly simple as you only need to choose a layout, record a video, and share it with your audience. You can even save your recorded video on Mixcloud for future playback.
Here is how to make an acapella video by yourself with this app:
Step 1. Install and run Acapella from PicPlayPost on Android before signing up.
Step 2. Click the "Record a new video" button and then allow the app to synchronize your microphone and camera.
Step 3. Now choose the aspect ratio before selecting the recording layout.
Step 4. Select the video duration and tap Next.
Step 5. Click "Plus" to launch your camera and then tap Record to create the acapella video.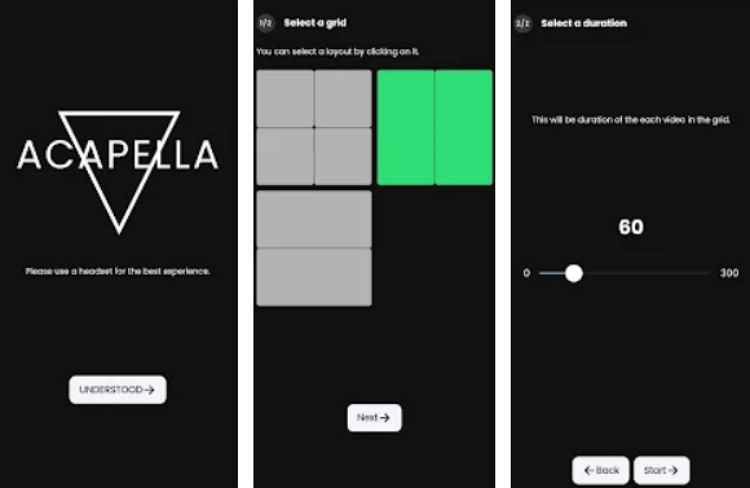 Last but not least, use Acapella from Tarchitech to create 300-second Cappella clips on your phone. As expected, the app is free to install, and the user interface is self-explanatory. In addition, it comes with several grid designs that you can choose from and customize with your recording. What's better, you can download your recording in audio format.
Follow me:
Step 1. Install and run Acapella from Play Store before launching it.
Step 2. Choose a grid layout and tap Next.
Step 3. Now move the slider rightwards to increase the playback duration. You can capture up to 5-minute clips.
Step 4. Click Plus on each grid to launch your camera and record.
Step 5. After recording enough content, tap See the result to process the video and download it.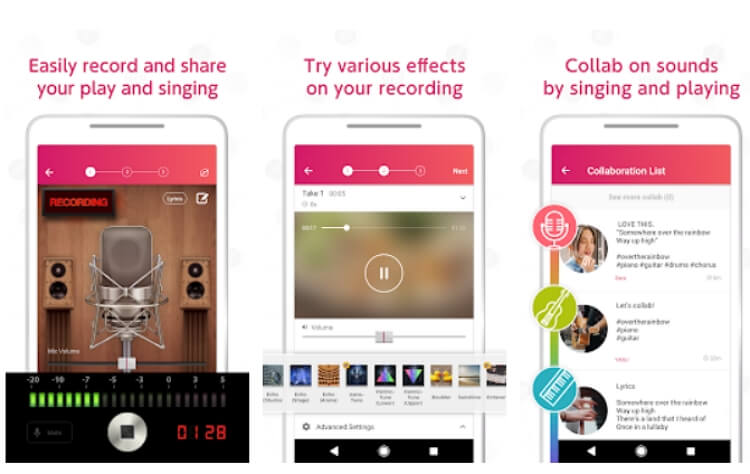 If all else doesn't impress you, try nana. It's a music-making app that brings those music sessions inside your Android phone. With it, you can record karaoke and customize it with special effects like a monster, chorus, echo, chipmunk, and so on. Also, it features an extensive library with many songs and instrumental tracks. And after creating your acapella, you can directly export to platforms like Facebook and WhatsApp.
Key features:
Record music quickly and easily.
Customize recordings with multiple voice effects.
Music library with popular songs and instrumental tracks.
Directly export music to Facebook and WhatsApp.
$5.49/month subscription.
Part 3. My opinion on the 4 tested popular acapella making apps for Android
Want to know my opinion about the four reviewed acapella apps above? First, credit where it's due; most are free to download and use, although you'll need a premium subscription to access some features. Also, the audio quality isn't bad. But apart from the several layout grids, your phone's camera can match most of these apps, if not better.
So, what's the solution? If you want to sing along to the song lyrics like a pro, I recommend getting a vocal remover like Online UniConverter Vocal Remover. This software uses AI technology to separate vocals from instrumentals with lossless quality. Then, you can use the separated track to record your own acapella with your phone's inbuilt camera. Even TikTok should help you with that.
Below are the quick steps to get a vocal or instrumental file for recording an acapella:
Step 1. Launch Online UniConverter and then choose Vocal Remover under the Online Tools drop-down menu.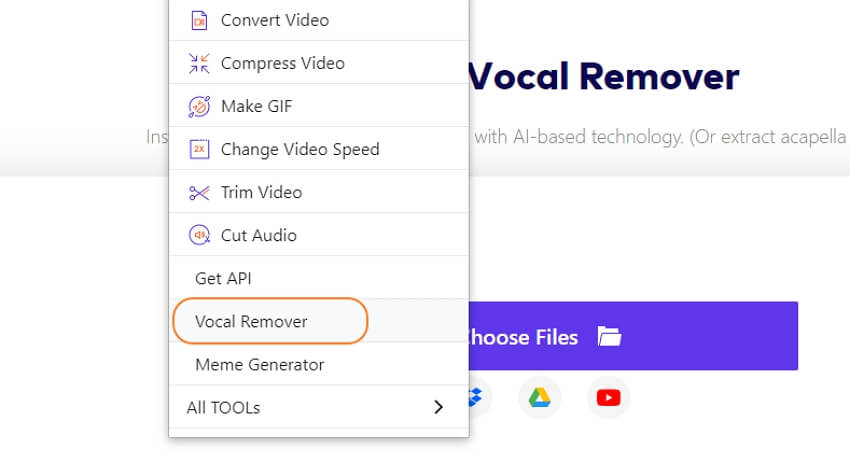 Step 2. Click Choose Files to add your local music file on the Vocal Remover. Or, simply drag and drop it. Whichever way, the program will begin processing your vocal and instrumental file.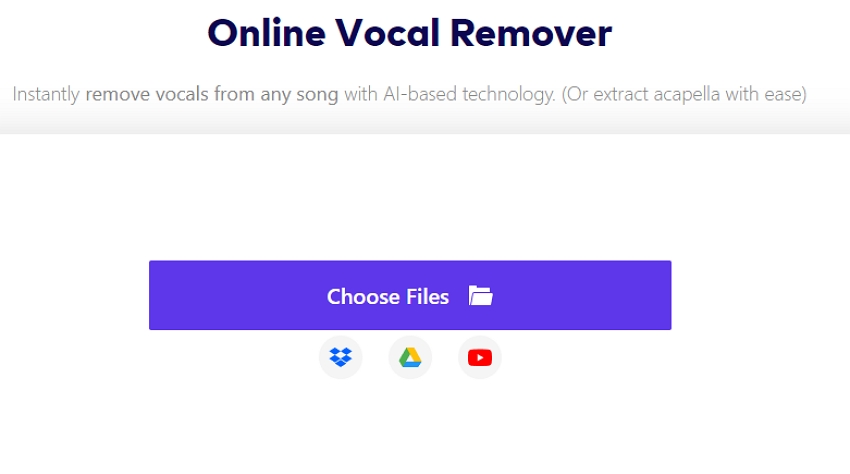 Step 3. Now select the music track you want to use while recording an acapella and download it.

Conclusion
Now you know what is acapella music and how to make one quickly and easily. Just choose a suitable acapella remover from the options above and start recording the video. However, I recommend using the best vocal remover app for Android free for this task. With Online UniConverter, just create a vocal or instrumental and sing along as your record yourself using your phone's camera. See, you don't have to install anything on your phone!