AI Music Generator
Leverage the latest AI technology to generate music tracks or songs that match your vibe, mood, or style. Instantly generate royalty-free music online for free.
How to Generate Unique Music with AI?
Our free AI music generator employs deep neural networks and extensive music datasets to craft original compositions spanning various genres and styles.
Easily create engaging music tracks in high fidelity, perfect for enhancing film and game soundtracks, providing background music for videos, podcasts,
advertisements, presentations or simply for your listening pleasure.
1. Custom AI Music Filters.

Visit Media.io AI music generator using your browser, then click the Create Music Now button. After that, select your music mood, style, and length.

2. Start the AI Creation Process.

Next, click the Create Music button, and this AI-backed program will start generating your music file instantly. The process takes a few seconds, depending on your selected music length.

3. Download the Generated Music.

Once the music-generation process is complete, click Play to preview the music file. If impressed, tap the Download icon to save the music file on your device. That's it!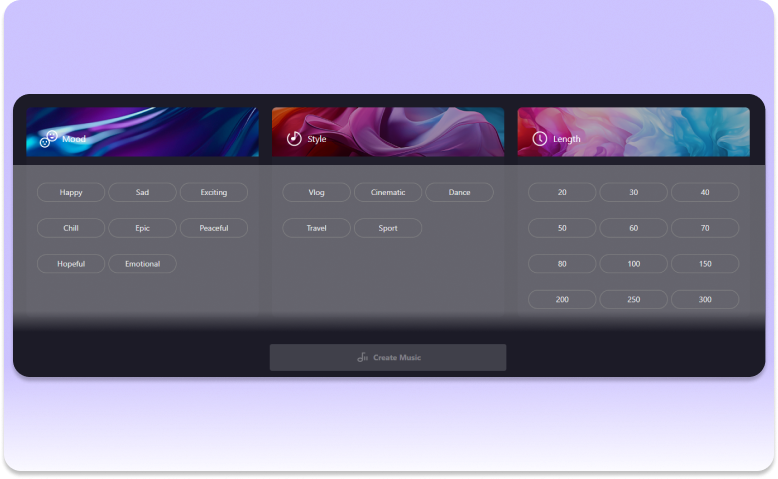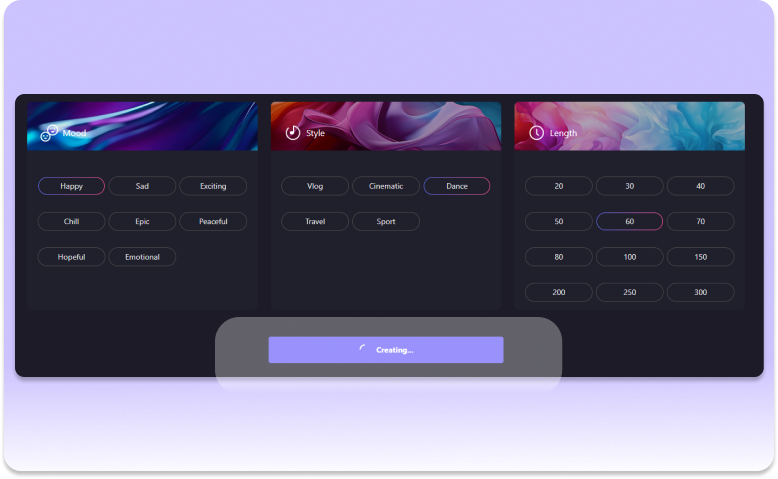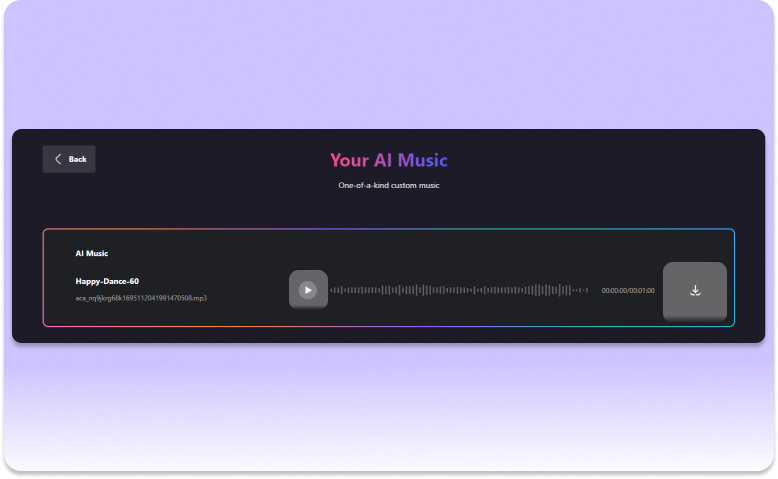 What Makes Media.io AI Music Generator Stands Out?
Instant Music Creation
Creating your unique song from scratch is a breeze with Media.io's AI music creator – no musical expertise needed. In just seconds, you can craft an entirely fresh musical track without paying a dime. Experience the ease of composing your own tune today.
Endless AI Songs
Media.io uses advanced algorithms to analyze and replicate patterns in well-known music compositions and has gained a deep understanding of musical structure (constantly updating). you can get different music to download after entering the same customization settings, giving you more options.
Simple Music Controls
This AI music generator tool doesn't have those complicated music controls. After selecting your style, mood, and duration, the program will use deep machine learning to create music that perfectly blends with any style or use.
High Quality Audio
This AI music generator excels in delivering high-quality audio tracks with rich, immersive sound and precise detail. Additionally, it offers the option to download your final music in either MP3 or WAV format, enhancing your listening experience.
100% Royalty-free
All AI music generated on Media.io is royalty-free. Put simply, you will get full rights to use the generated music anywhere. Remember that you won't pay any license fees or added royalties. It's all free!
Far Beyond an AI Song Creator
Media.io is more than just an AI music creator. After generating AI music, you can generate AI song covers with pro quality, trim, cut, add music to the video background, apply music visualizer. You can also compress and convert your AI music to MP3, M4A, OGG, AAC, etc.
Top Uses for Media.io AI Music Generator
Create Unique Phone and Alarm Ringtones
Nothing could be more embarrassing than searching for your ringing phone only to find that it's not actually yours that's ringing. So, to avoid this unnecessary embarrassment, use Media.io AI Music Generator to create some unique ringtones for free. You can generate ringtones for genres like happy, peaceful, emotional, travel, cinematic, etc.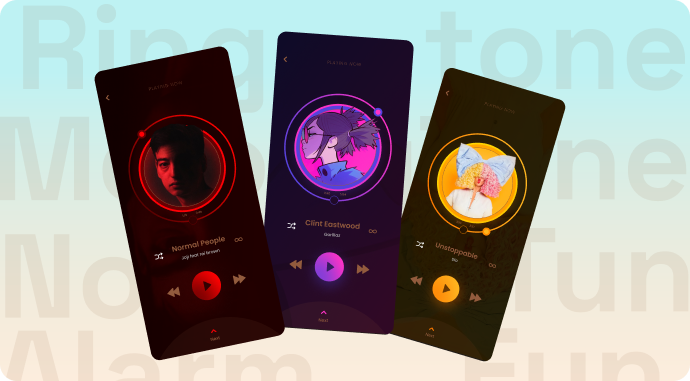 Create Video Background Music
Background music is a sound usually laid over video content for educational, commercial, or any other use. This music can help enhance the intended message that you wish to convey. For instance, you can add emotional music to inspirational or sad video content. With Media.io, you can create royalty-free AI music for any video use. It can generate background music for sports, dance, travel, vlog, etc.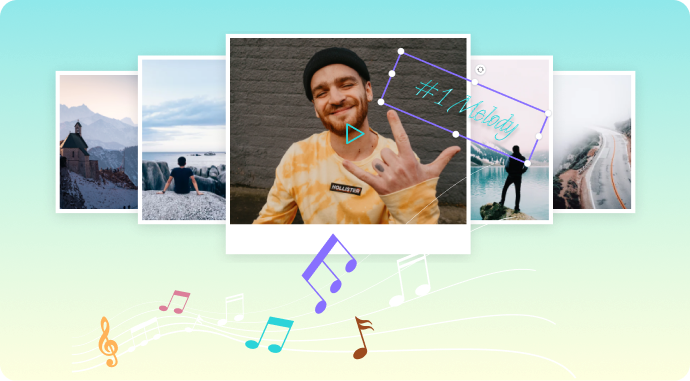 Compose Whole New Music
If you're a music composer, you will know how challenging it can be to get a tune for your music. But with Media.io, you don't need to sweat it out trying to create the perfect beats for your music. Instead, you can try out the different AI-generated music and find one that matches your intended use. It's also an ideal tool for practicing your karaoke performance.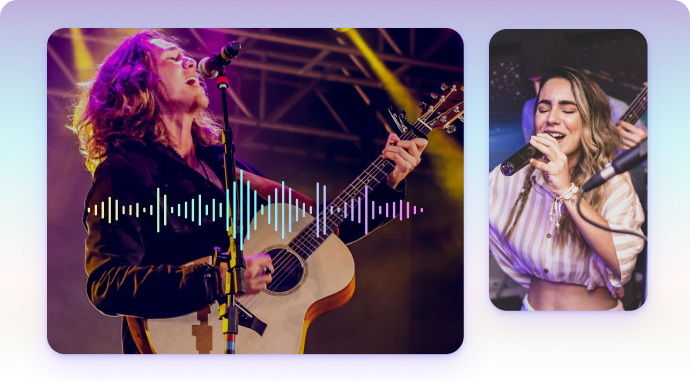 FAQs about Artificial Intelligence Music Creator
1. Is there a 100% free AI music generator online?

Yes, use Media.io to generate AI music online for free. It's a 100% free-to-use program, meaning you can download the generated music without paying a dime. You don't even need to sign up to generate AI music.

2. How can I generate AI music online?

You can easily and quickly generate AI music online using Media.io. After launching the program, choose the music presets, then click the "Create Music" button to begin the process. Creating a single piece of music using this program takes a few seconds.

3. How does AI song generation work?

AI song generators undergo extensive training on millions of data algorithms for pre-existing music. This allows the program to learn and collect data about the music styles, genres, patterns, etc. After this training, the programs can generate music based on the collected data insights, letting users generate music based on different parameters like mood, style, genre, etc.
Thanks to Media.io, I not only have a personalized ringtone that I love, but I've also unlocked a whole new level of creativity. It's a fantastic tool for anyone looking to add a personal touch to their phone and their life.
Sarah Reynolds

Media.io's AI music generator has given me the freedom to experiment with music styles I never thought I could. It's user-friendly and incredibly inspiring for any aspiring musician.
Anna Lee

As a budding podcaster, finding the perfect intro background music for my episodes was a challenge. I wanted something that would set the right tone and capture the essence of my show. That's when I discovered Media.io's AI music generator, and it's been a game-changer for my podcast.
Emily Carter