Passport Photo Maker
Make professional passport and ID photos online for free. Select a preset standard size among multiple templates for over 60 countries (2x2, 3x4, 4x4, 4x6, 5x6, etc) and upload a photo to get a high-resolution passport size photo with portrait automatically centered in the frame by AI.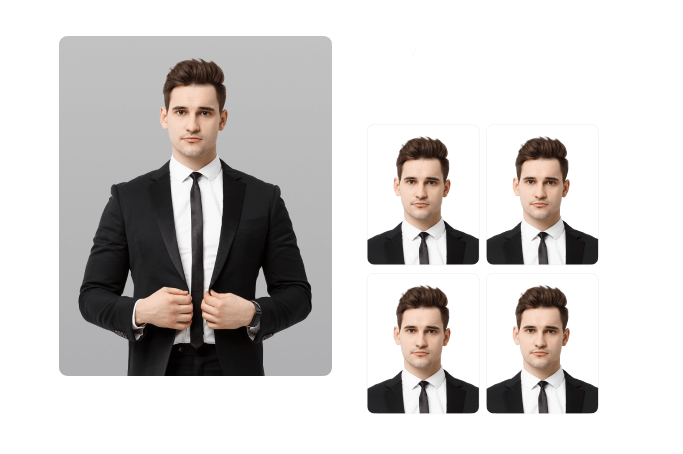 Passport Size Photo Maker
From making an appointment to the final printing, taking passport photo on-site requires a complex set of procedures that cost you time, money and energy.
Now, all this can be simplified by Media.io's Passport Photo Maker: just upload a photo, select a preset size from templates, and AI will make passport size photo online free that meets official requirements of certain countries within seconds anytime, anywhere.
Just lift a finger and let AI do all the magic. Come and have a try now: it's totally free!!!
How to Make Passport Size Photo Online Free?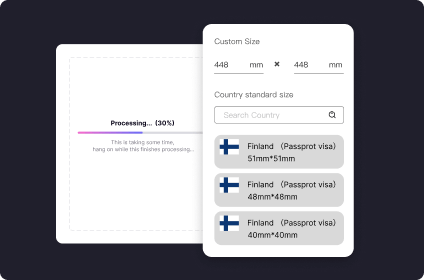 1

Step 1. Select a preset size
Take a suitable photo
and upload. Select a preset standard photo size among rich templates for over 60 countries according to your own needs.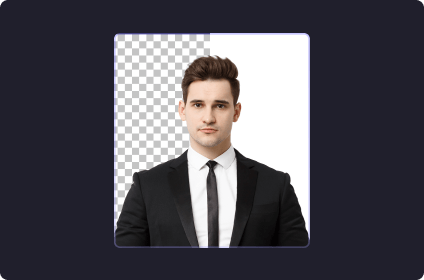 2

Step 2. Let AI do the magic
AI automatically centers your face in the frame, removes the original background of the passport photo and replaces it with white background or the other colors you need.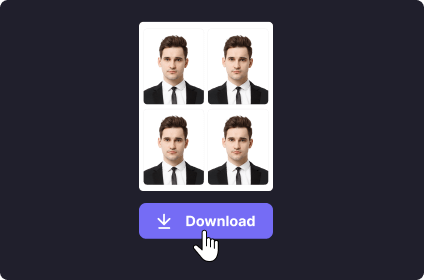 Step 3. Download passport photo
After uploading and auto setting, click the button to generate photos combined into single sheet of standard print paper size or to generate a single piece of standard size.
Upload Photo Now
Editing Passport Photo Effortless with Media.io
Auto Create
White Background
Replace the background of the original passport size photo with white background adhering to official standard, with high-resolution portrait perfectly cut out . It also supports on-demand background color changes to meet various needs.
Rich Passport Photo Size
Templates
The free passport size photo maker boasts preset passport photo size templates for 60+ countries including USA, Spain, France, Germany, Italy, China, Korea, Brazil and so on: 2x2, 3x4, 4x4, 4x6, 5x6, etc. You can directly export your photos combined into standard print paper size.
AI

Passport Photo Cropping Tool

Automatically crop, resize, adjust and layout the photo with the face centered to perfectly meet your needs. Based on AI retouched passport photo, you can further adjust and crop the photos manually until you are 100% satisfied with the results.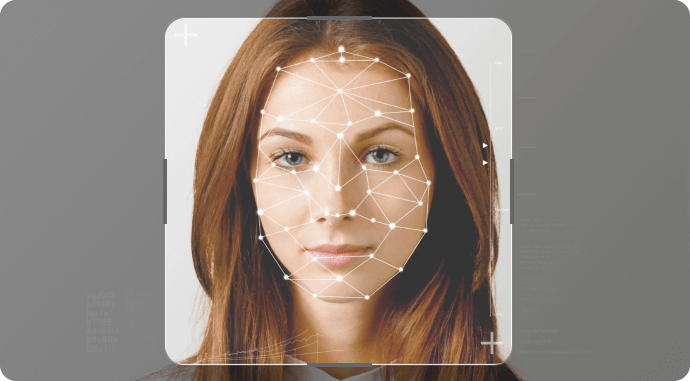 More Than a
Passport Photo Maker
In addition to creating passport photos, it is also an ID photo maker and can generate other types of photos for various purposes, such as ID cards, visas, resumes, business cards, etc, bringing out the best and professional image of yours.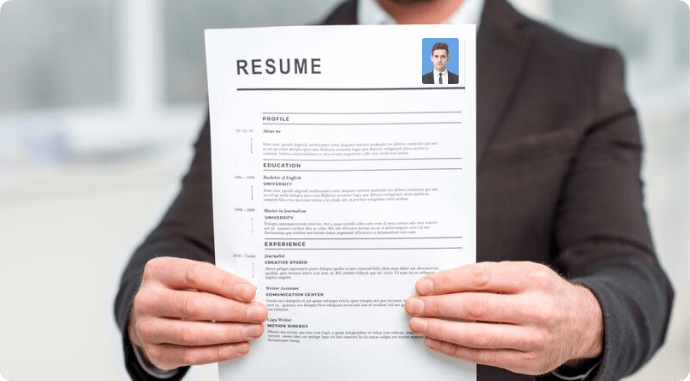 Multiple Choices for
Dress Change
Supports AI-powered dress change with one click to cater the needs of different genders, styles and occasions. Either for making formal photo online or for professional occasions, this passport maker provides all the solutions.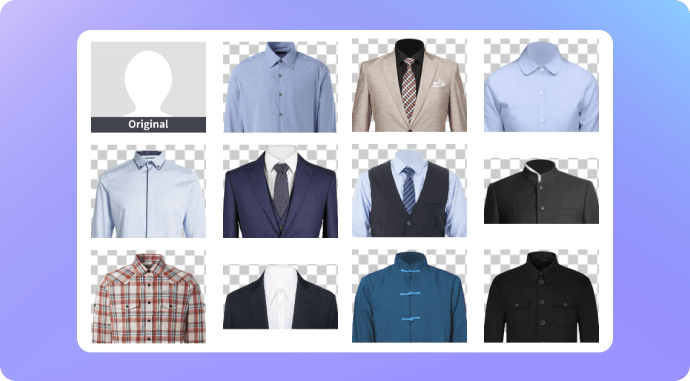 How to Take a Suitable Photo?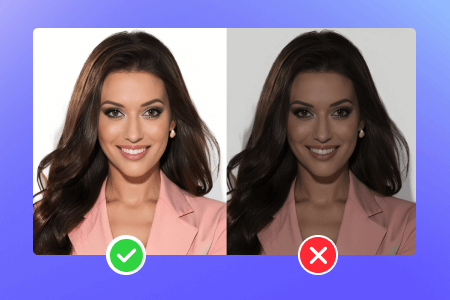 Appropriate Lighting
Find a spot with ample natural lighting to avoid shadows or insufficient light. Good lighting is the key to capturing high-quality photos as it ensures clarity and color accuracy.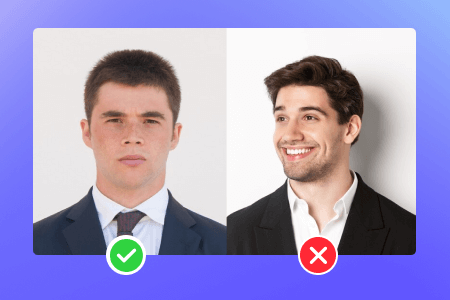 Fitting Pose
Maintain a natural facial expression and avoid excessive smiling or being too serious. Avoid tilting your head or body to keep the face in the center of the frame. Make sure that your face is clean and tidy, free from unruly hair or facial items like glassess and other headwears.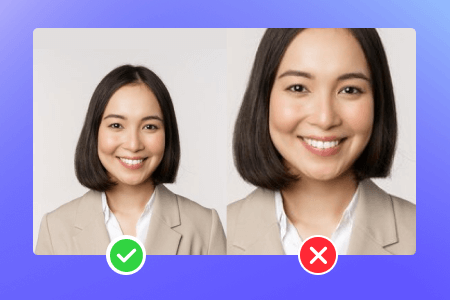 Meet the Requirements
Familiarize yourself with the specified official requirements for passport photos, including the size, facial expression, and whether or not to wear glasses or headwear, etc, to facilitate the generation of your passport photo. Frequently Asked Questions of
Passport Photo Maker
1. Is passport photo size 2x2 or 4x6?

2x2 inches (51 x 51 mm) is one of the standard sizes for a passport photo. The specific size requirements vary with the official standards of different countries. Media.io Passport photo maker has preset templates that allow you to select the templates with one click to meet the standard of over 60 countries.

2. How to make a 2x2 passport photo online for free?

Media.io - 100% free 2x2 passport photo online maker

1). Visit media.io passport photo maker online

2). Select a preset passport photo size templates for over 60 countries

3). Click the button to get the single sheet of arranged photos of standard print size.

3. Is there a 2x2 picture editor online?

Yes. Passport photo maker of Media.io is a perfect solution for you. It supports multiple passport photo size templates that include not only 2x2, but also 3x4, 4x4, 4x6, 5x6, etc.

4. Can I take a passport photo with my iphone?

Yes. you can use your iPhone or other Android devices to take your passport photo. Make sure you follow all guidelines and take a suitable photo before generating standard-size passport photo.

5. What is the best free passport photo maker online?
More Online Photo Editors