100% Automatically Enhance Video with AI
Breathe New Life into Your Videos with Media.io's Magic Enhancer
Powered by AI technology, Media.io's Video Enhancer is a user-friendly online tool that streamlines video editing with automatic operations. With the ability to provide 2x and 4x proportional super-resolution, we can upscale video clarity up to 4K. Whether you're a professional videographer or not, Media.io Video Enhancer can help you achieve impressive results with minimal effort. Try it out today and see the difference it can make to your videos!
(If you want to
denoise video
, the new function of media.io video enhancer can meet your needs.)
How to Use Media.io Online AI Video Enhancer


Upload the video
Open Media.io Video Enhancer online and upload videos from your gallery. MP4, AVI and MOV formats are supported.
Select the upscaling factor
Choose and click the 2X or 4X button to automatically enlarge your video in seconds.
Download the video
After the upscaling process, you can preview the video and click the "Download" button to save your high-resolution (up to 4K) enlarged video.
The Perfect Solution for Every Video Enhancement Need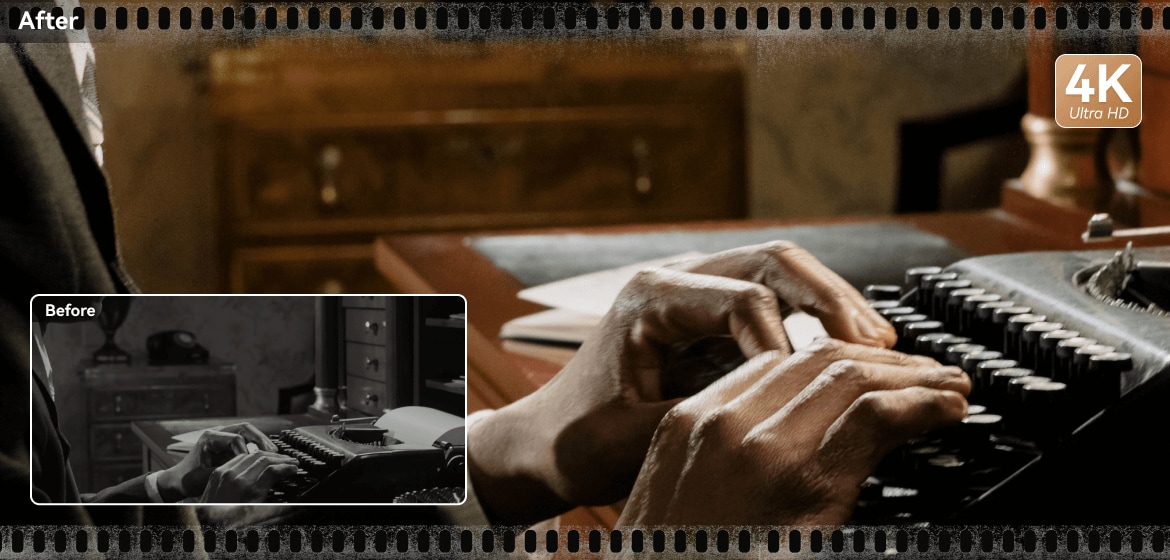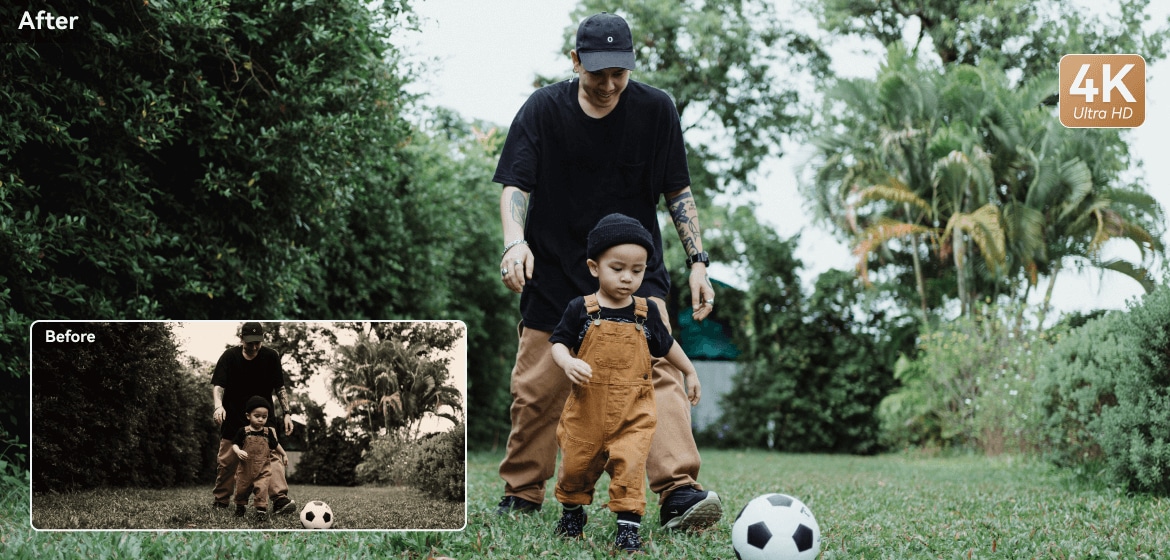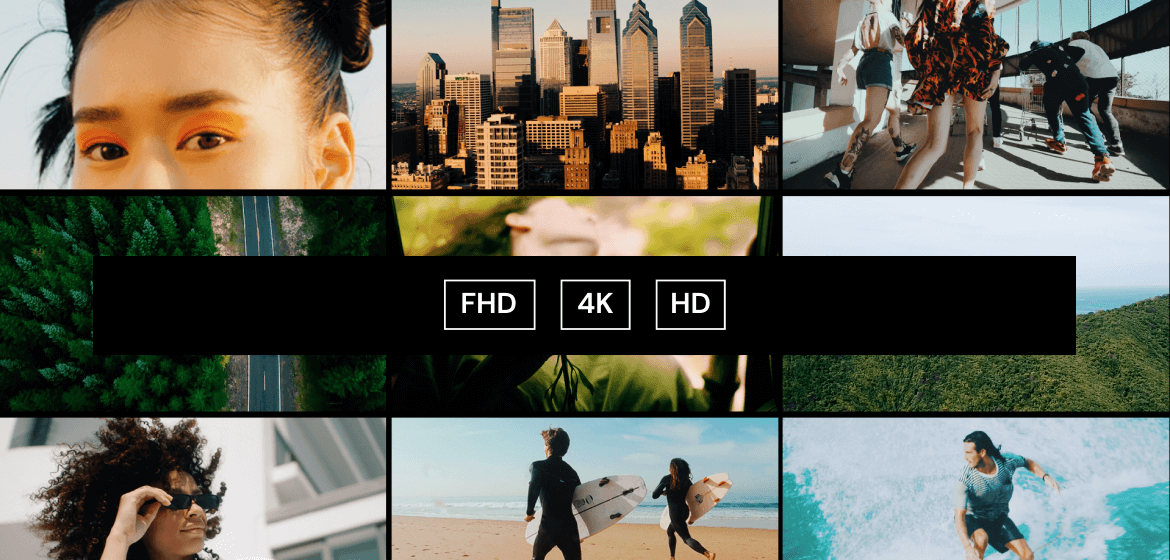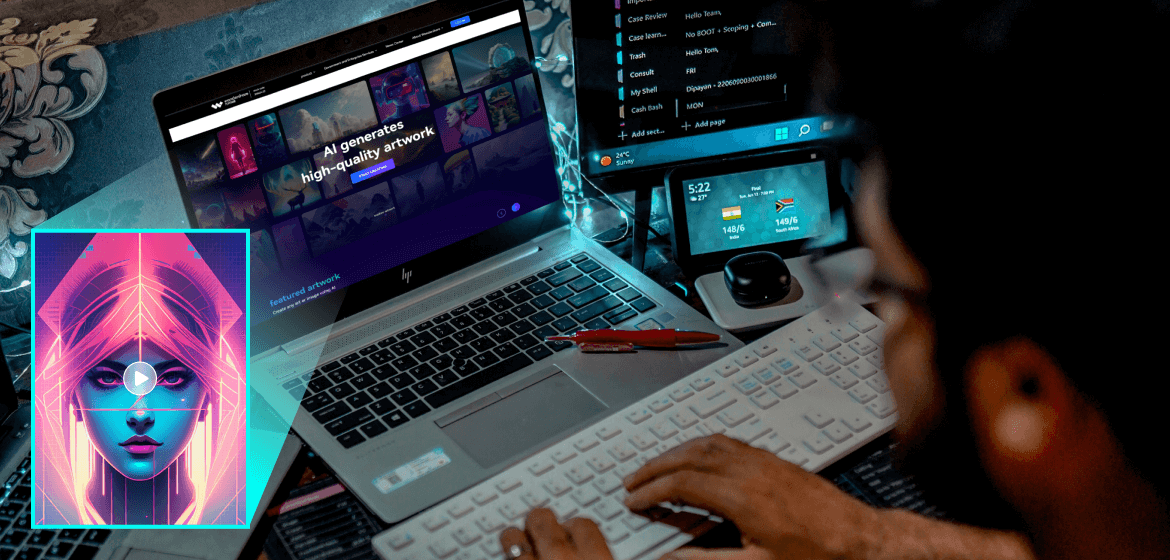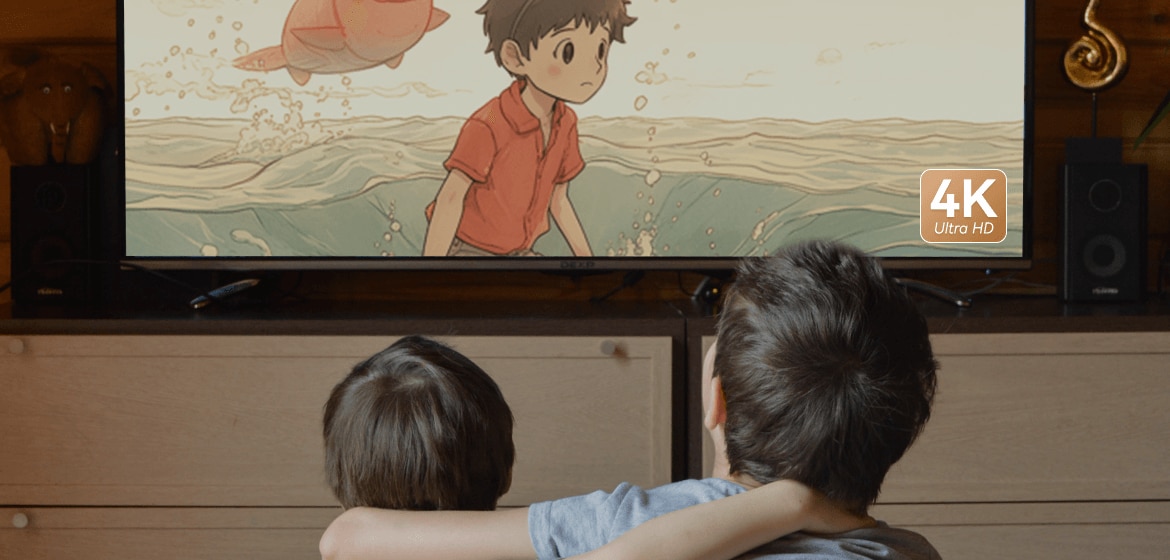 Film Lover - Improve Video Footage for Professional Purposes
Enhancing videos can provide a more immersive and engaging viewing experience for film lovers. By improving the quality of the video footage, viewers can better appreciate the details and nuances of visual storytelling. Media.io Video Enhancer can upgrade the original video definition to 4K.
Nostalgic - Enhance the Clarity of Low-Quality Home Videos
Do you have old or low-quality home videos that you'd like to bring back to life? Our online tool can improve the overall quality of your footage, making it look more modern. Even videos taken with low-pixel cameras or older versions of cell phones from years past can be revitalized with Media.io Video Enhancer.
Video Creator - Make Blurred Portraits in Videos Clear
When recording a video while in motion, the camera's movement can cause significant shaking and result in blurred footage, potentially obscuring important video segments. Media.io Video Enhancer utilizes a complete AI algorithm to stabilize shaky footage, resulting in a more captivating viewing experience.
AIGC User - Make AI-Generated Video Quality Better
Due to the algorithmic limitations of AI video creators, they may generate blurry single-frame images, resulting in unnatural video transitions. Try using Media.io Video Enhancer to increase the overall clarity of the video and improve the final result.
Anime Fan - Effectively Improve the Quality of Old Anime Videos
Media.io Video Enhancer can convert low-resolution animated videos into high-resolution videos, resulting in a clearer image with finer details. With this technology, you can now relive the nostalgia of your favorite classic cartoons from childhood with enhanced visual quality.
What Makes Us the Ideal Choice for You?
High Performance
Media.io Video Enhancer uses advanced algorithms to enhance video quality with industry-comparable results, especially for portrait and cartoon videos.
No Skills No Installation
With the user-friendly interface, Media.io Video Enhancer can enhance videos without technical expertise. Upload and instantly improve without downloading.
Exporting 4K Videos
Media.io Video Enhancer supports upscaling all kinds of video to 2X and 4X proportion and enhances video quality up to 4K resolution with a fast processing speed.
Enhance in One-Click
Simply select the value for upscaling, and let AI handle the rest. You will have a clear, high-quality video in just a few minutes.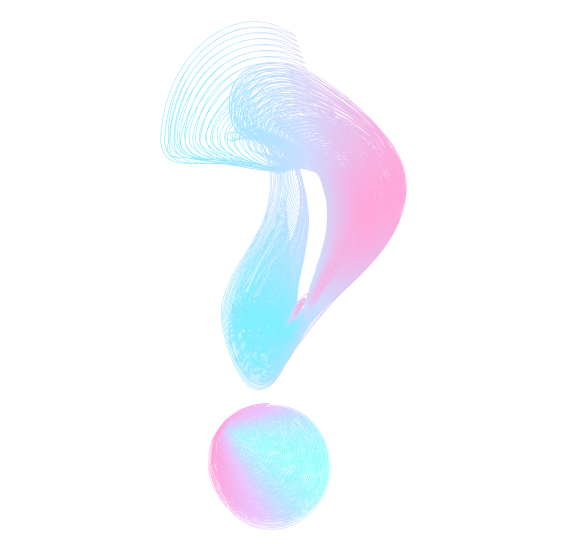 Some Things you Might Want to Know About
Video Enhancer
1. Can Media.io Video Enhancer improve the quality of low-resolution videos?
Media.io Video Enhancer is capable of enhancing low-quality and blurry videos. This software employs advanced algorithms and techniques to improve videos' clarity, sharpness, and overall quality, even those recorded in low light or with a low-quality camera. Furthermore, users can enhance the resolution of their videos to make them appear more professional and visually appealing. All in all, Media.io Video Enhancer is an effective tool for enhancing the quality of videos and making them more engaging for viewers.
2. How can I improve video quality ?
Simply import your video into Media.io's Video Enhancer, select the desired video resolution, and click the Enhance button. The AI will take care of the rest, and within seconds, you will get a higher-quality video with a better definition.To denoise video, you can try our new funtion of Media.io video enhancer.
3. Can I try this product for free?
Without registering, you can upload videos no larger than 50MB (less than 30 seconds) in duration. If you're logged in, you can upload up to 10 videos that are 100MB (1 minute) in size. Processed videos support previewing up to 45 frames. If you want to download videos enhanced by upscaling, please subscribe to the relevant plan.
4. Is Media.io Video Enhancer compatible with all video formats?
Currently, only the most commonly used MP4 and MOV formats are supported.
5. Does Media.io Video Enhancer support batch processing for multiple videos at once?
After logging in, you can upload up to 10 videos for free. There is no limit to the number of videos subscribed users can upload. However, Media.io does not currently support batch processing. After importing your videos, we will process them one by one. You can then export the videos you are satisfied with.
Media.io's Video Enhancer has been a total game-changer for my business! Since using it, the quality of my videos has improved so much that I've been able to attract more clients and increase my revenue. I can't stress enough how much I recommend it to anyone looking to step up their video game.
- Mark, small business owner.
I'm not much of a tech person, but I gotta say, Media.io's Video Enhancer is so easy to use! The interface is super user-friendly and the results are mind-blowing. I'm stoked that I stumbled upon this product!
-Emily, amateur filmmaker.
I've been using Media.io's Video Enhancer to enhance the quality of my old home videos, and I'm blown away by the results. It's like I'm reliving those moments all over again with a fresh perspective. I can't thank you enough for creating such an amazing product!
- Tom, home video enthusiast.
What do people say about Media.io

Video Enhancer
Take a Deeper Dive into Noise Reduction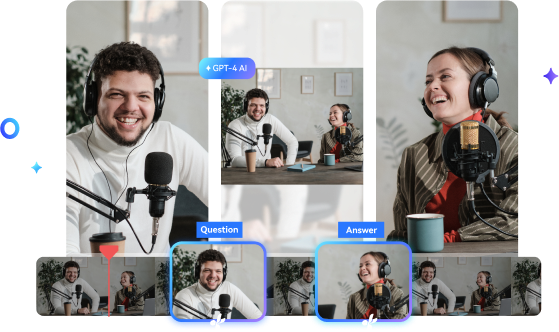 Transform Long Videos into Short Ones Instantly
√ Turn long videos into viral clips. Effortlessly transform lengthy videos into engaging, shareable clips.

√ Edit Video Seamlessly Like As Editing Text

√ AI Voice Cloner Ends Reshoots