It is common for photos to become blurred. It can happen for several reasons, such as poor lighting, movement of the camera, and movement of the subject. When this happens, it can be frustrating, as it is tough to see the details in the photo. It can ruin the special moment that you want to remember clearly.
There are many online tools that you can use to unblur photos. These tools can be very useful as they can clear up the photo and make it easier to see the details. In this article, we will discuss the top 10 online tools for unblurring photos.
Media.io Image Sharpener is a free app that allows you to quickly and easily unblur images free on your phone or computer. It works by taking a picture and applying a blur filter to it, which makes it look as if it is blurred. It is a simple and user-friendly software that does not require any technical expertise to use. You can upload the image, and the software will do the rest.
Features:
Media.io is a free online tool that is used to sharpen photos online for free. You can unblur the image with single click operations.
It provides simple editing tools to unblur the image. It can also use to unblur the motion blur image.
It makes the picture clearer and brighter and saves most of the time. It can sharpen the edges for the best quality image.
io also deals with data protection. It automatically deletes the uploaded image after 24 hours. It saves your data from unauthorized persons.
| | |
| --- | --- |
| Pros | Cons |
| ●It is a very user-friendly website. You can easily upload your image and then choose the level of blurriness that you want to remove. | ●Media.io is not available offline, so you will need to have an internet connection to use the website. |
| ●Media.io does a good job of retaining the original quality of the image. | ●There is a limit to the amount of blur that is used to remove from an image. |
| ●The software is free to use. | |
2.Pixcut
Wondershare Pixcut is a powerful online tool that can help you sharpen photos online easily and quickly. With its advanced algorithms, Wondershare Pixcut can automatically detect the edges in photos. It applies the appropriate amount of sharpening. You can also manually adjust the amount of sharpening applied to your photos. The interface is user-friendly and easy to navigate, and the results are professional-looking.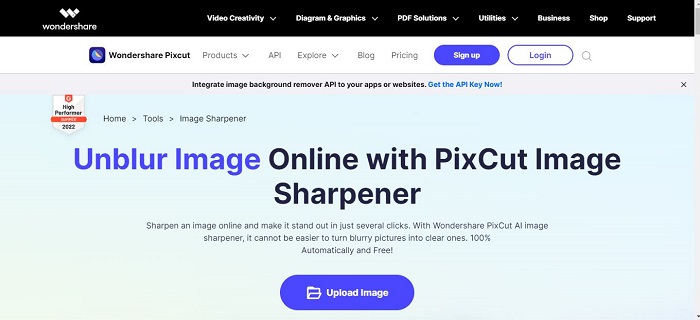 Features:
It is a free editing tool to unblur images online, which is compatible with all devices.
It sharpens the image speedily. It also converts low-quality pictures into the best quality.
It saves your time to unblur images by using AI technology.
It takes care of the privacy of data. It deletes all the uploaded data after using it within 24 hours.
| | |
| --- | --- |
| Pros | Cons |
| ●It is available as an online service and is easy to use. | ●It is not suitable for all types of images. |
| ●It is used to fix a wide variety of image problems. | ●It is not always 100% effective. |
| ●Fixcut is available for free. | ●It can sometimes make images look worse, and you don't get your desired result. |
3.Lunapic
Lunapic is a website that offers a free online tool for blurring and sharpening images. This tool is also used to blur out sensitive information in images, such as credit card numbers or personal addresses. The Lunapic website also offers other image editing tools, such as a crop and resize tool.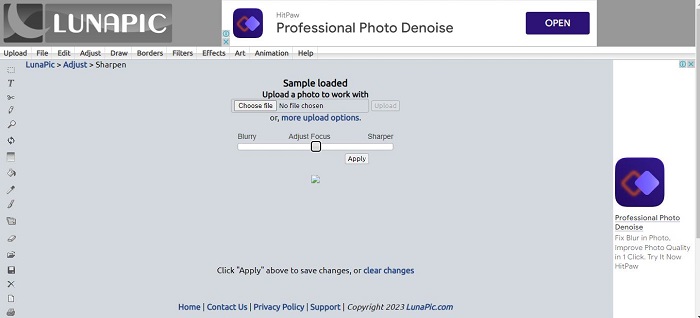 Features:
Lunapic is the best tool for those who need to edit images effectively. You can use it without the need to download and install specialized software.
It also offers several other features, such as the proficiency to crop, resize, and add text to images.
| | |
| --- | --- |
| Pros | Cons |
| ●The main benefit of Lunapic is that it is free to use. | ●A downside of Lunapic is that it does not always produce the best results. The results may be worse than if the image was not edited. |
| ●It is relatively easy to use, even for those who are not familiar with photo editing software. | ●It is not compatible with mobile phones. It also does not provide pre-built templates. |
4.VANCEAI
If you have ever taken a photo that turned out blurry, you know how frustrating it can be. But what if there was a way to fix that? VanceAI is a new AI-powered tool that can unblur photos with the click of a button. Upload your picture and let the tool do its job. In just a few seconds, your photo will be unblurred and ready to share.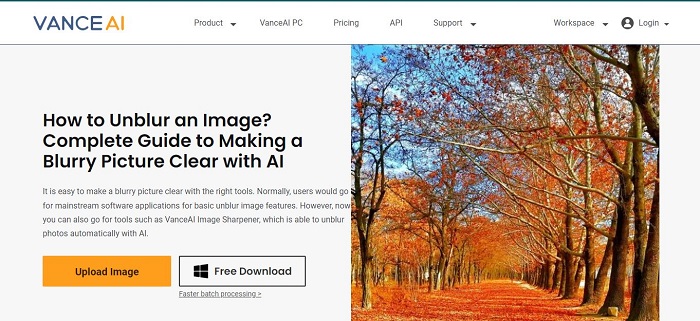 Features:
It is used for the reduction of noise, which spoils the image.
You can use the sharpening tools to sharpen the image.
VanceAI tools are used to correct the angle of an image. This tool is best for fixing pictures and making then sharpen the look.
| | |
| --- | --- |
| Pros | Cons |
| ●VanceAI is also used to remove the background from the image. | ●It has many restrictions on the free trial. |
| ●It provides the best pricing plans that are easily affordable. | ●It provides weak customer support. |
| ●It speedily processes the picture to make it clear. | |
5.Pinetools
If you are looking for a quick and easy way to sharpen your images. Pinetools is a free online tool that helps you quickly and easily sharpen your photos. Upload your picture, and adjust the sharpness settings until you are happy with the results. Pinetools also allows you to crop and resize your pictures, so you can easily make your images look their best.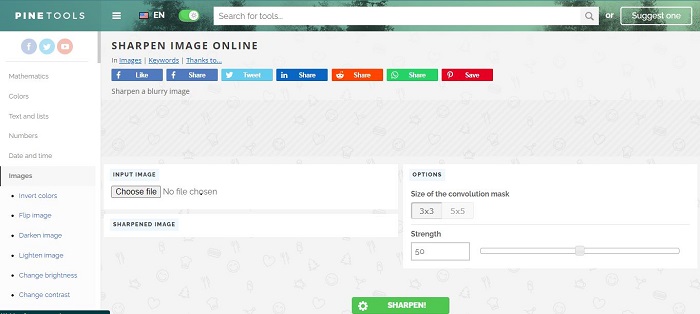 Features:
It enables you to upload images from your computer or a URL.
It is a user-friendly interface that is simple to use.
It provides a variety of image editing options, including the ability to adjust the brightness, contrast, and saturation of your image.
You can save your edited image in different formats, including JPEG, PNG, and TIFF.
| | |
| --- | --- |
| Pros | Cons |
| ●You don't need any special software or equipment. All you need is an internet connection. | ●The quality of the sharpened image may not be as high as it would be if you used a more expensive method. |
| ●Pinetools is a very affordable way to sharpen your images. | ●You may not be able to control the sharpening process as much as you could with other methods. |
6.PicWish
PicWish offers a quick and easy way to unblur images online. With our proprietary algorithm, we can take a blurry picture and fix it in just a few seconds. Upload your photo to the Picwish platform or download it for PC. If you have a blurry image that you need to fix, there is no better solution than PicWish.
Features:
It removes background noise without having any technical knowledge.
The ability to upload multiple images at once.
The ability to download your pictures in high-quality.
The ability to share your pictures with others.
| | |
| --- | --- |
| Pros | Cons |
| ●PicWish offers several tools for unblurring images, including a smart deblurring tool that can fix common blurring issues. | ●The quality of the images is not as high as with other paid services. |
| ●The interface is easy to use and intuitive, even for users who are not tech-savvy. | |
7.Pixelied
Pixelied is a free online tool that you can use to unblur images directly in your browser. Just upload the image file you want to unblur and let Pixelied do its magic. In a matter of seconds, you will have a clear and sharp image that you can download it.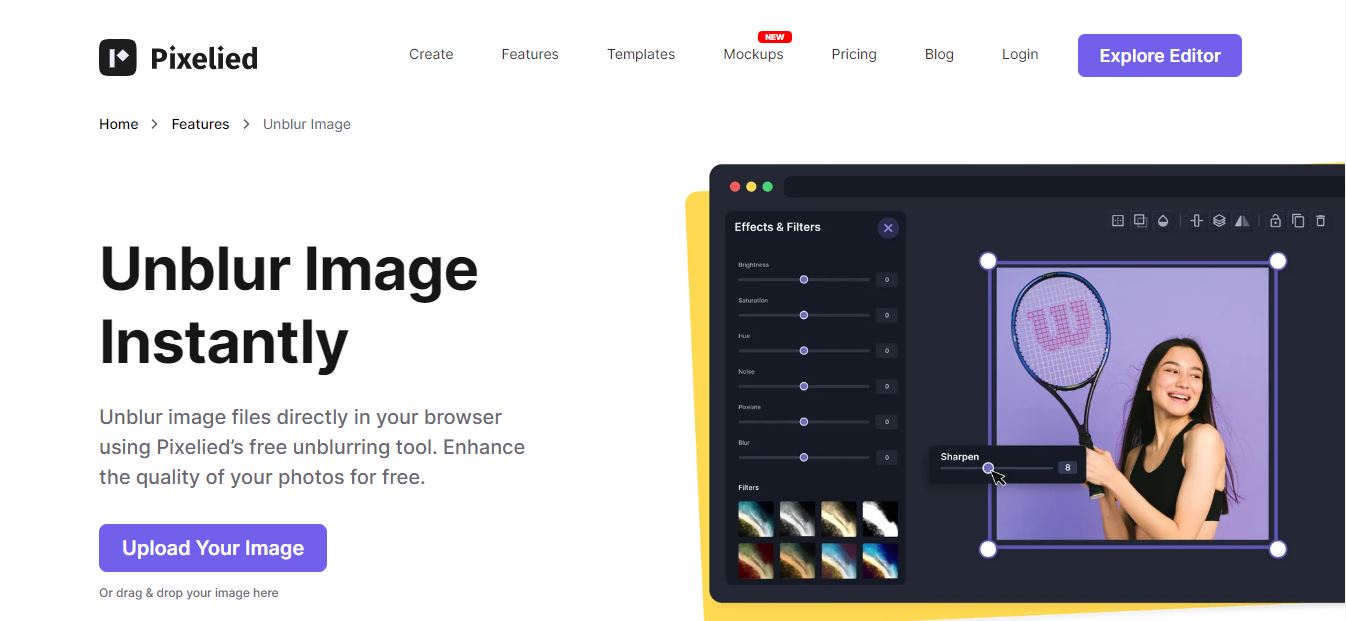 Features:
You can add a border, background, caption, and clipart to the photo.
It is also used to remove the background from transparent things.
It provides a variety of templates to users.
| | |
| --- | --- |
| Pros | Cons |
| ●It provides great customer support. | ●You cannot use it offline. It is a web-based tool. |
| ●Convert the images without losing their original quality. | ●You need to purchase a plan to unlock more features. |
| ●It contains various expert features. | |
8.SmartDeblur
SmartDeblur is a software that is used to restore the blur images. It helps you to get rid of the blur effect on your photos and videos by removing it automatically. You can use this tool for other purposes like removing dust particles from your images, removing scratches and watermarks from your photos, etc.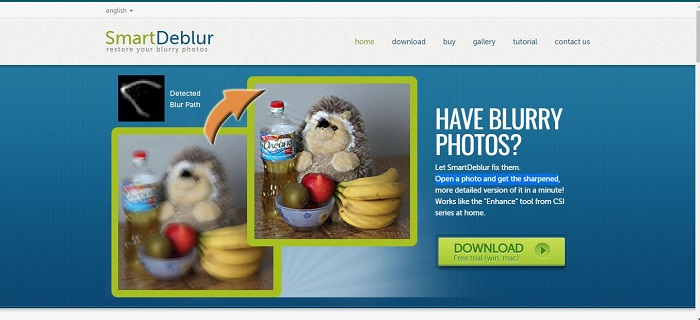 Features:
SmartDeblur is a smart software that can restore the image with one click.
It can also detect the blur paths in an image and enhance it by removing any areas that are affected by motion blur.
It can also defocus the image, which makes it readable through SmartDeblur.
| | |
| --- | --- |
| Pros | Cons |
| ●Its processing time is extremely fast. | ●It does not provide a high-quality image after deblurring it. |
| ●It provides an intuitive interface. | |
9.Canva
Canva is a great tool to use when you need to sharpen your image. It's easy to use and has a lot of great features, like being able to add text or change background colors. Canva offers several different fonts and effects so that you can choose the one that best suits your pictures. You can get a professional-looking result in no time at all.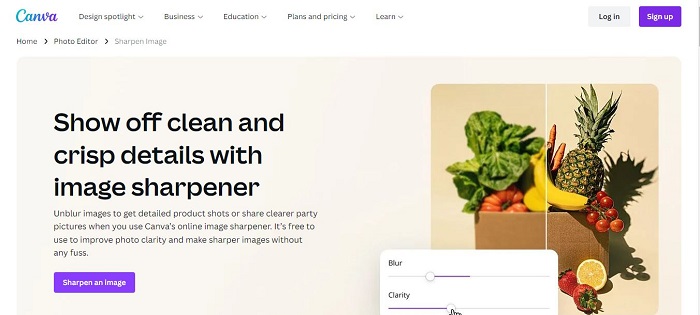 Features:
You can use the features by drag and drop effect, which makes it easy for users to customize their designs.
It provides various layouts for your project, so you can choose the one that best fits your needs.
It provides a 14-day free trial to users.
| | |
| --- | --- |
| Pros | Cons |
| ●It is easy to use and budget-friendly. | ●You won't be able to import raw files. |
| ●You can easily edit your photos without any professional skills. | ●You won't be able to use all of the extensions that you need. |
| ●You can choose various templates for the project. | ●The free version of Canva is limited. After that, you have to purchase the plan. |
10.Fotor
Fotor unblur image tool can help you fix blurry photos with just a few steps. It's easy to use and doesn't require any special editing skills. Upload your photo and let Fotor's unblur image tool do its magic. In just a few seconds, you'll have a clear and sharp photo that you can share with the world.
Features:
It Fixes blurry photos in just one click. It automatically sharpens images online.
It uses advanced algorithms to fix photos.
It is easy to use and doesn't require any specialist knowledge.
Fotor produces high-quality results.
| | |
| --- | --- |
| Pros | Cons |
| ●It is a free online tool. You can use it without having to download any software | ●The results are not always perfect. Sometimes, the tool can make the image look even more blurred. |
| ●It is used by professionals as well as simple users | ●Some features can also be expensive. |
Comparison of the Top 10 Online Tools
| | | | | |
| --- | --- | --- | --- | --- |
| Top Online tools | Effectiveness | Ease of use | Speed | User reviews |
| Media.io | It is free and compatible with many devices | Extremely easy to use | Processing speed is fast. | Approximately 89% of reviews from users. |
| Pixcut | Removes background but limited scope | Simple and easy to use. | Deblur image in seconds | 96% rating from users. |
| Lunapic | Provides intuitive interface | Yes | Requires less time as compared to others | 83% of users like it. |
| VanceAI | Unblur image online | Get rid of motion blur with one click. | Usually takes 5 seconds | 86% of people love to use it. |
| Pinetools | Blends and overlay many pictures | Only basic knowledge is required. | More than others. | More than 80% of positive reviews |
| Picwish | Online photo editing software | It is super easy to use. | The Process will be complete in less than 5 seconds. | 86% of user reviews |
| Pixelied | A Free graphical editing tool | Requires extra knowledge for using it. | Takes 10 or 30 seconds to make your picture ready | 87% positive feedback from users. |
| SmartDeblur | Portable app to detect Gaussian patterns. | It is absurdly easy. | May require more time than others. | More than 95% like it. |
| Canva | All-in-one solution to create collaboration. | Easy to use with drag and drop interface. | It is set to 5 seconds on the page. | 88% positive feedback from users |
| Fotor | Include both photo and graphic design. | Beginners can also easily use it. | Done editing in a few clicks. | 7% positive feedback from clients. |