Change Video Speed
Speed up or slow down any video effortlessly! Just upload your file and choose a speed mulitiplier, you can increase video playback speed or make a slow motion effect in no time.
Online Video Speed Changer
Media.io Online Video Editor can change video speed online without installing third-party software. You can create fast motion and slow-motion video online from formats like MP3, FLV, MOV, VOB, MTS, 3GP, and many others. After uploading a video on the video speed changer, you can reduce the normal speed by up to 0.25x and increase it by up to 4x. Not only that, but this video speed editor online also allows you to mute the video before exporting it to standard video formats. And best of all, you can directly apply motion effects to YouTube URLs. Upload a file and try!
How to Speed Up or Slow Down Video?
Step 1. Add a Video.

Drag & drop or hit the Choose Files button to add your video or paste a video link directly.

Step 2. Adjust Video Speed.

Speed up video or slow down video by choosing your desired speed.

Step 3. Save Your Video.

Preview your video if it pleases you and download it to your computer or save to Dropbox.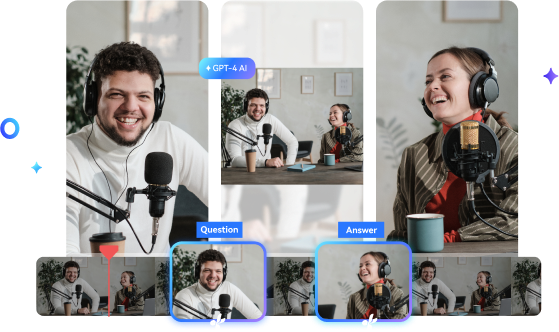 Transform Long Videos into Short Ones Instantly
√ Turn long videos into viral clips. Effortlessly transform lengthy videos into engaging, shareable clips.

√ Edit Video Seamlessly Like As Editing Text

√ AI Voice Cloner Ends Reshoots
Why Choose Media.io Video Speed Adjuster?
Completely Online Speed Changer
Media.io can help you to speed up or slow down videos fully online in a few fast clicks. No third-party installations required.
Multiple Motion Effects
Media.io Video Speed Changer can motion speed up video by up to 4x the initial speed. Conversely, it can slow down video online for free by up to 0.25x the actual rate. Make your video faster or slower just in an instant.
Easy to Use
This free video speed editor online is the simplest tool available. No complex steps or prior skills required!
All Video Formats Supported
This video speed editor online supports all standard video formats, including MP4, MOV, WMV, MKV, AVI, FLV, VOB, WebM, 3GP, etc.
24/7 Privacy and Security
This video speed editor uses the highest level encryption technology to guarantee online data safety. Also, edited files are automatically deleted from the servers after 24 hours.
Free Additional Features
The Video Speed Changer lets users mute videos and convert videos to multiple formats after altering the playback speed. They are free of charge.
Why You Change Video Speed?
Speed Up Video for More Views
Some viewers are generally uninterested in videos that take hours or even minutes to complete. Just think of it like this; when was the last time you watched a 30-minute video on YouTube? A speeded-up video can include a lot more content than a normal-playback clip. Just don't make it too fast, or viewers will miss out on the whole idea of speeding it up in the first place.
Slow Video Speed to Highlight Details
Speeding up a video can help you reach vital information a lot faster. But on the other hand, you can slow down a video online to highlight crucial moments of the clip. For example, if you're a trainer, you can slow down vital moments of the training session to highlight areas that need improvement. It's much like a slow-motion video when a player performs a trick or a goal is scored.
Fasten Video to Create a Comedic Effect
If you're a fan of Charlie Chaplin videos, then you'll know the power of a fast-motion effect on a video. Applying a fast-motion effect not only makes the action funnier to watch, but the video narration also becomes comedic when correctly done.
Edit Video Speed to Show Professionalism
Selecting appropriate areas to apply fast-motion and slow-motion effects can make your video ooze professionalism. For example, if it's a PPT presentation, you can fast-forward sections with long unnecessary stories and slow down areas where you need to emphasize chats and statistics. This is the surest way to keep the audience engaged during a presentation.
FAQs about Changing Video Speed
How to speed up YouTube online?

You can speed up a YouTube video online using Media.io Online Video Speed Changer . Follow these simple steps:
Step 1. Launch Media.io Video Speed tool and then tap the YouTube icon. Then, copy-paste the YouTube video link on the provided field.
Step 2. Drag the Speed slider to increase the playback speed. Or simply preset it as 1.25x, 1.5x, or 2x, etc.
Step 3. Lastly, choose an output video format and then press Start . That's it!

How do you increase video speed on Facebook?

You've probably come across a Facebook video that plays for ages. Unfortunately, Facebook doesn't allow users to fasten videos online . Therefore, open the video on Facebook, click the Ellipsis icon, and tap Save video to save it on your local storage. Then, use Media.io Change Video Speed to apply a fast-forward motion to the video.

How to easily create slow-motion effects?

Want to create a slow-motion video similar to what you see on UEFA Champions League games? It's nothing complicated, actually. Just upload your video on Media.io Change Video Speed and then set the video speed as 0.75x, 0.50x, or 0.25x. Remember that the lower the motion effect, the slower the video.

How can I speed up a video on my iPhone more than 2x?

You can make a video faster online on iPhone with Media.io Change Video Speed. Just open the program on your iPhone web browser and then tap Choose Files to upload the video. Then, drag the Speed slider to the right to adjust the playback speed to up to 4x the original rate. That's it!

Can you speed up an already recorded video?

Yes! Speeding up an already recorded video is one of the simplest video editing tasks you can do. Just launch Media.io Video Speed Changer on your phone or computer and then tap Choose Files to upload the recorded clip. Finally, set the video speed to anything more than 1x.

What is the maximum video size I can upload to change speed?

For premium user: Unlimited upload size & unlimited files.
For free registered user: 2GB with 25 times each day.
For non-registered user: 2GB with 10 times each day.

Can I change the video format after changing the video speed?

Media.io can provide a wide range of video formats for you to choose after changing the video speed, such as MP4, AVI, WMV, MKV, MOV, 3GP, and so forth.
Loretta S
I use Media.io to edit my short videos takes using my iPhone camera. Best part? there is no watermark, unlike other free video editing websites.
Laura Gomez
This video editor is simply irresistible. It's easy to use and can ramp up the video speed without compromising quality.
Alicia Peffers
This video editing website is simply amazing. I can adjust the video speed by up to 2x without noticing any glitches. It can actually go up to 4x.
Nikki Ericks
I like this video speed changer because it breathes some life into my Instagram Reels. I like that it allows me to edit video speeds without paying anything. Keep it up!
Ayalla Jim
My experience with this video editor has been amazing. I use it to trim and convert my short videos for Facebook stories. And it's absolutely free!
Convert, Compress and Edit Files Online
in Minutes.
Make video editing easy like never before!