If you're still searching for the perfect software to generate YouTube thumbnail photos, here's the ideal article for you. With the best YouTube thumbnail generator, you can make astonishing thumbnails that will attract more clicks to your video clip. So, because a thumbnail is critical in grabbing your viewers' attention, let's discuss the twelve best thumbnail creators of 2020.
URL: https://www.media.io/youtube-thumbnail-downloader.html
Online UniConverter, previously Media.io, is undeniably an easy to use YouTube thumbnail generator. It works online on any updated web browser, both on mobile and desktops. Instead of generating thumbnails from scratch, Online UniConverter will save you some vital time by generating high-quality YouTube thumbnails in multiple resolutions. Just paste your video URL and Online UniConverter will extract thumbnails in 1080p, 720p, 480p, or 360p.
Pros:
Super easy to use
Supports multiple thumbnail resolutions
Lots of other file editors
Cons:
Can't generate from scratch
No thumbnail customization tools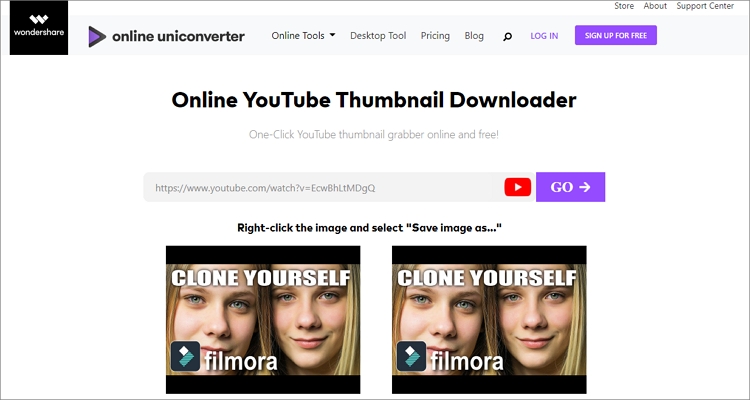 URL: https://crello.com/create/youtube-thumbnail/
If you want to make YouTube thumbnails from scratch, Crello is a good option. With this online app, you can create stunning thumbnails right from scratch, thanks to its wide selection of custom templates for YouTube video covers. After selecting a YouTube thumbnail, Crello allows users to apply texts with eye-catching fonts, stickers, and even background colors/images. Moreover, Crello will enable you to make social media stories, photo collages, business cards, email headers, and more.
Pros:
20,000+ premade templates
Nice YouTube customization tools
Dedicated mobile apps
Cons:
Small video gallery
No tutorial guide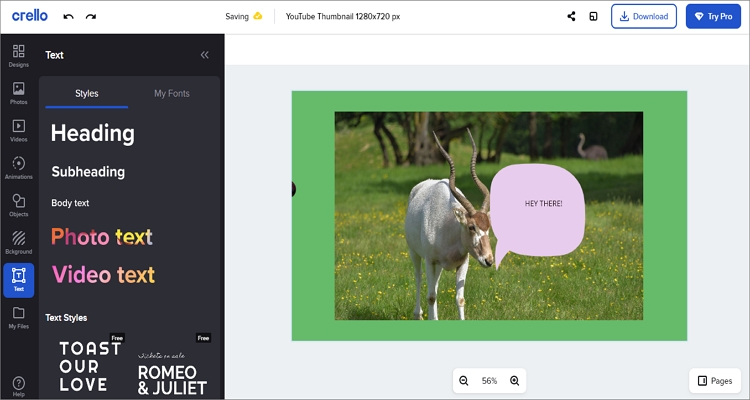 URL: https://tagsyoutube.com/youtube-thumbnail-generator
Similar to Online UniConverter, TagsYouTube allows users to generate YouTube thumbnails by merely copy-pasting a video URL. It gives you up to eight video thumbnails and hashtags. Also, you'll see multiple related video thumbnails that you can download and use on your YouTube video or personal blog post. The thumbnails are available in either 1080p or HD quality resolutions.
Pros:
Straightforward to use
High-quality thumbnails
Insightful tutorials
Cons:
Extremely slow app
Clumsy UI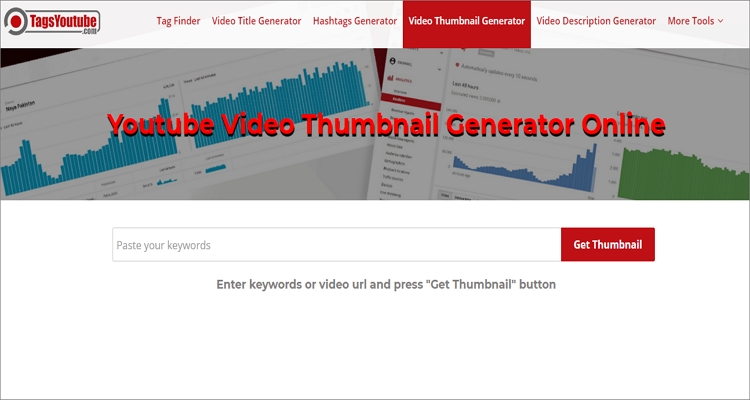 URL: https://www.picmaker.com/
Picmaker is another beautifully-designed YouTube thumbnail maker. Here, you'll get thousands of stunning YouTube thumbnail templates that you can customize to make a befitting thumbnail. Also, users can generate a thumbnail right from scratch by choosing an empty YouTube thumbnail design and customize it by adding pictures, background colors, fonts, frames, and so on. What's more, Picmaker offers a helpful live chat customer support service.
Pros:
Helpful customization tools
Photo editor and GIF maker
Thousands of premade YouTube thumbnails
Cons:
No mobile apps
Needs more stock photos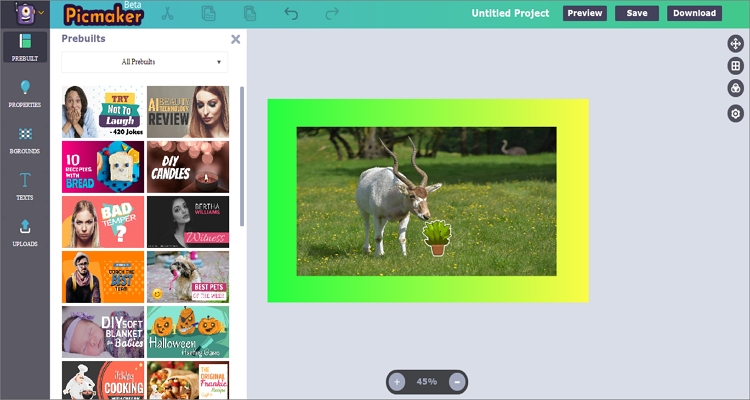 URL: https://snappa.com/create/youtube-thumbnails
Snappa is an all-rounded tool that allows users to do more than make YouTube thumbnails. It's simple to use and offers tons of professionally-designed YouTube thumbnails. Just open a free Snappa account and begin manipulating the premade YouTube templates. You can also choose an empty YouTube template and start customizing it by adding visual icons, text commentary, fonts, image/color backgrounds, and more. And, you can upgrade your account to a paid version and unlock its advanced features.
Pros:
A ton of YouTube thumbnails
Multiple customization tools
Exports thumbnails in JPG or PNG formats
Cons:
Most advanced features are available in paid plans
Not for pro hands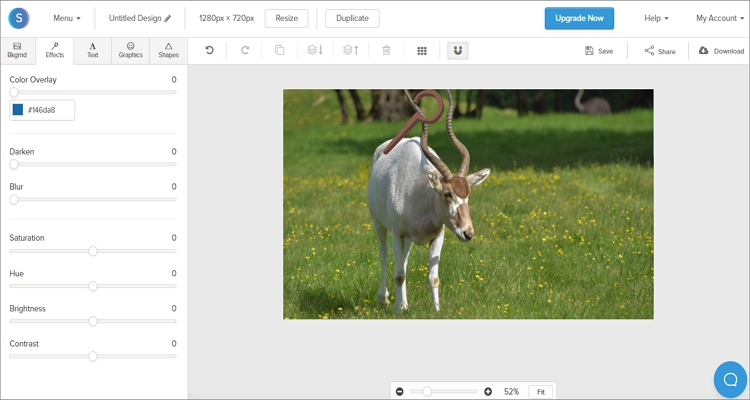 URL: https://www.bannersnack.com/youtube-thumbnail-maker.html
You can inspire your potential YouTube viewers to subscribe to your channel with Bannersnack. The simple platform offers thousands of templates that are created by professional designers. You can also select an empty, ready-to-use YouTube template and customize it by adding your own local photos. You can customize the picture by adding texts, fonts, stickers, and background objects. Moreover, Bannersnack can save your custom thumbnail to PNG, GIF, and JPG files.
Pros:
Export thumbnails to multiple formats
Lots of thumbnail editing objects
Affordable subscription plans
Cons:
Clumsy auto-saving mode
PNG and GIF are not the best quality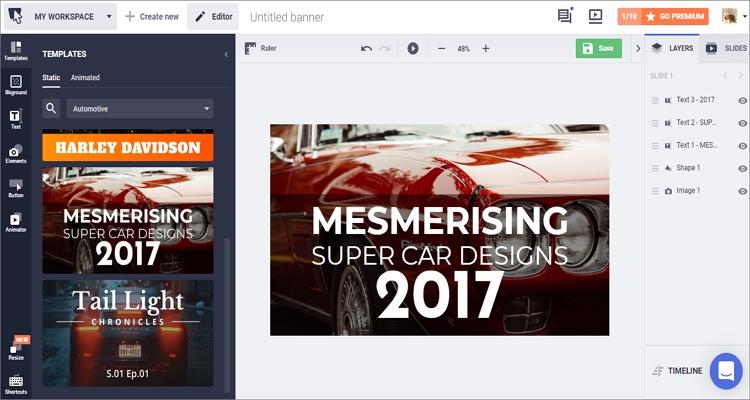 URL: https://www.fotor.com/design/youtube-thumbnail.html
Fotor provides some incredible thumbnail making tools on its beginner-friendly user interface. First of all, it offers users some eye-popping themes of varying categories like nature, sports, entertainment, and more. Also, Fotor allows you to add that much-needed visual appeal to thumbnails. You can apply fonts, pictures, frames, color backgrounds, and more. What's more, Fotor is a helpful tool for creating collages.
Pros:
Offers cloud storage
Flexible thumbnail designs
Super-fast processing speed
Cons:
No phone customer support
No video tutorials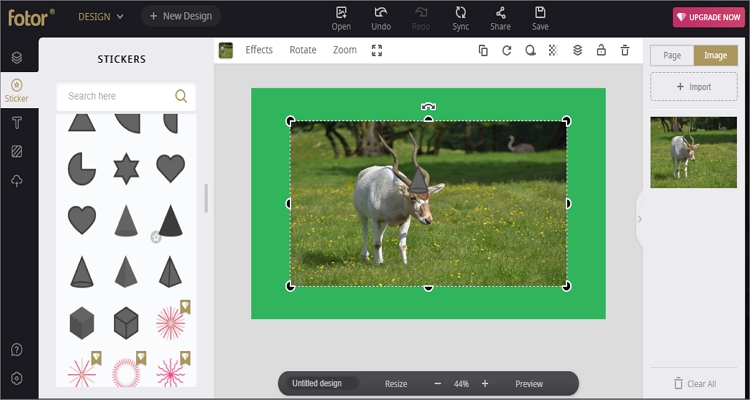 URL: https://www.visme.co/thumbnail-maker/
With Visme, both individuals and organizations can make engaging graphic designs for social media posts/stories, YouTube thumbnails, business cards, email marketing, and more. It has lots of customization tools like fonts, free images/colors for background management, stickers, and more. Even better, Visme offers users up to three plans, including the basic, standard, and complete subscriptions.
Pros:
Activity dashboard
Excellent customer support
Video tutorials available
Cons:
No mobile apps
Can be frustrating to change fonts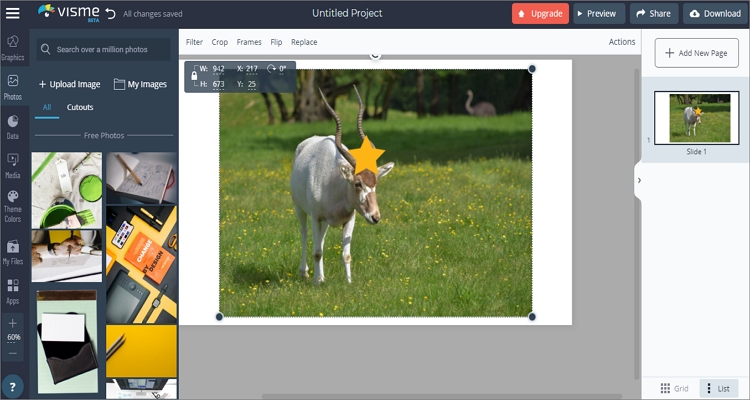 YouTube Thumbnail Generator
URL: https://nerdordie.com/apps/youtube-thumbnail-maker-app/index.html
If it's your first time to generate YouTube thumbnail photos, use YouTube Thumbnail Generator. It has a simple, ad-free interface that allows users to add local images and customize them thoroughly. To personalize your photo, YouTube Thumbnail Generator will enable you to apply texts, background opacity, overlay opacity, frame size, frame color, frame padding, and more. If satisfied, just tap "Save" to download the thumbnail on your phone or desktop.
Pros:
Super-simple to navigate and use
Multiple customization tools
No registration or subscription plans
Cons:
Not for pro users
Downloads file to JPG only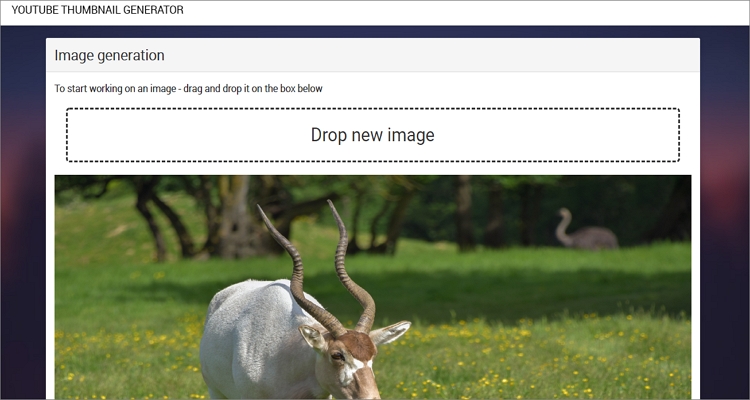 URL: https://www.canva.com/create/youtube-thumbnails/
Canva is another free video thumbnail maker that is tailor-made for pros and beginners alike. This web-based app offers some incredible features on its drag-and-drop UI. The available tools include free stock photos, illustrations, frames, shapes, text fonts, background colors, and so much more. Also, I really appreciate the site's quick and reliable customer support that is always willing to help. However, you must sign up to use Canva's free templates.
Pros:
Simple registration process
Customized YouTube thumbnail designs
Advanced thumbnail editing functions
Cons:
No Android app
No phone customer support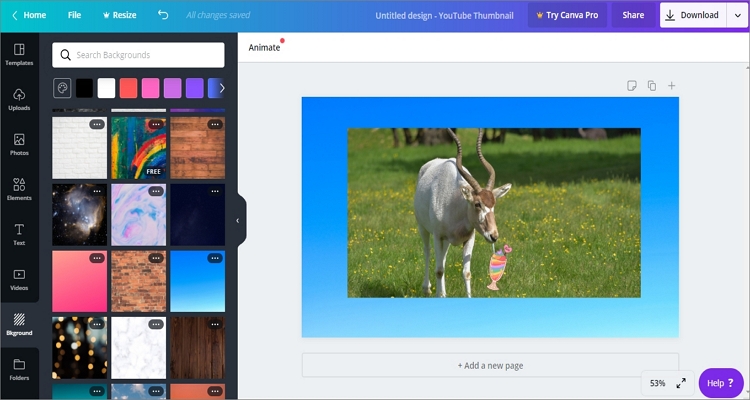 URL: https://spark.adobe.com/make/youtube-thumbnail-maker/
Adobe Spark offers a simple YouTube thumbnail making process. It's pretty similar to Canva in many ways, just that Spark won't charge you a dime to use the ready-to-use thumbnail designs. After creating an account, just choose a YouTube thumbnail template and begin customizing it with colors, texts, and fonts. Unfortunately, free Spark users will create thumbnails with watermarks. Also, the open plan doesn't offer an option to remove text commentary.
Pros:
Available both online and offline
Free trial available
Easy to resize graphics
Cons:
No phone support
Adobe Spark watermarks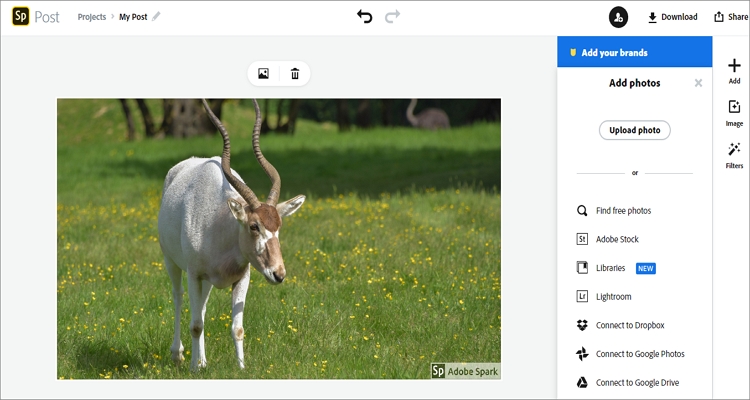 URL: https://youtubethumbnailimage.com/
Finally, you can use YouTube Thumbnail Image app on your mobile or desktop browser to make some high-res YouTube thumbnails. With YTI, you just need to paste the video URL and click "Search." This website will then generate your thumbnails in seconds. You can choose to download them in either 1080p, 480p, 360p, and 180p. Even more importantly, you can contact their customer support via email for clarification.
Pros:
Multiple thumbnail resolutions
Simple to use
Reliable customer support
Cons:
No customization tools
No phone or live chat support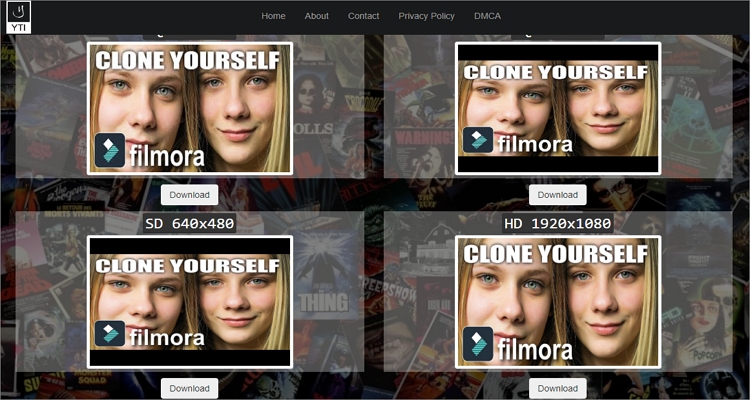 Summary
All of the above YouTube thumbnail generator apps will make you some high-quality templates. However, I advise that you use more robust options like Canva and Adobe Spark if you want to add text, colors, and other features to your thumbnail. Better still, you can use YTI to extract a high-quality YouTube video snapshot and customize it with the said options.