AI-generated selfies, portraits, and avatars as display pictures and video representations have become a viral trend on social media. It is common to find users post avatar versions of themselves on Instagram, TikTok, Facebook, WhatsApp, etc. This trend drives traffic and more engagement online by the appealing nature of these artistic AI-generated photos.
Therefore, if you want to improve your online aesthetics using AI-generated pictures of yourself, this blog is for you. We will show you the best AI generator selfie tools to help you design amazing AI photos of yourself.
Part 1. Can AI Generate an Image of Me?
AI technology keeps evolving, with more and more users demanding AI generators to deliver high-quality results. AI-generated images boost the visual appeal of your online presence, drawing more audience to your page and business. For example, with the right AI image generator selfie tool, you can easily create an AI photo of yourself and improve your online aesthetics.
Part 2. Top 9 AI Selfie Generators Online for Fre
Media.io features an AI selfie generator to help you create AI artistic or professional photos of yourself on mobile or computer, accessible directly through your browser. With Media.io AI image generator selfie tool, you can level up your photo editing game using unique filters or styles that improve the aesthetic of your selfie.

Main Features:
It comes with AI retouching feature that can work on any blemishes on your face for overall facial improvement.
It offers a diverse range of selfie styles to match your personal or professional preferences.
It adds virtual makeup to your AI image selfie.
Snapbar AI Selfie Generator is ideal for people who love to take selfies of themselves or their loved ones. With this tool, you get to improve the general aesthetics of your selfies by tweaking features to suit your creative imagination. In addition, it is ideal for businesses that want to give a modern spin to traditional photobooths and corporate headshots through digital AI selfie technology.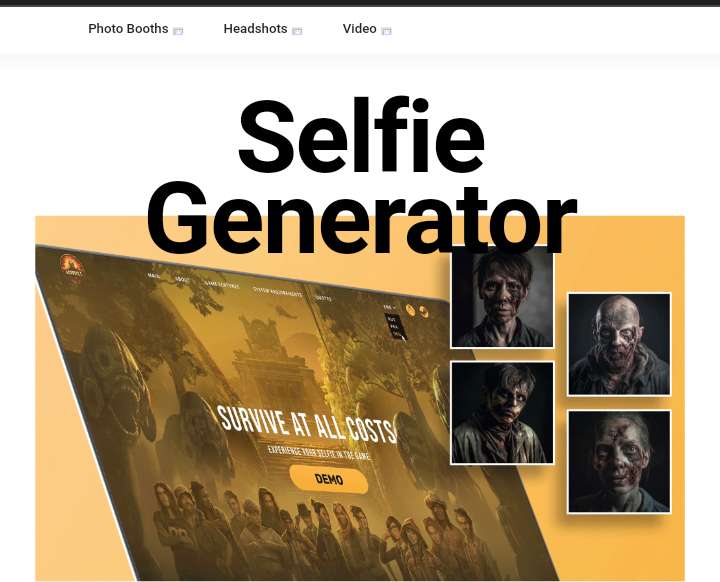 Main Features:
It helps you create AI-generated photos of yourself or your business to improve marketing for events, promos, etc.
It makes AI-generated photos of you, boosting your online presence reach.
It supports AI photo customization to suit your online portfolio.
AI Avatar Generator helps you easily create AI-generated photos for free online. It is simple and ideal for beginners who want to elevate their pictures into gorgeous AI avatars for their online presence. This tool provides editing features and AI art styles like cartoons or animation, games, anime, and other idealistic styles. It is available for users of all operating systems to visit the website with their default internet browser.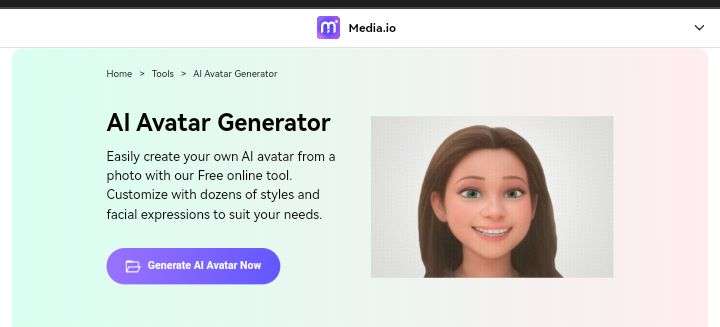 Main Features:
It has a friendly user interface that is simple to navigate for first-timers and up-to-standard for professionals.
It supports major computer systems like Windows OS, iOS, MacOS, Smartphone mobile devices, etc.
You can customize your selfie's facial expression to suit your preferred mood.
It supports background removal, color matching, etc.
As the name implies, Facetune is an AI selfie generator by Lightricks for finetuning your selfies and generating unique digital art. You can do this by tweaking the photo through blemish removal, complexion improvement, and other retouching tools. It works on any good browser online and has apps for Android and iOS users (iOS 6.0 and later) to download on Google Play Store and the App Store, respectively.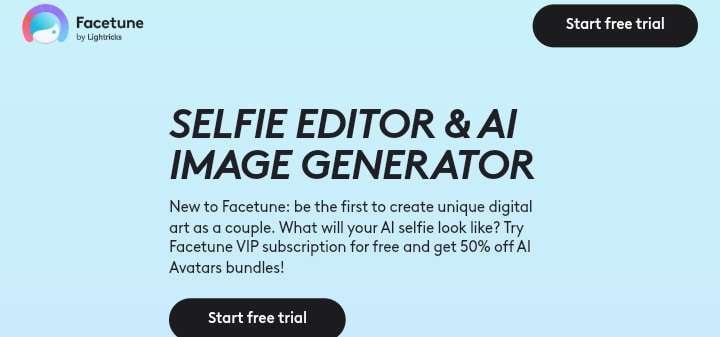 Main Features:
It supports a 7-day free trial after you sign on with your mail.
It lets you adjust your selfie background to suit your preferences.
You can change your facial features via teeth whitening, skin smoothening, eye sharpening, etc.
PortraitAI is another great AI selfie generator that helps you easily adjust your selfie's background settings and lighting. It is ideal for Android users visiting Google Play Store and downloading the app for free. It contains over 100 filters on the app version that you can use to elevate your facial look.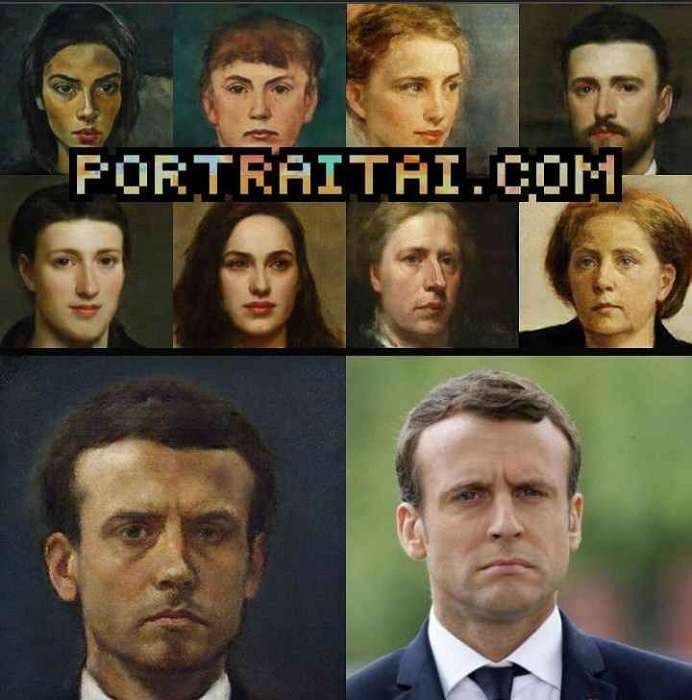 Main Features:
It makes your selfies look more eye-catching and professional when you change your image background to a more aesthetic one.
It uses AI tech to automatically detect and erase any blemish on your skin for a more radiant appearance.
It contains different lightings you can adjust: Exposure, Brightness, Contrast, and Saturation.
AI Gahaku is a free online selfie generator ideal for beginners in the AI design game. You can convert your primary photo into a masterpiece in a few clicks. It is easy to navigate as it allows you to remove imperfections on your face and apply retouches while giving your final AI-generated selfie a realistic outlook. It is available for Android and iOS smartphone users.
Main Features:
There are more than 300 art styles in its vast AI filter library.
It specializes in Renaissance portrait style paintings like art by Rembrandt, Picasso, or any of the reputable classics, Expressionism, Pop Art, etc., and is also available here.
Photos uploaded on this site's server are automatically deleted after editing and downloading.
Canva is a top-rated editing app that content creators and graphic designers primarily use to tweak photos, design banners, and design posters, flyers, and logos. The Canva AI selfie image generator is designed to convert your text prompt to AI images in seconds and for free! It can be accessed online on all major computer systems, App Store, and Google Play Store iOS and Android phone users as downloadable apps.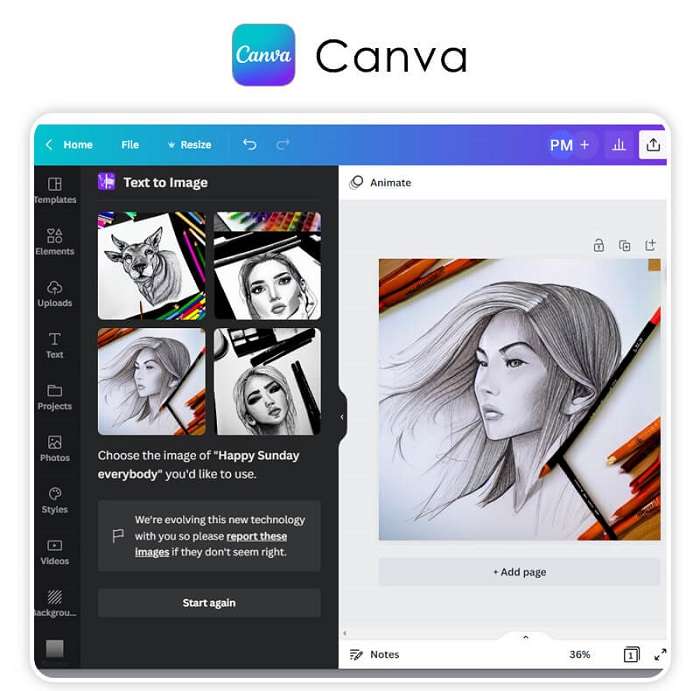 Main Features:
It has one of the most versatile libraries of templates from which you can choose a base for AI images of yourself.
It provides filters and effects that will take your photo to a whole new level of aesthetic appeal.
It is free for users online.
YouCam Makeup AI selfie generator is a comprehensive app that helps you retouch your face and remove wrinkles, eye bags, and other blemishes. It also offers up to five AI cartoon styles which you can use as the base for AI-generated pictures of yourself. It is available on Google Play Store to Android mobile phone users. iOS users with OS 6.0 or later can download the app from App Store.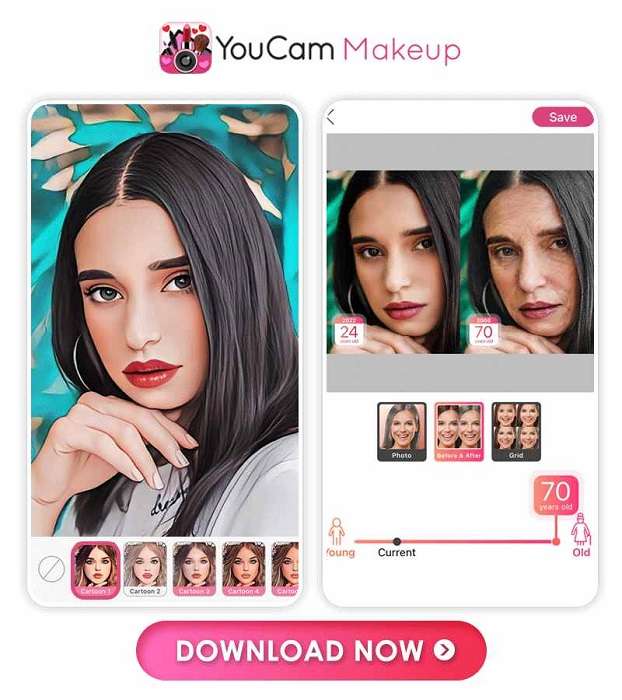 Main Features:
It supports removing unwanted objects from your selfie using the "Removal" button.
It provides makeup filters, effects, hair colors, and more to enjoy.
Using the aging simulator on a slide bar shows you older and younger versions of yourself.
Media.io has designed another AI tech-powered tool for the effortless generation of AI images called the Media.io Photo to Art Generator. This online tool lets you quickly turn your basic selfies into stunning art pieces in seconds! It is compatible with all devices as long as it is internet-enabled.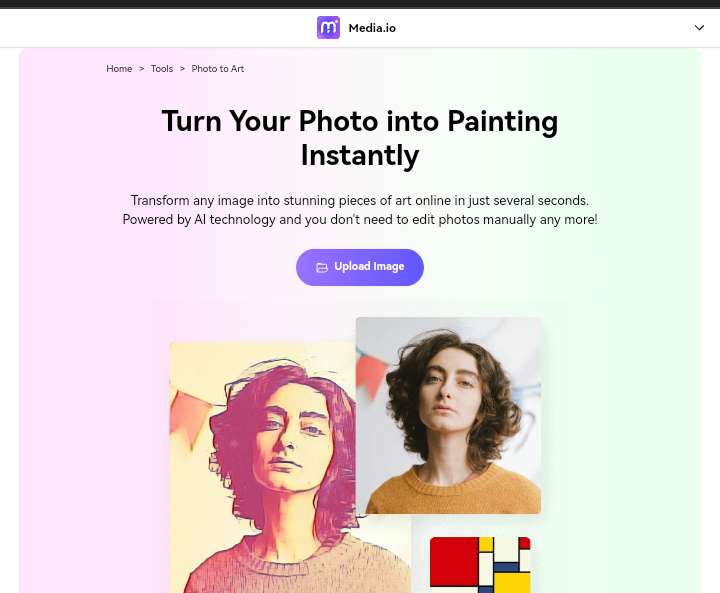 Main Features:
It provides different styles like landscape, oil painting, still life, etc.
It automatically detects and converts images to AI-generated art using a neural transfer algorithm style.
After 24 hours of photo upload, this tool automatically deletes them from its servers and the compressed data files.
Part 3. How to Do AI-Generated Images of Yourself Easily
You can quickly get AI-generated photos of yourself using a powerful AI selfie generator that is also easy to use. Using Media.io Avatar Generator, for example, generate AI images of yourself using the three steps below:
Step 1: Upload the selfie photo you wish to edit on Media.io.
Step 2: Edit your photo using the editing features provided on the left panel of the homepage.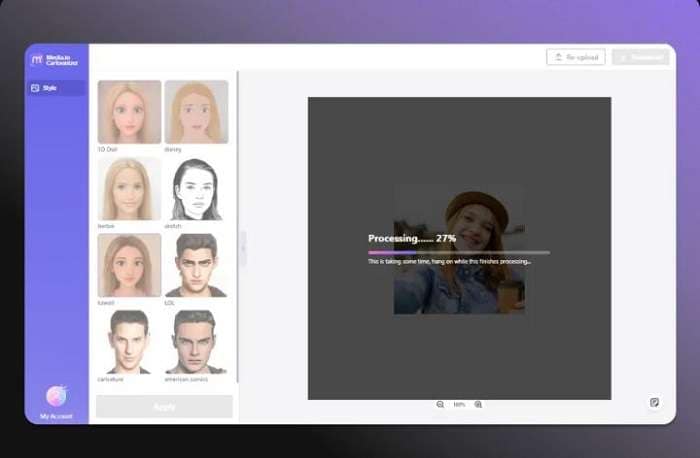 Step 3: Choose the Apply option, and wait a few seconds for Media.io to work its magic. Preview the AI-generated photo of yourself before clicking Download to save the final result.