Day by day, anime are getting more appreciation and love. People love to watch fantasy anime movies and seasons. Most commonly, anime lovers wish to convert their pictures into anime. Therefore, the intelligent brains of this universe created diversified photo to anime converter. With the help of these tools, you can convert your raw images into anime.
Yet, if you don't know any good picture-to-anime converter, don't worry because it won't stop you from creating your fantasy. Here, we will discuss the top-rated and highly reputable tools to help you with this issue.
Part 1: How Anime Pictures are Better than the Simple Pictures
If you are new to the world of anime, you must be wondering why anime is more captivating and better them simple images. The understated points will satisfy your queries:
Realistic Expression:

Anime nowadays holds many realistic expressions that can lift your mood and curiosity in seconds. Characters in anime express better emotions than most actors, and high-quality graphics give them a realistic look. The expressions of anime characters are sometimes so realistic that users don't believe that they are not living characters.

Artistic Storylines:

You know that most of the anime is dedicated to a fantasy world and mythical creatures. The anime often has great storylines along with intricate storylines. The anime character further adds depth to the narrative to attract more viewers.

Culture Representation:

The anime mostly presents Japanese culture and express cultural values worldwide. From hose structures of old to modern times to language, the cultural heritage of Japan is known. Moreover, anime lovers appreciate the arts, designs, and other interesting regional elements.

Character Design:

From Khal Drogo of Game of Thrones to Kamado Tanjiro of Demon Slayer, people love these character and their designs. Every character has its role to play, which lasts longer in the memory of fans. Moreover, people who love to collect unique work also love anime for their distinctive flair.
Part 2: Benefits of Using Anime Pictures as Your Profile Picture
The versatility of an anime is not a negligible thing. You must have seen that users upload their anime characters as their profile pictures. Curious why it happens? Have a look below to know why anime as profile pictures are better:
When you use anime as your profile picture, it gives you a sense of anonymity. If you want to maintain your privacy and don't want to use real-life photos, then anime pictures are the best option.
Anime pictures attract anime lovers. When you upload your profile picture as anime, it attracts other people who also love anime. It is a great chance to be friends with like-minded people and share your interests.
The anime pictures are eye-catching and help your profile to stand out more than others. It is beneficial for those who love to create the best first expression.
If you are going to make Instagram or Facebook pages, then consider using the anime as a profile picture. It can appeal to a broad range of audiences so you can have more followers.
Part 3: 3 Best Picture to Anime Converter with Instructions
Do you wish to animate yourself with the help of image converters? It is truly possible if you use the right tools that can lead to desirable results. Have a look below to find the reputable tools to accomplish this task:
Media.io never ceases to astonish users with its exclusive tools. With the help of Media.io, you can turn pictures into anime drawing online for free. All the tools in it are excellent, along with the immersive AI support. With just a few taps, you can now experience magic in your media content. The 3D Cartoon Face Maker of Media.io allows you to convert your picture into anime.
Above all, you can also choose the facial expression of your animated photo. This picture into anime converter is a free online tool, so you don't have to spend dollars of space on your device to use it. Moreover, it shows high compatibility with many image formats, including JPG, PNG, and more.
How to Animate Yourself with Media.io?
Step 1

Access 3D Cartoon Face Maker and Add a Photo

Open Media.io photo to anime converter in the browser of your device. Click on "Local File" and add the image you wish to convert.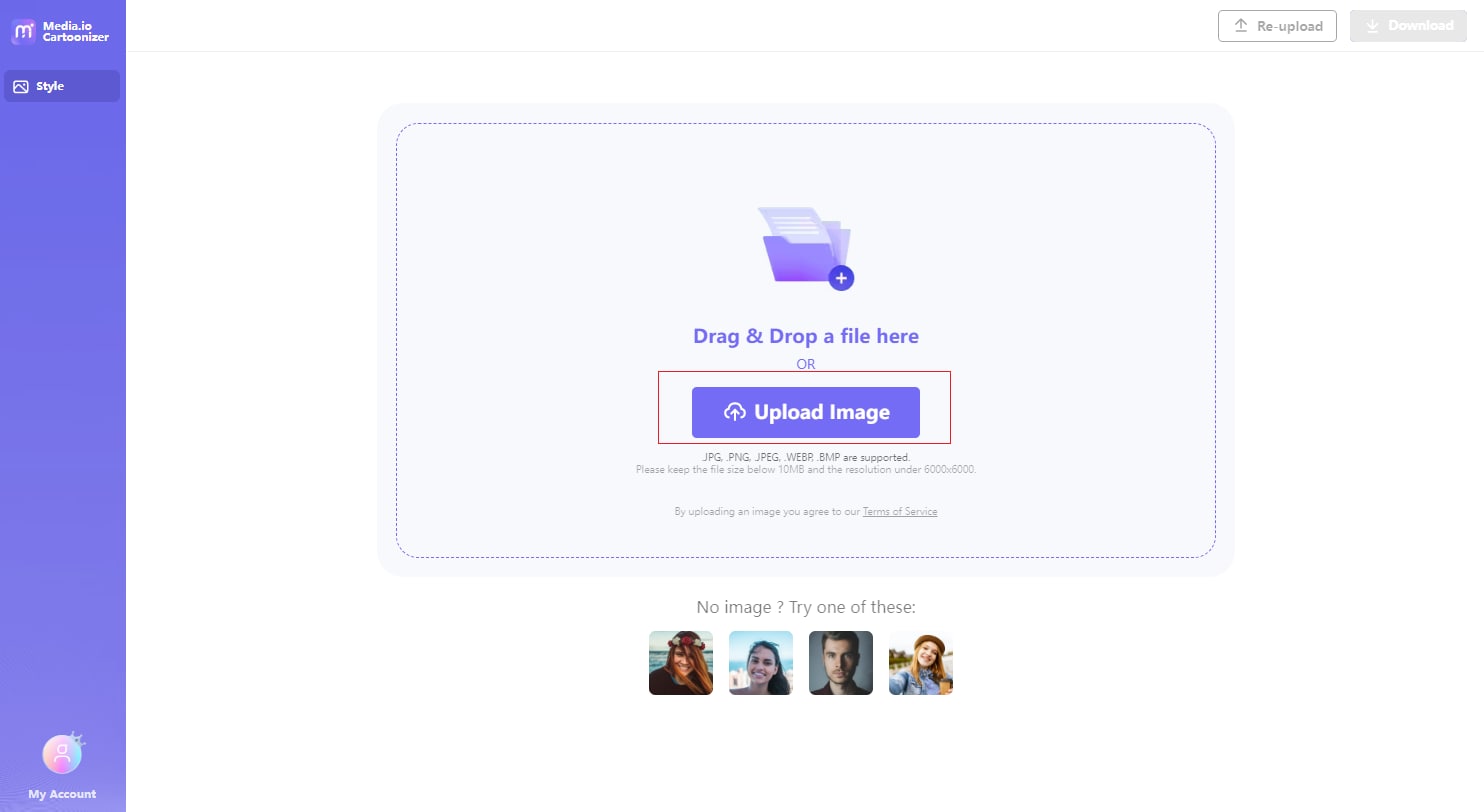 Step 2

Customize Anime Picture

You can select the type of anime from the options of "3D", "Disney", "Sketch", and more. After this, go to "Emotion" and select the emotion that you wish to express in the photo. Following this, click on "Apply" to process the image with AI technology.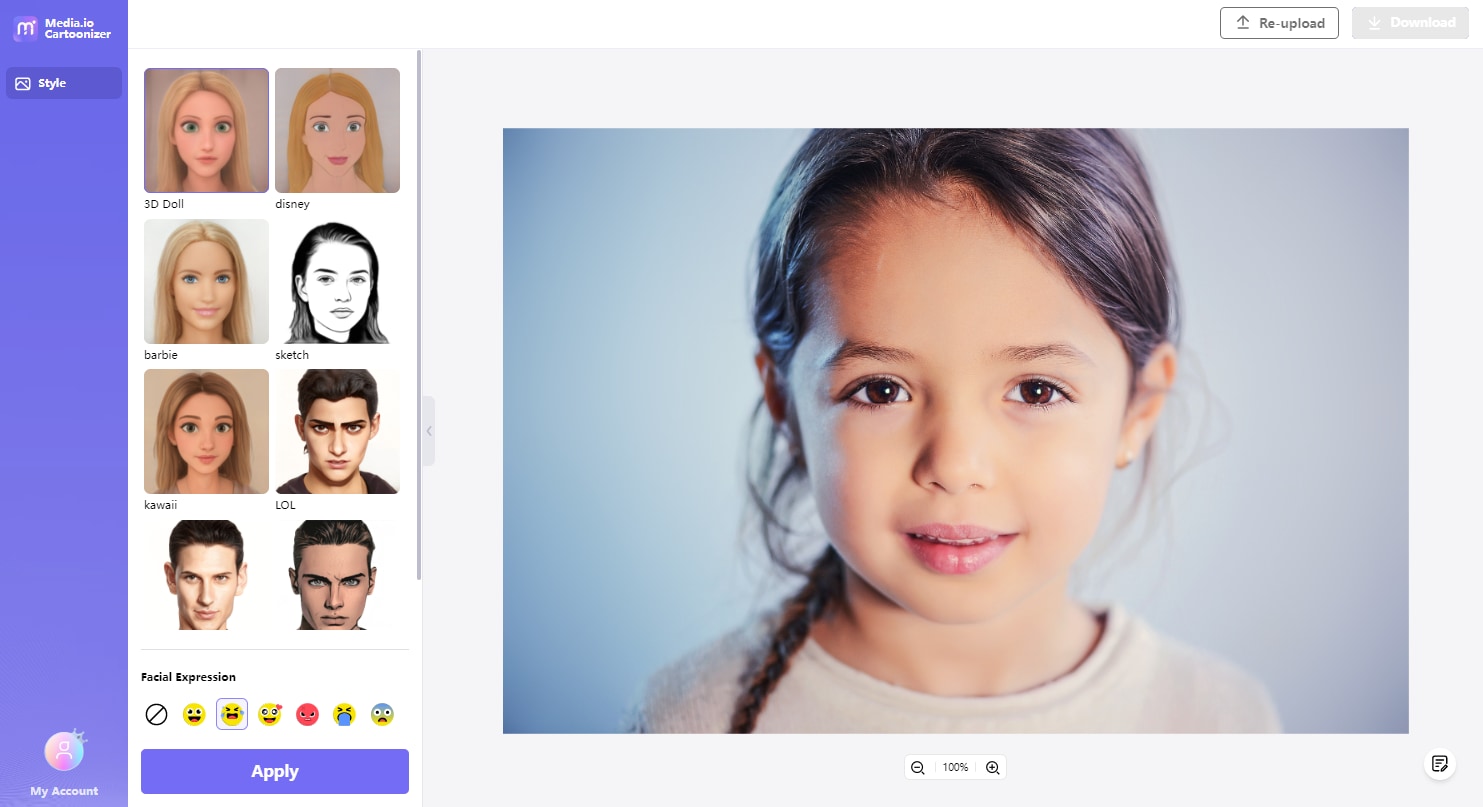 Step 3

Save the Animated Picture in the Device

Afterward, click the "Download" button to save the animated picture on your device.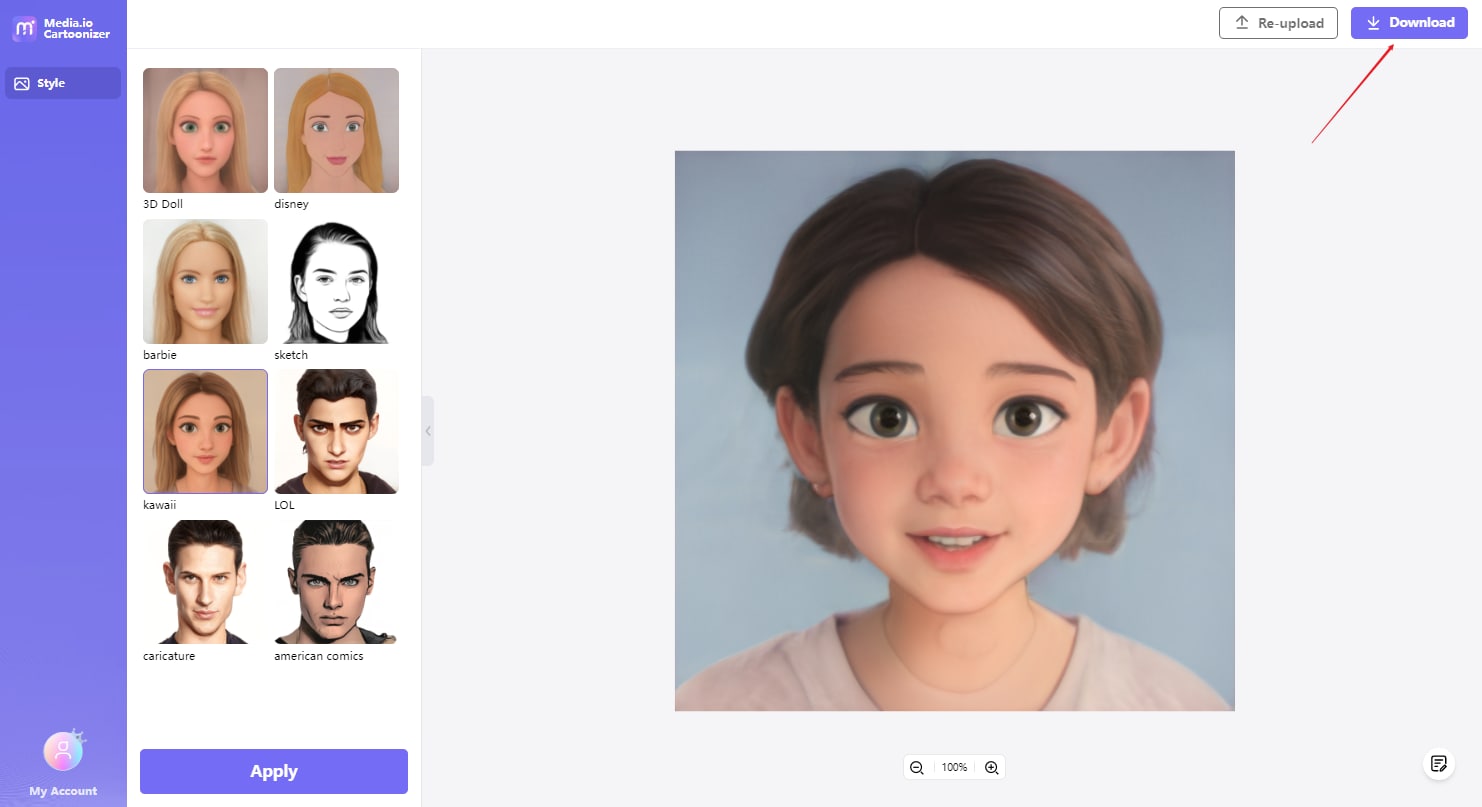 Fotor is also a popular tool that can help you to turn photos into anime online. It helps you to attract the attention of viewers with an eye-catching transformation. Whether you want to convert a flower into anime or a human, this tool can help you with everything. With this, you can also convert your pet dog into a perfect anime character.
Moreover, it is an online tool that you can use on your browser. Yet, mind that to convert an image into anime, you have to log in yourself in Fotor.
How to Turn Picture into Anime with Fotor
Step 1

Import images to Fotor

Open "Fotor" on your browser and click "Features." From here, select "Photo to Anime/Cartoon" and tap on "Cartoonize/Anime Your Picture Now." After this, click "Open Image" and import the image of your choice.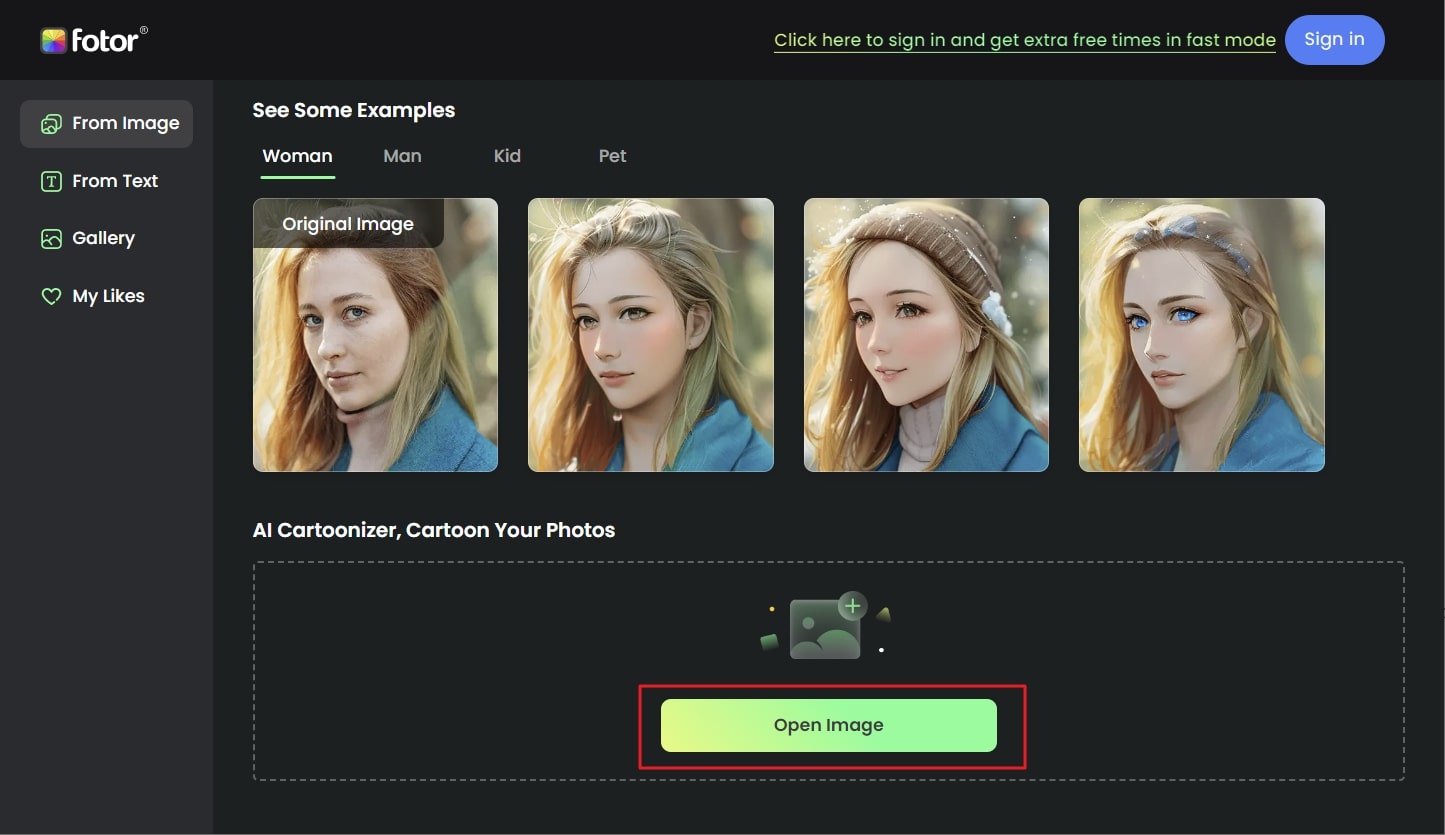 Step 2

Convert images to cartoon

If you are not logged in to the Fotor, you will initially have to sign in. After this, you will see three types of animation pictures. You can also click on the "Change Image" option to add a new image. Following this, view and click on the "Download" icon for the image you wish to download.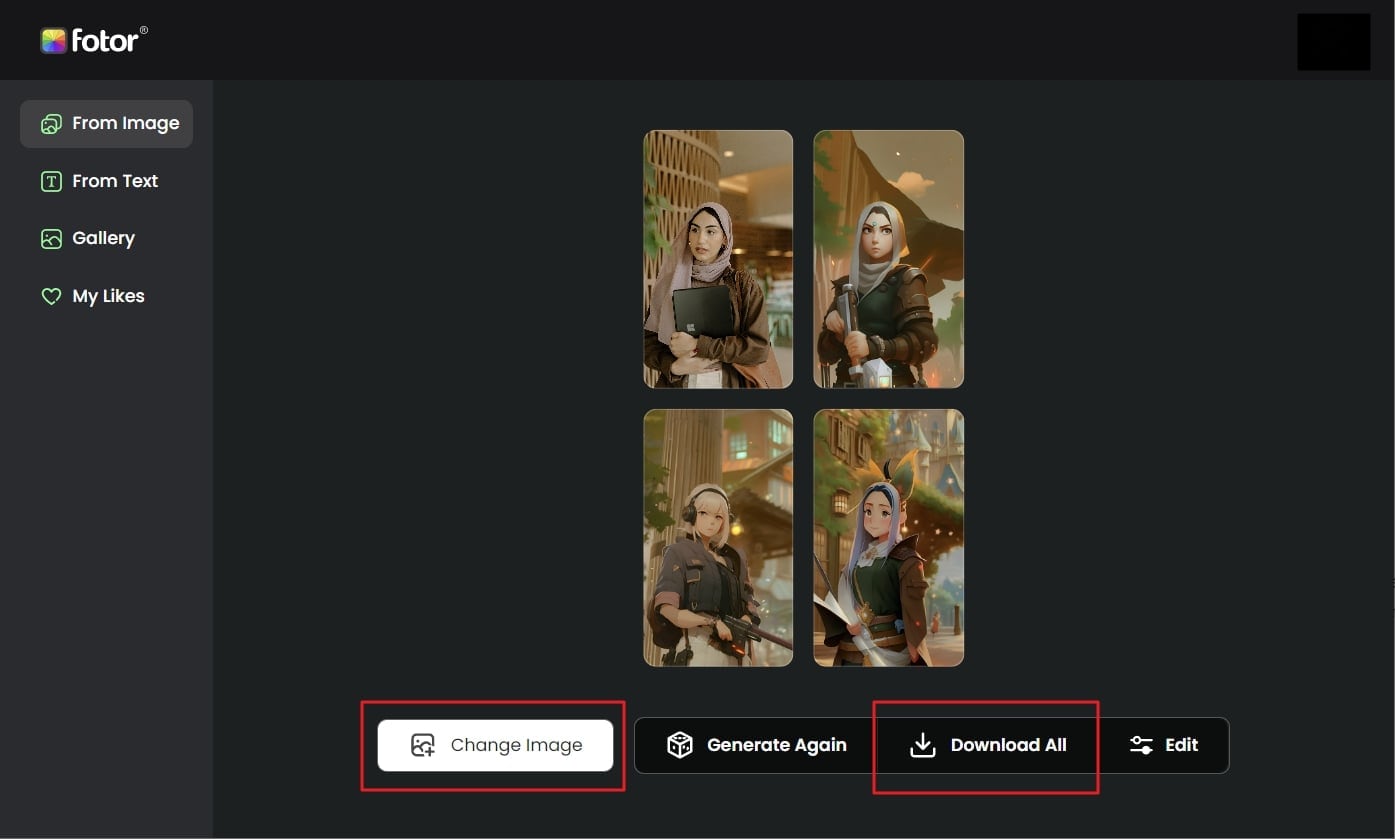 This tool is powered by machine learning techniques, and its advanced algorithms convert pictures to anime online for free. It also has Generative Adversarial Network, which is why it generates anime based on real people. Moreover, it generates every anime in unique and distinctive styles. The interface of this tool is quite pinkish and white, which shows how cute your anime will be.
Moreover, its processing speed is highly reliable, so you can now animate yourself in a blink of an eye. It doesn't publish your uploaded pictures and anime, so you can work with it without any second thought.
How to Turn Picture into Anime with Selfie2Anime
Step 1

Upload photos to Selfie2Anime

Launch your browser and search for "Selfie2Anime." From the main page, click "Upload a Selfie" and add the photo of your choice.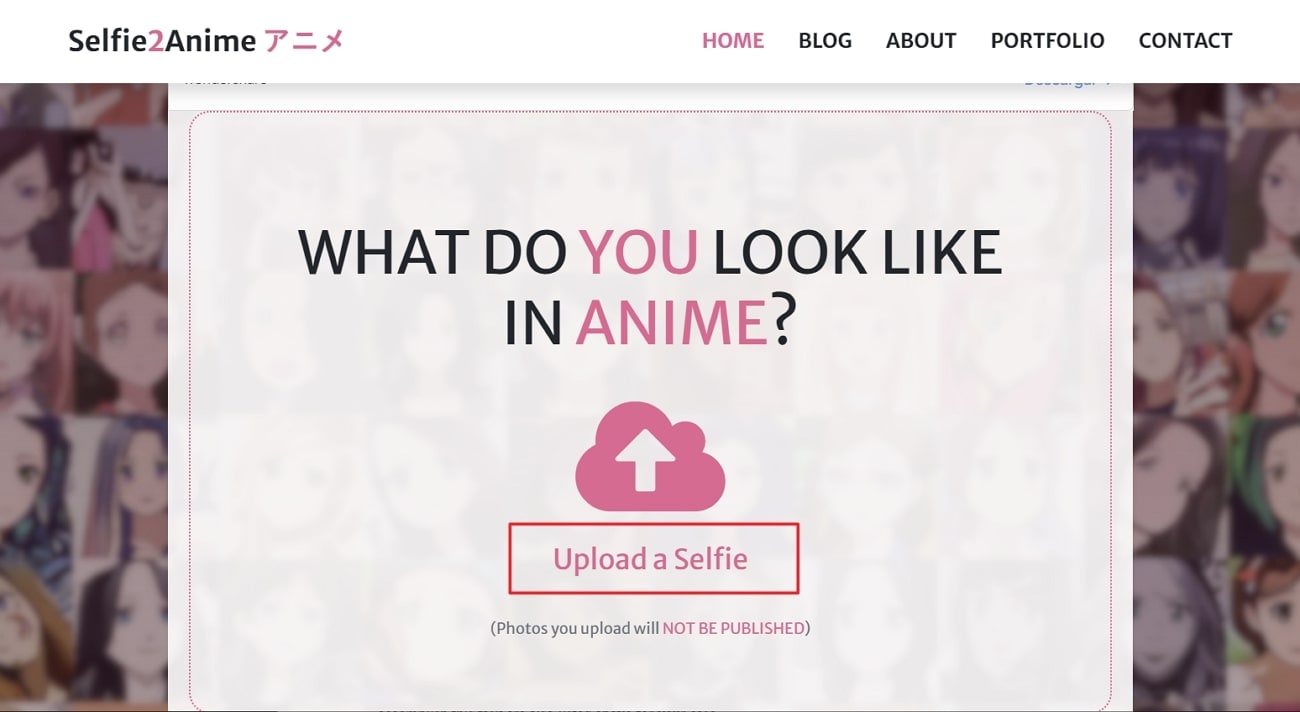 Step 2

Get the photos from email

Once the photo is added, crop it to customize the aspect ratio and click on "Turn Me into Anime." Next, add your email address and click on "Upload." After some time, you will get your photo to your provided email address.