Texts on videos could be brand logos, brand names, subtitles, etc. When you create videos for free with some apps, logos are watermarked on them in text. Other times, these texts could naturally be on videos you download online from different sites. You may also want to remove text from videos to enable you freely use the video for your purposes.
Although it may seem impossible to work around these texts, there are ways you can remove them from videos. That is the essence of this blog. With our highly recommended online tools, you can remove text from a video online.
Part 1. Remove Text from Video Online using Media.io [3 Best Ways]
1. One-click to Delete Text from Video Online
Media.io Text Remover is the most recommended tool to remove text from a video online. It is easy to use and works on all platforms and devices, such as Windows, Mac, Linux, Android, iOS, etc. So, with browsers like Firefox, Chrome, and Safari, you can access the Media.io and remove any unwanted text from your video or photos online.
Main Features of Media.io Online Text Remover:
It does not contain interrupting ads, even as a free online tool; you can delete text from video without interruptions.
It supports all the standard input formats such as MPEG, MP4, M4V, MKV, MPG, MOV, AVI, WMV, FLV, 3GP, etc.
It lets you batch-remove text overlays from videos online without the requirement of any previous technical skills.
You do not need to sign up to use the tool, and your privacy is guaranteed, as no one else can access your videos.
It boasts an all-featured video editor without a watermark. You can add background music to videos, crop, trim, flip, and compress videos online without any effort.
If you want to know how to remove text from a video with Media.io online tool, follow the steps below:
Step 1: Upload the video containing the text you want to remove. Click "Choose Files" to add the video locally or via the video's link.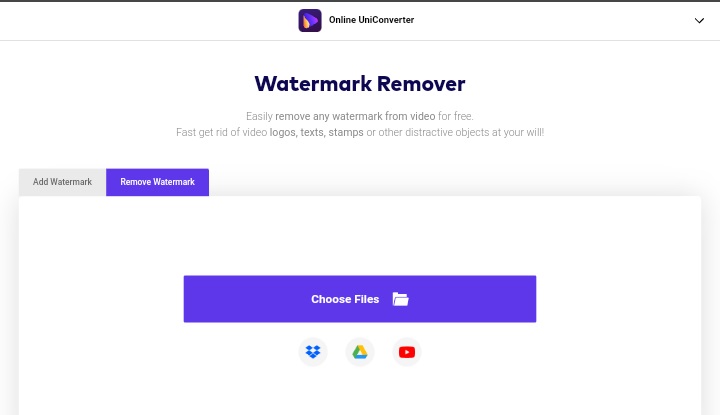 Step 2: Select the text you want to remove. Choose "Add Area" and highlight the text with the lasso tool provided. At this stage, you can add more areas or texts to remove.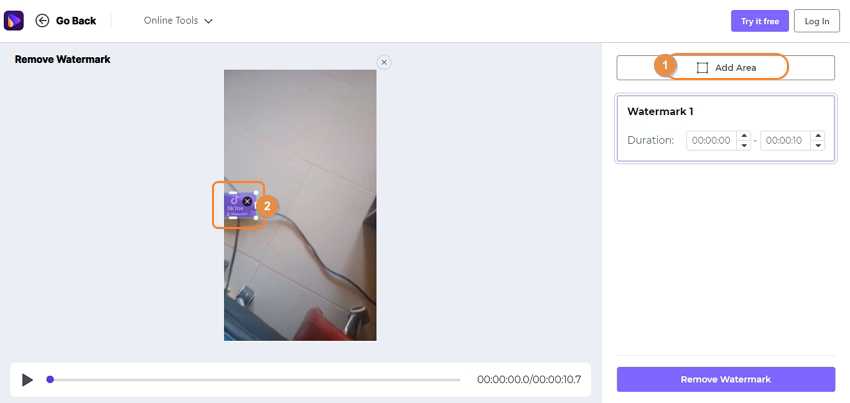 Step 3: Click the "Remove Watermark" button and proceed to download the final result.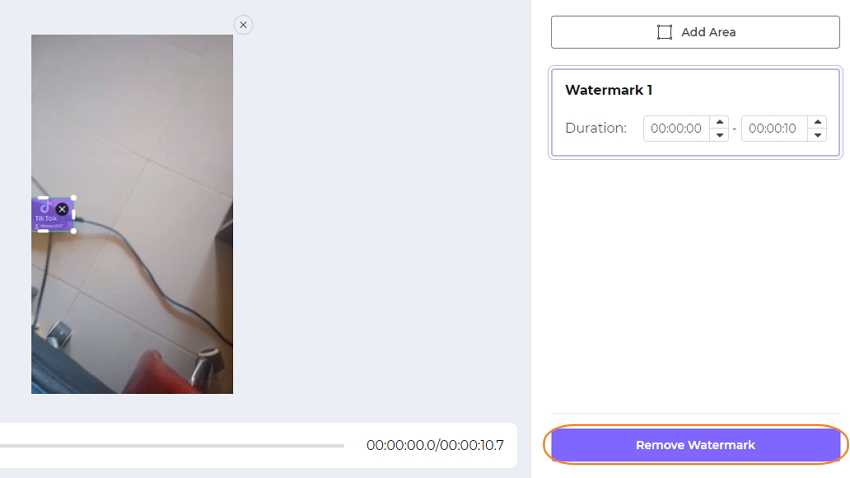 2. Remove Text from the Video by Replacing
The second way to remove text from a video online is to replace or cover the original text areas. It would make your final clips look more interesting if you added some eye-popping images or elements. Media.io Video Element Adder is such a handy tool for your use. It enables you to hide any unwanted text graphics from videos while keeping the videos nice. Note that it's great for removing small text areas.
Key Features of Media.io Video Element Adder:
Easy to use: drag and drop overlays to remove texts.
It offers a multitude of free elements in all shapes.
You are capable of adjusting the element's size, color, position, and style to fit your needs.
Besides removing texts, it allows you to upload personal images to cover undesired areas.
How to Remove Text from a Video Via Replacing?
Step 1: Access Media.io Online Video Editor with your browser and upload the video you want to edit by clicking the Upload Media button. After that, simply drag the video to the timeline.
Step 2: Play the video to the frame with unwanted texts, then navigate the menu on the left pane and select the Element tab, where you can unlock your creativity. Choose one or multiple shapes, and adjust the size, color, position, and more to perfectly cover the original text overlays.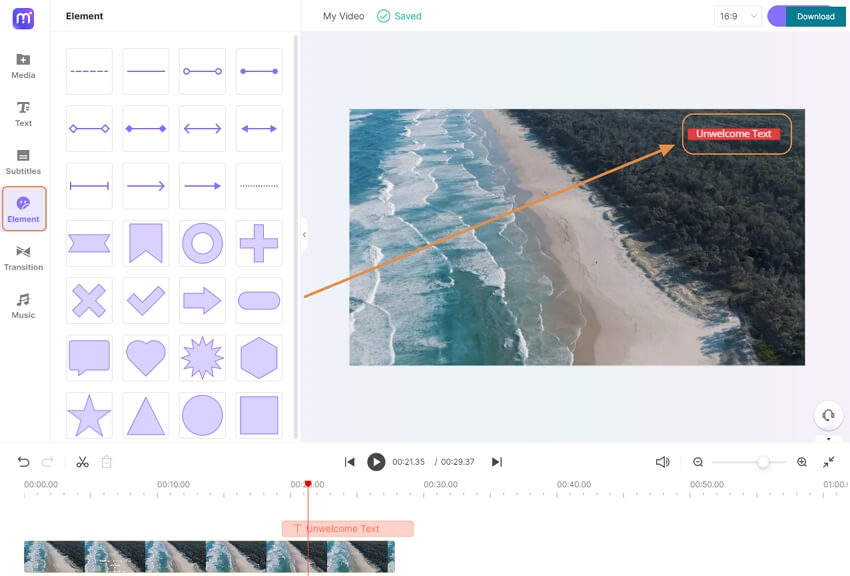 Step 3: Click on Export to save the final clip.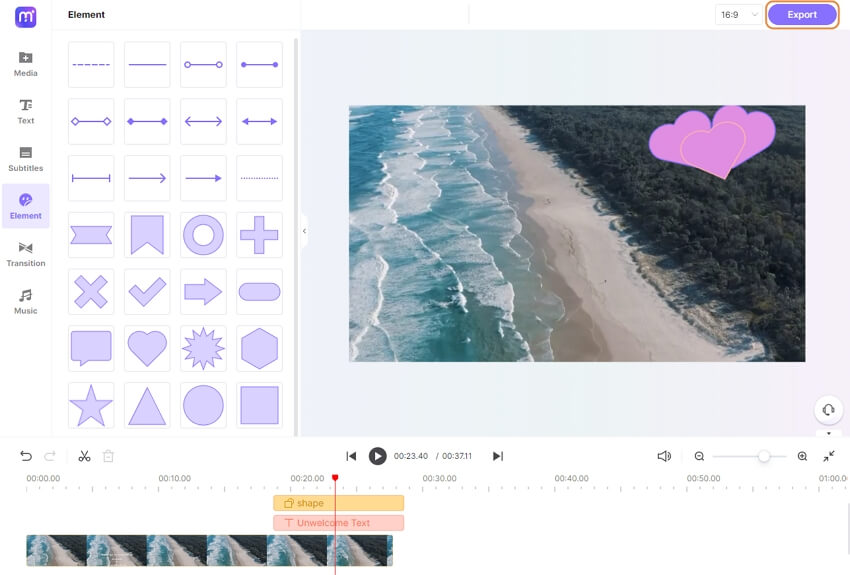 3. Remove Text from the Video via Cropping
Another method of removing text from a video online is cropping. Let us introduce you to the Media.io Online Video Cropper, an effective web-based tool you can use on Firefox or Chrome browsers on any device. This online editor lets you crop out unnecessary video parts without losing the video's original quality. It is free for all users.
Key Features of Media.io Video Text Cropper:
It does not include a watermark on the video output.
It lets you crop videos in dimensions to fit the particular social media platform you want to share the video.
It supports video file formats such as MP4, AVI, VOB, etc., and supported video output formats include MKV, MP4, FLV, 3GP, WMV, etc.
In addition to video cropping, you can trim videos to frame a particular start and endpoint to leave only the parts of the video you want.
It supports all the different output resolutions, including 1080p, 720p, 480p, 360p, and 240p.
How Do You Remove Text from a Video?
To remove text from a video using Media.io Online Video Cropper, follow the guidelines below:
Step 1: Upload the video you want to edit by selecting the "Choose Files" button.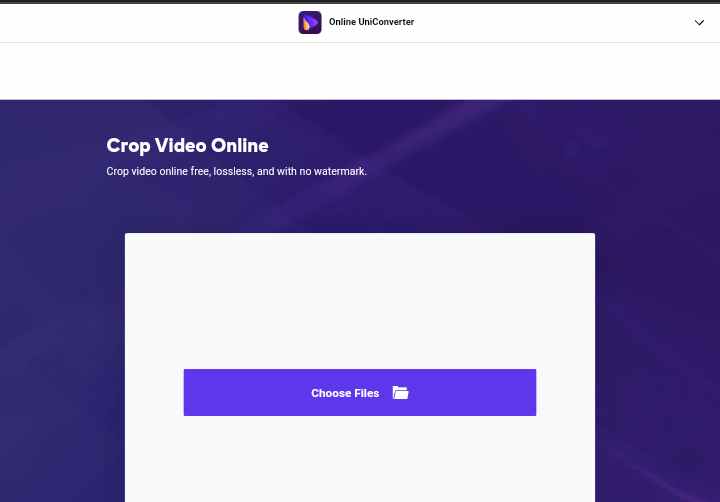 Step 2: You can choose from different preset crop dimensions; alternatively, customize the crop dimensions to suit your preferences. Also, you can select the output format of the video, flip, rotate clockwise and anticlockwise, and adjust the brightness, contrast, saturation, etc. Finally, click "Start" to begin processing the video.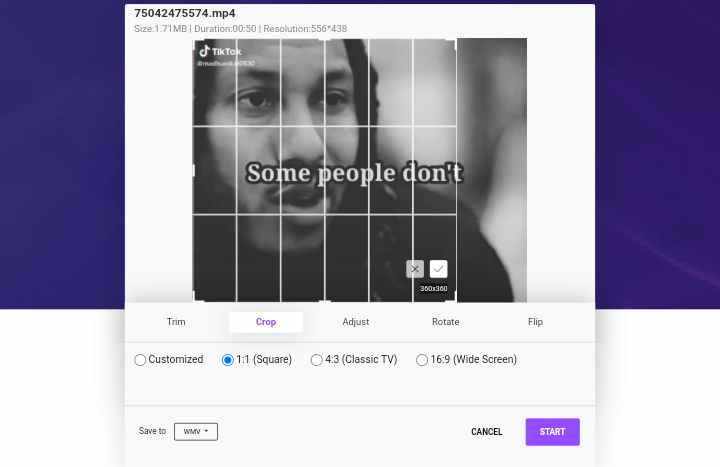 Step 3: Download or save the cropped video.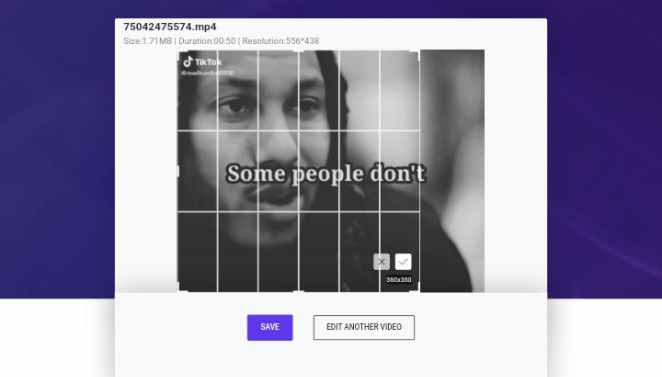 Part 2. 3 Best Online Alternatives to Erasing Text from Video
The first online tool we will be discussing is Video Watermark Remover. This tool effectively removes unwanted text overlays, logos, watermarks, and other unwanted objects from your video. It automatically detects these unwanted texts and makes them vanish from the video, leaving you with a whole new video with no traces of the watermark initially being there. It is an easy tool that does not require you to install an app to use it. Video Watermark Remover has a 4.0/5 rating, and it can be used for free.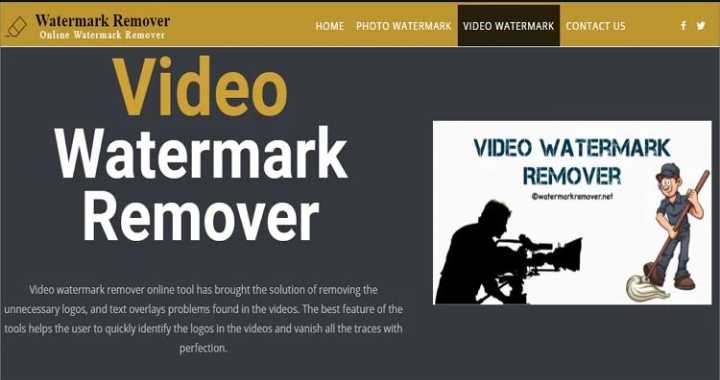 Pros:
It removes texts from videos within seconds, making it one of the fastest online tools with which you can remove text from a video online.
It does not compromise the original quality of any video you upload for editing.
It supports nearly all video file formats and codecs.
Cons:
The site contains ads that interrupt the smooth navigation of the site.
It does not support batch processing of videos which can slow down removing texts from videos.
This is another effective and professional online tool with which you can remove text from a video. It can be easily used by people with or without different digital skills. With Apowersoft, you can remove unwanted texts, persons, date stamps, logos, subtitles, or other elements from images and videos. The pricing of this tool begins at $29.00 a year.
Apowersoft has a five-star rating and many positive reviews, making it a tool you can rely on to erase text from videos online. It also has an app version you can download for offline text removal from videos.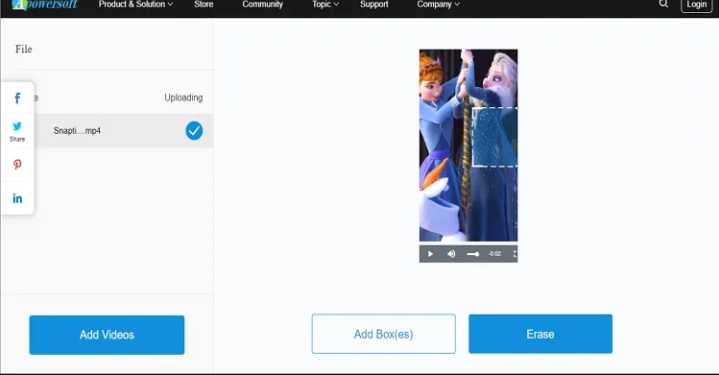 Pros:
It supports different video file formats like MTS, VOB, MP4, MOV, WEBM, FLV, M4V, etc.
It can remove watermarks in different parts of a video, all simultaneously.
It supports batch video watermark removal.
Cons:
It doesn't have other video editing features that users can use to produce better videos.
Video upload and processing are usually slow with Apowersoft Online Watermark Remover.
HitPaw is the third recommended online watermark remover you can try. With HitPaw Online Watermark Remover, you can easily remove text from a video online and add your brand text or logo to replace the one you removed. It also lets you edit the video even while removing the text from the video. Thus, with HitPaw, you can resize the video, crop, cut, rotate, and add background music to the video. It lets you access all these editing features for free. However, if you want more features and a higher file size limit, you can pay $39.95 for a year. It has a rating of 4.5/5, which is on the high side.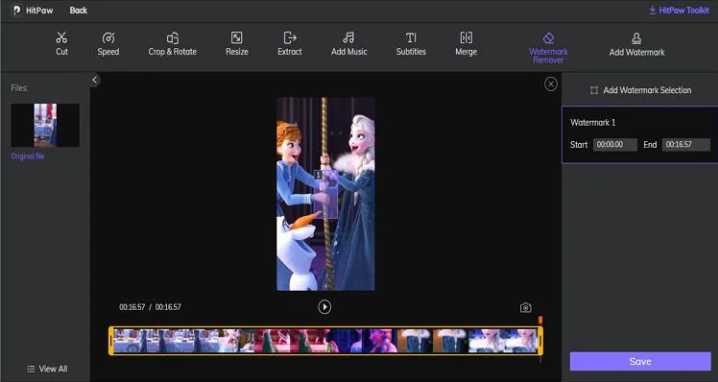 Pros:
It has other unique extra editing features that produce better video output. It even lets you extract the MP3 audio from any video of your choice.
It supports most major video file formats.
It has an intuitive user interface with easy access to different video editing features.
Cons:
It only allows you to process videos of 20MB maximum for free. After that, you have to pay to increase the file size limit.
It only supports video export in MP4 file format.
Part 3. The Best Software to Remove Text from Video on Windows/Mac
The online tools discussed above are the quickest and most convenient options to erase text from video. However, if you have a video of 1GB or above, offline software would be the best option for you. Thus, online tools are limited in the size of video files you can process. Now, you can remove text from video with an app like the desktop software version of Media.io.
Media.io desktop watermark remover is the best app to remove text from video on Windows and Mac systems. Once installed on your computer, you can use the software offline at any time. It maintains the original quality of videos and processes videos with ultra-fast speed. It also supports batch video processing.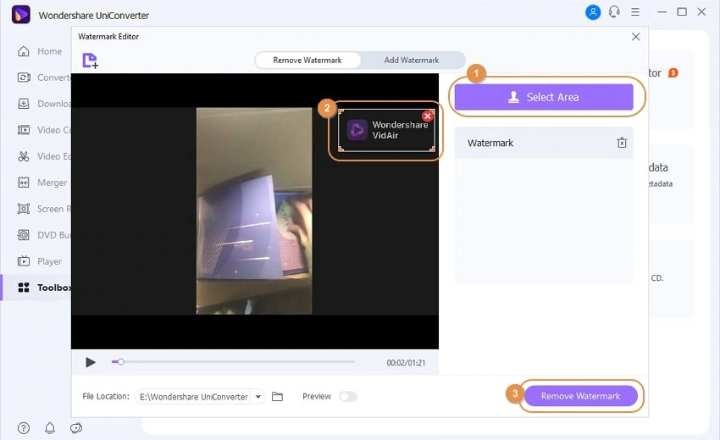 Do you want to know how to remove written text from a video with the best software for text removal from videos? Here is how to remove text from a video with Media.io Watermark Remover desktop software:
Step 1: Launch the Watermark Remover software and go to the "Toolbox" menu. Click on the "Watermark Editor" button to continue.
Step 2: Add a video to edit after selecting the "Remove Watermark" option. You can either drag and drop the video on the page or click "Add Files" and get the video from your local device storage.
Step 3: Click "Select Area" to choose the specific location where the text appears. Crop or highlight the text using the lasso tool.
Step 4: Toggle the "Preview" option and see how the video looks without the text. Disable the "Preview" toggle. Next, under "File Location," select the location you want to store the output video file. Now, click "Remove Watermark" and let the software process and save the video without the text in a few seconds.
Conclusion
Some favorite videos you download online come with texts you may want to remove. This blog has shown you how to remove text from YouTube videos or remove text from Instagram videos. You have also been shown to remove text from a video online using the best online tools. Now it should be a piece of cake for you to effectively erase texts from videos online and offline.