Have you ever come across very low-quality and size photos or imagined how your old family pictures might appear if they were taken with modern technology? Suppose you are a social media influencer or someone who loves sharing images online. In that case, you should know that the internet is full of high-quality images, which are the ones that gain the audience's attention. This is where an ai image upscaler offers you a solution.
An ai resolution upscaler is a tool that is used to improve the quality of your images by up to 800% and enlarge or enhance them. But selecting the best ai image upscaler can be difficult with so many options available out there. These come in handy when working with historical images, stock images that are less sharp, or are small in size than you intend to use. In this article, we have shortlisted the top 9 AI-based image upscaler that can enhance the image by up to 800% for you to choose from.
Part 1. What can an AI Image Upscaler do?
AI image upscaler is a photo enhancer that increases the quality and size of the image. It helps by improving their quality when you want to upload an image on the internet, but it is very low quality, less sharp, blurry, and distorted. It brings back the fine details missing from the image, making them more vivid.
Some of the reasons that make image upscaler very crucial to use are as follows:
Clear images can improve trust as visual content gains more trust than written content.
It enhances the image so that it can appear sharper and more detailed.
The smoother, less-pixelated appearance of the upscaled image makes it more appealing.
You can preview enhanced images on a large screen than they were created for.
The traditional image upscalers were only able to enhance the colors of the images, whereas ai based image upscaler can increase the sharpness, image quality, image size, and colors of the images.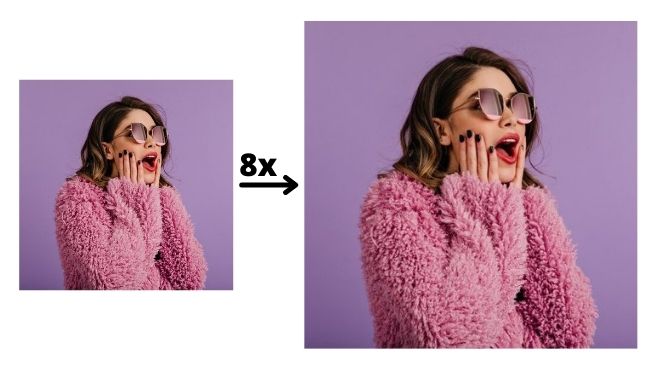 Part 2. 3 Best AI Resolution Upscaler to Enhance Old Photos
We have all wondered what our old family photos would look like if their quality were to be increased; with AI-based resolution upscalers, the enhancement of old photos has become easy and very effective. It looks as if the images were taken with a new camera. We have composed a list of upscale, so feel free to go through the list;
OS: Web-based application available for Windows and Mac
Pricing
Allows one image for upscaling in free mode.
It also has many packages, from 10 images for 0.89$ to 5000 images for 99.99$ per month.
As for the yearly plan, they start from 10 images for 5.99$ to 5000 images for 199.99$.
You can edit, convert, compress, and distribute media files using this one platform. It offers a user-friendly interface and makes working with various file formats hassle-free. In addition, it has many features, such as an image upscaler. It allows users to increase the size and quality of old images with a click. It helps in making blurry and distorted images more clear and more vivid. The images can be scaled between 2x, 4x, 8x, and up to 800% of the original size for better and more vivid results.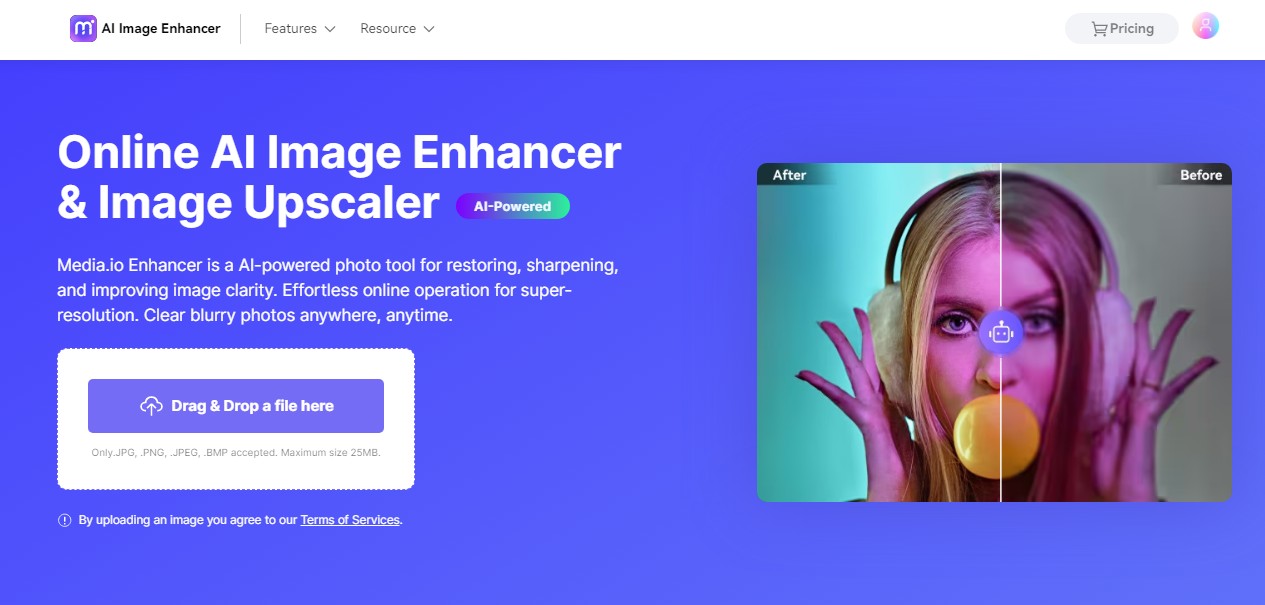 How to upscale your photos with Media.io Photo Upscaler?
Step 1

Upload your photos

First, launch Media.io Image Upscaler on your browser. Next, click the "Upload Images" button to import a local file or simply drag & drop your images.
Step 2

Upscale Image Online

After choosing 2X, 4X, or 8X button, just wait for Media.io AI technology to enlarge your images automatically.
Step 3

Download the enlarged photo

Now click Download button to get your enlarged photo in 4k quality. It's super easy and fast!

OS: A web-based application is available for Windows and Mac.

Pricing

There is a free trial version for you to check out the tool's results in up to 3 images. Besides this, they have two plans:
Standard

20 upscales for $7

Premium

100 upscales for $15
It can enhance your images and give them a new life. The improvement will be on point. It also provides many features, such as smoothing the image, removing noise, and blur from the images. It can scale up to 800% of the original size. The purchased scales can be used easily within twelve months of purchase.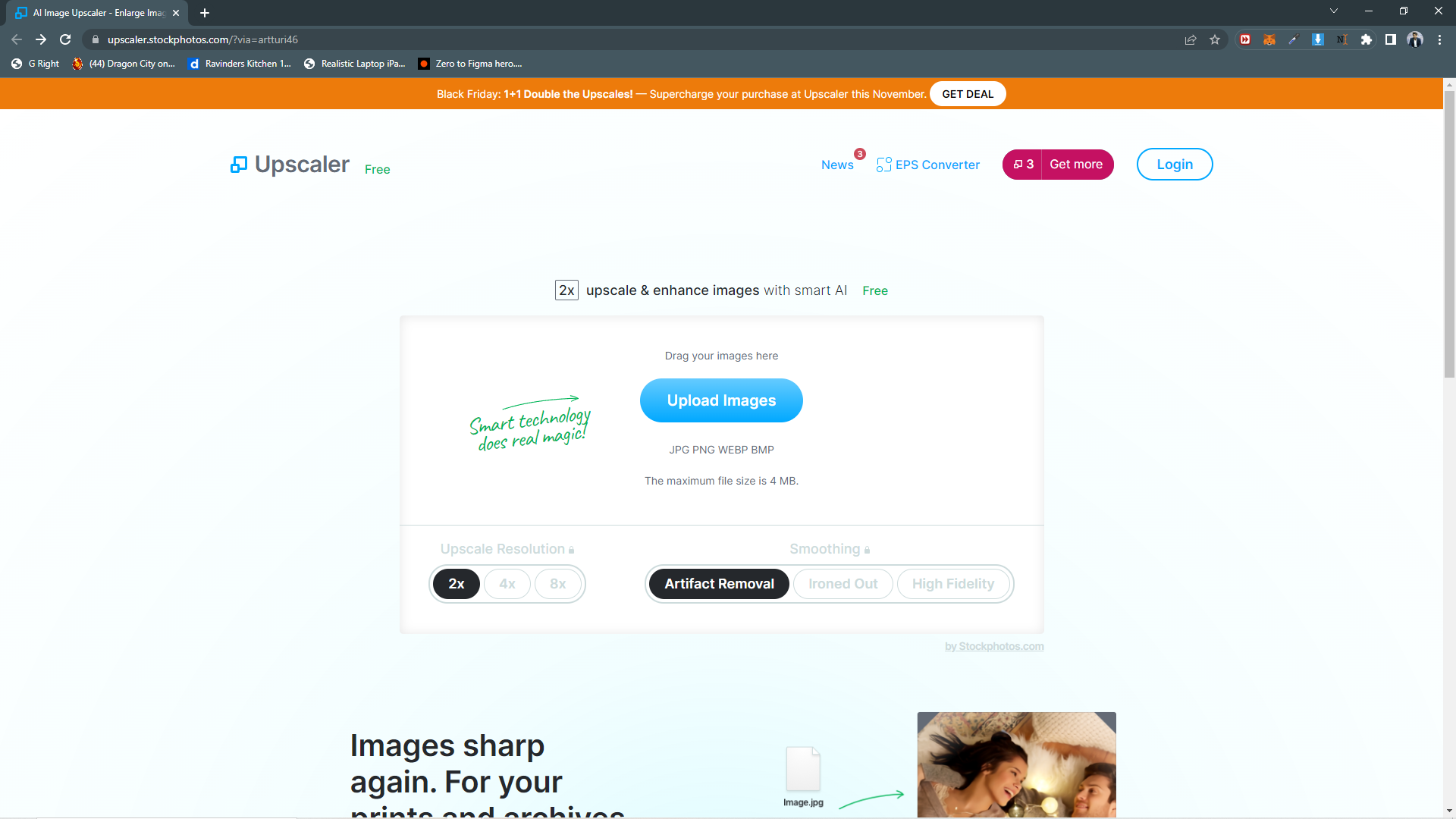 OS: Web-based application available for Windows and Mac
Pricing
One of the most well-liked upscalers for anime graphics, this tool is renowned for providing excellent results when enlarging low-resolution anime artwork. It is free to use, has a simple user interface that makes it easy to understand, and allows 4k upscaling.
Verdict: Medio.io is undoubtedly the best image upscaler I have used. I had a worn-out old-school image, and the colors were almost lost. Media.io worked wonders on the image the result was amazing. It removed the noise from the image, and the colors were enhanced. And the output file is in .png format.
Part 3. Three Excellent AI resolution upscaler to enlarge posters
While working in the design and printing industry, every designer has, at some point in their career, come across an image with very short dimensions that make it difficult for the designer to use the image or print it in posters. While making a poster, sharing causes many issues, such as the dimensions don't match or not being able to be printed, so enlarging the images makes it more clear and able to be printed on larger posters and canvases.
Some of the best ones are stated below:
OS
Web-based application for both Windows and Mac
Pricing
It has free version and subscriptions plans also,
Fotor Pro for $8.99 per month
Fotor Pro for $39.99, billed annually
The tools are used for enlarging and providing video editing tools. The image enlarger allows you to increase the image's dimensions for sharing on a single poster on different social media platforms or devices. It is fast and efficient; you can also download the image resizer app on your phone to edit and upload where ever you want.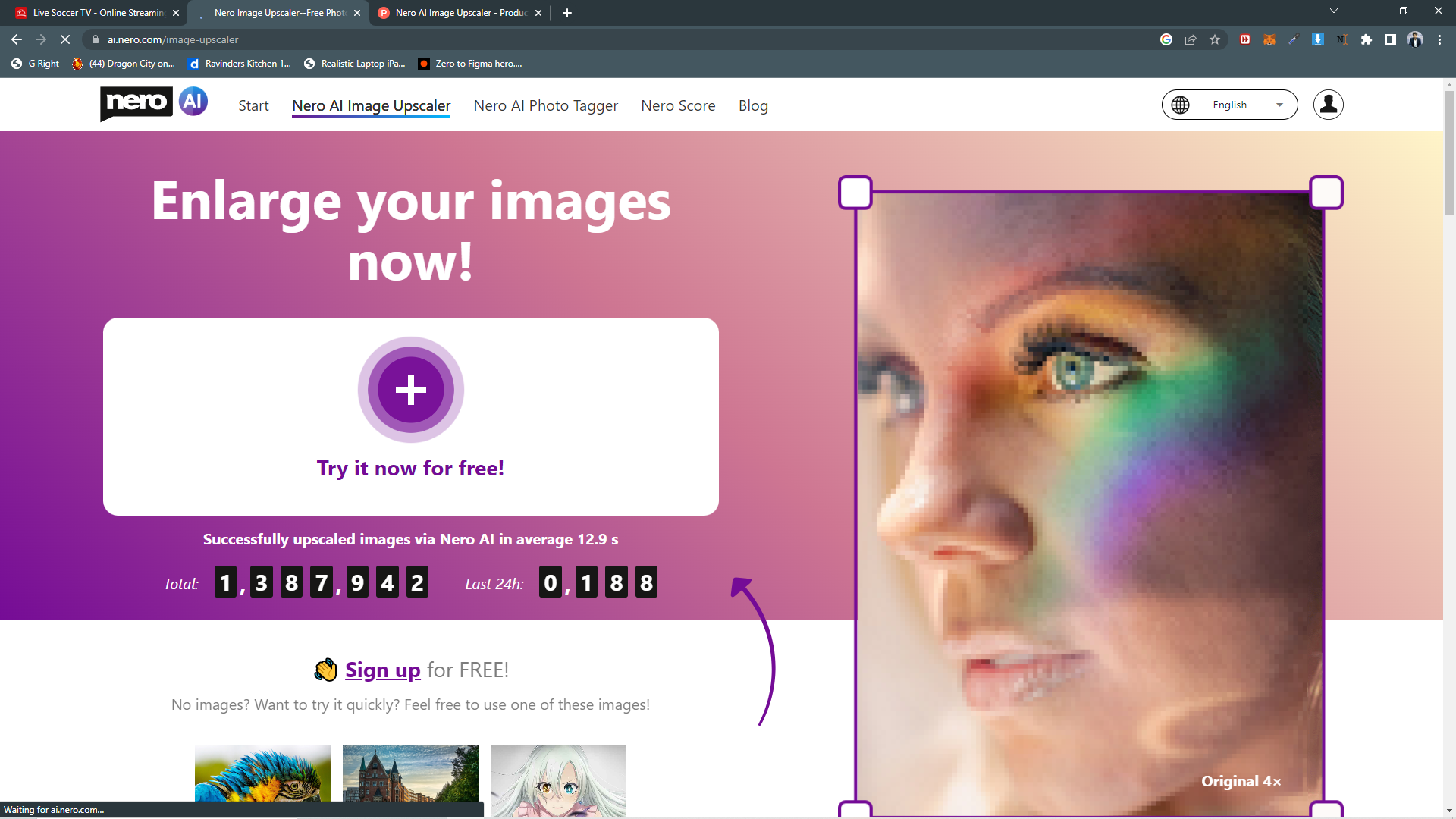 OS: Web-based application for both Windows and Mac
Pricing
Besides Utilizing a denoiser and an optimizer to enhance the results, Nero is also used for upscaling and easily and perfectly enlarging images. It's quite easy to use Nero AI Image Upscaler. The website has an area where you may upload an image, and after a little while, the upscaled version shows up on the right side of the interface. There, the image can be easily downloaded.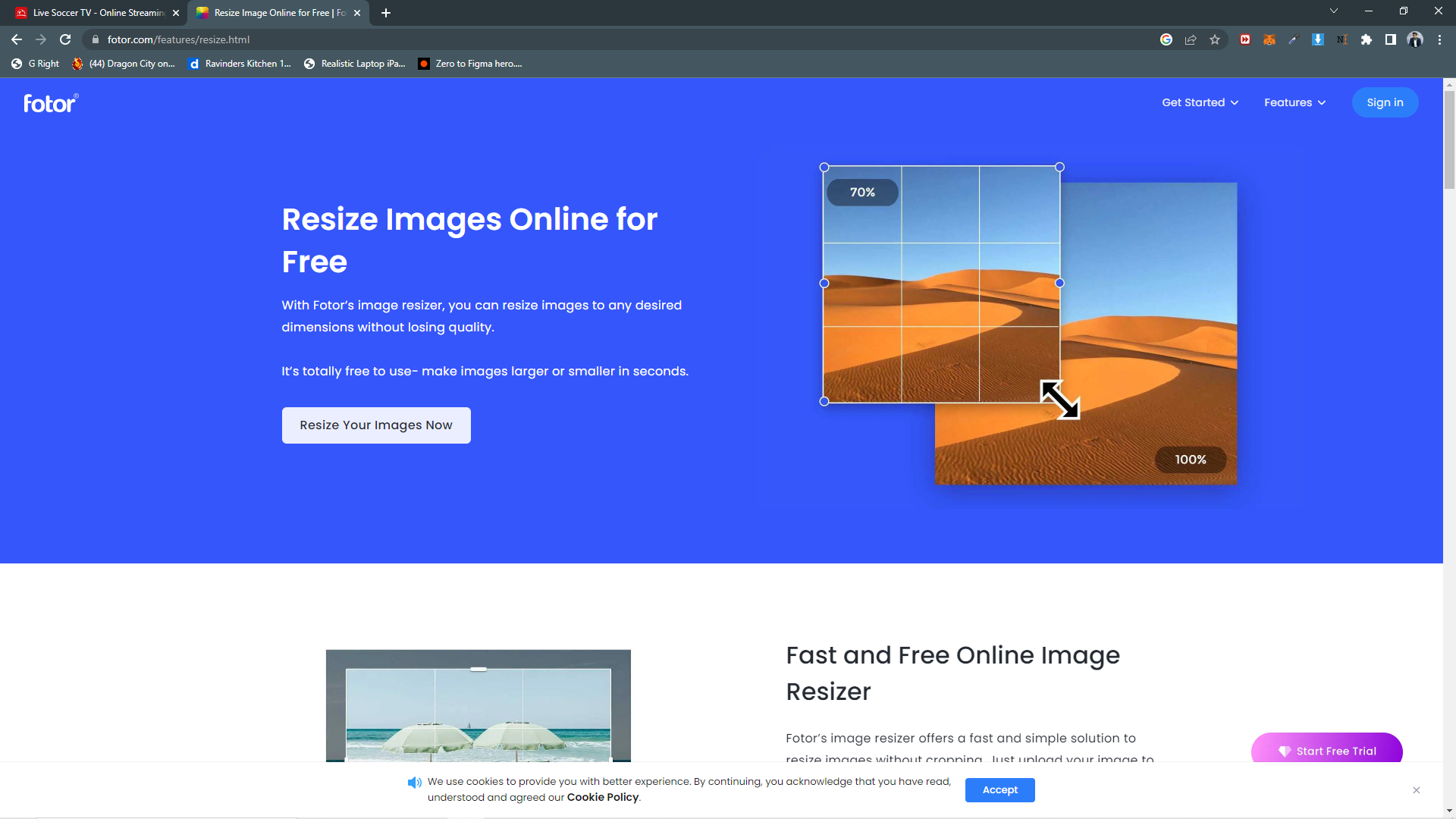 OS: Web-based application for both Windows and Mac
Pricing
Free for upscaling images
$9.90 per month for upscaling 100 images.
$39.99 lifetime for upscaling 100 images.
Aiseesoft Image Upscaler is the best choice, though, if you're looking for an online tool that can do much more than enhance the quality of your images. Upload your photos, sit back, and watch the tool perform its magic. You'll have enhanced photographs that appear better in just a few minutes.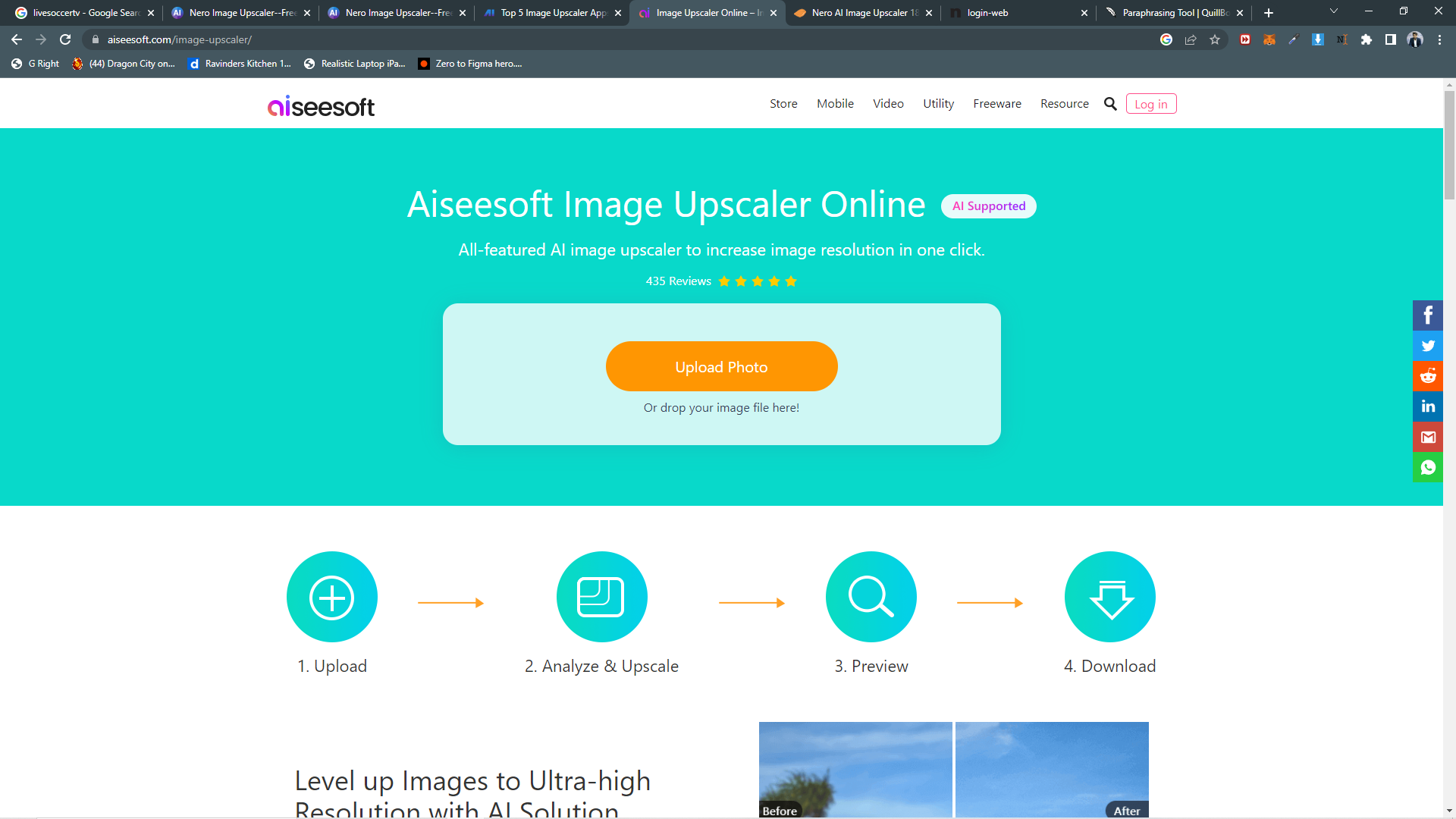 Verdict
Business owners frequently use images to represent their companies online. However, poor-quality images can significantly harm your reputation and online visibility. After using these, the best is Nero upscaler, as it is very easy and free to use, and the tools work wonders on the images.
Part 4. Three Best AI image upscaler to enhance image resolution on commercial platforms
The use of AI-based photo upscalers and enhancers is now possible. These technologies allow you to transform low-resolution photographs into high-resolution ones, frequently with breath-taking outcomes. They are also frequently simple to operate, which makes them a suitable option. We have selected three of the best image upscaler for commercial platforms for you.
OS: Windows and Mac
Price
$9.95 per month
$89 billed annually
You must download an extension for upscaling options on this software separately. Supersharp AI logically stabilizes the entire image by reducing blur on an object's outlines brought on by movement, missed focus, or a shaken camera. Using AI, upscale a photo up to 6X and naturally improve image resolution.
Obtain high-quality wildlife zoom-ins, enhance macro shots, improve antique photographs, crop an attractive frame from a panoramic scene, and more.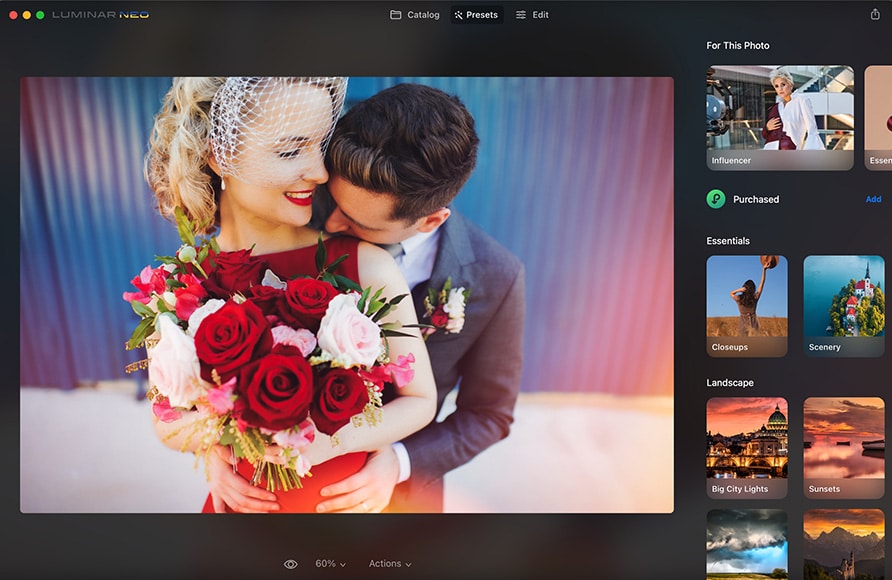 OS: Windows and Mac
Price
Monthly plan $39.95
Yearly plan $99.95
A denoiser, upscaler, sharpener, portrait enhancer, background remover, color calibrator, and colorizer for AI images.
Videos may be upscaled from 480P to 1080P, 720P to 4K, or even up to 8K utilizing AI-based neural networks, in addition to super-resolution upscaling and multi-frame improvement.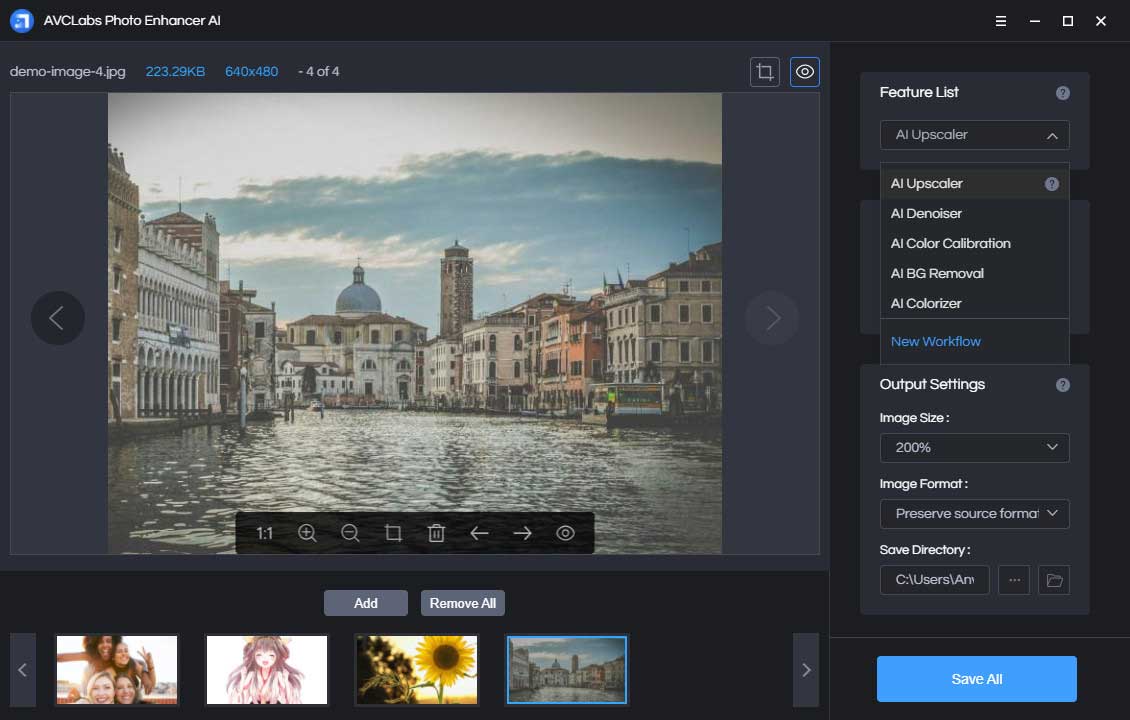 OS: Windows and Mac
Price
Blow Up three lets you magnify anything with precise enlargements. Blow Up 3 is the best tool for printing huge prints of your photos because it preserves the clarity of your images. Blow Up three can be used as an external editor for Exposure or Lightroom or as a plug-in for Photoshop.