Resize Video
Change video size, dimension, resolution with a single click.
Resize video online for social media platforms.
Video Resizer Online
There are many reasons to resize a video online. For example, you might want to crop out unwanted video objects like watermarks and logos. Or, you might simply want to resize the frame dimensions to fit your social media platform. Whichever the case is, use Media.io to resize a video online. With this video resolution changer, you can crop and edit the video's height and width before panning and zooming with great accuracy. That's not all. Media.io allows you to change the aspect ratio and resize video for Instagram, Facebook, YouTube, Pinterest, TikTok, and other platforms in one tap. What's best, you can export the video to multiple resolutions, including 1080. Upload a file and try!
How to Resize a Video Online?
Step 1. Upload Your Video on Media.io.

Launch Media.io Editor App on your web browser and then tap the Upload button to load a local video file. Or, tap the drop-down arrow to record a webcam or the computer screen.

Step 2. Change Video Size & Aspect Ratio

Add the video to the timeline and tap the preview screen. Now double-click and drag the edges of the lasso tool to zoom and resize the video frame dimensions. When satisfied, click the aspect ratio drop-down arrow and choose Instagram, Facebook, Twitter, Pinterest, and more.

Step 3. Set the Resolution Quality and Export the Video.

Now click Export and name your new video. Lastly, choose a video resolution before clicking Continue. Congrats!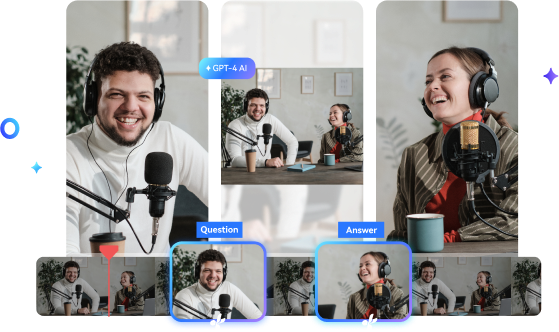 Transform Long Videos into Short Ones Instantly
√ Turn long videos into viral clips. Effortlessly transform lengthy videos into engaging, shareable clips.

√ Edit Video Seamlessly Like As Editing Text

√ AI Voice Cloner Ends Reshoots
Why Select Media.io to Resize Video?
Fast Online Video Resizer
Media.io video size converter online is super-fast and works on any device. You can resize videos on iPhone, iPad, Android, Mac, Windows, and Linux.
Ready-made Social Media Presets
Want to resize and create videos for Instagram, WhatsApp, Twitter, YouTube, and so on? Media.io has multiple pre-made aspect ratio options.
Custom Video Size Freely
With Media.io video size editor, you can scale, pan, zoom, and crop videos to match the frames with a simple mouse click.
Resize MP4/MOV/WebM, etc.
Media.io online resizing tool allows resize and scale any video format without restrictions.
Free Video Resolution Changer
Media.io allows you to export videos in high-quality 1080p resolution for free. It also supports HD qualities like 720p and 480p.
No Watermark, No Ads
Media.io lets you resize video online for free without watermark. Yes, that includes 1080p videos.
Why You Change Video Dimension & Resolution?
Adjust Video Size to Fit Social Platforms
Are you a social content creator or influencer? Then you should know that different social media platforms have varying video requirements. For example, YouTube supports 16:9 videos without varying resolutions up to 2160p. On the other hand, TikTok supports 1080p videos in a 9:16 aspect ratio. So, whichever social media platform you're using, check the aspect ratio and frame dimensions before editing with Media.io.
Remove Unwanted Video Objects
Are you surprised? No, you shouldn't! Cropping and panning a video can help you eliminate unwanted objects like watermarks or other unimportant areas. Although there are many watermark removers, most will likely leave a blur on your video. So, use Media.io Resize Video to crop out the undesired section without blurring the video or losing quality.
Effectively use the Video Screen Space
Sometimes you might want to add texts, comments, or even logos without blocking the viewers. In that case, use Media.io to resize the video aspect ratio and create the necessary black boarders. Remember that you can automatically add your subtitles or captions on the black borders below or above the video. All in all, it's all about maximizing the video screen size.
Reduce Video Size and Compress
Is your computer or phone running out of storage? Fret not because you don't need to uninstall apps and delete files on your PC. Instead, simply resize the video and reduce the resolution quality. It's common knowledge that a lower video resolution creates smaller video files. However, the quality of your video will reduce. Note also that Media.io features an excellent Online Video Compressor for resizing the video files size without quality loss.
FAQs About Resizing Video
1. How to resize video online free without watermark?

Use Media.io to resize video online without watermark for free. With this online program, you can crop and resize video for Facebook, Instagram, Twitter, and more. Follow me:
Step 1. Open Media.io Editor App and then upload your video. You can also record a webcam or computer screen.
Step 2. Simply drag the freehand selection to resize the height and width of the video on the preview interface. Also, open the aspect ratio drop-down menu and choose wanted preset.
Step 3. Click Export. Name your video, and choose an output resolution. Finally, tap Continue to create your video.

Note: Often, resizing a video via online tool like kapwing resizer, will leave your video with a watermark. In that case, use Media.io Watermark Remover to erase video watermark and logo with ease.

2. How to resize an MP4 to make it smaller?

Compressing your video is super simple with Media.io Resize Video tool. Just choose a lower video resolution, like, let's say, 720p or 480p. But for the best results, employ Media.io Video Compressor to compress your videos losslessly. Besides MP4, you can also resize MOV, 3GP, MTS, WMV, and other formats. It's free to use, by the way!

3. How to resize video for Instagram Story, Feed, and IGTV?

You can easily resize video for Instagram Story, Instagram Feed, or Instagram TV on iPhone, Android, or PC using Media.io Resize Video. Here are the steps:
Step 1. Upload your video on Media.io Resizer and then add it to the timeline.
Step 2. Edit your video by cropping, zooming, panning, splitting, trimming, and so on.
Step 3. Set the aspect ratio as 9:16 (Instagram Story), 1:1 (Instagram Feed), or 4:5 (Instagram TV). Finally, tap Export.

4. How to change video resolution online?

Is your 4K video taking up too much space, or do you want to convert a 480p video to 1080p? Media.io Video Resizer can meet your goal. With it, you can export your resized video to 480p, 720p, or 1080p for free and without watermarks. Just upload a video and get going.

5. How to resize video for Windows/Mac?

There are many desktop video resizer softwares for Mac or Windows users. However, to enjoy an unmatched simplicity and additional features, use Media.io to Resize Video. Just fire up this program on your browser and then load your video. After that, resize the video frame by dragging the lasso function on the preview screen before choosing aspect ratio and resolution. That's all!
Jackson Knite
I've just used this program for a few weeks, and I can't get enough of it. The fact that I can export 1080p videos for free without watermarks is a significant plus. Cool!
Frank Sanchez
Excellent! This online video resizer helps me resize video for Twitter and Instagram Story easily. No watermarks or hidden charges.
Dean Ross
I have no problems with this video dimension converter so far. It's super simple to use. I also like the accurate auto-subtitle editor.
Jake
An excellent utility software. It does precisely what I want it to do, especially when upgrading the video aspect ratio. I hope to see 2K and 4K outputs soon. Nice one!
Wes Stinger
I honestly love the ease of use in this all-in-one program. There are no annoying adverts or hidden charges. Just an honest service. Recommended!
Resize video online without quality loss
in Seconds.
Make video editing easy like never before!