Kinemas is a top-rated free video editing app with Android and iOS versions for mobile phone users. Also, you can subscribe to a premium version of the app. The watermark issue comes in as the free version of the app adds watermark on any video you edit, unlike the subscribed version.
A common question that arises amongst users of this fantastic app is, "How do I use KineMas without a watermark?" To use Kinemas without the watermark logo appearing on it, you can either get the premium version as mentioned above or get a modified lite version of the app. However, the best option is to get a Kinemas watermark remover app. This blog will show you proven apps you can use, as well as a fantastic way to remove the Kinemas watermark online. Keep going!
Part 1. 9 Proven Ways to Remove Kinemas Watermark Easily
When it comes to removing watermarks from Kinemas, there are nine helpful tools that you can use across all operating systems and devices. These tools are mentioned below:
Media.io Watermark Remover
Wondershare UniConverter Watermark Remover
FilmoraGo
Apowersoft
Remove & Add Watermark
Smart Video Crop
Remove Watermark, Easy Retouch
Video Eraser- Remove Logo
Kkapps Remove Logo from Video
1. How to Remove Kinemas Watermark Online?[Easiest]
The easiest way to remove the Kinemas watermark online is by using the most recommended Media.io Online Watermark Remover for all devices and browsers. You can freely remove watermark from Kinemas videos online with this tool. This watermark remover can help you quickly remove those unwanted stamps, logos, and texts from your Kinemas videos. It works effectively in getting rid of both static and dynamic watermarks on your videos. It supports all the standard video file formats, including WMV, MP4, FLV, M4V, MOV, MPG, AVI, etc. Additionally, this free tool is an all-in-one online video editor that helps you trim, crop, compress, flip videos, and add background music to them.
Visit the Media.io Watermark Remover site and follow these steps to remove the Kinemas watermark online:
Step 1: Add the Kinemas video containing the watermark you want to remove.
Step 2: Choose and highlight the area that carries the Kinemas watermark you want to remove.
Step 3: Select "Download" and export the video you have edited watermark-free!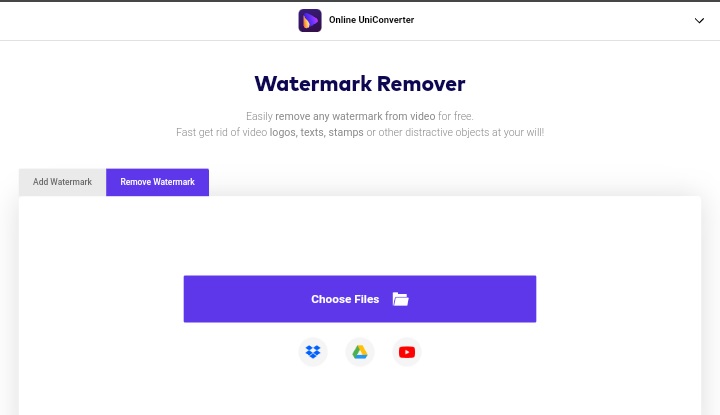 2. How to Remove Kinemas Logo from Multi Videos?
If you want to batch remove watermarks from several Kinemas videos, the ideal tool you need to use is the Wondershare UniConverter Watermark Remover Software for PC and macOS. Note that you do not need professional skills to use this software on a desktop. In addition, it supports over a thousand video file formats, giving it a wide range of flexibility.
To quickly remove the Kinemas watermark for PC with the Wondershare UniConverter Watermark Remover app, do the following:
Step 1: Download and Launch Wondershare UniConverter.
Download and install the software on your computer system. Go to "Toolbox" > "Watermark Editor" to get started.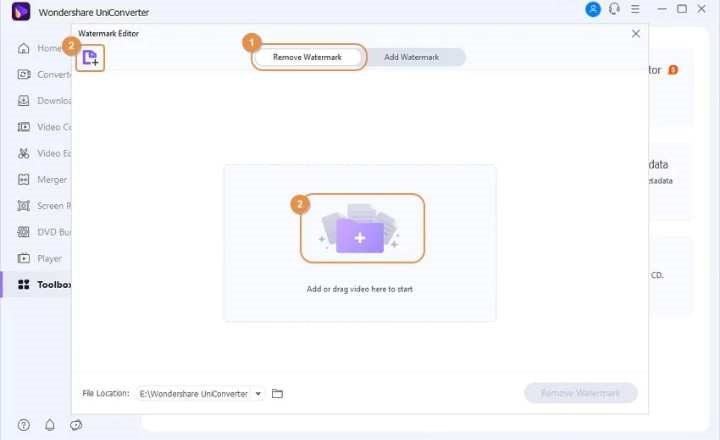 Step 2: Upload the Kinemas Video(s).
Go to the "Remove Watermark" section of the Watermark Editor and select "+" to add the Kinemas video you want to edit.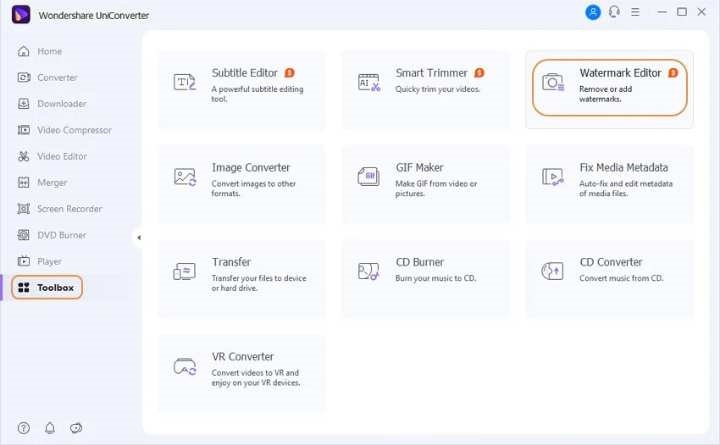 Step 3: Remove Kinemas Watermark from Video.
Highlight the part of the video containing the watermark you want to remove using the rectangular box provided by the Watermark Editor. Then, choose to erase the watermark and wait for the process to be completed. Wondershare will automatically save the video to a chosen local storage location.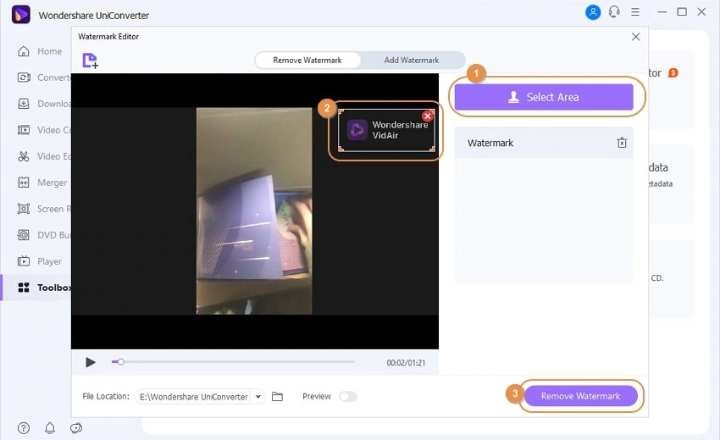 3. 7 Best Kinemas Watermark Remover Apps for Android/iPhone
FilmoraGo Video Editor & Maker is one of the best Kinemas watermarks remove apps for Android and iOS mobile phones. It is an influential professional but easy app that you can use to remove the watermark from your Kinemas videos before posting them on apps like YouTube.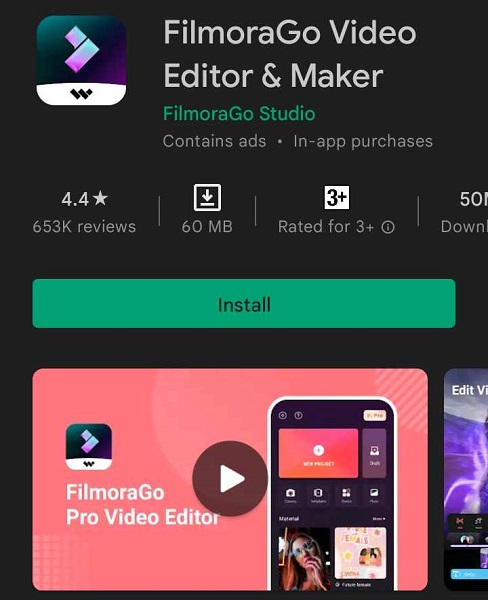 It supports all the video file formats out there.
Videos can be exported in HD quality after editing out the Kinemas watermark.
It supports the different aspect ratios of various social media platforms.
Apowersoft is a popular watermark remover for videos you create, such as videos from Kinemas. In addition, you can add your watermark logos or texts on videos after removing the Kinemas watermark. It works on Android devices and can be downloaded from PlayStore for hassle-free use.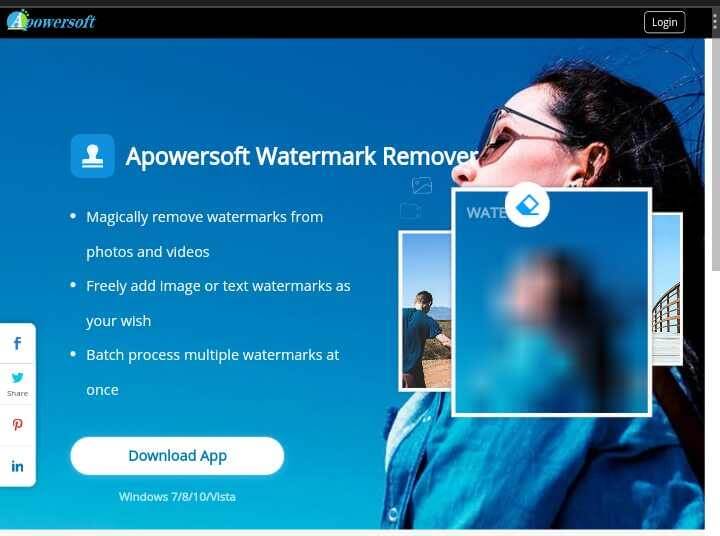 It supports the batch removal of different watermarks from several Kinemas videos simultaneously.
You can remove watermark from Kinemas videos using three different selection methods; you can also choose the specific part of the video you want to edit out the watermark without affecting other parts of the video.
This Kinemas watermark remover appproduces video outputs in the same quality as the original video file you upload; it does not compromise video quality.
This app is not only for removing watermarks from videos but also for adding your logos to videos. It is accessible on PlayStore, and it is simple to use if you want to remove the watermark from Kinemas videos.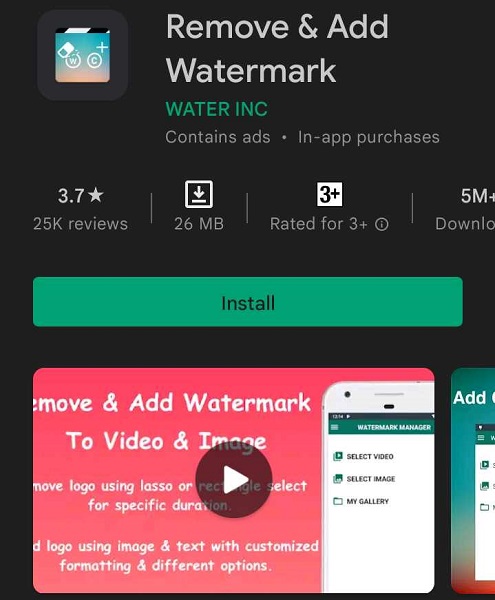 It removes that selected Kinemas watermark through the process of interpolation. Alternatively, you can crop out the area containing the watermark.
It lets you quickly remove logos/watermarks from videos and even images on your Android mobile phone.
Once you remove the watermark, you can directly share your video on all your social media platforms.
Crop any part of any video you want using the Smart Video Crop app for Android. This Kinemas watermark remover app is free to use, but it offers purchases within the app to upgrade features and increase limitations.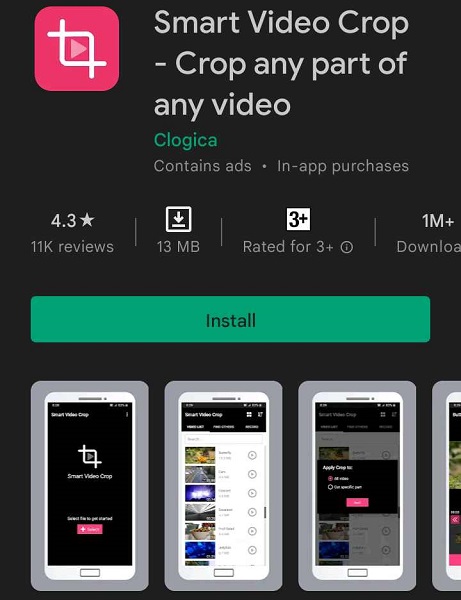 It helps you remove watermarks from a video by cropping out the part of the video containing the watermark.
The aspect ratios available on Smart Video Crop include 1:1, 16:9, 4:3, 3:2, and free customized crop. It implies that with this app, you can edit videos and share them on all the major media platforms based on the aspect ratio suited to them.
It uses significant video file formats such as 3GP, MP4, and AVI.
This is a free app to remove the Kinemas watermark on Android mobile phones effectively. It is a highly rated app on Google Playstore that helps you remove watermarks or any other unwanted objects from your videos.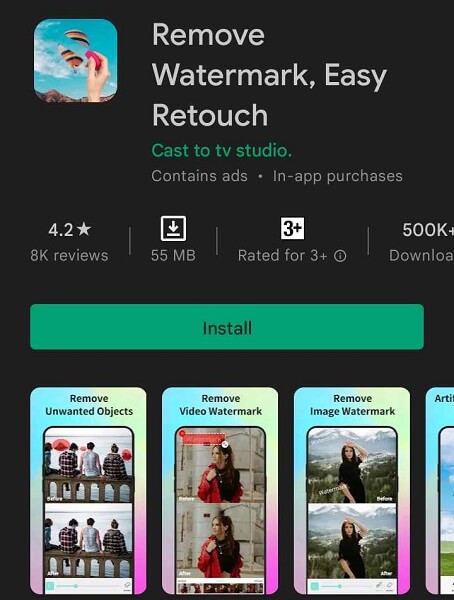 The app lets you wipe out the Kinemas watermark to removeit in seconds. Another method of eliminating watermarks is letting the app's Artificial Intelligence recognize the watermark and automatically erase it.
It does not compromise the quality of videos even after removing the watermark.
You can preview the video after removing the Kinemas watermark and before you share it on different social media platforms.
Video Eraser, as the name implies, is a professional app that helps you erase logos such as that of Kinemas from videos. It has been designed for iPad and other iOS devices to be downloaded from the App Store. Video Eraser - Remove Logo is a good watermark remover for Kinemas videos, so it is highly recommended.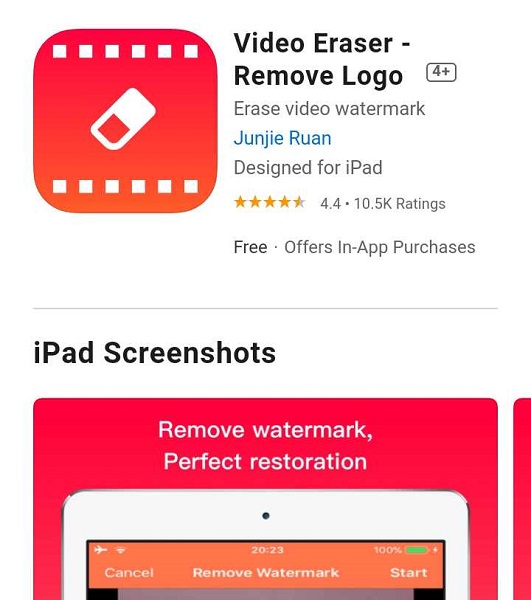 It supports the major video file formats, which include MOV, MP4, 3GP, and M4V at the moment.
It provides a clean output after removing the watermark from the video; hence, the interface is simple and friendly.
It lets you remove watermarks using the cut video tool with self-explanatory features/toolbox.
This is a free app for removing logos from videos on Android devices. You can easily remove the logo from a video on this app. Hence, it is ideal for removing the Kinemas watermark from your videos on Android.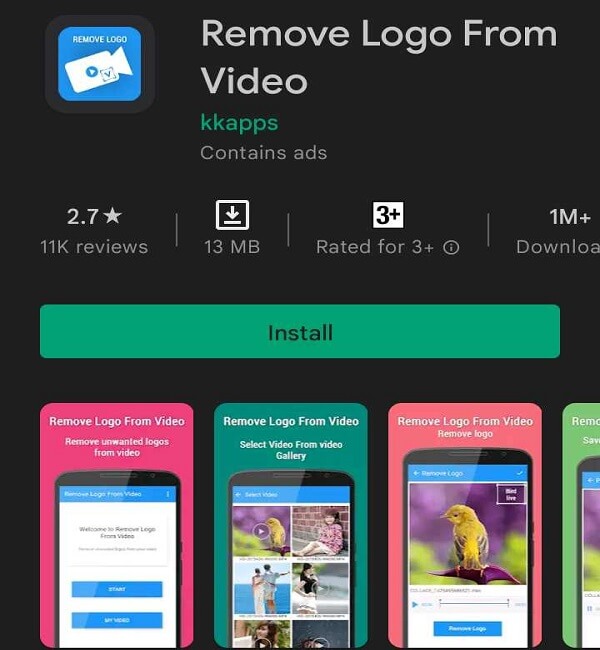 The steps to remove logos or watermarks from videos are simple; center on the part containing the Kinemas logo and tap to remove, and that is it!
You get to choose which unwanted logo to remove from your video, so you do not have to remove your brand logo in the process.
It is a free Kinemas watermark remover app but contains ads as most free editor apps are custom.
Warm Reminder: If you are looking for a convenient way to remove the Kinemas watermark from your videos, the online watermark remover is more recommended over other tools.
Part 2. #10 Way: Download Kinemas Mode APK to Remove Kinemas Logo
Apart from using the powerful Kinemas watermark remover apps mentioned in the sections above, there is another helpful way you can remove the Kinemas watermark: Kinemas Mod Apk (Modified or Cracked Android Package). The Kinemas watermark remove Apk is the free alternative to the paid Kinemas Premium version. The modified version of the original Kinemas Apk lets you unlock the video editor and create videos without watermarks. In addition, it comes with unique features like overlays, green screen, transition effects, media lays, different font styles, and so on. The Kinemas Watermark Remove Apkpure can be downloaded on Android devices and easily used.
To achieve the Kinemas watermark, remove free Apk, follow these steps below:
Download KineMas Mod Apk on your phone. Go to your phone settings, click on Security and ensure you enable the "Unknown Sources" toggle to allow you to use this third-party app on your phone. You can now install it.
Launch the Kinemas editor and add the video you want to edit or create a new video.
Edit the video by adding text, trimming and merging video clips, adding filters, adding or changing background music, etc.
Export the edited video without a watermark to your device storage or any social media of your choice.
Conclusion
This blog has provided you with the best practical ways to remove the Kinemas watermark from videos in 2022. More interestingly, these methods are all for free! You can even get a free modified version of Kinemas that lets you create and edit videos without watermarks. Use any of the methods suggested in this article, and you do not have to pay to use Kinemas without a watermark.