Are you looking for the best Windows audio recorder? Well, this article will serve you the best in finding out the ideal audio recording software for Windows. Also, check out the essential factors required to select the best audio recorder in the later sections.
Part 1. Voice Recording and Editing Software for Windows 10/8/7
To get the best performance, look at those 10 audio recording software for Windows.
WavePad Audio Editing Software
URL: https://www.nch.com.au/wavepad/index.html
Price: Standard Edition $50, Master Edition $100
We are starting our list of top picks with the most accessible software to edit your audio files quickly. With WavePad, you can edit audio files or create voice-over. It also includes different tools to enhance audio, such as high and low pass filters, noise removal, amplifier, compression, equalization, and normalization, to clean the wrong sound. It is available both free and paid versions. The free version is only suitable for non-commercial while the paid version is ideal for commercial purposes.
What We Like:
Straightforward interface.
A vast range of cleanup tools.
Also able to cut and insert different audios within one piece.
What We Don't Like:
Only works for a single audio track.
Multitrack requires the extension of the software.
The free version only for non-commercial use.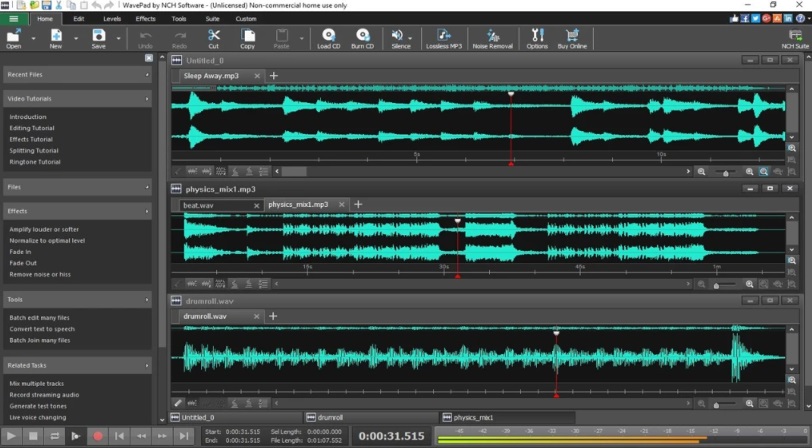 URL: https://www.audacityteam.org/
Price: Free
Audacity is a free Windows audio recorder that is also compatible with Mac. It is an open-source audio editing software that only suits if you are looking for a tool with conversion and assembly features. The user interface is much simpler, although it seems outdated. Its noise reduction function is noteworthy. Once you get used to the tool, it automatically analyzes and filters the unwanted noise from your audios. It is compatible to work with 32-bit/384kHz sound along with inbuilt dithering. The software also supports the mix, import, and combining of audio tracks and to render the output as one.
What We Like:
A free and open-source tool.
Ideal for sound editing with different options.
Supports batch processing and multitrack audio.
What We Don't Like:
Instable editing.
Outdated interface.
Messy dashboard.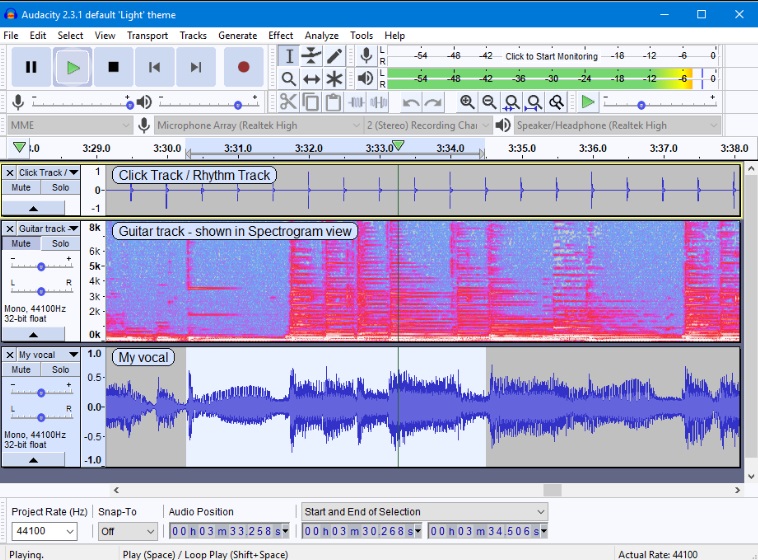 Price: $50
Zynewave Podium software supports a lot of features such as VST plugins, audio recording, external MIDI, ReWire, and audio gear. It helps to record any audio easily and integrate it into generated digital audio. Podium software is also compatible with advanced mice. Its embedded editor allows adjusting settings without opening a new window. Users can easily zoom and click, change the viewed area edges, or click the programmable button, and so on. Overall, it is the best audio recorder for Windows.
What We Like:
Excellent UI and navigation.
Attractive interface.
The free version has a few restrictions.
What We Don't Like:
Not compatible with Mac.
Podium Free comes with some restrictions.
Requires learning to use the software.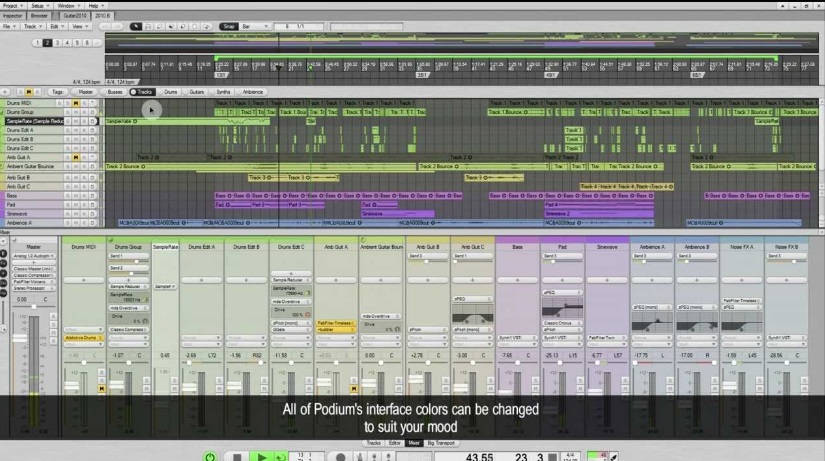 URL: https://ardour.org/
Price: NA
Ardour is also an open-source Windows audio recorder and editing software compatible with Windows, Linux, and Mac OS. The interface is simple and clear to understand. It is free, as well as has paid versions. In the free version, you can try all the features except for the limitation of ten minutes of project length. It allows you to export, save, and other advanced features with some flaws in the free facility. The software provides multi-display support.
What We Like:
Open-source.
Great compatibility.
The free version.
What We Don't Like:
Uses too many plugins.
Sometimes difficult to use.
For advanced features, you need to purchase.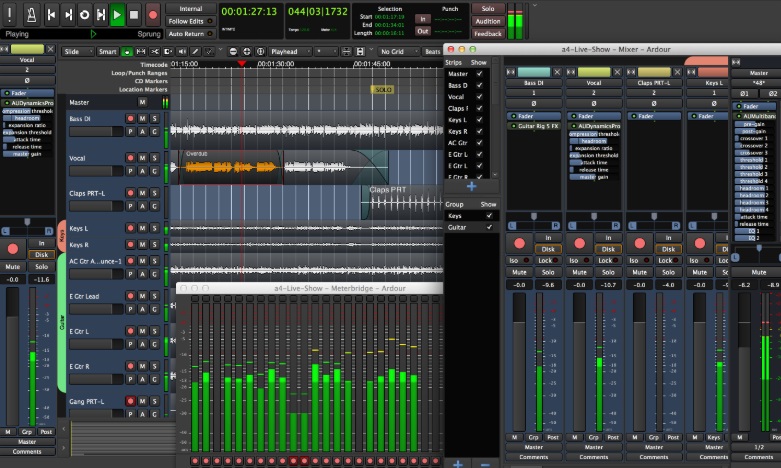 URL: https://www.microsoft.com/en-us/p/Windows-voice-recorder/9wzdncrfhwkn?activetab=pivot:overviewtab#
Price: Free
Windows Voice Recorder is made specifically for Windows. The software is free and can be used to record lectures, sounds, events, and interviews. You can also mark important moments while you edit, record, or play them back. This software is available on HoloLens, Mobile, PC, and Hub devices. The user interface is intuitive and very simple. This audio recording software for Windows is known to be the best for voice recording on Windows.
What We Like:
Easy to use interface.
Great for voice recording.
Good compatibility on Windows.
What We Don't Like:
May get loaded after some use.
Not available for Mac users.
Terrible operations.
URL: https://www.acoustica.com/mixcraft/
Price: Mixcarft $39, Mixcraft Pro $79
Acoustica Mixcraft 8 Pro offers unlimited MIDI and audio tracks. The professional interface also allows video editing and real-time live loop triggering. The Mixcraft 8 Pro studio includes 57 effects and 22 virtual instruments. The software also contains world-class plugins from Celemony, Izotope, Studio Devil, ToneBoosters, 123 Creative, G-Sonique, and more. It is also one of the lightest audio recording software for Windows with minimum loading time.
What We Like:
Worthy features for the price.
Professional.
Lightweight.
What We Don't Like:
Some too basic effects.
Hard to use by a beginner.
Expensive.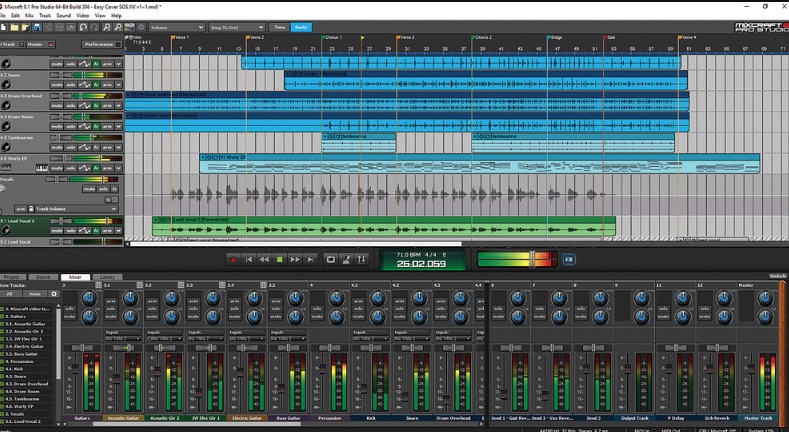 URL: https://www.presonus.com/products/studio-one/
Price: Artist $99
Studio One 4 is a kind of an old workstation that easily records audio and lays downbeats. It is compatible with Windows, macOS, and Browser. This PreSonus product is used by both amateurs and professionals to make live recordings. It comes in three versions, including the Prime (free), Presence XT sampler, and an Artist. The free version includes unlimited MIDI and audio tracks, drag and drops compiling and editing, and basic plugin-effects. Its Presence XT sampler comes with 1.5GB instruments. The Artist contains advanced editing tools, including multi-touch support on Windows, event-based effects, and Fat Channel track plugin, etc.
What We Like:
Fast workflow for composing music
Great audio recording features
Attractive interface with drag and drop facility
What We Don't Like:
Difficult import session
Weak MIDI editing
Mixing console cluttered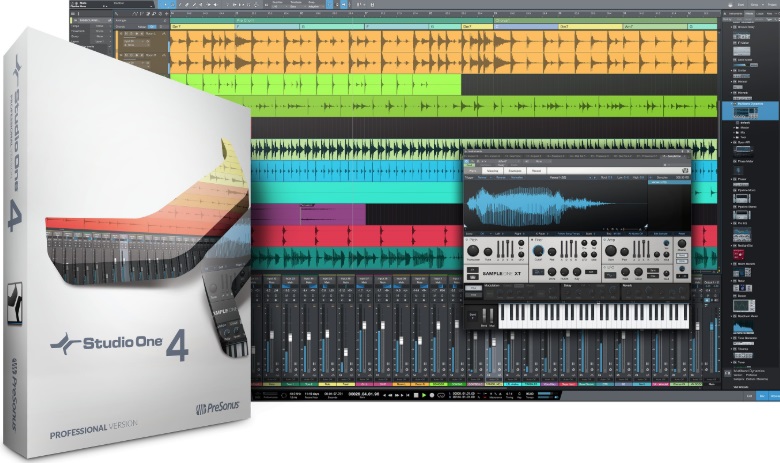 URL: https://www.apowersoft.com/streaming-audio-recorder.html
Price: $39.95
Streaming Audio Recorder offers excellent options for recording and listening audio. You can record or listen to any audio from a favorite website or convert audio files into different formats. You can also listen to the streaming audio within the software. Overall, the software captures audio in various forms.
What We Like:
Supports multiple file formats
Inbuilt radio
Good capturing of audio
What We Don't Like:
Clunky interface
Difficult to share
Requires installation of Virtual Sound Card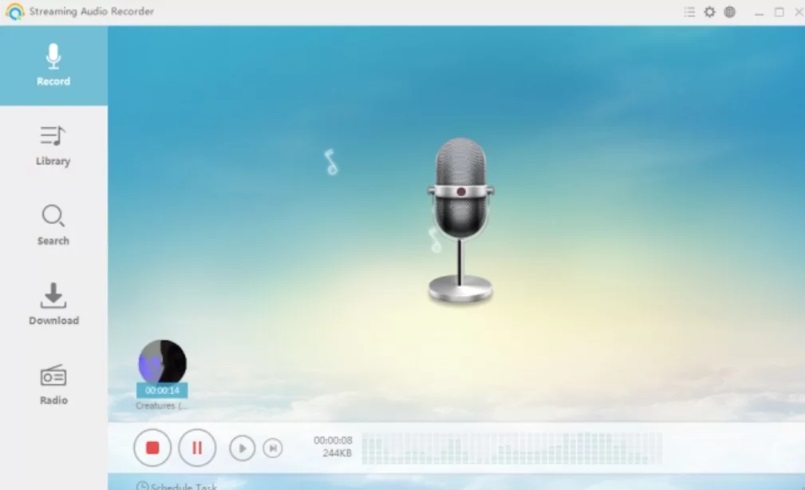 URL: https://www.virtualdj.com/download/
Price: $19/month; $299 Infinity
Virtual DJ is easy to use and also cheap to buy. The software is compatible with both Windows and Mac operating systems. It is an audio mixer and stands best for DJ mixing. It requires learning and practice to work with every type of DJ without using any hardware. You can also use it with popular mixers and controllers available in the market with auto-detection and plug and play features.
What We Like:
Supports multiple videos, audio, and karaoke formats
Also creates stunning visuals
Innovative technology for DJ mixing
What We Don't Like:
Minimum requirement Windows 7 and Mac OSX 10.8
Instable MIDI mapping
Expensive DVS controls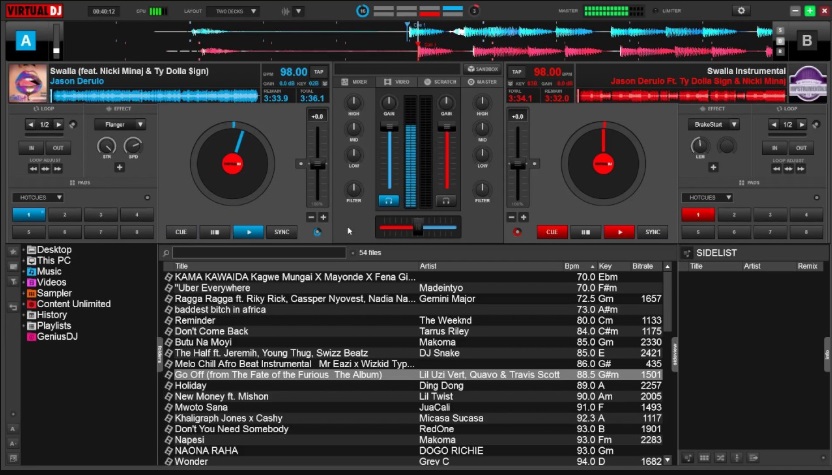 URL: https://easy-hi-q-recorder.en.softonic.com/
Price: NA
Easy Hi-Q Recorder also comes in the best audio recording and editing software for Windows 7/XP, 10, and 8. The software is compatible with recording audio applications. Its features include timer and scheduler, multiple audio-in options, and other voice-activated recording options.
What We Like:
Least expensive
Scheduled recordings
Compact program
What We Don't Like:
Instable interface
Troubleshooting program
Lacks significant effect and filter options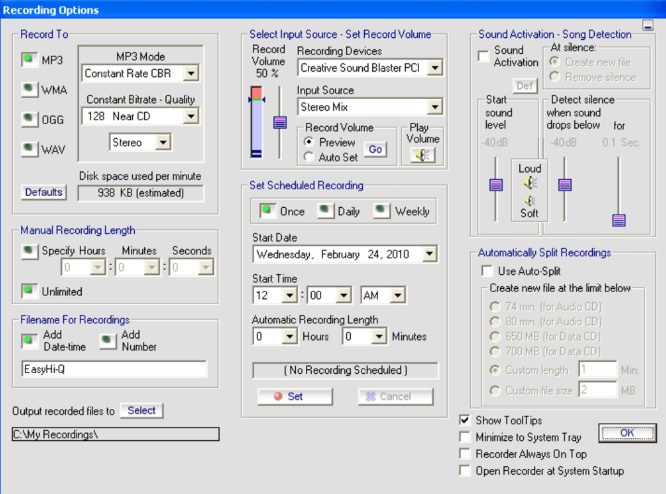 Part 2. How to Select an Excellent Audio Recording Software
Now, there are some crucial factors to look for before investing in audio recording software. Whether you need to record audio for lecture, meeting, or interview, an audio recorder is one of the ideal business tools to consider.
1. Audio Quality
Selecting the best audio recorder for Windows phone or Mac operating system requires you to check for the audio quality. Higher the bitrate, crystal clear will be the sound.
2. Memory Space
The right amount of space also supports the time length you are going to use for recording.
3. Editing Functions
Consider the editing functions in an audio recorder to grab the editing capabilities along with recording function.
4. Ease of Files Sharing
Sometimes facility of file sharing is difficult with Windows or Mac, so it is preferable to check the ease of sharing data between devices.
Summary
Audio recording and editing are somewhat tricky tasks and thus require professional software for the purpose. The top 10 Windows audio recorder above may well suit your needs if you are looking for a simple, yet pro tool.
Here will introduce an all-in-one software, which is called Wondershare UniConverter. It supports free download in Mac and Windows operating system. Edit, convert and compress video, image, or audio file are the main features of it. Want to know more information? Check the below.
Wondershare UniConverter
· Wondershare UniConverter allows batch file upload and process at one time.
· Convert videos to 1000 formats at 30X faster speed without quality loss.
· It allows you to transfer videos from computer to iPhone or Android mobiles without using iTunes.
· Using UniConverter Toolbox function, includes convert images, create GIF, burn CD, rip CD, cast to TV, and fix Meta tags with just a few clicks.
· Powerful DVD toolkit of UniConverter helps you to create and securely edit DVD files.