There can be various reasons that can cause the pictures to become blurry or pixelated. If you have text images that are in low-resolution, no one would be able to read the text. Moreover, if you have a blurry photo of your product that you want to upload on your E-commerce store, it can create a bad impression of your presentation. For such circumstances, you would need a professional photo enhancer app to improve your image quality.
By reading this article, you can discover multiple photo enhancer tools to increase the visual quality of your captured pictures.
Part 1: The best 4 photo enhancers online free
Do you want to access photo enhancers online? In this section, you can learn about free photo enhancers through which you can get rid of flaws in your photos free of cost.
Media.io's Photo Enhancer is an easy-to-use online photo quality enhancer that allows you to enhance the quality of your digital photos quickly and easily. You can transform your photos from dull and lifeless to vibrant and stunning with just a few clicks. Moreover, it's also an AI-powered photo tool for old photos restoring, portrait sharpening, and improving image clarity.
With our robust image enhancer, you can take your images to the next level.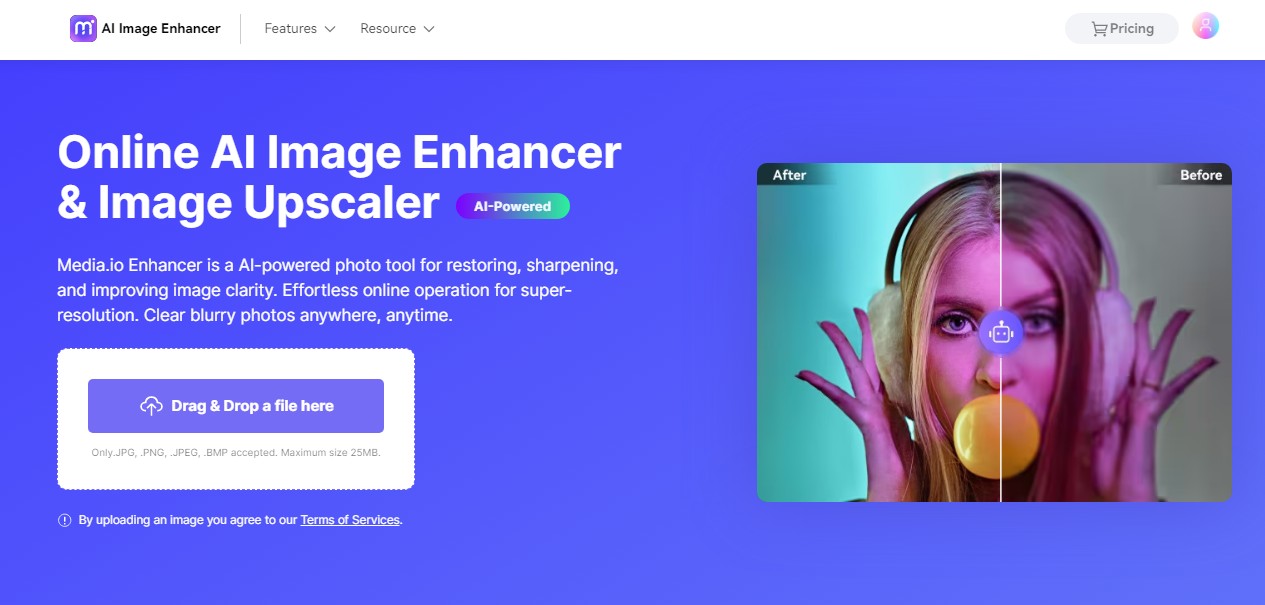 Key features
On Media.io, you can turn your pictures into GIFs without harming the original quality of the photo.
To deal with large image file sizes, you can use the image compressor of this platform. By utilizing the image compressor, you can decrease the image file size.
To create a vibrant and aesthetic sketch of your photos, Media.io offers a "Photo to Sketch" feature.
How to enhance your photos with Media.io Photo Enhancer?
Step 1

Upload your photos

First, access the official website of the Media.io Photo Enhancer. Next, click the "Drag & Drop a file here" button on the homepage to import your photos.
Step 2

Preview and Download

After the upload is complete, our AI Photo Enhancer will need some time to automatically adjust the entire picture quality. Once the process ends, you can preview and click download to obtain the image.

PicWish is an online tool that consists of various features, including a photo enhancer. Through its photo enhancer feature, you can make your blur photos clear and flawless. This feature uses AI algorithms that can transform your picture without manual effort. Thus, you can upload a photo on this tool and generate high-resolution results in seconds.
Key features
It offers a background remover to eradicate backgrounds from a picture without any skills required.
If you want to restore old and damaged pictures, this tool can do the job. You can use its photo colorizer feature to restore old pictures.
You can use its photo retouch option to remove unwanted objects from a picture within a few clicks.
LetsEnhance is another excellent online photo enhancer that uses AI technology to produce accurate results. You can try this tool for free to enhance blurry pictures. Using its image enhancer, you can increase the resolution of photos without any help. Moreover, you can also upscale images up to 16X while preserving the original quality.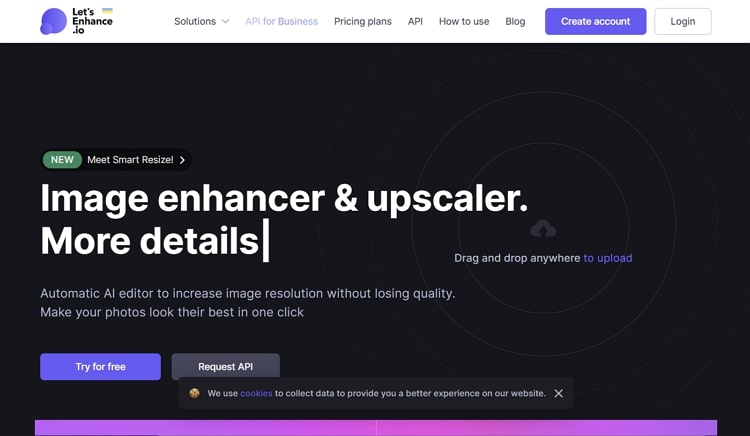 Key features
Using this tool, you can add brightness and light exposure to your dark photos using its HDR neural net.
For digital or web printing, you can enlarge and sharpen photos from this tool.
You can also use this tool to resize photos by manually deciding the dimensions.
Do you want an advanced tool for image enhancement? Fotor is a well-trusted online tool that offers a one-tap Enhance feature to fix pixelated and blurry pictures. Using this feature, you can enhance your image by eliminating all the flaws with a single tap. Moreover, you can also adjust other elements of the picture, such as brightness, saturation, lighting, and other color corrections.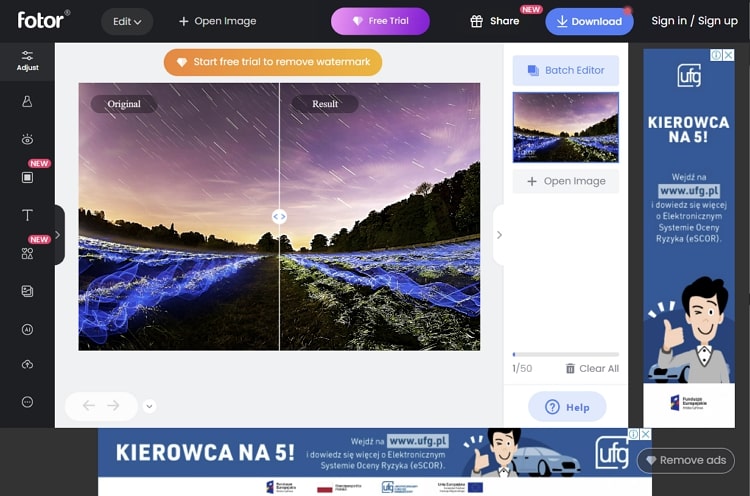 Key features
To make your picture look more captivating, you can add photo frames from this tool.
This tool also contains various kinds of photo effects that can add an artistic element to a picture.
For brand endorsement, you can also add logos to your pictures in seconds.
Author's verdict
As we have addressed 4 photo enhancers online previously, the best choice that you can make for image enhancement is to use Media.io. This tool has a friendly user interface and offers a fast speed for image uploading. Moreover, this online tool never disappoints in producing high-end results.
Part 2: Top 4 photo quality enhancer apps (Android and iOS)
Are you looking for mobile photo enhancer apps? In this section, we will highlight top-rated photo enhancer tools compatible with iOS and Android devices.
VSCO is a famous photo editing app that you can download on iOS and Android devices. By using the offered photo editing features, you can adjust the saturation and contrast levels of your photo. Moreover, you can also adjust blurry pictures on this tool by using its sharpening feature. This tool contains more than 200 premium-quality filters that can change the dimensions of your photo.

Key features
To add a vintage effect to your photos, you can add grain and fade effect that is exclusively available on this tool.
You can make your photography look creative and innovative by utilizing the 15 presets of this tool.
This tool also offers many video editing options to crop, resize, and enhance your videos.
PhotoDirector is a feature-enriched app that contains a wide range of advanced tools for photo enhancement. Using this tool, you can stylize and edit your photos to bring out the maximum high-end results. It also provides AI-powered tools that enable you to deblur photos. Moreover, you can use the Magic Brush feature to change the style of your image with some brush strokes.
Key features
This tool provides a Sky Replacement feature that allows you to change the sky in your pictures.
Do you want to add light rays to your pictures? PhotoDirector offers a light-ray effect that can add brightness to your pictures.
You can use animated overlays to add movement and emotions to your pictures.
3. YouCam Perfect (Android/iOS)
YouCam Perfect is one of the reliable photo enhancer apps that can help you take flawless photos. This tool offers various blur tools through which you can emphasize the subject in portrait pictures. You can also navigate to its object removal tool for eliminating unwanted objects from the picture. Moreover, using its editing tools, you can get rid of pimples, blemishes, and other flaws on your face.

Key features
It offers a body toner feature through which you can reduce your waist size to look slim in photos.
You can create photo collages of your photos on this app to share them on social media platforms.
To make your pictures look funny and vibrant, you can add stickers using this

photo

quality

enhancer app

.
Prisma is a well-recognized app that provides hundreds of filters and effects for image editing. Using this special app, you can also increase the resolution of your pictures. For photo enhancement, you can manage the sharpness, contrast, and brightness levels using this free app. You can also access the art filter library of Prisma to find professional filters and effects.

Key features
Prisma allows you to change and replace the backgrounds from your selfies. Moreover, you can add colorful backgrounds to your picture using this tool.
It also offers a portrait segmentation feature that can add a new style to your pictures.
You can add perfection to your pictures by adding vivid frames through this reliable app.
Author's verdict
To use a photo quality enhancer app for mobile devices, the best choice is the PhotoDirector app. This app contains advanced and distinct options that can transform your ordinary image into a creative one. The output results of the filters and effects offered in this mobile app are fantastic.
Part 3: 4 best free resolution increasers (Windows and Mac)
Many people prefer using desktop tools due to their convenience. In this part of the article, you can find the best photo enhancers supported by both Mac and Windows OS.
Photopad is compatible with both Mac and Windows platforms and runs efficiently. It's a simple and classic photo editing software that offers helpful editing options. For photo enhancement, adjust the image parameters with the colors and brightness levels. Additionally, you can make touch-ups to fix blemishes and dark spots on your images.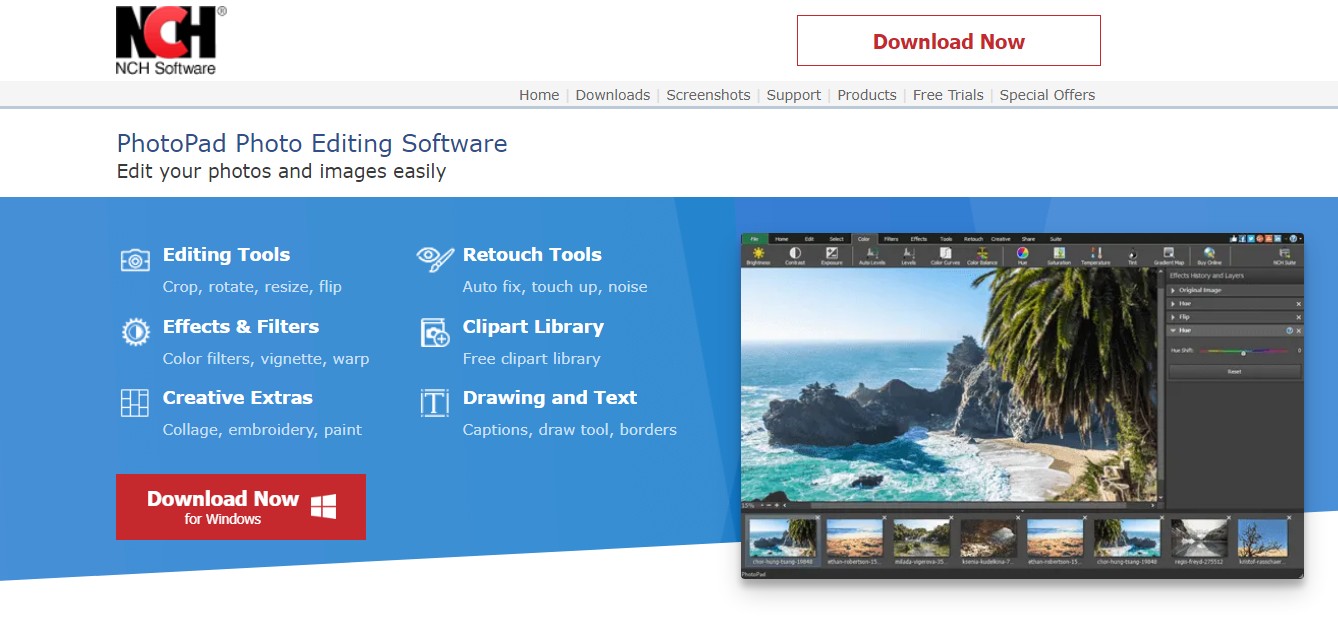 Key features
Improve the visual appearance of your photos by using sharpening and noise-reduction tools.
To craft captivating HDR images, combine various exposures together using this software.
Using this platform, you can take and edit screenshots on your desktop.
Supported OS
Windows, Mac, Android, Kindle, and Chromebook.
Do you want professional software to increase image quality? It provides a professional color management feature that allows you to color-correct your picture. Moreover, you can import a wide range of image file formats on this tool, such as JPEG, RAF, PFM, HDR, and CR2. Besides being a tremendous photo-enhancing software, it can develop professional results by displaying vibrant and eye-catchy colors.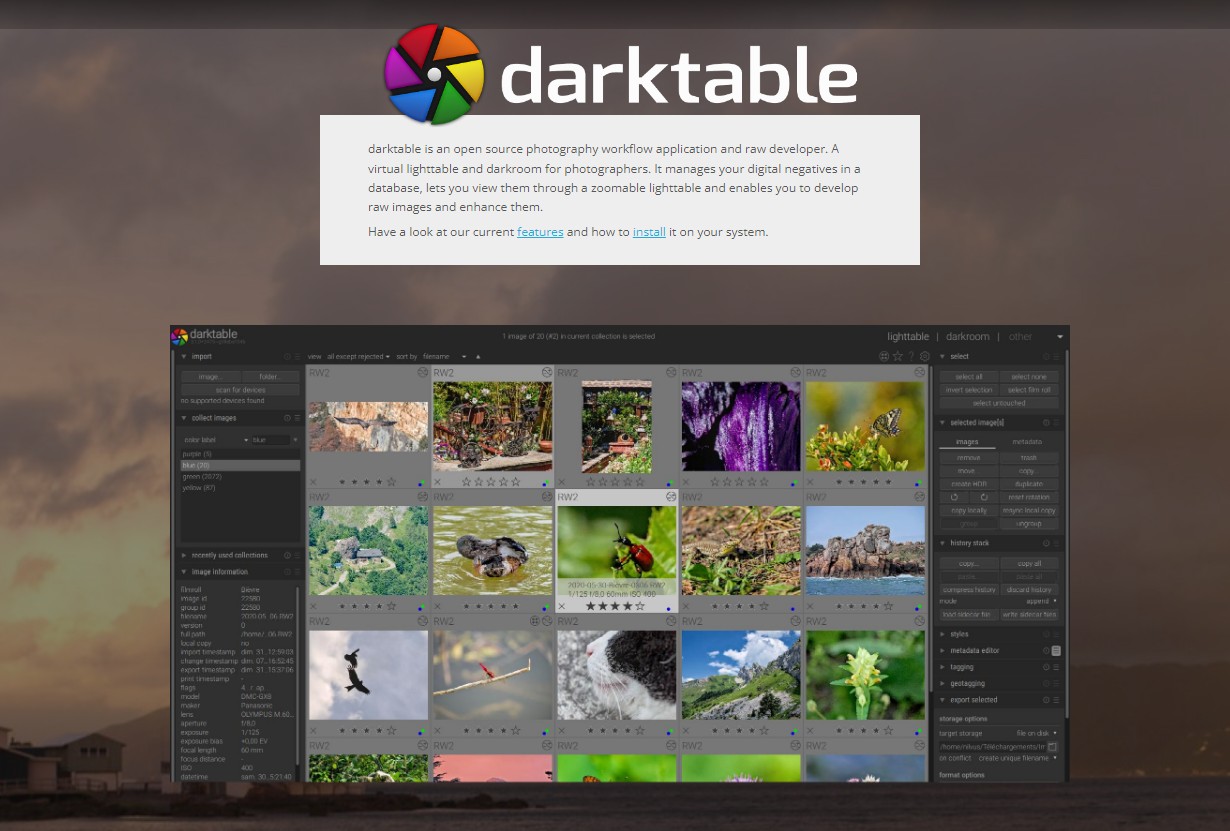 Key features
It provides options for filtering and sorting. You can locate your images by image ratings, tags, color labels, etc.
It supports up to 21 popular languages, such as Dutch, Polish, Japanese, English, French, German, etc.
It has a zoomable user interface that enables you to check and observe the little details of your photo.
Supported OS
Luminar Neo is a complete editing software that provides all the necessary functions required for flawless editing. It provides an AI Enhance option that can hide the blurriness and defects from your photo. Using the Color Harmony feature, you can add further refinements to your picture. Furthermore, you can flaunt your creativity by using the AI-powered tools on this tool.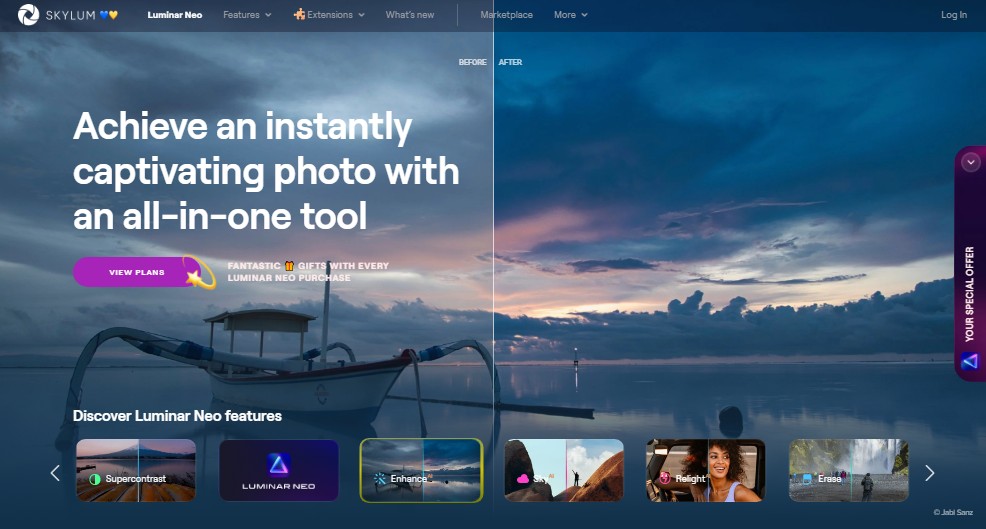 Key features
Luminar Neo offers various AI neural effects through which you can adjust the skin tone and other facial features in your picture.
Do you want to add a golden hour effect to your picture? This tool offers a golden hour effect that can make your pictures cinematic and vibrant.
To add depth of field to your pictures, you can use the Supercontrast feature of this tool. This feature can make the colors of your photo pop out and highlight.
Supported OS
This tool is one of the most used photo enhancer apps as it provides optimized performance for image enhancement. You can increase the image resolution up to 400% without making the result pixelated. Moreover, you can remove the flaws and compression artifacts from the images. Along with that, you can also eradicate noise and grain from your picture to produce an aesthetic result.
Key features
To enhance the colors in your picture, you can use its AI Calibrate photo color feature, which is exclusively offered by this tool.
It also offers an AI Image Enlarger feature that can upscale your images up to 400%.
You can also improve the quality of your skin on this tool through the AI Portrait Enhancement feature.
Supported OS
Author's verdict
Luminar Neo undoubtedly is the most suitable choice as a photo enhancer among other desktop software. This software contains AI-powered features that ensure the production of high-quality results. Moreover, it includes an intuitive interface that displays all the distinct features in a well-structured way.