Enlarge, Enhance, and Upscale Photos with AI Image Upscaler
With AI-powered photo enhancer, you can upscale images up to 4k resolution without losing quality. Make small images bigger yet crisper FREE online.
Online Upscale Image
on Any Device
Comfortably improve image quality and textures from any browser with a robust Internet connection on any device. No wastage of RAM or time downloading software and lots of configs.
Enhance Details without
Losing Quality
Instantly upscale photos up to 4k resolution online. Attract more audience at first sight with larger HD images. Dont' have to worry about the image quality!
Automatically Enlarge
Image with AI Technology
AI Image Enlarger zoom pictures 4X for all types ranging from JPG, JPEG, or PNG. With AI technology, upscale or enlarge photos speedily and automatically without manual tasks.
Delete Uploaded Photos
within 24 Hours
The secure HTTPS (SSL) connection website automatically removes all compressed and uploaded files from servers within 24 hours. Use AI Photo Enlarger without extra safety worries.
How to Upscale Image without Losing Quality?
Normal upscaling methods only increase pixel level, causing bothering pixelation, while Media.io AI image upscaling can effortlessly enhance photos and make every detail clear. Check the following step-by-step guide to see how to upscale images with only a few clicks. Enlarge your photos to up to 8X level and increase image quality at the same time.
Step 1. Upload Image

Launch Media.io Image Upscaler on your web browser. You can choose to click the Upload Images button to upload a local file or simply drag & drop your images.

Step 2. Start to Upscale Image Online

After clicking 2X, 4X, or 8X button, just wait for Media.io AI technology to enhance your images automatically. It only takes 5-10 seconds.

Step 3. Download the 4k Enhanced Photo

Now click Download button to get your enhanced picture in 4k quality. It's super easy and fast!
More Useful Tools for Image Editing
What Can Media.io AI Photo Enhancer & Enlarger Do for You?
Upscale Images for Graphic Design, Printing, and Digital Painting
Digital painting, printing, and graphic design professional can resize client images without losing quality for any web and print format. It also effortlessly enhances low-quality photos to save time for more creative tasks.
It allows you to upscale anything from portraits to landscapes, oil paintings to digital art, and logos to product images. Increase image quality can be done in few clicks.
Enlarge Images for Real Estate, Car Dealerships, and More for Selling
Media.io offers a way to increase image size online. Possess a drag-and-drop function to upscale your images up to 8x the original size. To show even the most minor interior elements, you can upscale your property images for real estate, car dealerships, and other agents.
Balance the color and brightness in your property listings to get stunning and captivating photos, and then get saturated and vibrant property photos to boost sales and increase interest.
Enhance Pictures to Increase Conversion Rate of Ecommerce
This photo upscaler is one of the best online image upscalers for e-commerce available in the market today. In addition, it also helps improve the quality of the images used on e-commerce platforms to increase conversion rates of your e-commerce business with clear and crisp images.
Distribute and sell faster by meeting resolution requirements on any e-commerce platform. Adjust the light balance and colors of your photos on your e-commerce store with the help of the AI image enhancer without requiring any editing skills. Let's get rid of Photoshop today!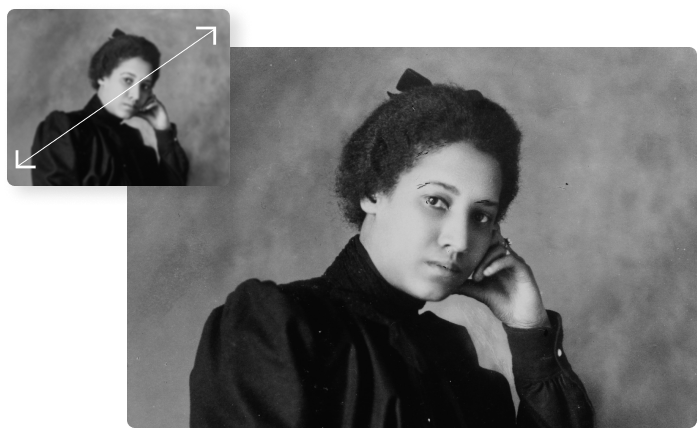 Effectively Repair Old Photos and Make Them Clear Again
The old photos are seriously damaged because they have been placed for many years. Through the image upscale, it can effectively repair the damaged pixel quality and restore the wonderful past; this is a magic tool that can reproduce the memory, and the operation is simple, just one click.
Rescue pictures in history, increase image quality, and correct the color with the AI enhance technology.
FAQs About Upscaling Images
1. Does upscaling improve picture quality?

Yes. Media.io Image Upscale tool can dramatically improve photo quality and increase the quality and resolution of group pictures, selfies, product pictures, and landscape images.

2. How can I increase image resolution online for free?

Step 1. Open the Media.io image upscaler on your browser and upload your picture.
Step 2. Let media.io AI technology enhance photos for you automatically.
Step 3. Preview and save on your device.


3. How do I convert a JPEG to 4K?

Step 1: Upload jpeg by choosing from your device or PC, Dropbox, Google Drive, URL, or drag and drop.
Step 2: Wait for AI to upscale your picture to 4k resolution.
Step 3: Download your 4K picture.

4. How do I enlarge a JPEG without losing quality?

You can enlarge JPEG photos with ease using Media.io image upscaler. Here are the steps:
Step 1. Open the Media.io image quality enhancer and Upload your JPEG image using the "Add Photo" button.
Step 2. Click "Start to Process" button.
Step 3. Tap on the "Download" button to get the enlarged JPEG image.

5. How can I enhance a blurry picture?

As a matter of fact, enhancing a blurry picture is quite simple. You don't have to waste time learning Photoshop skills because there are so many excellent online photo enhancers that can be seen as good alternatives to Photoshop. Media.io is one of those online tools. Try Media.io online image enlarger here. No learning curves.

6. Why Media.io image upscaler is a good choice for you?

Media.io image Upscaler is one of the best image Upscaler, a browser-based free photo resolution enhancer. This program offers a great AI photo enhancer right from their website. The tools built on the latest AI technology allow you to improve and enlarge picture quality on the go for free and also upscale JPEG images to 4K (more than 200 formats supported) easily.
More Tips and Tricks for Image Upscaling
Jennelle White
What captivates my attention in this image enhancer is the AI feature that helps you carry out the task without stress, and I so love it!
Selma Nilsson
Excellent! Media.io picture quality enhancer is the best tool for upscaling pictures and is super easy to use!
João Ronaldo
The fact that I don't need to download this image resolution enhancer on my device is what I love the most. It helps me carry out the task without consuming space. editor.
Oscar K.
I am a web designer, sometimes I need to fix blurry photos, which costs lots of time. Luckily, I came across Media.io photo enhancer, really saves my time. Thanks team!
Wes Stinger
I honestly love the ease of use in this all-in-one program. There are no annoying adverts or hidden charges. Just an honest service. Recommended!
All-in-One Online Tools to Edit Photos and Videos
in a Minute.
More than just an image upscaler!