While sharing a TikTok video as an Instagram reel, you need to ensure there aren't any problems with it. Yet one of the common problems users face while sharing videos from one platform to another is the watermark text in it. To resolve this issue, you need to remove text from the video online. By this, you can not only customize the video but can also preserve yourself from copyrights.
Therefore, in this article, we will outshine the top-rated video text removers online. Using them allows you to remove text from videos online for free and maximize your productivity without any problem.
Part 1: List of 7 Video Text Removers Online in 2023
No doubt that the internet is loaded with video text remover online tools. The chances of all of them being the best are rare. Hence, in this section, the online text removers will be discussed. You can see them discussed in a detailed manner below:
Powered with AI, AniEraser can remove text from a video and make it personalized beyond expectations. With this innovative tool, you can make your videos share-friendly without worrying about distracting text and watermarks. Moreover, no particular skill is required to upgrade your video with AniEraser.
Not only from videos, but you can also remove text from images with this object remover. This easy-to-use tool is equipped with the most simplified solution, which attracts users, again and again, to get their work done. Moreover, don't worry if you don't know how to remove text from a video online using AniEraser because this section will also cover this question.
What We Like in AniEraser
Firstly, the most advantageous characteristic of AniEraser is, it is compatible with several operating systems, including Windows, Mac, iOS, and online. You can also use AniEraser on all platforms with just one license.
When you remove text from the videos with AniEraser, it doesn't compromise their quality. Thus, you can remove all the text and watermarks from videos without worrying about quality loss.
With AniEraser, you can implement modifications in a video with accurate precision. It allows you to manage the brush size and remove as much text as you want.
What We Don't Like in AniEraser
Luckily, there is no such bad thing in AniEraser, but it does not support Android devices. Thus, Android users cannot enjoy the optimized services of AniEraser.
How to Remove Text from Videos Online with AniEraser
Following are the instructions that will help you remove any unwanted text with precision using AniEraser:
Step 1

Access AniEraser and Upload Image

To begin, launch AniEraser on any of the top browsers, such as Chrome, and click the "Upload Video or Photo" button. Next, press the "Upload" button on the next screen and double-click on the video from which you want to remove the text.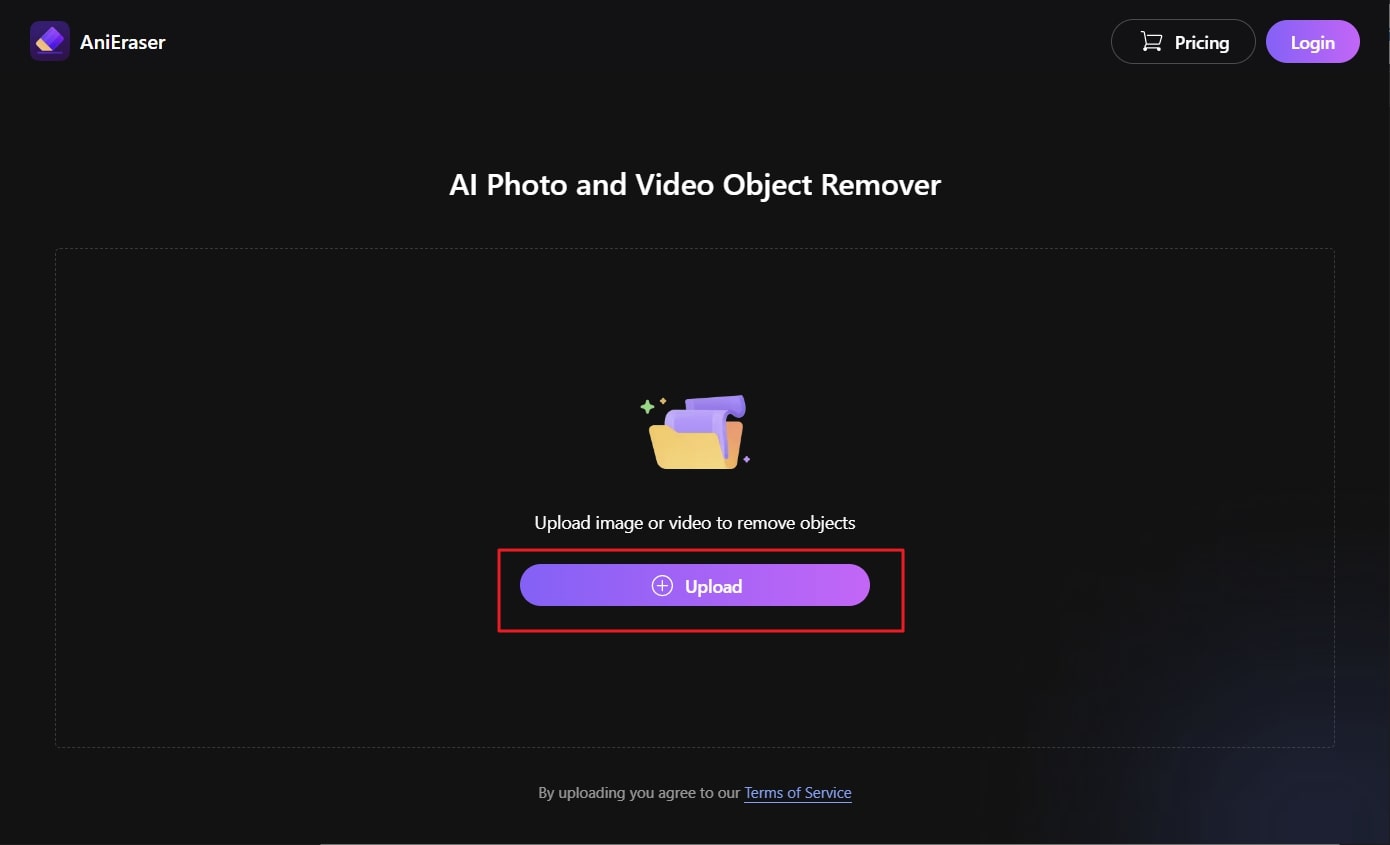 Step 2

Remove Text from a Video

Once the video is uploaded, you can now select a model. Choose from options of "Standard Model" and "AI Model." Then, click the "Add Area" button and select the area around the text.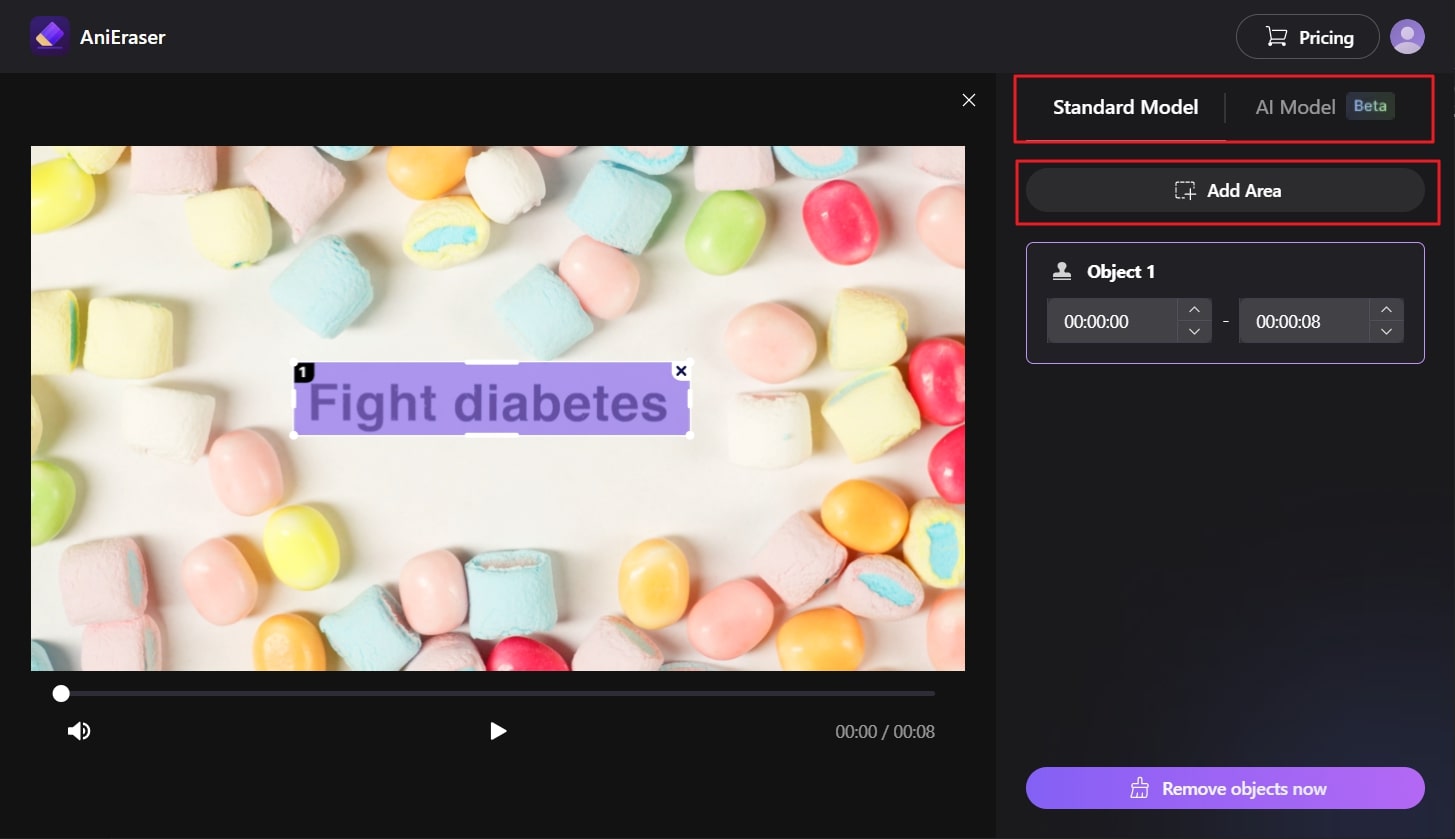 Step 3

Save the Video Without Any Text on your Device

Afterward, click the "Remove objects now" button and wait a few seconds. Hereafter, you can click the "Download" button to save the video to your device.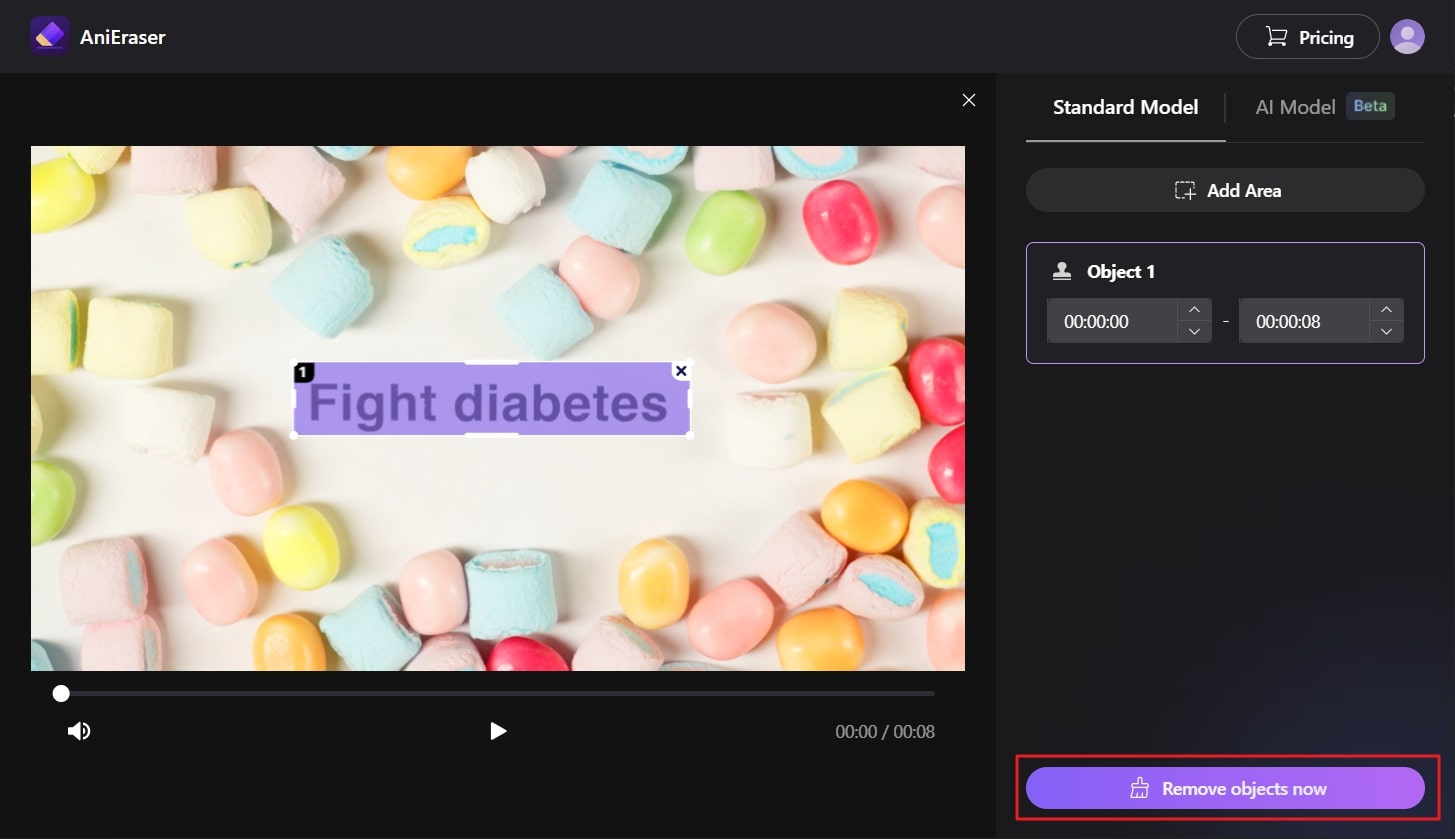 With this tool, you can remove text from video online for free without compromising the space of your device. Not only text, but you can also remove logos and watermarks from any type of video. It has all the capabilities to take your user experience to the edge of professionalism. Other than this, if you don't completely remove the logos and text, it also gives you the option of blurring it.
No doubt that it is an online tool; however, your data's security is guaranteed. All the services of this tool are fortified with US and EU data protection policies to ease users.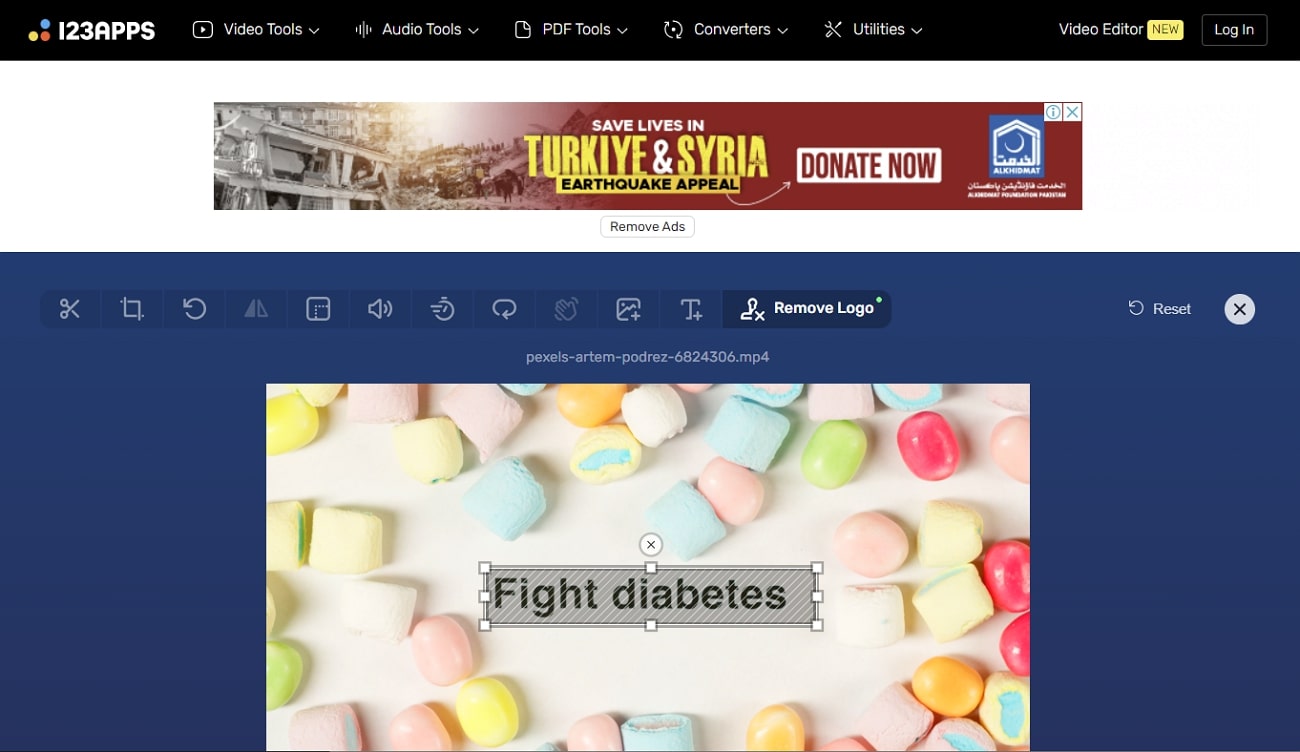 What We Like in Online Video Cutter
It supports many video tools, and you can trim, record, merge, and crop videos without complications.
You can also work on the audio within your video in several ways with it. Changing the volume, speed, pitch, and trimming videos are some of its audio functions.
Not only videos, you can also work on PDF files by using this online tool. It allows you to convert PDF files into other formats for better use.
What We Don't Like in Online Video Cutter
With the free version of Online Video Cutter, you cannot work on a video up to 500MB.
This object removal tool has all the inspirations that are needed to convert raw videos into professional ones. Most importantly, it allows you to remove distracting content text and watermarks from any video. Whether you are working on a virtual outlet or ID photo, this tool can help you with everything. Moreover, you can also change the backgrounds of a photo instead of just removing text.
This online video text remover also has a very well-structured and intuitive user interface. You will not get bored while using this tool, no matter how long.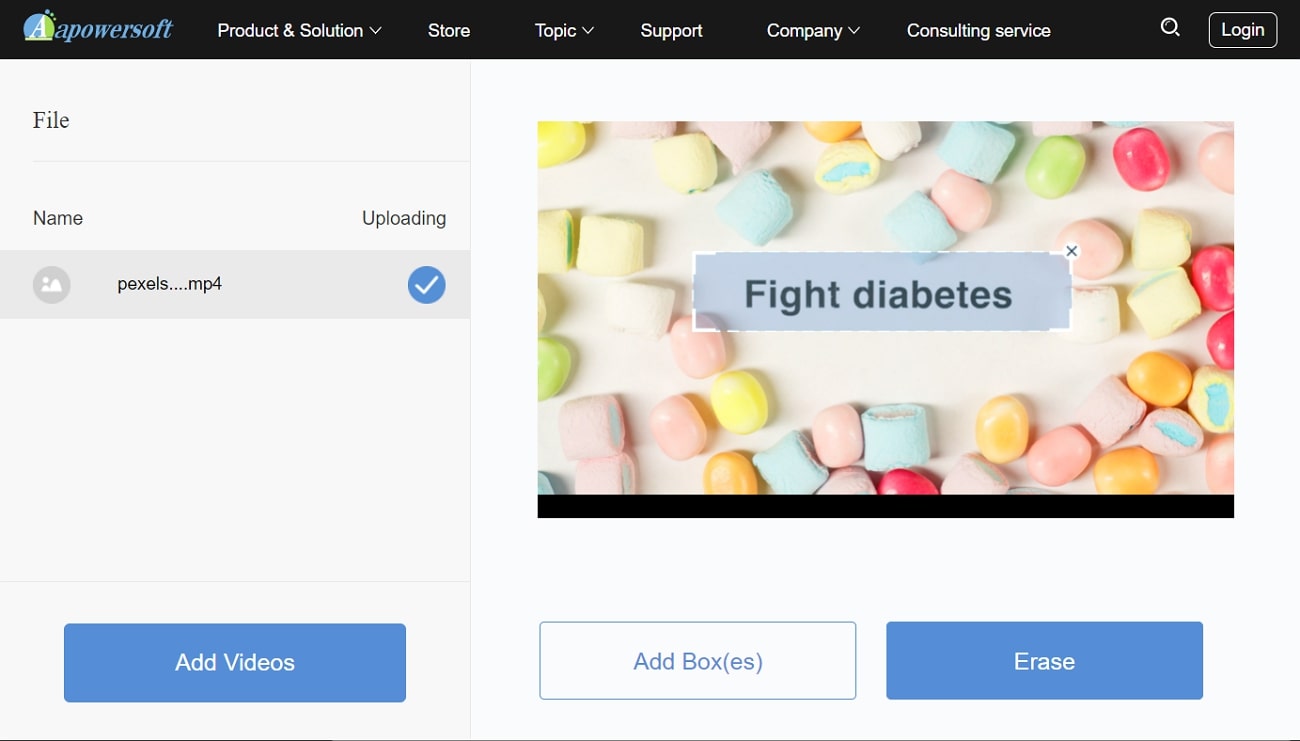 What We like in Apowersoft
By using the Apowersoft Unlock tool, you can also unlock mistakenly locked screens of iPhone devices effortlessly.
It has the power to detect portraits. Thus, you can remove text and other objects in videos without a problem.
With the exceptional recorder of this tool, you can record your screen and save it as a GIF on your device.
What We Don't Like in Apowersoft
The processing speed of this tool for removing text from a video is quite slow. It can be a major concern for many users.
HitPaw is one of the most known tools for removing distracting video objects. With this tool, you can remove text from videos online for free without any hassle. It not only removes but also helps convert video files into MP3 formats for better use. Other than this, you can also work on photos in several ways with it.
Converting GIF to JPG and other image formats is also a straightforward thing with it. Moreover, it has no distinctive device restrictions, so you can use it anytime and anywhere with full security.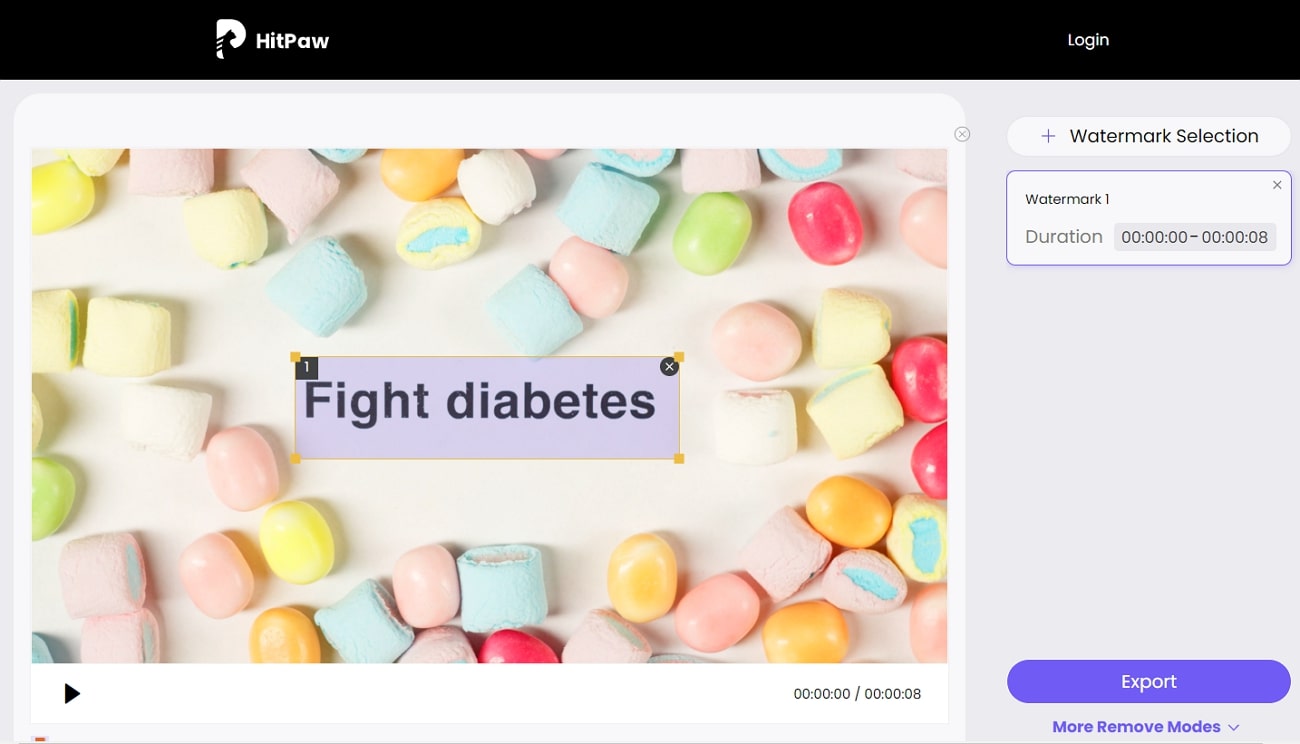 What We Like in HitPaw
With this tool, you can change the background, remove objects from the background and convert a video file into other formats.
It also allows you to animate old photos, reverse video and add a wide array of music files into a video.
Saving TikTok in the device, animating faces, and cutting videos to the required size is also a very easy thing with HitPaw.
What We Don't Like in HitPaw
If you are not using the paid version, you cannot download edited videos faster or work with large-sized videos.
With this aesthetically pleasing interface, this tool never ceases to amaze users with its higher functionality. Removing any object and text from a video with this tool is a straightforward thing. You can get the work done with just a few simple brush strokes. Moreover, you can do this without worrying about the quality of the video, as it does not interfere with other parts of the video.
Moreover, other than text, it can also remove unwanted persons from a video. In short, it is a reliable tool for removing text from videos online.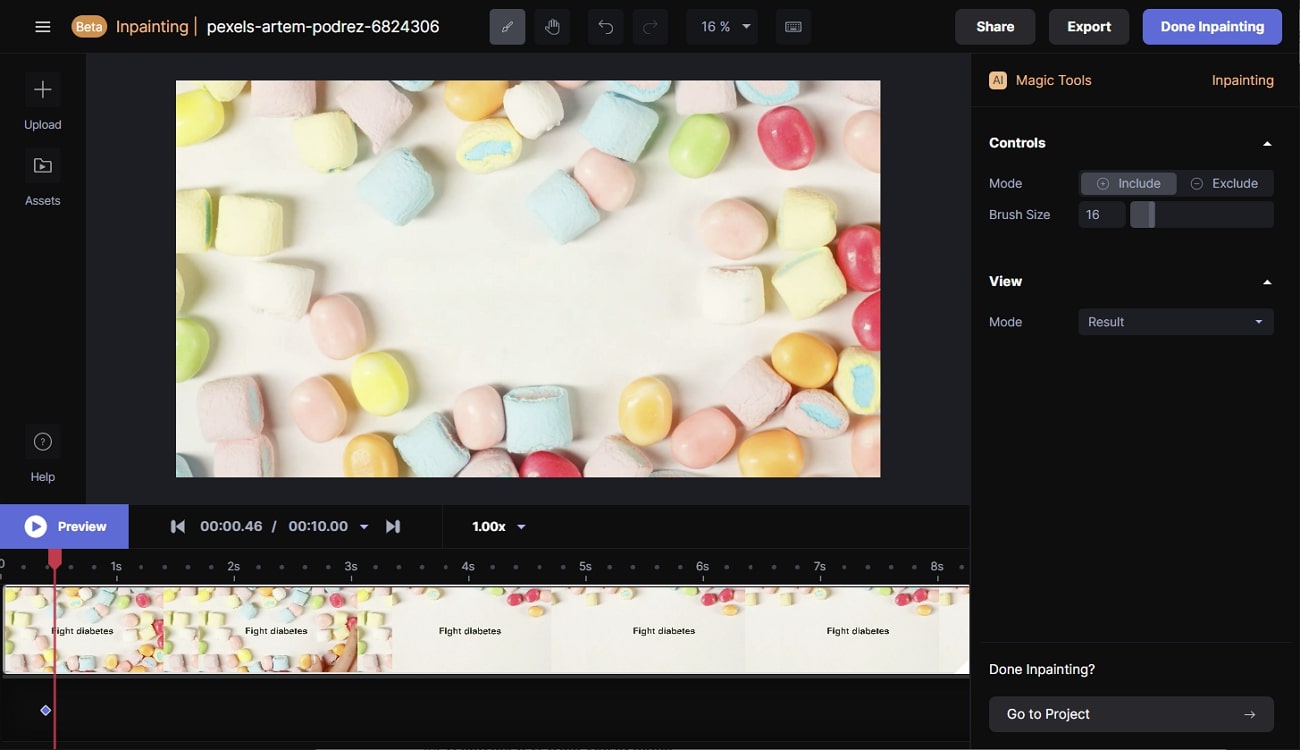 What We Like in Runway
This professional online editing tool can give a professional and interactive outlook to any video with its optimized features.
It also supports the modernized feature named motion tracking. You can now track objects in your videos with this tool.
You can also share your projects anywhere in the world in the form of links.
What We Don't Like in Runway
As it is a professional online tool, you need to have good experience editing videos.
Do you want to remove text from videos online with a reliable tool? Worry no more because BeeCut has got you covered in this scenario. With 100% security of your private data, you can always rely on this tool. Moreover, you can also remove more than one watermark or text with it.
There is no restriction to downloading the tool on your device. This, you can accomplish your task without worrying about the device's storage.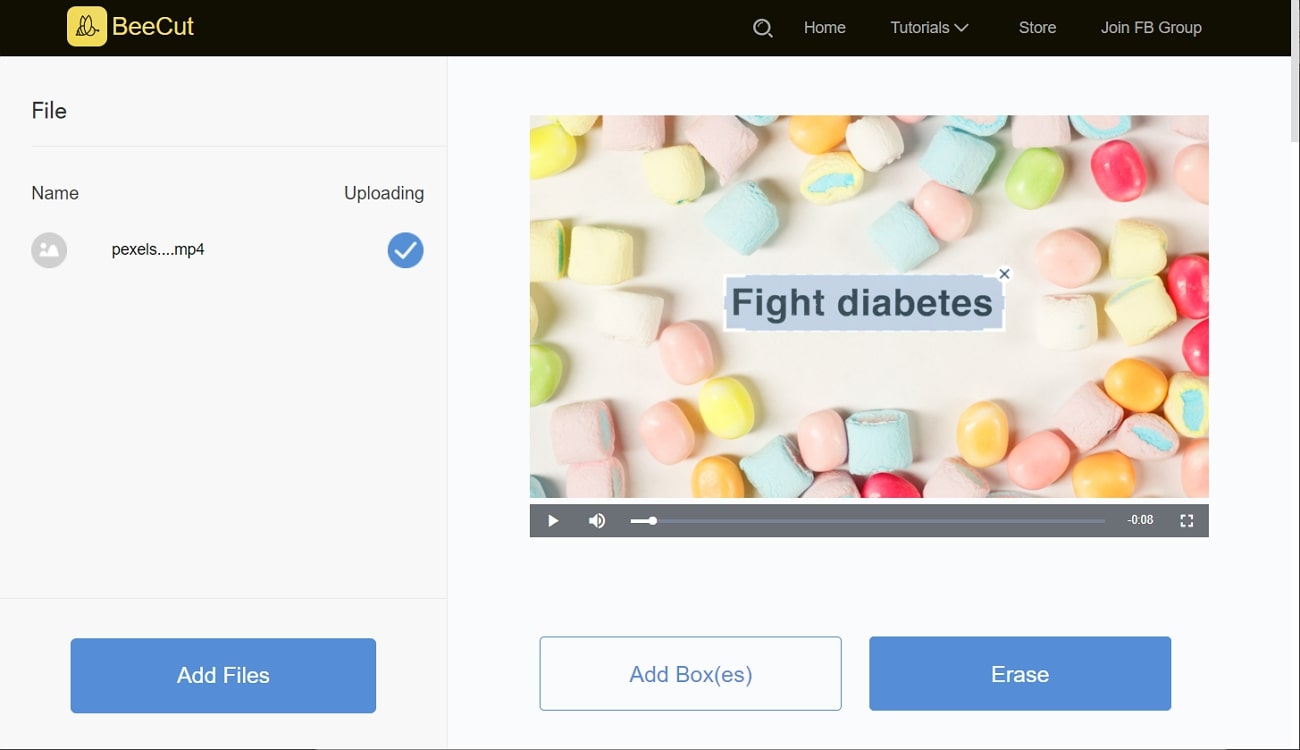 What We Like in BeeCut
With this tool, you can fully control your video's properties, like speed, color, and more.
By using its overlays, visual effects, transitions, and other functions, you can unleash your creativity and implement it in videos.
It also supports diversified aspect ratios like 4:3, 1:1, and more. Thus, you can remove text and save videos in desired aspect ratio.
What We Don't like in BeeCut
You can face severe difficulty while working with 3D or 360-degree videos. Moreover, there is no chroma key function in it, which can be a significant concern for users.
With swift and high-quality rendering, this video text remover online can help you a lot. Just by dragging videos to its interface, you can get rid of the unwanted text in it. Now you can free yourself from all types of irritations in a video, such as a watermark, by using it. Moreover, sometimes online tools take lots of time while upload or download a video.
However, the tech algorithms in it eliminated all these issues for the ease of the users. In addition to this, it is much safer, so you don't have to worry about your private data.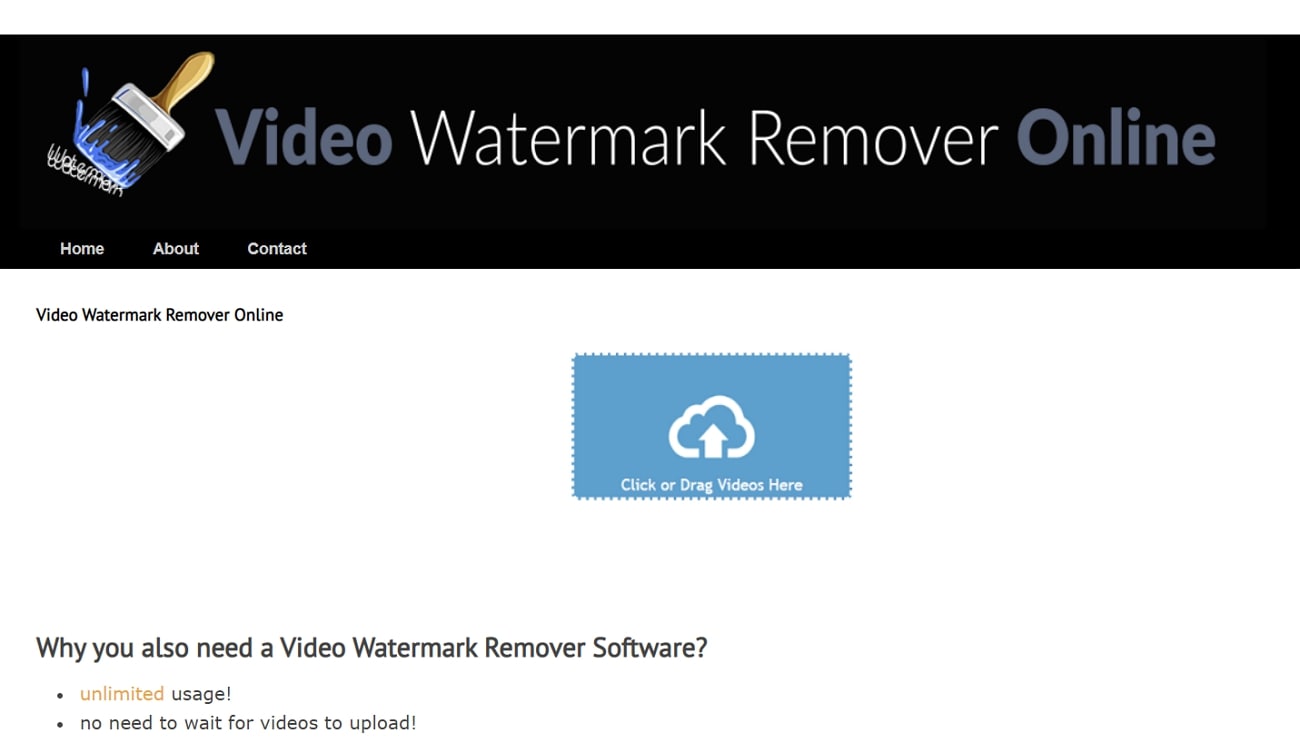 What We Like in Video Mark remover Online
In this tool, you can export as many file extensions as you want.
Not only videos, but you can also remove distracting text and watermarks from images with this tool.
After removing text, it does not change the format of a video or compromise its quality.
What We Don't Like in Video Watermark Remover Online
The interface of this tool is quite outdated. Users can get bored quickly while using this tool.
Part 2: What to See in a Text Removal Tool Before Using It?
Now that you know all about top-rated text remover tools, you must be wondering about their selection criterion. Every tool should have some features and particular higher functionality that helps it in ranking. Therefore, the below-listed points will help you in picking up a good tool while selecting one among many of them:
1. Access of Use
First of all, you need to make sure that the tool you are selecting is compatible with your device or not. Always go for the tool that has a higher compatibility ratio. This can save you from facing diversified limitations. For example, AniEraser is compatible with Windows, Mac, Online, and iOS; you can use it with just one license on all devices.
2. Success Rate
When selecting a tool to remove text from a video online for free, evaluate its success rate. Read reviews and see ratings for a better understanding. Moreover, see its tutorial to find out the success rate of a tool. If you select a tool with a downgraded success rate, then it can lead to many problematic situations.
3. Processing Speed
Make sure the tool you are going to use has a fast processing speed. Won't it be irritating if you spend hours just removing text from a video? Low processing speed is a significant drawback. Thus, always analyze the processing speed of a tool before importing your video or downloading it on your device.
4. Video Processing Results
The results of text removal should be natural looking. If the area from where you had removed a text is notable, then it will not look good. Thus it is one of the major points you should keep in mind. Moreover, also analyze whether it is impacting the quality of a video or not.
5. Supported Video File Types
Imagine you are working with AVI video files, and the tool only supports MP4 files. Will you initially convert the AVI files into MP4 and remove text from them? No, because it will be a great hassle for you. Hence before selecting a tool, look at what formats it can support.
What We Observed After Checking the Tools with These Aspects?
We checked all the tools in the above-mentioned criterion, and the only tool that has the capability to assist you in all domains is AniEraser. It is compatible with multiple platforms, so you will not face restrictions regarding this matter.
Moreover, it holds a higher success rate with fast processing speed. The results are also satisfactory and desirable. In addition to this, it also supports a wide array of video formats for your ease.