Videos are the best way to convey the message compared to voice notes. Moreover, videos best explain your emotions, as the viewer can see your facial expressions. Making perfect videos is an art in which everyone cannot perform well. You must take care of camera angles, audio quality, lighting, etc.
However, the common mistake many people make is not caring about the distracting objects that catch the spectator's attention. It is best to have a video object removal tool to remove such flaws from your video. Such a tool will help remove unnecessary objects like cable wires, dustmop, etc.
Top 9 Object Removers From Videos
If you browse the internet, you will find several tools that promise to remove any object from videos. Some may stick by their word, while others may not. We have come up with the top 9 object remover tools that work with high perfection.
AniEraser is a fast and reliable AI-powered object remover from video. It works intelligently without compromising the video quality. This app is gaining tremendous attention because it allows removing multiple objects from a video in a single go. You can enjoy this powerful tool on three platforms with a single license.
Moreover, this tool is used in more than 160 countries and requires no editing skills. You can also customize the timing of the object to be removed. This means you can set how long the object remains to hide during the video. Once the time gets completed, the object will reappear in the video.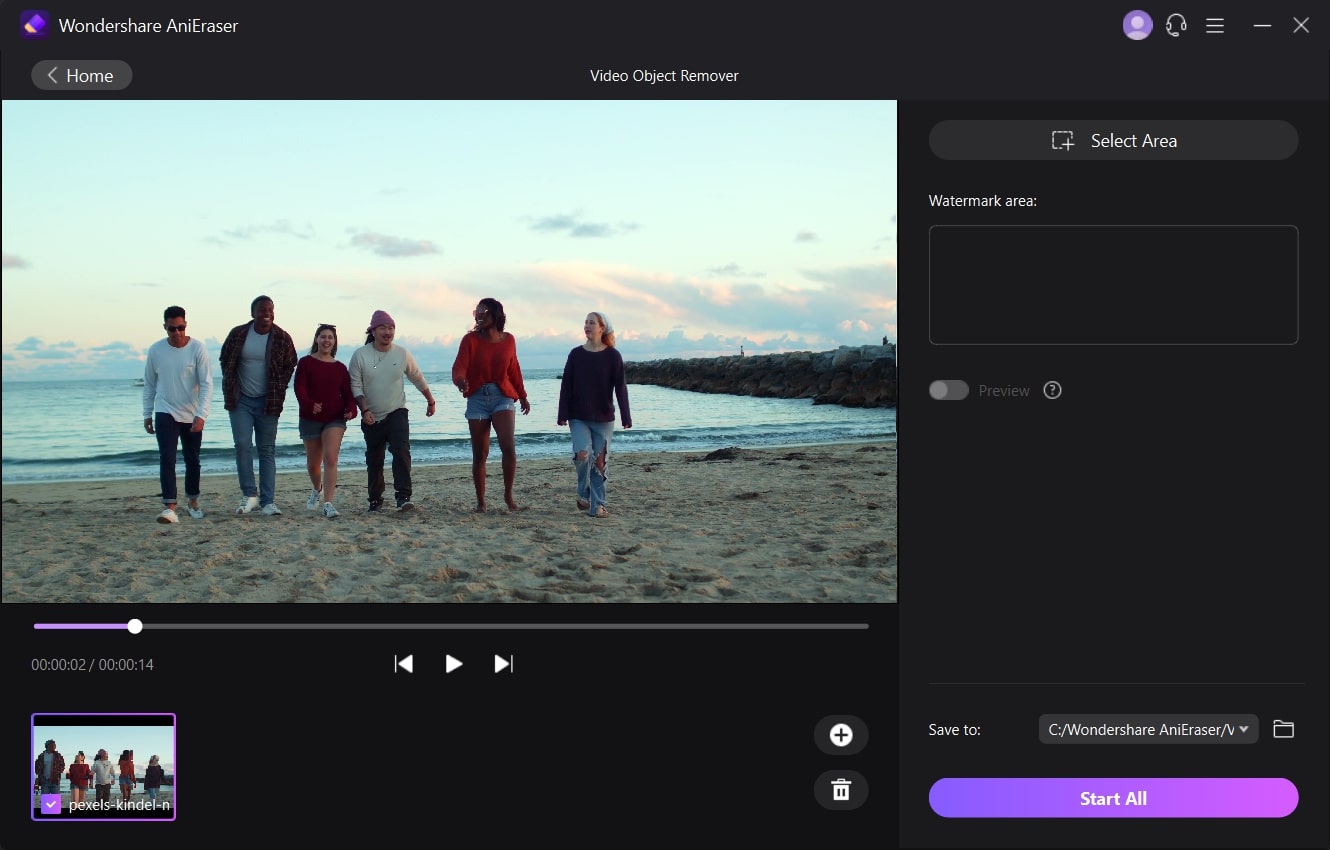 Available
Windows, Mac, iPhone, iPad, Online
Step-by-Step Guide to Using AniEraser Online
As discussed above, removing objects using AniEraser is easy because it requires no learning. However, if you are still facing difficulty during the video object removal process, follow the given instructions:
Step 1

Install AniEraser and Upload Video

You can access AniEraser's official website or download its desktop version to remove objects without limitation. Press the "Upload" button and upload the video you want to edit.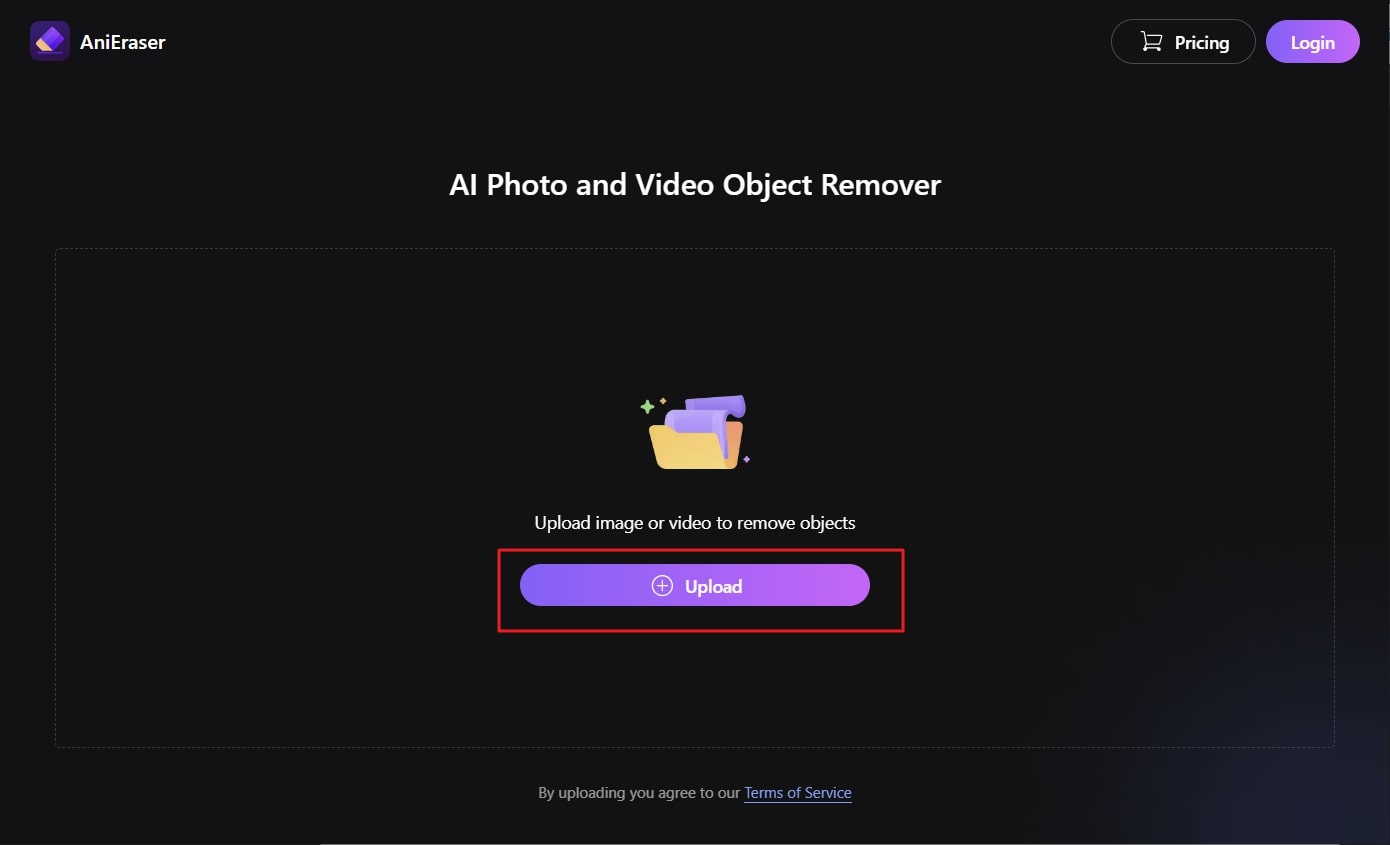 Step 2

Select the Object to Remove for Limited Time

Then, go to the "Standard Model" section, and hit the "Add Area" button. The size of the box can also be adjusted by dragging the corners of it.

Now, manage the removal time duration by adjusting the start and end time present at the right panel. You can remove more objects for a limited time by pressing the "Add Area." After making all the changes, click the "Remove objects now" button. Finally, save the video file on your device by pressing the "Download" button.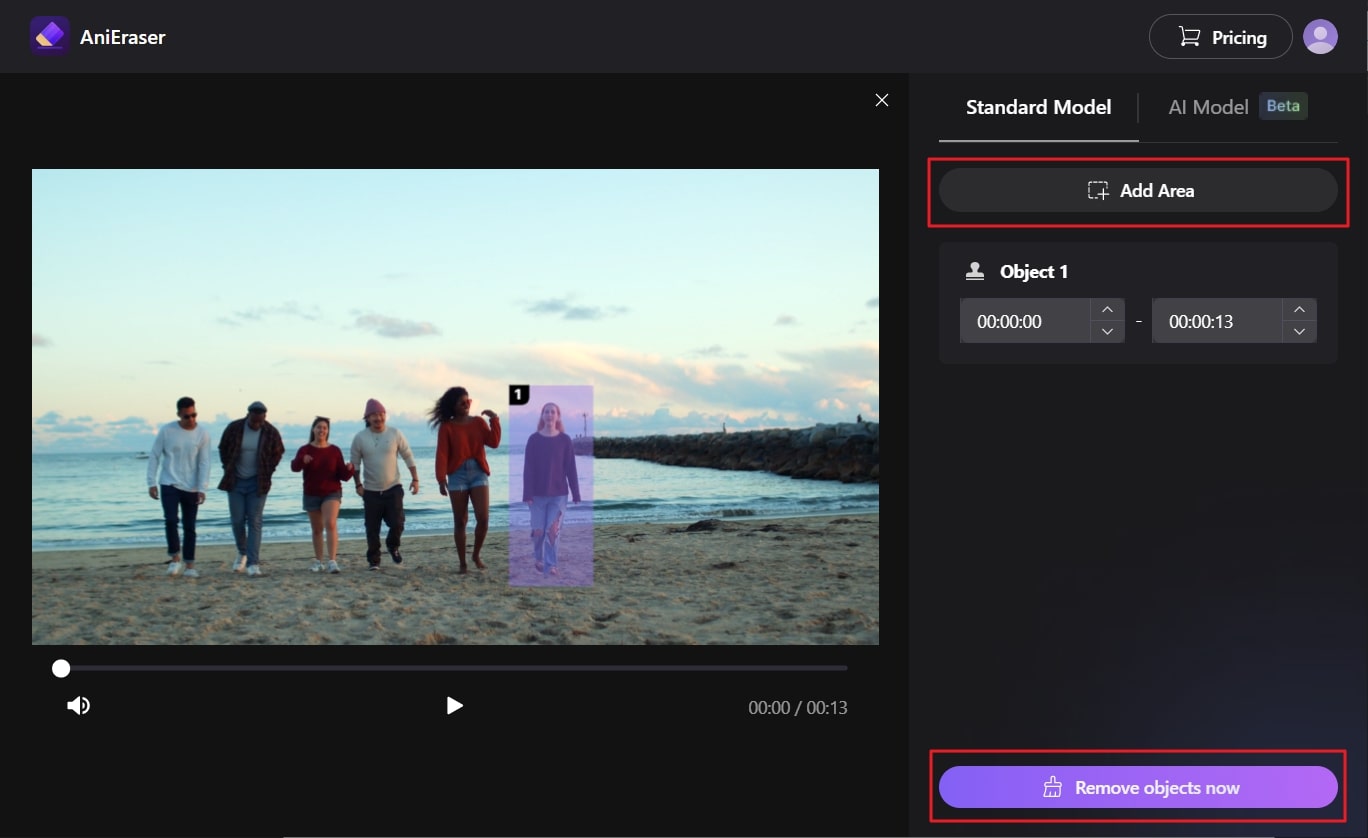 Step 3

Select the Objects for Complete Removal

To completely remove the object from the video, access the "AI Model" option and press the "Add Area" button. Drag the box over the object and adjust its size. After this, complete the object removal process and download the video to your system.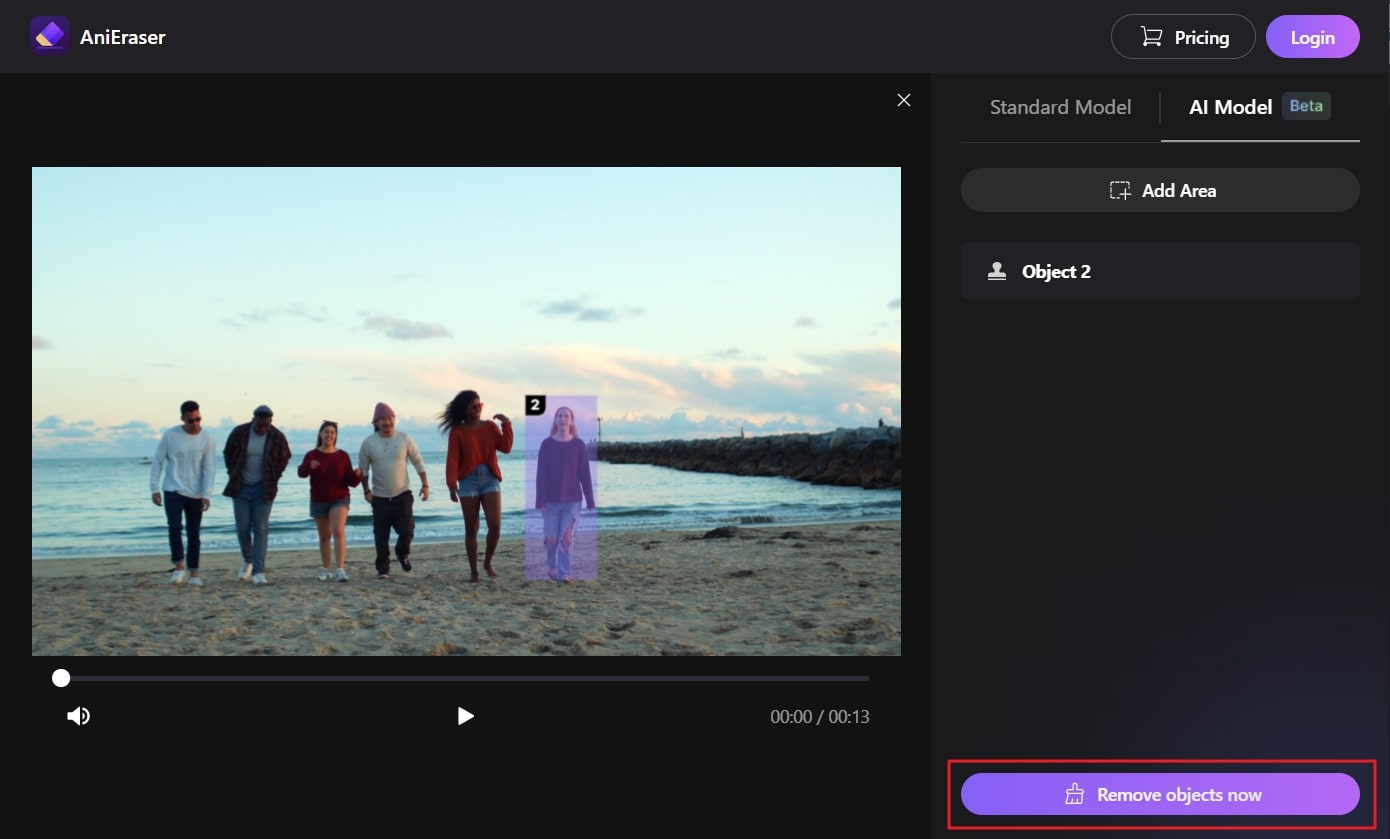 What We Recommend in AniEraser
AniEraser also supports photos format, which means you can also remove objects or passersby from photos.
It allows you to retouch the photos through which you can remove wrinkles, dark circles, or pimples.
What We Do Not Like in AniEraser
It is not available for Android smartphones. However, Android users can use its online version on their phones.
With availability in more than 10 different popular languages, Videoleap is a fantastic object removal video tool. In a few minutes, you can create professional quality videos which are best for sharing on social media platforms. Apart from removing objects with its advanced vanishing tool, it is also a master at recreating trends and adding sound effects to videos.
On top of that, it allows its users to switch the background of videos and incorporates effects to make them more unique. Graphic designers can create attention-gaining ads by using Videoleap predesigned templates.
Available
What We Recommend in Videoleap
It can mix different videos and photos to create an artistic look.
You can add text in different colors, fonts, and sizes to your videos.
What We Do Not Like in Videoleap
This tool is not available on desktop devices like Windows and Mac.
This award-winning tool is doing an amazing job in planar tracking, image stabilization, object removal, and rotoscoping. Its advanced Removal Module detects objects automatically that can be removed with the least effort. This same technology is also helpful in creating a stitched picture from multiple frames.
Mocha Pro is also best for stabilizing camera motion and removing unwanted lens distortion. This app is best for filmmakers because it is an easy-to-use solution for 3D text and particle tracking. Apart from its features, its interface is user welcoming because every feature is well organized.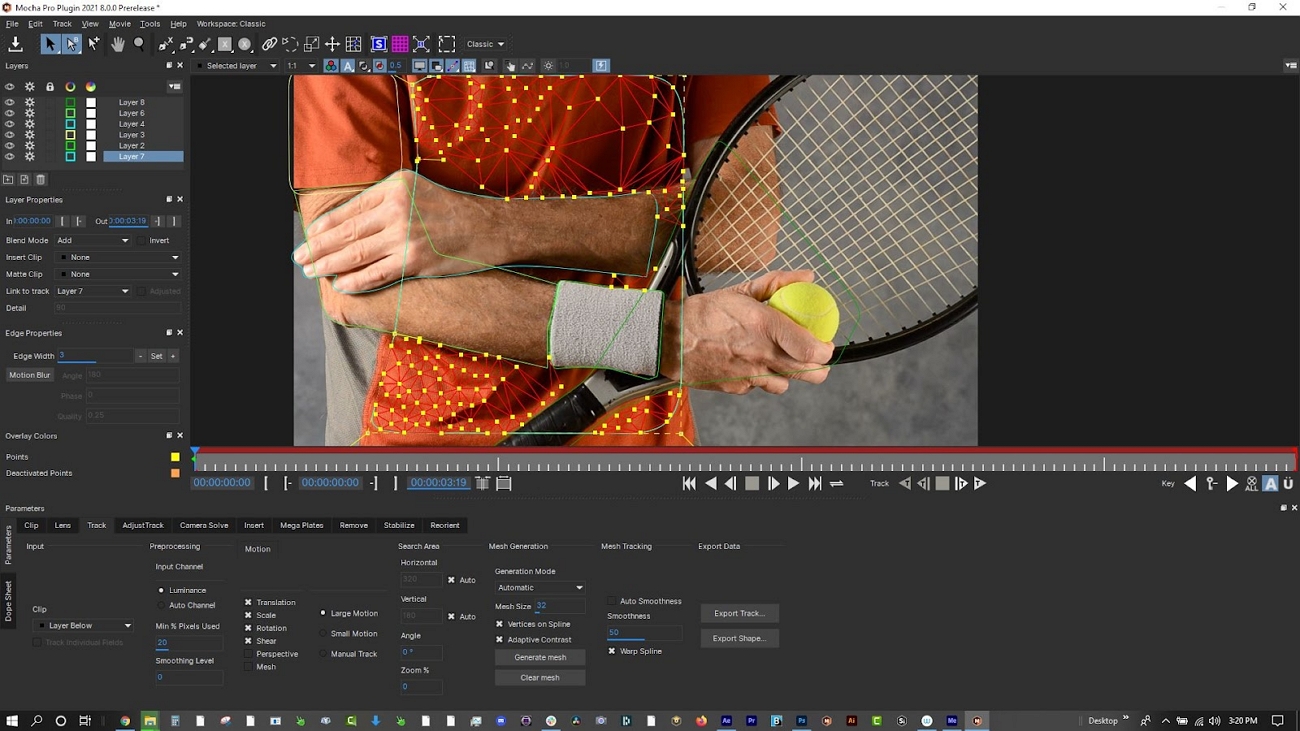 Available
What We Recommend in Mocha Pro
It is the best tool for dealing with spherical video post-production challenges.
This tool provides integrated plugin options, enabling you to launch Mocha Pro within other applications like Foundry Nuke, HitFilm, etc.
What We Do Not Like in Mocha Pro
Mocha Pro takes longer to complete the process because of slow algorithms.
With 4.7 stars out of 5, Movavi is an intuitive video editor for creating mind-blowing videos. It boosts your video-making skills by providing unique options for editing. You can add stunning titles, colorful stickers, and vibrant backgrounds to your videos.
Movavi is also marking up its way in joining the object removal applications. Its Object Removal feature has a customizable brush for multiple functionalities. You can adjust according to the size to make flawless changes. It also provides other selection tools like Magic Wand, Polygonal Lasso, and Freehand Lass to outline objects in different styles.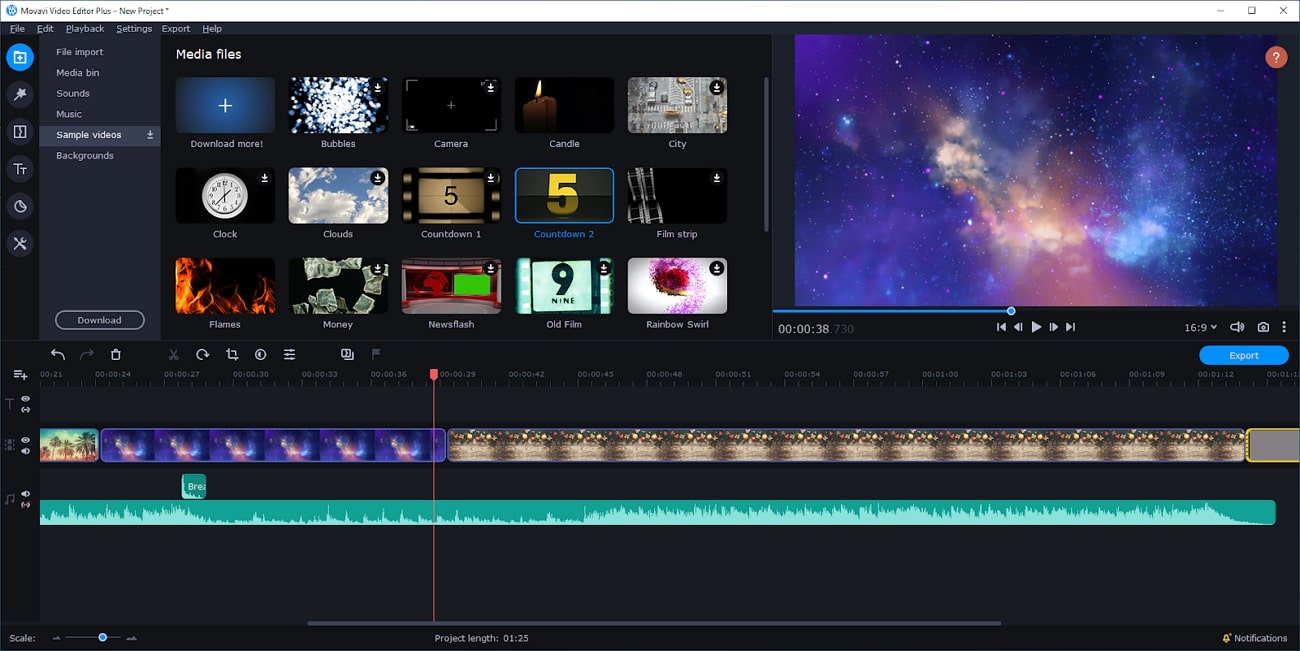 Available
What We Recommend in Movavi Video Editor
It has a built-in AI-powered audio denoiser that can remove unwanted sounds from videos.
This tool has several effects for YouTube videos which you can use to make scroll-stopping YouTube videos.
What We Do Not Like in Movavi Video Editor
Movavi is not cross-platform software because it doesn't support the video format for major mobile companies' latest devices, such as Apple and Samsung.
Adobe After Effects stands out in video object removal tools because it preserves video quality even after making changes to it. You can make eye-catching social media posts using its unique visual effects. It can also add the title to your videos and twirl it to add an artistic effect.
Graphic designers can add graphics in videos that they can rotate, flip, bounce, or wiggle as per requirement. To engage viewers, you can also use its preset collection designed by well-known designers.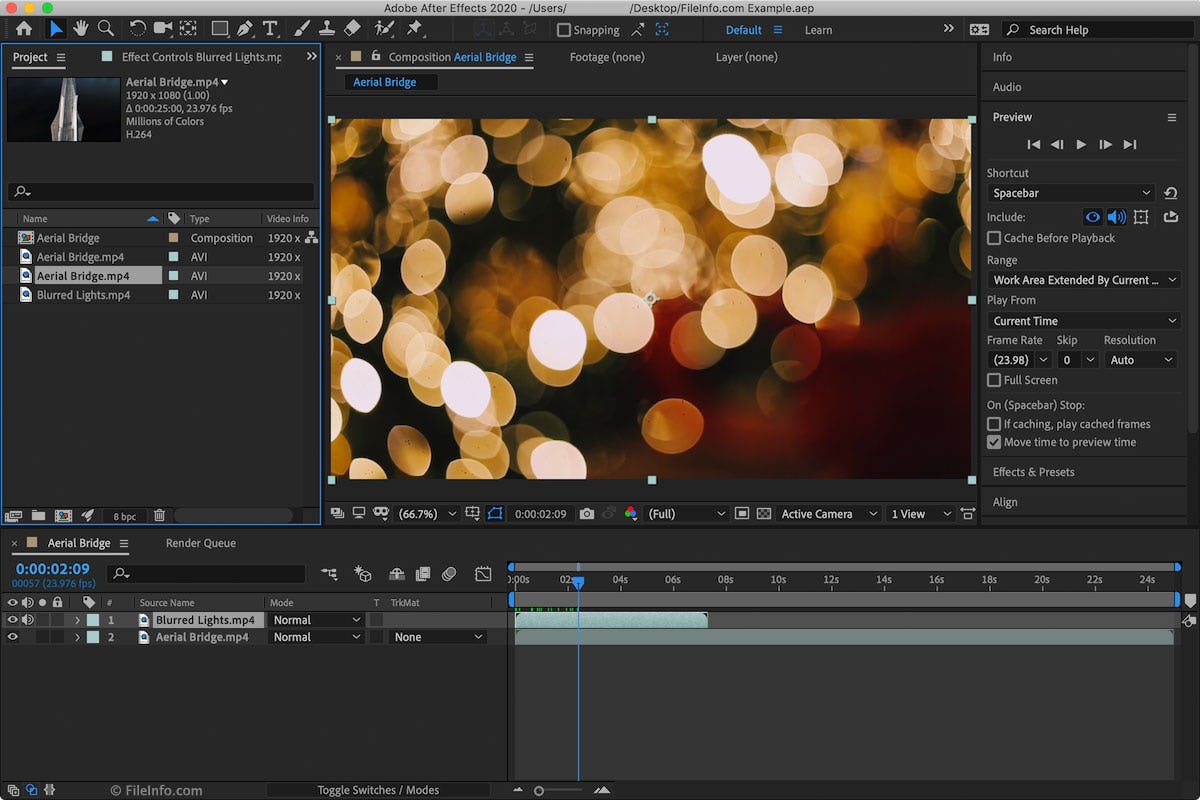 Available
What We Recommend in Adobe After Effects
This tool provides a long list of preset transitions for making outstanding video clips.
It provides results at a fantastic speed which ultimately increases the user's productivity.
What We Do Not Like in Adobe After Effects
New beginners cannot use Adobe After Effects because the software is stuffed with several features that complicate things.
MAGIX VEGAS Pro, previously known as Sony Vegas Pro, has powerful editing features for making professional videos. Whether you have made a small change in the video or a big one, spectators cannot guess that the video is edited because of the high-quality results. You can crop out unnecessary objects or watermarks.
Its light adjustment correction feature helps you correct the rough-lit screens. You can also enhance low-resolution footage and automate audio mixes. Above all, the feature which is unique in MAGIX VEGAS Pro is adding colors in the black and white videos that make your dull videos vibrant.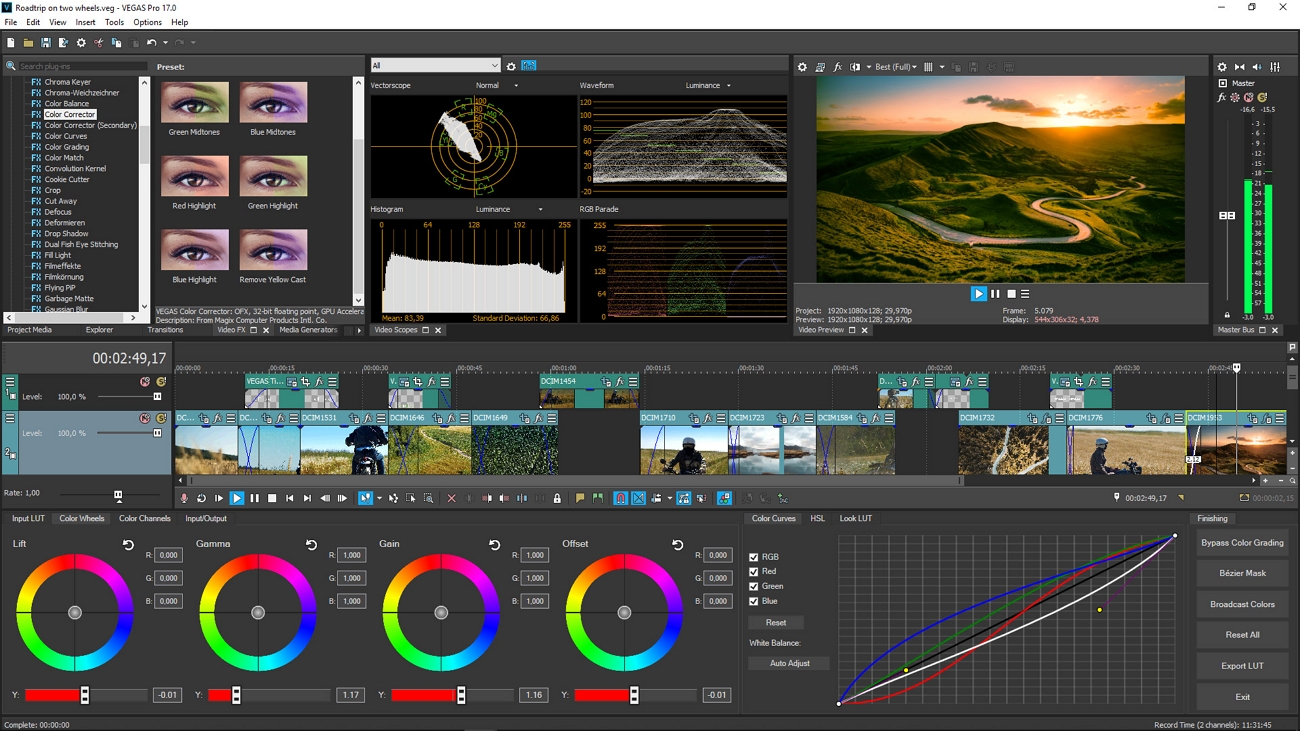 Available
What We Recommend in MAGIX VEGAS Pro
MAGIX VEGAS Pro has a multi-region motion tracking system that allows you to track objects.
This tool also provides edge correction and a toolset of cleaning that is greatly used while making videos.
What We Do Not Like in MAGIX VEGAS Pro
The tool sometimes slows down during the rendering process. Moreover, it also doesn't show compatibility with Mac.
This flexible and creative tool decreases your workload by providing the best feature for video object removal. With minimum manual effort, unnecessary objects like stones, glass, or bottles can be removed. Using its visual effects, you can also enhance specific areas of your video clips.
It also helps you film a movie requiring clones. This is possible with its unique feature that allows you to create clone illusions. In addition to making clones, this tool is also perfect for combining different video clips to get the perfect footage.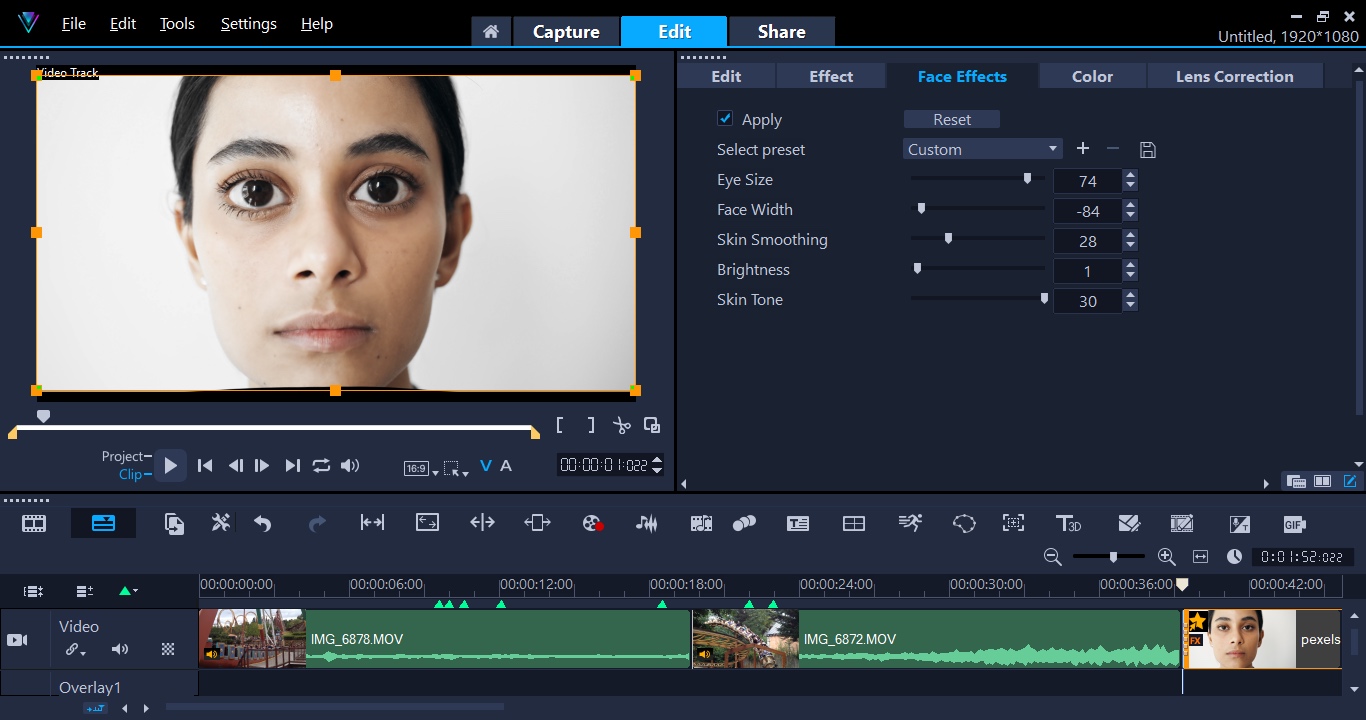 Available
What We Recommend in VideoStudio
It supports all types of video formats like AVI, DV, MOV, MXF, XAVC, and many others. This can increase the productivity of video makers.
You can integrate creative titles into your videos and adjust font, color, size, and other text parameters.
What We Do Not Like in VideoStudio
VideoStudio sometimes abruptly shuts down when too many videos are loaded together.
Securing the trust of top platforms like Google, Facebook, and YouTube, FlexClip allows flexible editing for creating remarkable videos. It also works as an object-removal video tool, meaning you can cut out any uninvited person or item from your video to keep it personalized. This tool is loaded with more than 1000 text animations and uncountable dynamic vector elements.
To add more fun to your videos, use its more than 4,000,000 royalty-free media tracks. This tool is stuffed with so many innovative features like trimming, adding text, recording screens, or removing the background. These can be used to boost your video-making skills.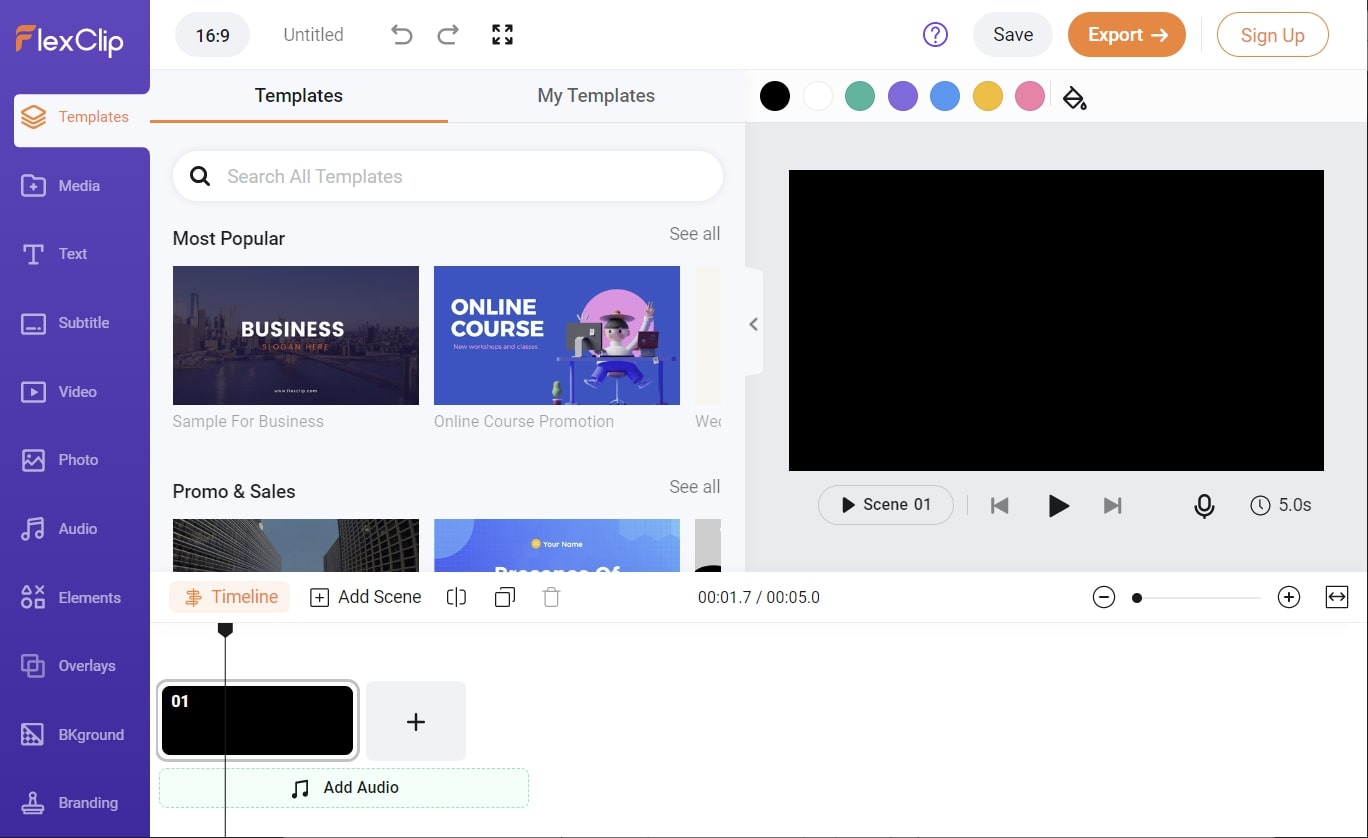 Available
What We Recommend in FlexClip
This intuitive tool lets you record your screen without worrying about privacy issues.
To customize your videos, a watermark in the form of text or image can be added very easily by using FlexClip.
What We Do Not Like in FlexClip
If you are looking for a professional video editor, then FlexClip cannot be used because it is quite basic compared to other advanced tools.
With more than 30 AI magic tools, the runway is curving its way toward the best video editing tool. Its real-time video editing and inpainting feature make it next generation content-making tool. This app works at a fast speed, so professionals can use less of their valuable time editing videos.
It promises to secure your privacy along with data video quality. Whether you are using it as an object remover from video or a motion tracker of objects, the tool gives the best results. Are you dealing with musical videos? The Runway automation beat detection feature will be beneficial to you for detecting beat patterns.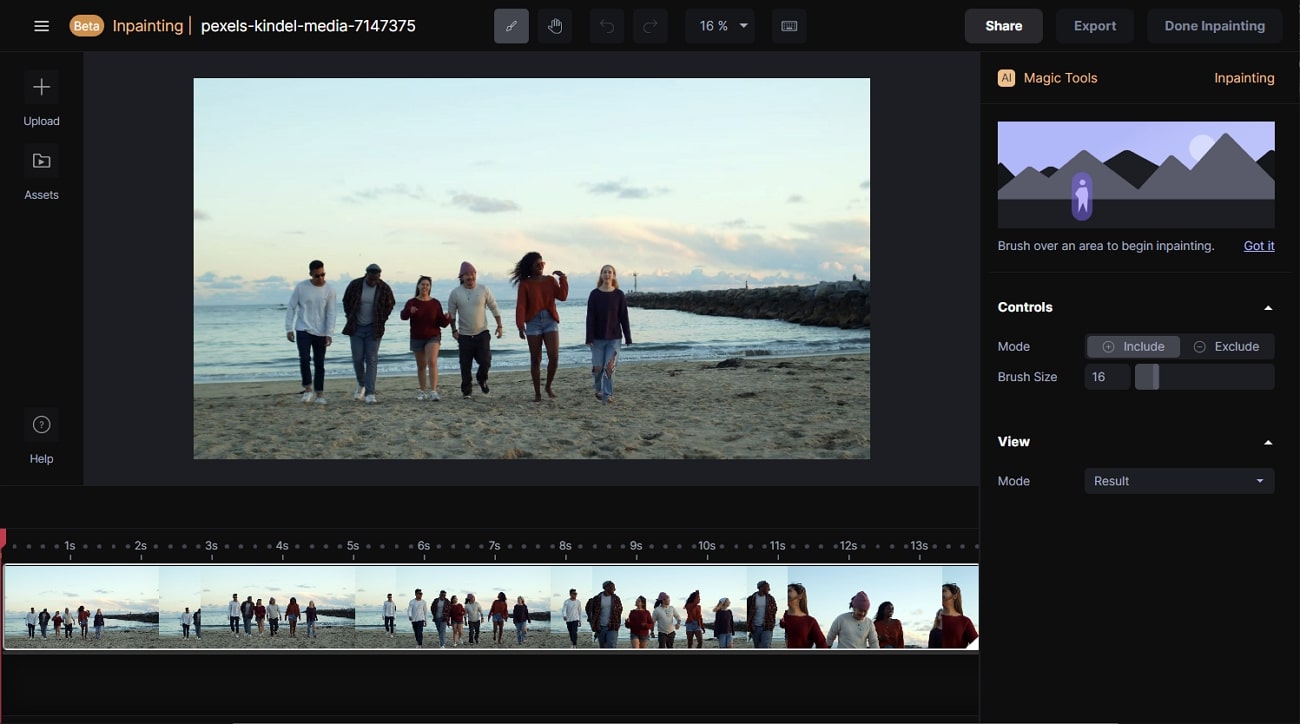 Available
What We Recommend in Runway
With just one click, the background noise present in the videos can be removed.
You and your friends can make edits in a single video at the same time because it provides real-time collaboration.
What We Do Not Like in Runway
This

free app to remove unwanted objects from the video

has limited AI tools. Thus, to use the Runway premium version, you have to pay a heavy amount.