People trim videos for different reasons, including cutting out unnecessary parts of a video and leaving only the needed parts for viewers. However, many people are sick of those video cutters that carry watermarks after editing a video on them and downloading the video.
The purpose of this blog is to show you the best video trimmers without watermarks on the final videos. We will give you a review of these tools to guide your decision-making regarding video cutting with no watermarks. In addition, we include the best tips to remove watermarks on videos with ease.
Part 1. Top 6 Online Video Trimmers without Watermark [Top-Rated in 2022]
Below we enumerate the top six video trimmers without a watermark you can use in 2022:
Clideo
Media.io Online Video Trimmer
Online Video Cutter
Flexclip
Invideo Video Trimmer
Fastreel Video Cutter
Here is a more detailed review of the tools mentioned above:
Clideo is a top-rated editing tool with millions of users visiting the site every month. That is because it has been proven to be an efficient video trimmer without a watermark. On Clideo, you can upload video files up to 500MB in size and cut the necessary parts for free. It works across all platforms online and lets you upload video files from Google Drive, your device storage, or Dropbox. In addition, it supports major file formats, including MP4, VOB, AVI, MOV, MPG, etc.
In addition to video trimming, Clideo lets you use any of its templates to create videos, loop, adjust speed, reverse, resize, rotate, and so much more.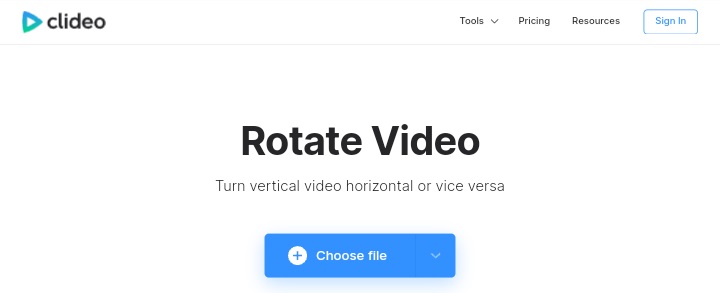 Pros:
It is one of the most accessible tools to trim video with no watermark as its user interface is intuitive and friendly.
New features and tools are automatically updated to give you a better experience.
Cons:
The video output may come out blurry and pixilated, a reported by some users of Clideo.
It does not have an offline app version, and it's dependent on a stable network connection for practical use.
Get rid of watermarks when you trim videos using the very effective Media.io Video Trimmer. This online free video cutter without watermark has been tested and proven easy to use, free, and easily accessible on browsers like Firefox or Chrome across all platforms. To trim video online with no watermark, you can drag the video frame to begin and end at the points that cover only the needed parts of the video. This tool also lets you rotate your video clockwise or anticlockwise depending on how you shot the video and how you now want the final output to look.

Extra Tip: If you want an offline video cutter without a watermark for PC, the desktop version Media.io Video Trimmer is the ideal software for you. It allows you to batch process videos, allows for a higher file size limit, and is more efficient. So, you should check it out!
Pros:
It supports all the output resolutions ranging from 240p to 1080p, and you can choose the output format of your video from FLV to MP4, WMV, AVI, MKV, 3GP, etc.
Although it is a free tool, it does not come with frustrating ads.
Cons:
When your single video file exceeds the limitation, you need to apply its desktop version to perform video trimming.
If you need to cut a small video online quickly, the Online Video Cutter is the tool for you. Although it is ideal for trimming small videos without app installation, this video cutter with no watermark supports uploading video files up to 4GB in size for free. In addition, you can change video frame proportions by adjusting the crop tool's edges. It works with any video format you upload on the site, and in the same vein, you get to choose the output format of your processed video.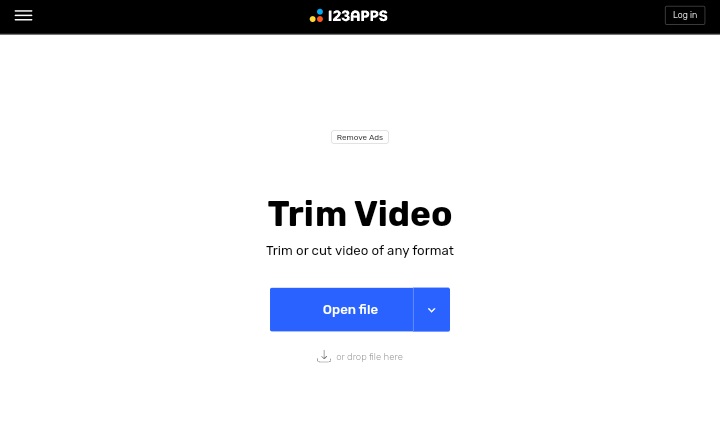 Pros:
You can choose the video format in which your video output comes.
The final processed video is usually high quality; hence the original video quality is not compromised.
Cons:
The interrupting ads can frustrate the video cutting process and make it less enjoyable for users.
It does not have as many editing features as other video editors on this list.
Flexclip is one of the best intuitive online video cutters without a watermark you can rely on for excellent results. It is a fast tool that lets you set the time frame you want for your video, and it is processed within seconds. After you have freely used it, you can save your videos to a choice location without watermark and for free also. This video cutter supports most major file formats, including M4V, MOV, MP4, WebM, etc.
Pros:
It allows for a real-time preview of the video while adjusting the start and endpoints. That makes it easier to monitor the results even before you save.
You do not need to install or update software regularly to use the tool.
Cons:
In the free version, you will find minimal features. Hence, you have to get the paid version if you must enjoy the total usage of the tool.
Invideo is a tool you can trust to help you cut video online without a watermark.It contains many features which are upgraded regularly to help you create amazing videos in addition to trimming out the unnecessary parts. It is highly secure, trims videos within a few minutes, and does not require software installation as it is an internet-based tool.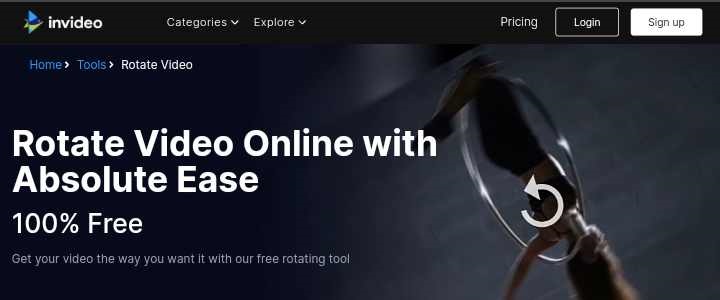 Pros:
It lets you upload files of 800MB to cut video online without watermark for free.
You can easily save and share the trimmed video across your social platforms.
Cons:
Although it is a free tool, you need to sign up and confirm your email address to use it. That might take time, defeating online tools' "fast process" purpose.
The user interface is not as easy to navigate as other video cutters with no watermark.
Fastreel is a video trimmer with no watermark designed by Movavi tools to help you cut out the parts of a video you do not need. It gives your video the optimization required to capture and hold your audience's attention when sharing it online. Once you use the red marker to select the parts needed, the scissors tool is meant for cutting out the unneeded parts you have marked. It is exact and quick. It cuts out unwanted video parts and throws them away using the trash icon. Fastreel supports video file formats, including MKV, MP4, AVI, MOV, and WMV only.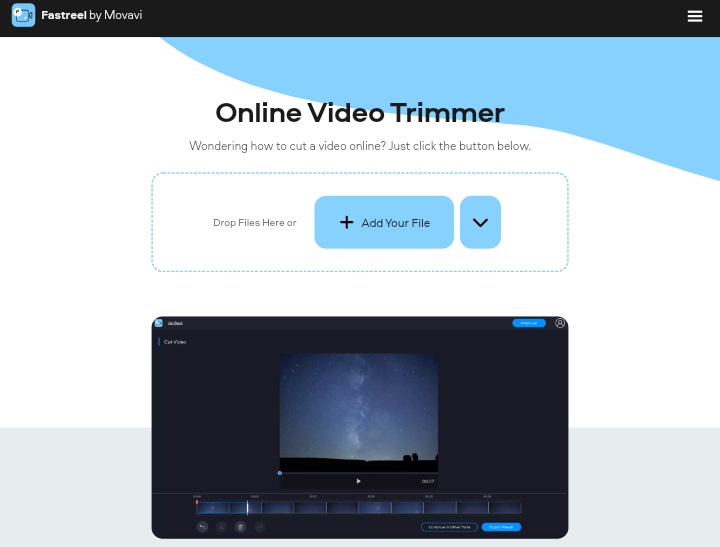 Pros:
It allows for video uploading from Google Drive and Dropbox, not just from your device storage; therefore, it gives you options.
The user interface is friendly and intuitive, a significant attraction for first-time users.
Cons:
The best features of Fastreel, like larger file size upload and higher quality, can only be enjoyed if you pay for the premium version of the tool.
It is not flexible enough to support a change in the template while you are editing.
Part 2. How to Trim/Cut a Video with NO Watermark [Bonus Tip Included]
The above 6 online tools have been carefully selected, so they are worth trying. Below, we will use Media.io as an example to show you how to use any of these tools to trim video online without watermarking effectively.
Step 1: Tap the "Choose Files" tab and from there, upload the video you want to trim.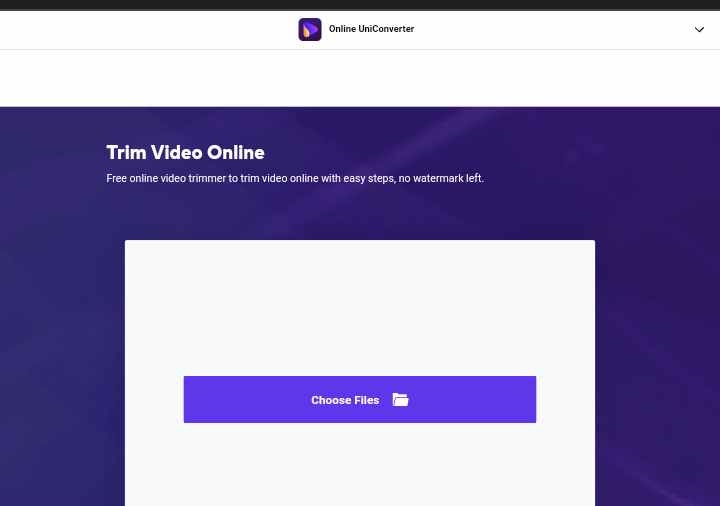 Step 2: Adjust the video frames to take out the black edges or unnecessary parts of the video. Tap the "Start" button.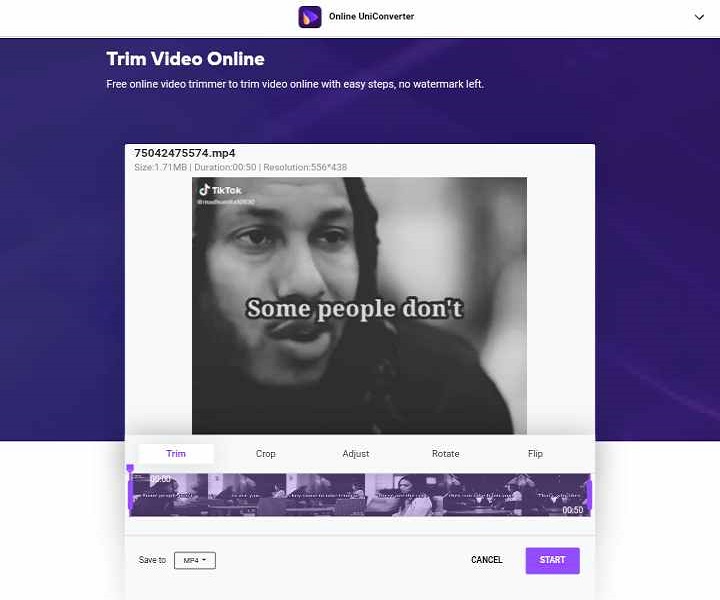 Step 3: Choose the output format of the video file and save the final result.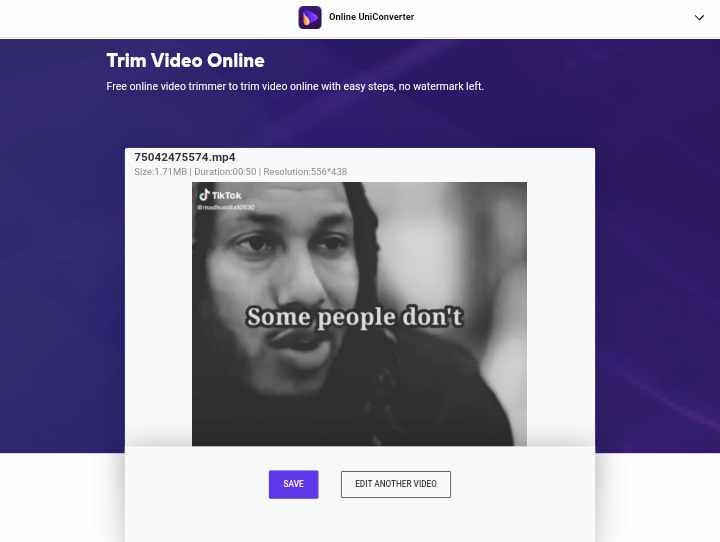 Great Tip: Let's say you have used popular video trimmers like Movavi that have left the watermark on your edited video, then you can't afford to miss Media.io Watermark Remover. This professional online tool will completely erase your videos' watermarks and maintain the original quality. In addition, this secure tool does not include unwanted ads as you remove watermark from your video. It works across all platforms such as Android, iOS, Windows, Linux, and Mac OS. It is web-based, so you need an excellent default browser to access the site. Also, it supports all the major file formats.
This tool is easy to use, as shown in the steps below:
Upload your video on the Media.io site.
Select areas containing the watermark and choose to remove them.
Download the video without a watermark.
Conclusion
It is common to see video cutters online adding watermarks on videos after editing. That cannot be very pleasant to users who want a watermark-free video file. This blog has provided a solution to your problem: video trimmers without watermarks! Now you do not have to worry about downloading videos with watermark after trimming them. Just choose any of these tools we reviewed, and you are good to go!