Cut Video
Trim or cut video online to the desired length. Cut MP4, MKV, AVI, MOV, etc. with high quality. Keep or remove certain video parts as desired!
Online Video Cutter
There are many reasons to get an online video cutter. For example, you might want to split and trim out unwanted video sections after shooting footage on your phone or computer. Or, you might need to cut a video to a specific playback length before uploading on platforms like TikTok, Likee, Instagram, and more. So, use Media.io Online Video Editor to trim, split, splice, copy, paste, and delete video clips effortlessly. With this professional-grade online program, you can split and cut MP4, MOV, MTS, 3GP, 3G2, and other video formats. Lest I forget that it boasts other tools for adding subtitles, merging, adding background audio, applying texts, etc. Upload a video and try!
How to Cut or Trim Video Online?
Step 1. Add a Video on Video Trimmer.

Visit the Media.io website on your PC and then press Upload to browse and add a local video file. Then, long-press and drag the added video to the timeline or press the Plus (+) button to add the video.

Step 2. Split and Trim the Video Online.

Next, place the playhead on the video scene to start trimming and press the Split button. Then, do the same on where you want to stop cutting. Now you can delete, copy, paste, or rearrange the trimmed clip.

Step 3. Set the Output Settings and Save the Video.

If satisfied, open the aspect ratio drop-down arrow at the top-right corner and specify whether to create the video for Facebook, Instagram, WhatsApp, etc. Then, press Export, name the video, choose a resolution, and make your video. It's that easy!
Why Choose Media.io Free Video Cutter?
Ultrafast Video Cutter App
Media.io is a super-fast video cutting with an intuitive interface. It runs smoothly on any desktop web browser. Users don't even need prior editing knowledge to cut video.
Trim/Cut Video Precisely
With Media.io Free Video Cutter, you can trim and crop video accurately to the millisecond. Just place the playhead to the section where you want to start cutting and press Split.
Feature-rich Video Editor
Aside from excellent video cutting function, it also offers various editing tools to enhance video presence. You can then merge, edit background audio, apply effects, add text, subtitles, shapes, etc.
All Format Supported
The cloud-based tool can trim practically any standard video format. It works with tons of formats, including but not limited to MP4, MOV, MTS, 3GP, 3G2, VOB, and more.
for Different Social Media
Different social media platforms have additional requirements regarding video length. Use Media.io to cut videos suited for TikTok, Pinterest, and more.
Trim Video Losslessly
The lossless video cutter enables you to trim out some segements with original quality maintained. You can even export videos in HD resolution, like 1080P, for Free, NO watermark!
Why You Cut Videos to Clips?
Shorten Video for Social Sharing
You may want to trim and shorten a video to the recommended 10 minutes on TikTok. Also, you can trim a video to a maximum of 60 minutes, which is the recommended length for an Instagram Live Video. In that case, you will need to shorten a video before uploading it to most social media platforms.
Trim a Rambling Screen/
Webcam Recording
Sometimes you can record a shaky facecam video on your smartphone or tablet. Or, you can capture a webcam video on your PC with some blurry or shaky moments. The best way to cope with the issue is to trim, split, and delete the unwanted video scenes, like some silent or noisy video scenes.
Keep Essential Portions of
Your Video
Here is another solid reason to trim video on Mac, Windows, or mobile. For example, you may have a lecture or tutorial video from which you want to extract a few vital points. In that case, you can split and trim out the unimportant video scenes before merging them into one beautiful clip. Again, Media.io will achieve this task pretty quickly.
Chop Off Lengthy Intros or Outros of YouTube
YouTube is an excellent platform to watch movies, how-to tutorials, music mixes, etc. But sometimes, the video creator can include a long and unnecessary intro or outro. Therefore, use a simple cutting tool, like Media.io, to split and trim the intro and outro parts before erasing them.
FAQs Regarding Cutting Video
1. How to cut MP4 video with ease?

You can easily cut an MP4 video on iPhone, Android, Mac, or Windows using Media.io Free Video Cutter. Here, you just need to load the MP4 video, choose a trimming position, and start cutting. Besides MP4, Media.io also lets you cut MKV, MTS, WebM, 3GP, 3G2, and other video formats.

2. What's the difference between trimming, cutting, splitting, and splicing?

When you trim a video, it's basically removing the head and tail or starting point and ending point. Simply say, drag the trimming handles on each end to reduce the playback duration. On the other hand, cutting a video is to divide the video into two and remove the unwanted clip.
Meanwhile, to split a video is to divide a video into multiple clips so you can edit them separately. Just think of it as extracting a scene in the middle of a long video. Lastly, splicing is to join two or more video clips after splitting.

3. How to cut video Windows 10?

The internet is home to many video editors for cutting, splitting, trimming, splicing, and cropping videos. However, most come with expensive subscription plans. So, you can trim a video on Windows 10 for free using Media.io Free Video Cutter. Just upload the video, cut it, and export to any HD video resolution without watermarks.

4. What's the best video cutter?

Media.io Online Editor is without an iota of doubt the best video cutter for novice and pro users.
Here are some prominent reasons for consideration:
1. You don't need prior video editing knowledge to trim, split, splice, and crop videos on this program.
2. It works with more video and audio formats.
3. Media.io lets you export videos to 1080p resolution without watermarks.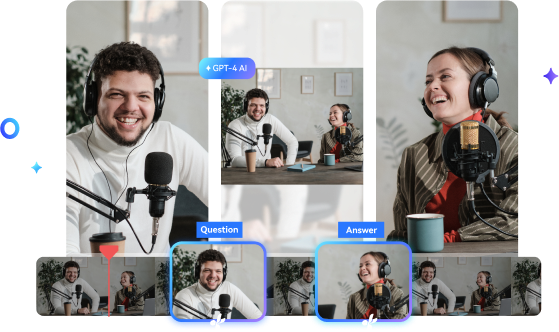 Transform Long Videos into Short Ones Instantly
√ Turn long videos into viral clips. Effortlessly transform lengthy videos into engaging, shareable clips.

√ Edit Video Seamlessly Like As Editing Text

√ AI Voice Cloner Ends Reshoots
Grace Milan
I've just used this video cutter to cut my videos for just over a week now, and I love everything about it. It's effortless to use and lets me trim recorded videos instantly.
Dean Ross
To say that this is an exceptional video trimmer is an understatement. I can cut MP4 and other standard video formats, including online videos. It's free of the annoying ads, by the way.
Stan Q
Because I like posting on social media, I needed something to help me professionally create videos on my iPhone. I'm glad Media.io lets me do that easily. I can even record facecam videos directly and make more edits on the app.
Sanjay Dat
A fantastic video editor in all aspects. Very easy to use, and the UI is not cluttered like most online tools I've used before. Although there's no 4K output yet, the 1080P outputs without watermarks will suffice.
Imran Khan
This online video cutter takes very little time to upload and cut video. I've tried over five video cutter apps before, and none can compare with Media.io, I think. It's very impressive!
All-in-one Video Cutter Makes Editing
Easy & Fast.
Create a perfect video clip with Media.io