Subtitles play an important role in making videos more understandable. Sometimes, users don't need subtitles if they are watching something in their language. Moreover, subtitles also mess up the overlays and clutter the video. For this reason, users like you look for ways to remove subtitles from videos.
Nowadays, Amazon Prime is a top-rated streaming service, and subtitles in it can irritate native speakers. If you want to know how to remove subtitles from Amazon Prime, this article is for you. Here we will discuss different ways for this and a top-notch tool to remove subtitles from recorded Amazon Prime videos.
Part 1: Why Do People Prefer To Use Amazon Prime for Watching Seasons and Movies?
Watching movies and TV shows on major streaming platforms like Amazon Prime Video and Netflix is one of the favorite activities of youngsters. Still, you may often hear that Amazon Prime Video is one of the best platforms to watch and stream videos and TV shows.
Before learning how to remove subtitles on Prime, you should learn about the higher performance ratio and popularity of Amazon Prime. The points below will help you regarding this:
One of the best things about Amazon Prime video is it is very cost-effective. Thus, you can find and watch all the decent movies and TV shows at a minimum price. The subscription package of Amazon Prime only costs $5.99/month. It is quite less than other streaming services such as Netflix.
You can use Amazon Prime Video on multiple platforms without any restrictions. For example, it can be operated on Windows, Mac, Smart TV, mobile, and more.
On Amazon Prime Video, you can find an extensive collection of movies and TV shows. From the latest shows to the old ones, Amazon Prime offers all the award-winning shows for you.
Audio and Video Experience
Amazon Prime has one of the best HD-quality movies and TV shows. With it, watch anything of the highest quality with optimized audio synchronization.
It lets you select channels as add-ons for a better user experience. There are up to 100 channels on it, including Starz, BBC Select, and more.
Part 2: Guide To Remove Subtitles From Prime Video on Smart TV, Mobile, and PC
Amazon Prime is a very easy-to-use media platform that never fails to amaze users with its capabilities. You can also create five user profiles within one account of Amazon Prime. However, if unwanted subtitles irritate you and you want to know how to remove subtitles from Prime Video, have a look below:
Remove Subtitles from Amazon Prime Video on Smart TV
Step 1
Open Amazon Prime on your Smart TV and select the show or movie of your choice to play. Once the video starts to play, press the "Arrow Head" of your remote, and it will expand some options like "Subtitles" and "Audio & Languages".
Step 2
From these options, select "Subtitles" and now click on "Off" to disable the option of subtitles. You can also change the language, size, and style of subtitles from here.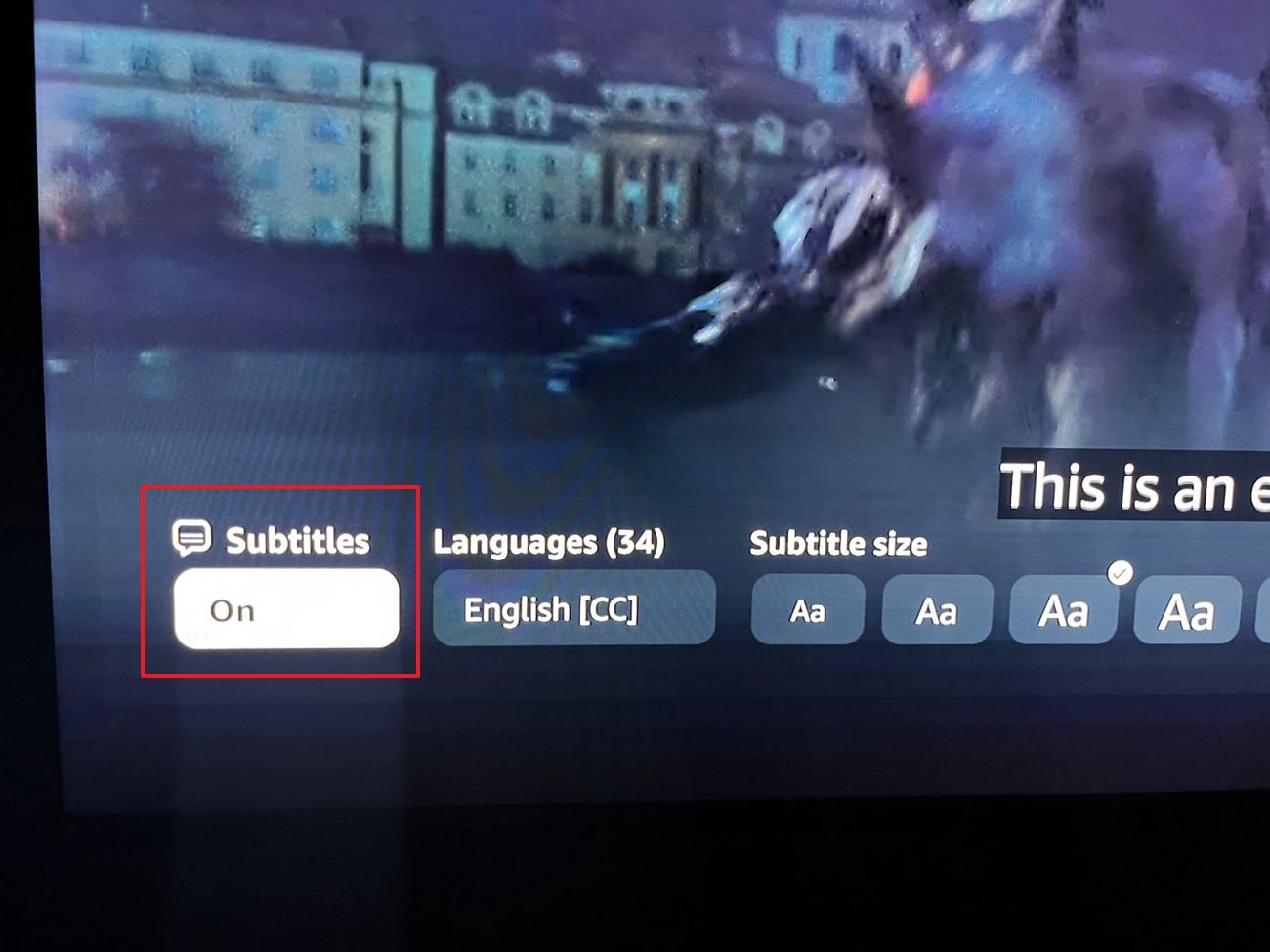 Remove Subtitles from Amazon Prime Video on Mobile
Step 1
To get started, access Amazon Prime Video on your mobile and launch it. Now play the video from which you want to remove subtitles and the "Subtitles" icon from the top right of the screen.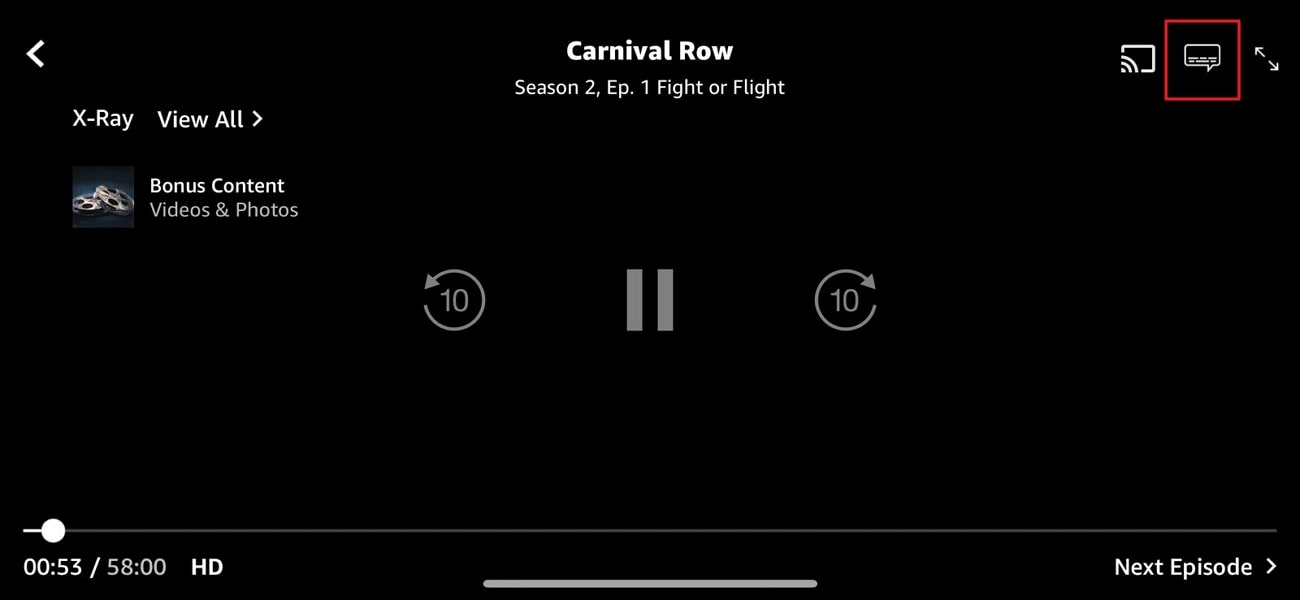 Step 2
Following this, select the "Off" option from the subtitle's menu. After this, tap on "Close" and play the video again. You will see the video is now playing without subtitles.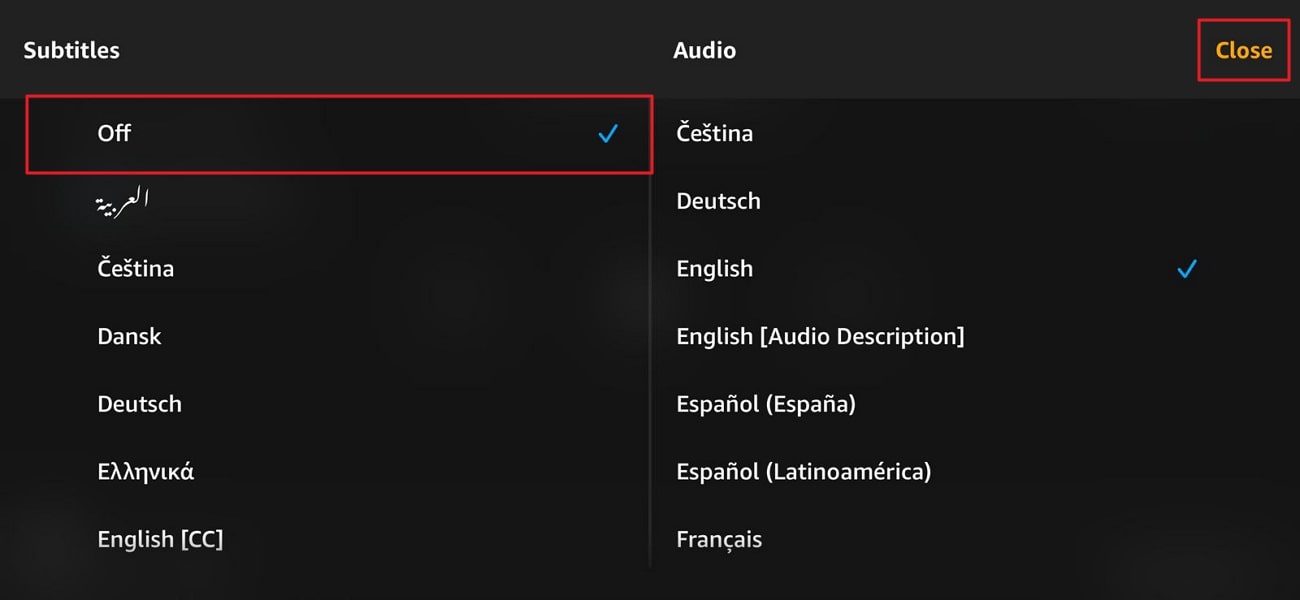 Remove Subtitles from Amazon Prime Video on PC
Step 1
Primarily, open Amazon Prime on your PC web browser. From the main interface, click on the movie or season you wish to play. After the season/movie is played, click on the "Subtitles and Audio" icon.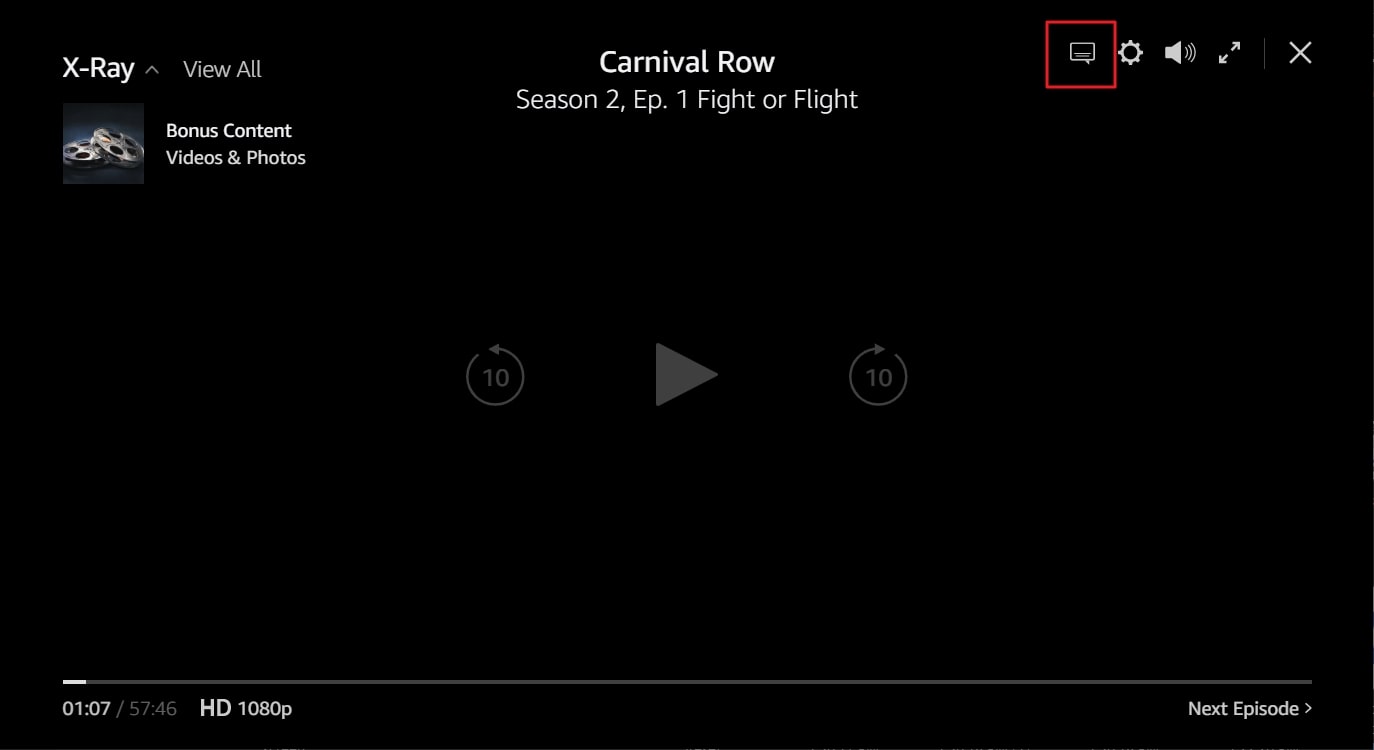 Step 2
From the expanded options, click on "Off." By this, you can play your selected season or movie without subtitles.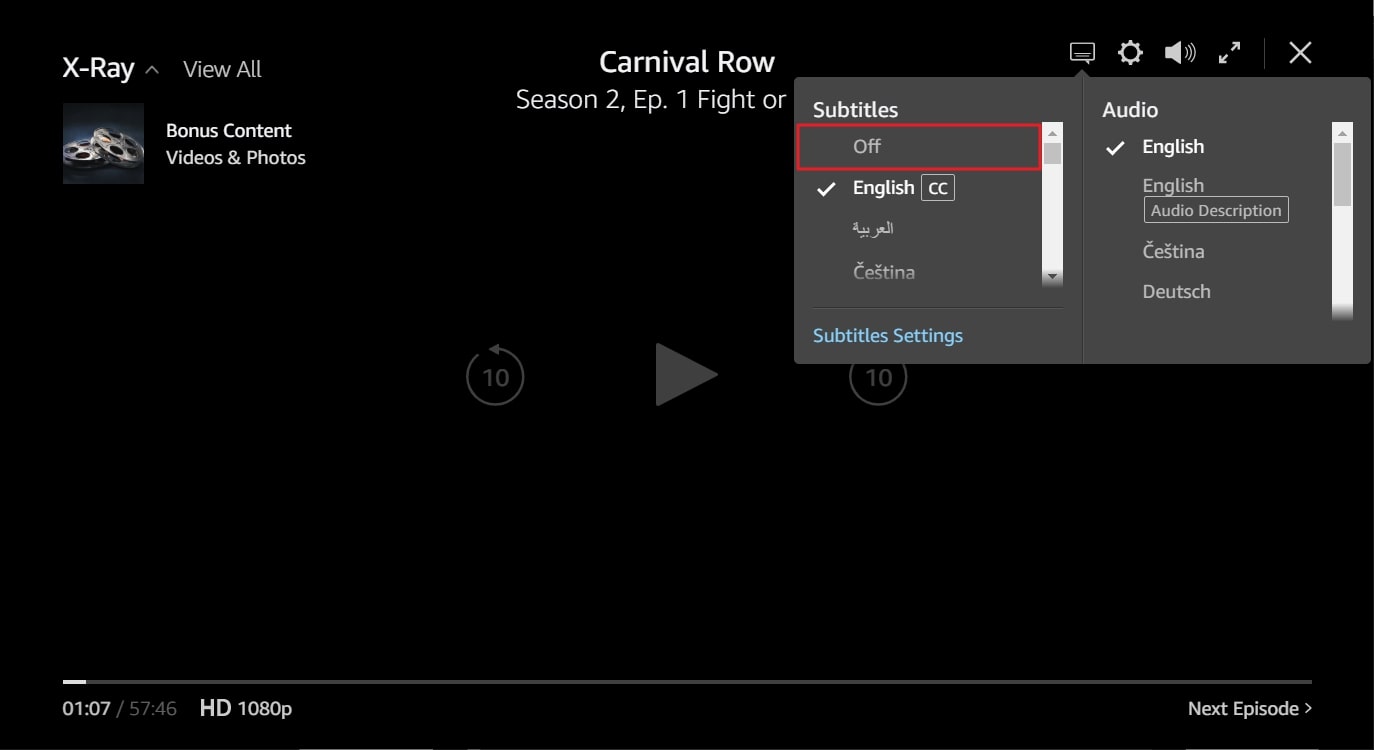 Part 3: What's the Best Tool for Removing Subtitles From Saved Primes Videos
Removing softsub from a video by using a media player like Amazon Prime is easy. However, this is not possible if you have recorded an Amazon Prime video with subtitles. For this reason, you need to know a prevalent tool that can help you in removing unwanted subtitles from the recorded videos. Luckily, there is a tool that works for this scenario.
AniEraser is a subtitle remover by which you can remove unwanted subtitles from not only Amazon Prime videos but all types of videos. Moreover, the interface of this software is well-structured and aesthetically pleasing. You will undoubtedly enjoy your time with this tool.
Inclusive Key Features of AniEraser
You can remove AniEraser on a wide array of devices like Windows, iOS, and more without buying a license separately. In short, one license of AniEraser is enough for all devices.
With AniEraser, you can remove unwanted objects from not only videos but also images.
It can also help in removing unwanted watermarks, logos, and objects from videos and images.
You can also retouch images and refresh old photos with AniEraser with its AI technology.
How to remove subtitles from Saved Amazon Prime Video with AniEraser
The instructions underneath will help you with questions like how to remove subtitles from Prime video with AniEraser:
Step 1

Launch AniEraser and Import Recorded Prime Video

To begin the process, download and launch AniEraser on your computer. From the homepage of this tool, click on "Video Object Remover" and import the saved Prime video.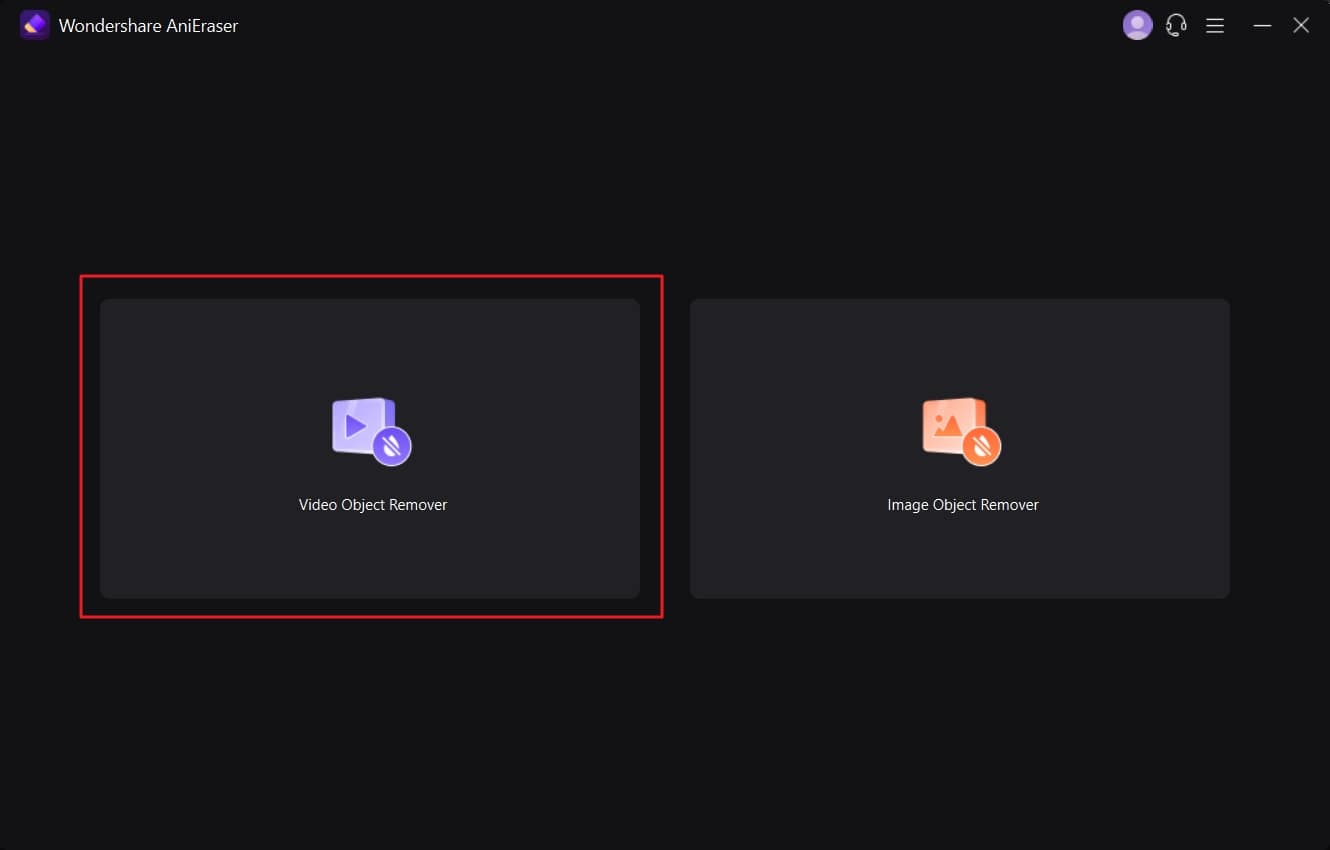 Step 2

Remove Subtitles from Saved Prime Video

After this, select the area around the subtitles by tapping on the "Select Area" button from the right panel. Once it's outlined, toggle on the option of "Preview." As this happens, analyze the results of the video without subtitles. Now, toggle off the "Preview" option and proceed with the next step.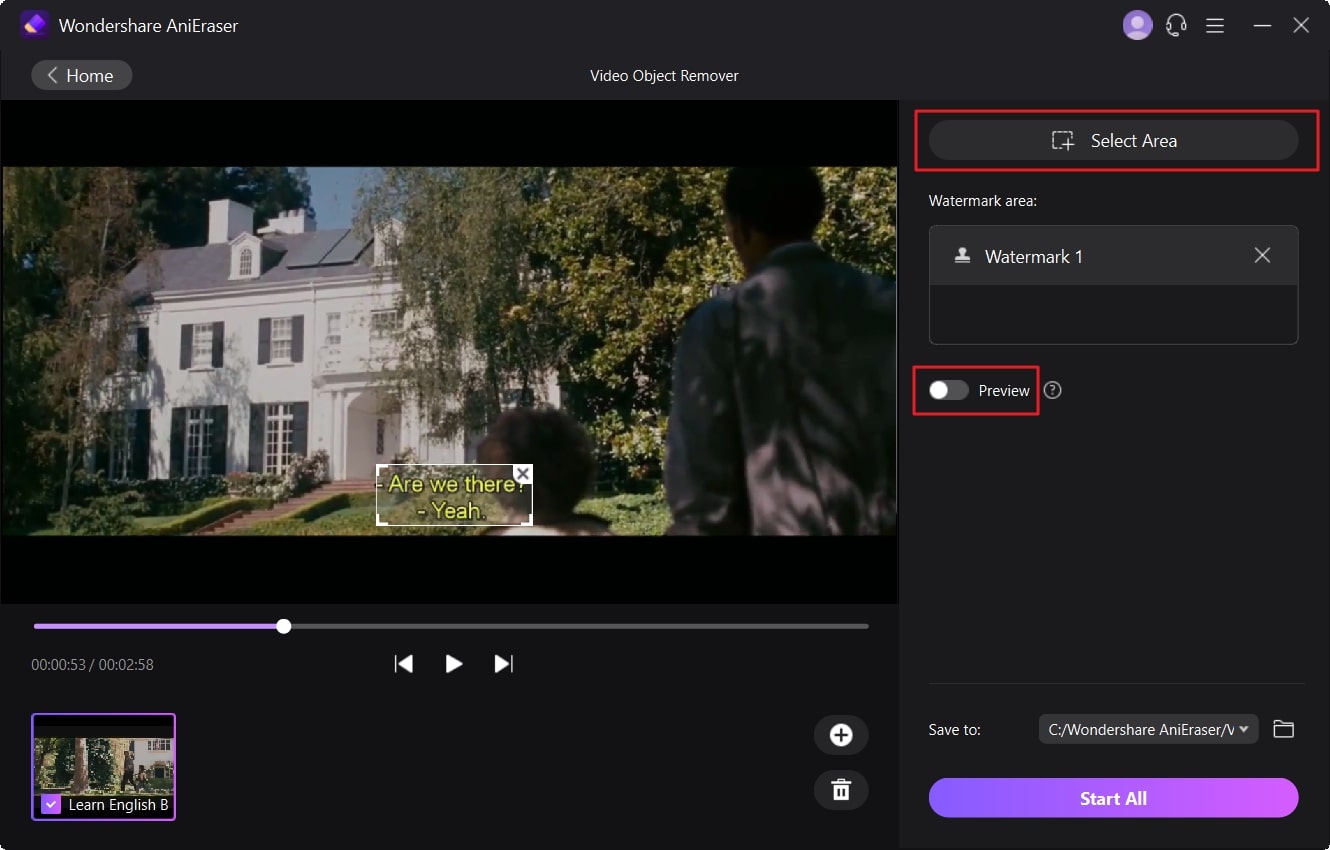 Step 3

Save the Prime Video without Subtitles in Device

Following this, click on the "Save to" drop-down menu and select a destination folder. Now, click on the "Start All" button to eliminate the subtitles from the recorded video of Prime Video.