Sometimes, you want a track to provide a great vibe when chilling at home or managing your workflows without someone's voice. Vocal removers aid you in separating vocals from your favorite song. These apps also act as acapella removers to create karaoke for your friends and loved ones to enjoy together.
Whatever your reason, here are 10 of the best vocal removers for karaoke on desktop, online, or mobile. The top pick as it gives you access to all of its features even with a free account, so you should check it out. Read on below to learn more.
Part 1: Top 5 Best Vocal Removers Online
In this part, you'll learn five vocal removers available online, so no installation is required on your computer. Here are the top 5 best karaoke maker apps available online, starting with our top pick Media.io Vocal Remover.
1. Media.io Vocal Remover
Our top pick if you're looking for an online vocal remover for karaoke is Media.io Vocal Remover. The app allows you to extract, isolate, or remove any vocals, acapella, or even instrumentals from any music instantly. It's completely AI-powered, so you get results in an instant without reducing quality.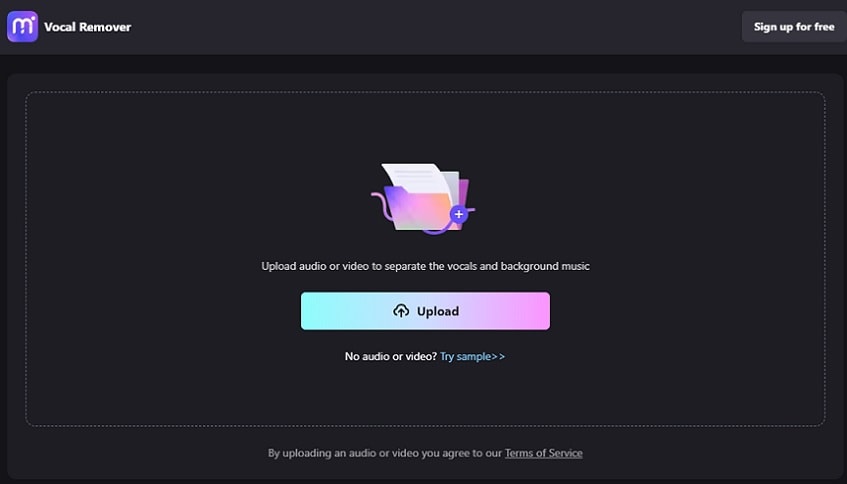 Key Features
Here are some of Media.io Vocal Remover's key features you can immediately use.
Automatic Track Separation
Media.io Vocal Remover lets you separate vocals and instrumentals in one click. Upload your favorite tune and download the isolated tracks as individual files.
The app fully supports 44KHz to extract individual components of a track without losing quality.
HiFi Lossless Sound Quality
You can also improve the quality of the bass and drum points completely in-app. This allows you to produce lossless audio out of the source track.
Various Audio and Video File Formats Support
Media.io Vocal Remover works on almost all major audio and video file formats. You can make karaoke from MP3, MP4, WMV, and more.
How To Remove Vocals Online Using Media.io Vocal Remover
Here are the steps to create karaoke online using Media.io Vocal Remover.
Step 1
Go to Media.io Vocal Remover. Choose to Get Started Now to proceed to the main program window.

Step 2
Click Upload to open the file saved on your computer. Wait for your file to fully upload and simply download the Music- or Vocals-only file, depending on your need. Alternatively, you can choose Download All so you get all the isolated tracks in one go.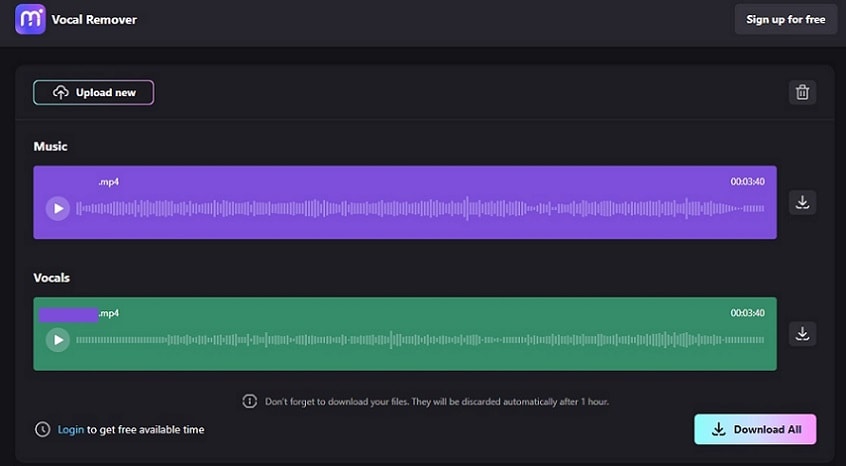 Note
This karaoke maker app is completely free-to-use once. You can continue to remove acapella starting for as low as $9.99 on Media.io Vocal Remover's paid plans.
Another recommended karaoke maker tool is LALAL.AI. Like Media.io Vocal Remover, this online app is powered by AI technology, so you can remove acapella from audio files.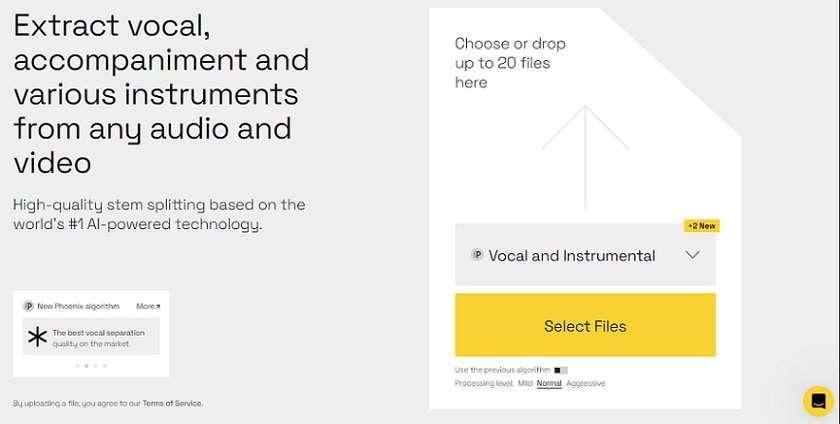 Key Features
Here's what you can do with Lalal.ai.
Multiple Separation Types
Aside from instrumentals and vocals, Lalal.ai can remove individual instrumentals from drums, bass, guitars, pianos, and more.
Lalal.ai has a Starter Plan with 10 minutes and 50MB of upload size in multiple input/output formats, so you can start right away.
Like the two acapella removers above, PhonicMind utilizes AI to separate vocals, drums, bass, and other instruments of your songs in a few clicks.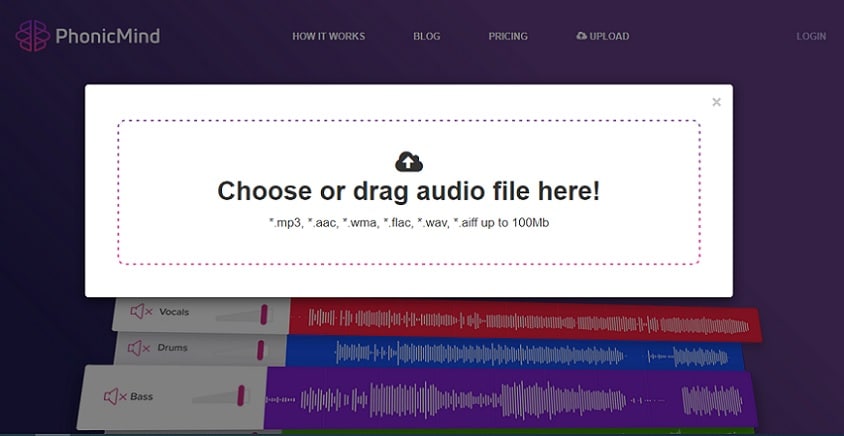 Key Features
PhonicMind's key features are listed below.
PhonicMind allows you to perform vocal removal every 10 minutes. This feature allows you to make up to 60 songs per hour of karaoke.
While PhonicMind does not have a free trial, it doesn't require any installations, so you can start immediately once you subscribe to the app's price plans.
X-MINUS.PRO is another online app that helps you remove vocals from a song using AI-powered technology. You can also remove the acapella if you want to create your own remixes.

Key Features
X-MINUS.PRO has some nifty features. See them below.
Free Application with Option to

G

o Premium
This online application is free with a max song duration of 8 minutes and a 70MB file size limit for unregistered users. You can go premium to increase the song duration to 25 minutes and 150MB file size limit starting at $2.35/month.
X-MINUS.PRO also allows you to speed up your tracks or slow them down to change the pitch of your favorite songs quickly. This is useful if the backing track is too high or too low for your voice.
The last online tool on the list is Vocalremover.org. It's another free online application that helps you remove vocals from a song to make karaoke in the comforts of your own home.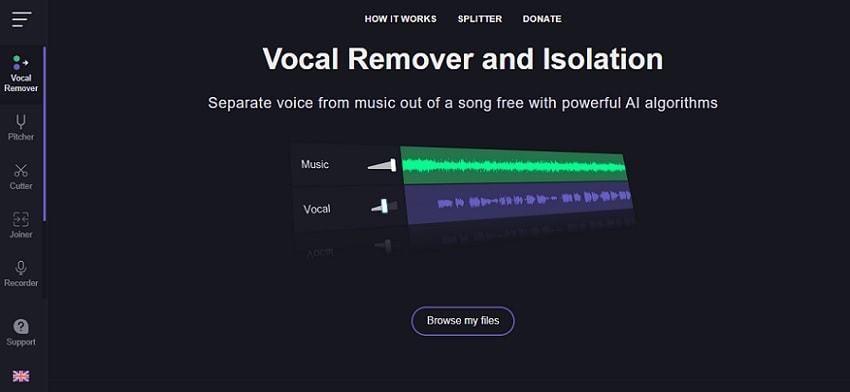 Key Features
Here are Vocalremover.org's key features.
Once you upload a track, Vocalremover.org's AI will separate the vocals from the instrumentals. You'll be able to download a karaoke version and the acapella version.
Audio Speed and Pitch Changer
Similar to X-MINUS.PRO, Vocalremover.org can change the pitch and tempo of the song by adjusting the musical key and bpm sliders. It allows you to fit the pitch of your favorite song according to your voice.
Part 2: Best Vocal Removers for Windows/Mac/Linux
If you prefer a dedicated program on your computer to remove vocals, then here are three karaoke maker apps available on Windows, Mac, or Linux.
Wondershare UniConverter for Windows and Mac allows users to remove vocals to make karaoke offline. It's a popular video and audio management tool with many comprehensive features at your disposal.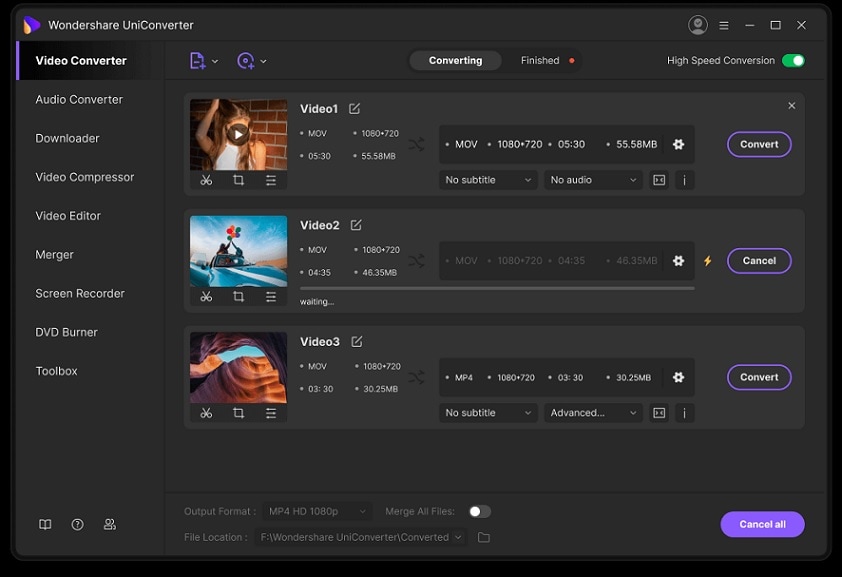 Key Features
Wondershare Uniconverter's key features are plentiful, but here are some you can take advantage of when it comes to rendering instrumentals.
Vocal Remover with No Limits
Unlike the online apps on the list, Wondershare UniConverter does not have any limitations when it comes to audio file size.
Aside from removing vocals, UniConverter can also remove background noises from your audio and video files in one click.
Adobe Audition is a professional audio workstation that allows you to create, mix, and design sound effects to deliver a polished and pristine sound.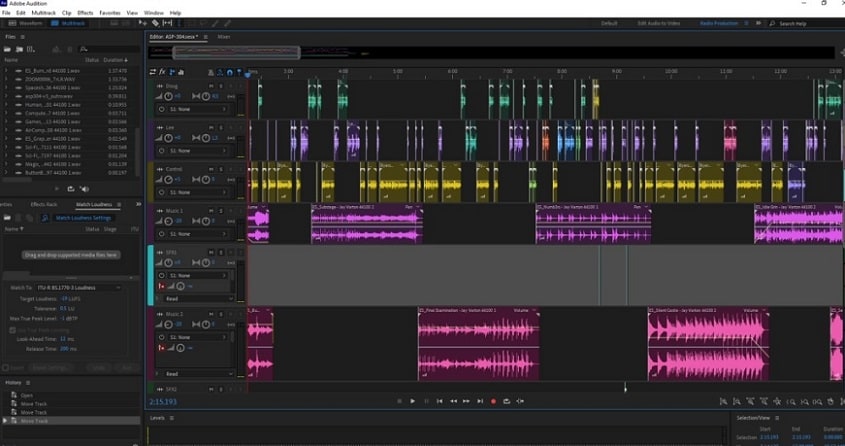 Key Features
Similar to Wondershare UniConverter, Adobe Audition's key features are substantial for all your needs. Here are some below.
Audio Mixing and Mastering
Whether you're working on a rock music video or a nature documentary, you can polish your projects with mixing software.
You can remove beeps, hisses, and other background noise from your favorite tracks in a few clicks when making karaoke.
Last on our list of the best vocal remover apps available on Windows, Mac, or Linux is Audacity. It's an easy-to-use multi-track audio editor to create karaoke videos on any platform. Audacity is free and open-source software, so you can use it immediately.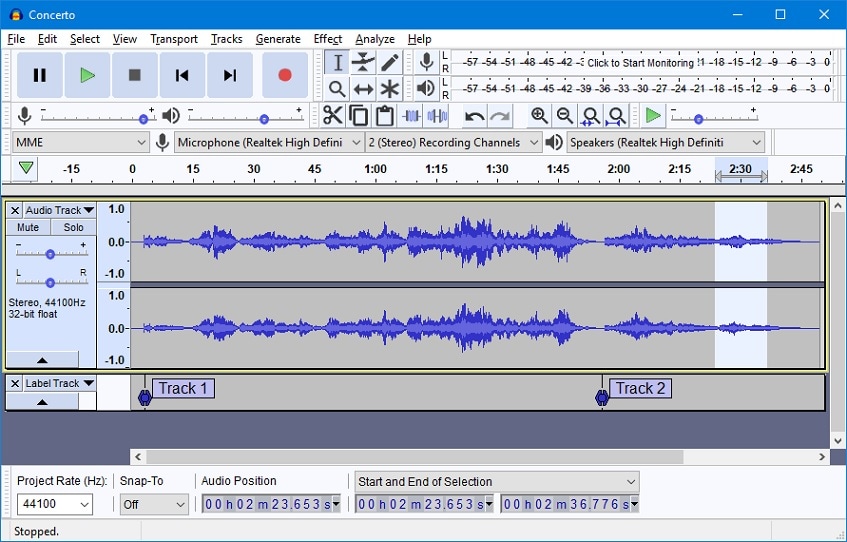 Key Features
Here are the key features of Audacity.
Unlike other vocal remover apps, Audacity lets you record live audio through a microphone or mixer. This way, you can digitize your recordings from other media.
You can import, export, edit, and combine sound files in many formats, including MP3, WAV, M4A, and more.
Part 3: Best Vocal Remover for iOS/Android
For people who don't have access to computers or web browsers, here are two vocal remover apps on iOS and Android.
Vocal Extractor for iOS is an AI-powered vocal remover app to make karaoke and acapella tracks on your mobile device. You can instantly separate songs from your music library by tapping a button to create a karaoke. Vocal Extractor requires iOS 13.1 or later.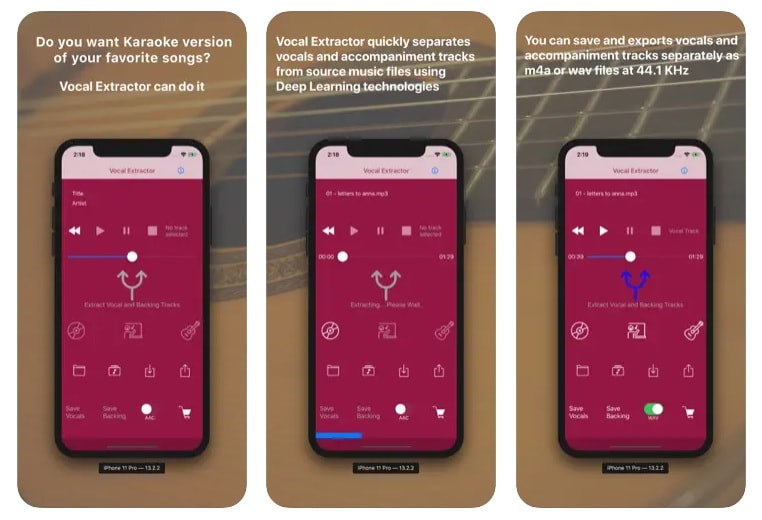 Key Features
Here are some of the key features of Vocal Extractor for iOS.
Vocal Extractor allows you to export your files to iCloud, DropBox, Google Drive, and more, so you can use your tracks on other platforms.
The app has a built-in player to play the original, vocal, or backing tracks while editing.
If you're on Android, SonicMelody: AI Vocal Remover is an acapella remover app to make instant karaoke from any of your favorite songs. It's free to use if you want to isolate vocals or instrumentals in a few taps.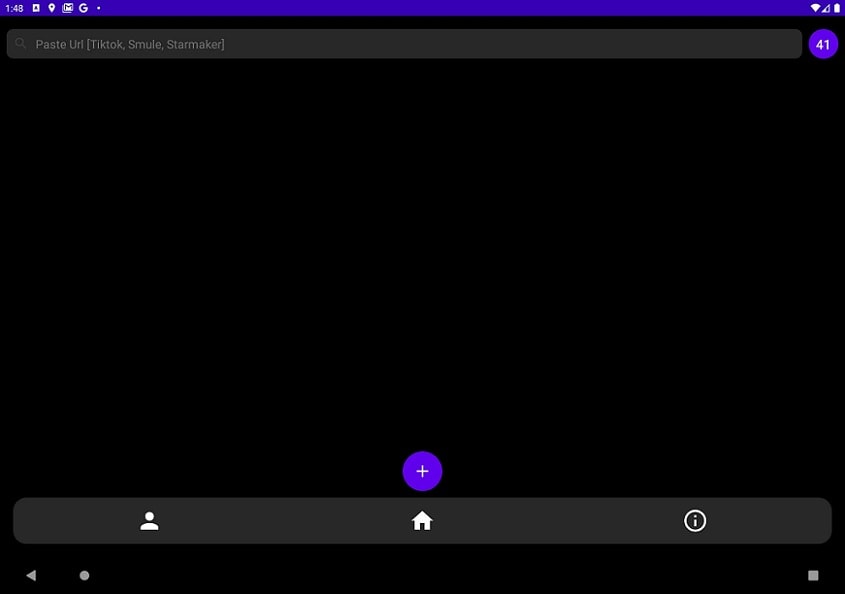 Key Features
SonicMelody: AI Vocal Remover has some useful features you can immediately use for social media.
SonicMelody: AI Vocal Remover allows you to upload your tracks to popular apps such as Starmaker, sing smule, TikTok, and more.
Comprehensive Editing Tools
The app lets you change tempo and pitch, cut audio, add auto-tune effects, and more, with a few taps.
Part 4: Best Way To Add Text to Videos Online
If you're looking for a karaoke video maker when you've extracted your favorite instrumentals, you should try Media.io Add Text to Video. This online tool allows you to add text, captions, or words to your instrumentals to make karaoke in a few clicks. You can make your karaoke stand out without any skills, as the user interface is highly beginner-friendly.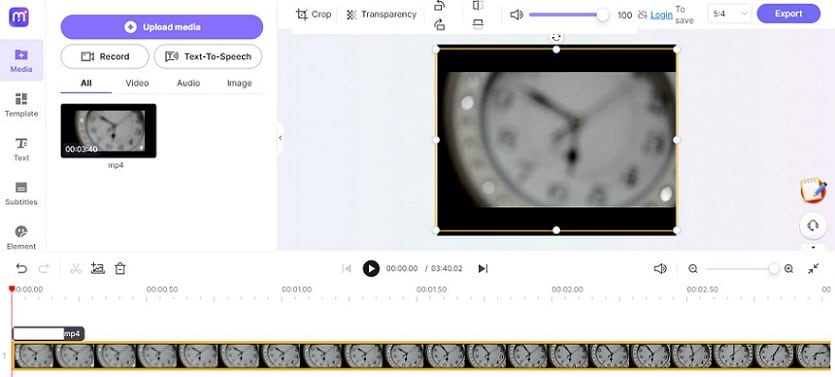 Key Features
Media.io Add Text to Video's key features are listed below.
Media.io Add Text to Video is an online tool without any installation required. It's a straightforward karaoke maker online to caption your tracks in minutes.
The user interface of Media.io Add Text to Video is incredibly user-friendly. Gone are the days when you'll have to download complicated video editing software to make text editing a breeze.
You can customize your texts with rich color, opacity, styling, positioning, and more elements. In addition, you can also add static texts as well as dynamic captions such as fade effects.
Designed for Social Media
Media.io Add Text to Video is made with social media in mind. It has no ads and watermarks, allowing you to post your videos on YouTube, TikTok, Facebook, Instagram, and more.
Here are the steps to add text to videos to make karaoke with Media.io Add Text to Video.
Step 1
Launch Media.io Add Text to Video editor and click Upload to open the video file saved on your computer. If the video is from YouTube, choose the From URL and paste the YouTube video link.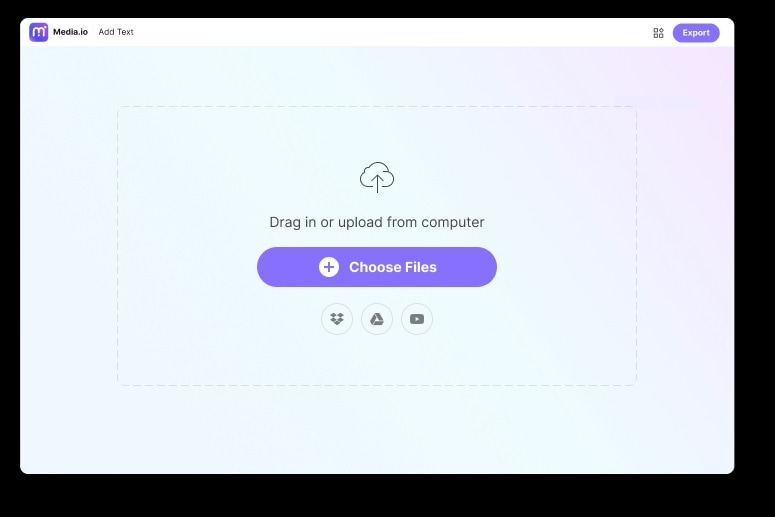 Step 2
Start by choosing the Text button on the left pane and selecting text mode as Regular Text/Fill Text. Enter the captioning before resizing and positioning. You can customize the font type, color, and size, as you want. To apply a caption to a specific video area, place the play head on the scene you want to cut and click Split. Simply resize the captioning to fit with the clip.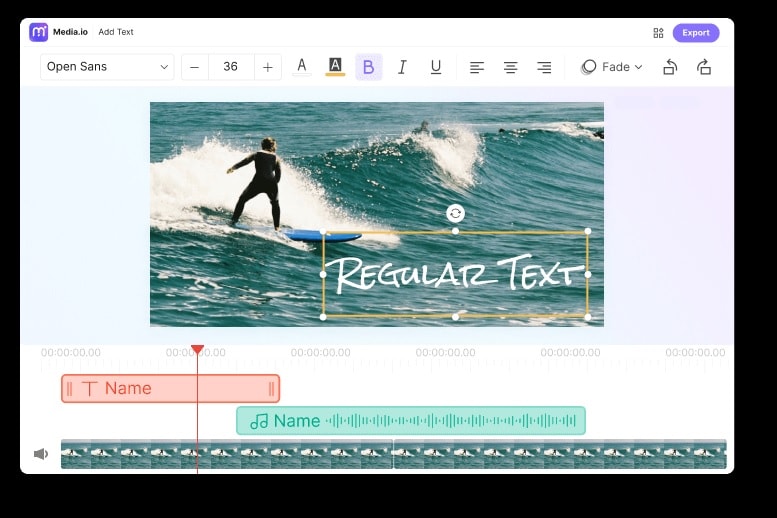 Step 3
Play your karaoke maker online to preview and hit Export. Choose your preferred resolution and click Continue. Wait for the file to process and download it to your computer to enjoy with your friends and loved ones.
FAQs
Here are some FAQs you should know regarding vocal removers.
1. Can I Remove Vocals From a YouTube Video?
If you're wondering how to remove vocals from a YouTube video, then it's possible by using the top online pick. Copy and paste the YouTube URL on Media.io Vocal Remover's main program window and follow the above steps. You can then download the extracted instrumentals to your computer, Google Drive, or DropBox.
2. How Effective Are Vocal Removers?
The short answer is it depends. AI-assisted vocal removers rely on subtracting one channel from the other. This means that instruments panned away from the center will not always be removed. Nonetheless, karaoke maker apps have come a long way, and trying them out yourself is recommended. For instance, online tools such as Media.io Vocal Remover can consistently remove audio tracks from instrumentals in a few seconds.
3. What Production Techniques Are Used To Remove Vocals?
The traditional way to remove vocals from a track is phase cancellation. However, background noises may bleed through, meaning phase cancellation is not always accurate. On the other hand, AI-assisted vocal removers are well-trained to remove acapella from your track in literal seconds accurately. These apps are gaining steam as vocal removers for karaoke are becoming popular.