You will find many online voice recorders available for picking. However, it cannot be evident since tools do not give the best results as promised on the site. How then do you know the best audio recorder to use? This blog is here to help clear your confusion.
At the end of this blog, you will be able to use the best-recommended song voice recorders we provide for you to record yourself singing. You will also be given an excellent voice recorder app for singing on Windows and Mac desktops.
Part 1. Top 9 Recommended Audio Recorders - Simple & Free
Media.io is a free online voice recorder and audio editor that can help you record, beautify, and organize all your voice memos, lectures or meeting sessions effortlessly. The voice recorder allows you to capture your voice from the microphone in a simple and straightforward way. You don't even have to download any software; just connect with Media.io using a mic.
Some additional features include the following:
An Audio Cutter widget on this voice recorder crops the recording, leaving only the section you want to use.
Its Voice Changer feature allows you to freely change the recorded voice to the type you want.
The auto transcription sevice helps in converting recordings to text with minimal efforts.
Add compelling sound effects to fine-tune the voice you capture.
Online Voice Recorder is a simple tool you can conveniently use on your default web browser. As a user who wants to do a voice-over on a video you're creating, you will realize that you can use a microphone to record your voice on this site. You are allowed to adjust the microphone settings through volume and echo adjustment. All you need for this is a standard Adobe Flash Player toolbox. After recording, you can save the recorded file in MP3 format.
You should note that this is an entirely free online mic recorder. Also, any file you upload can only be accessed by you as users' data are not stored on the site's servers.
Other extra features we have discovered with the Online Voice Recorder tool include the following:
If there are silent fragments at the start and end of your voice recording, this tool detects them and automatically deletes them. Remember, it is a convenient tool, and this is one of the ways it makes your audio recording and editing convenient.
Once you are done recording your voice, you can crop out the section you don't want and leave the area you want to use for your projects.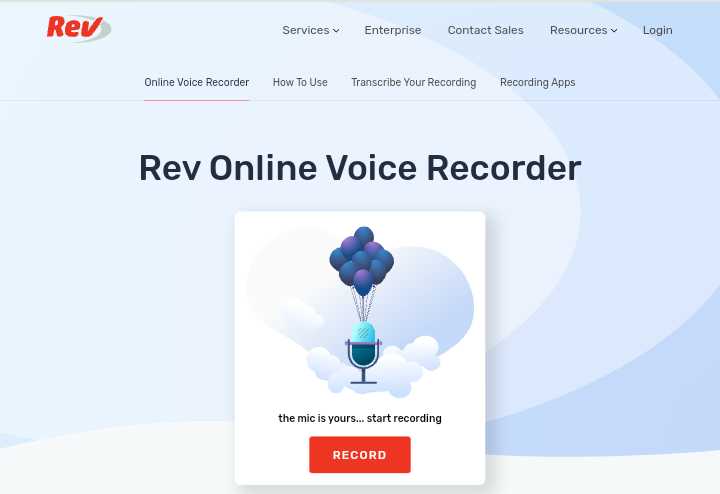 The following online song recorder you can use is Rev Online Voice Recorder. Rev is a tool that lets you record your voice online without spending a dime. The recommended browsers for accessing this tool are Safari for iPhone and Google Chrome for Android and Desktop systems. It is a completely encrypted and secure song voice recorder because your details are not uploaded on Rev's servers. Once you click "Record", you can use the inbuilt microphone on the site; ensure you see the animation that indicates the recording is on.
With Rev Online, the following are extra features that can be accessed:
You can order a transcription of the file you record and then download it as an MP3 file.
It allows for a preview of the audio you record.
This site has audio editing features, including trimming, fast forward, rewind, etc. Hence, it is an online recorder with effects.

SpeakPipe is a tool with which you can record yourself singing in one click, listen to what you have recorded, and send it to your family and friends or other listeners. As an online tool, only a good browser is required to use it effectively. Also, it is free of any charge! The number of times you can record with SpeakPipe is not limited because it is a free tool.
SpeakPipe comes with extra features, which include the following:
You can save your recording on the SpeakPipe server, then generate a link for the file and use it to share your work amongst people to give you the exposure you need as a budding musician.
It supports all mobile devices, including iPod, iPhone, Android, and iPad.
You can add SpeakPipe's voicemail widget on your site as a business person, then have customers send you voice messages through their device website.

VirtualSpeech is a professional online tool for recording your voice, songs, meetings, events, etc. The output file usually comes in OGG audio file format. More so, you do not have to download Adobe Flash to use VirtualSpeech online. The first use is free, but to continue using it, you need to pay a fee of $5.
The following are extra features you can enjoy when you use VirtualSpeech:
After downloading the audio file, you can convert your audio file to text with VirtualSpeech additional converter feature.
Although the audio output format is OGG, you can convert it to a different format before downloading it.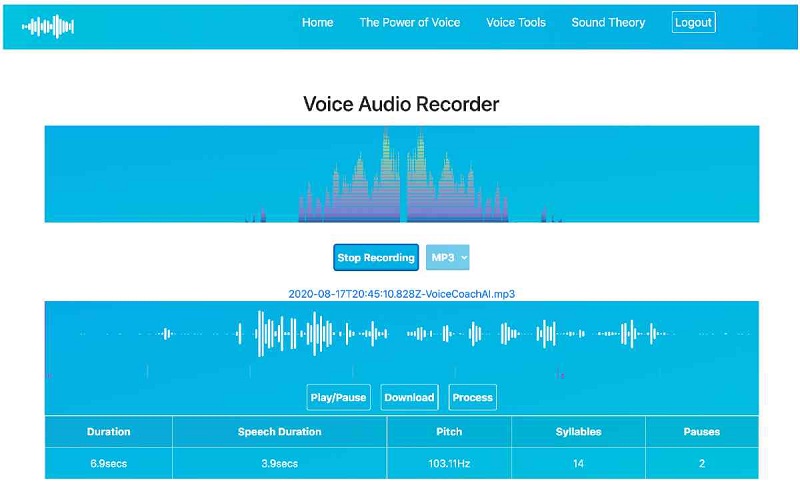 Record your voice and save it with the Voice Coach vocal recording online tool for free today! A unique feature is available for checking the pitch of your voice and adjusting it to suit your needs. Anything you record on Voice Coach is for your consumption only, as you can only have it downloaded on your device, saved on the browser, but not on the Voice Coach servers. You can download and share recorded files in the default MP3 format, as well as other formats like OGG and WAV.
This tool is indeed a voice coach as it not only helps you record and saves your voice, but with the features below, helps you achieve extra results:
It has the tongue twister feature for practicing clear pronunciation of words even before recording.
It improves your voice recording and word vocabulary using visual-based techniques.
You can also improve your voice; reduce your natural accent that may be interfering with your recording, etc.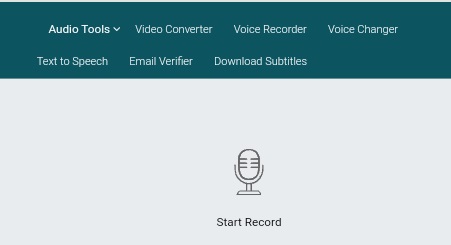 This free online voice recorder is ideal for recording podcasts on mobile phones or computers. Once you access this tool, choose the drop-down menu that gives you access to the inbuilt microphone and use that to record your voice. There is no limit to the audio length you can record with Resonate song voice recorder, so go on and have fun with it. Use the latest Google Chrome version for the best results to access this site.
Resonate Online Voice Recorder offers more, as shown below:
It produces high-quality, uncompressed WAV files for free.
It allows you to record, edit, and download your audio to share on Spotify, Apple, etc.
It comes in handy during Zoom meetings, giving you great-quality output, unlike the recordings on the Zoom app itself.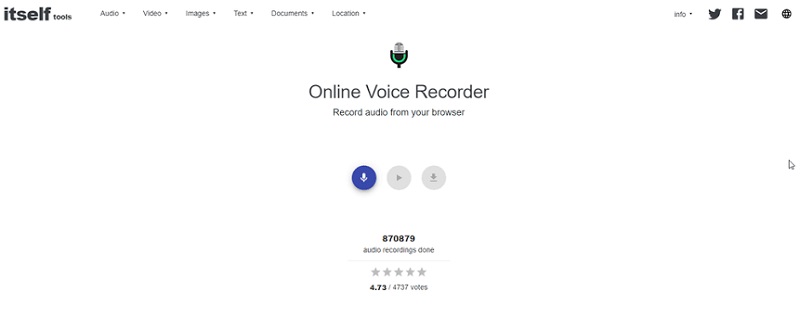 Itself Tools has provided us with an Online Voice Recorder that is good for safe vocal recording online. With the MP3 audio encoding guaranteed on any browser you use for this tool, you are assured that your online data/traffic is protected from hackers or third parties. Whether on desktop, mobile phone, or tablet, Online Voice Recorder works. It is essential to add that because your data is only available on the browser memory till you download it, you cannot refresh the page and still have access to the recording.
This Online Voice Recorder can also do the following:
It helps compress audio files too large for your device memory, but it does not destory the original quality.
The interface is intuitive and interactive, giving users a beautiful fading sound-wave view that's attractive.

Bearrecord comes with its own unique Online Voice Recorder & Audio Cutter, a dual-function audio editing tool you can trust. This free singing recorder allows you to record vocals with a microphone, edit the recorded sound, then save the MP3 file to your device. Just like other online tools, you can use this tool on any internet browser, so you do not need to download software to access it. In addition, it gives you access to a pause button even while you record. Using this tool on any computer must have a sound card and a microphone to attain outstanding results.
Other extra features of Online Voice Recorder & Audio Cutter are:
Editing features to cut the audio, leave the part you need to use, modify the sound output, volume change, fade in and fade out, etc.
A wide range of output formats is supported, including WMA, MP3, OGG, WAV, M4R (iPhone ringtone format).
Part 2. An Excellent Voice Recorder Software for Windows/Mac
As much as the online tools mentioned above are reasonable, you will find that an audio recorder app is also a good choice. With third-party software for voice recording, you do not have to be worried about the safety of your online data, as you can do your audio recording offline.
If you need a professional third-party singing recorder, Wondershare UniConverter Screen Recorder is the best way to go. Wondershare UniConverter is an all-in-one digital media editing software, and one of its toolboxes is the Screen Recorder feature. With this toolbox, you can record yourself singing, edit and download it to share or keep for future purposes, all for free.
It has a super-fast file conversion speed, i.e., after recording, you can process and download the file fast, even when compressing it to save resources.
It supports over a thousand file formats in video and audio.
You can easily edit your media files by trimming, merging, adding effects, and even subtitles.
It is easy to navigate and can be used offline on Windows or Mac desktops.
You can record the screen in full-screen mode or choose a specific customized area.
With this tool, you can also record webcam sessions or record only the audio.
Are you wondering how to use this Karaoke recorder to record? Do not worry; here are the steps below:
Step 1: Download and install the Wondershare UniConverter desktop version on your computer, then launch it and choose the "Screen Recorder" feature on the left side menu. Select "Audio Recorder".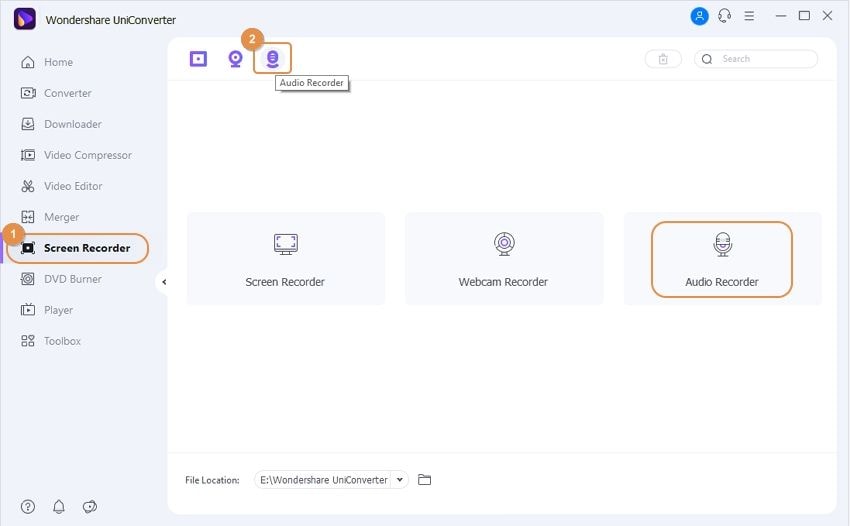 Step 2: Choose your preference between the computer's internal microphone or an externally connected microphone. Go to "Speaker" to select the microphone you externally connect. Move to choose the output format of your audio as WAV, MP3, or M4A.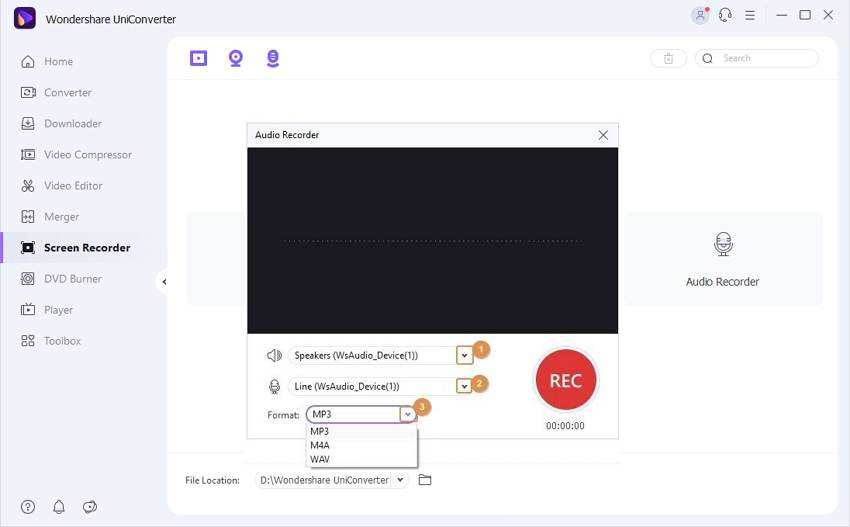 Step 3: To begin recording, click "REC."Click "Stop"when you are done recording your voice. Open the file to preview the recording. Trim the file to get just the part you need. Also, adjust the volume before saving.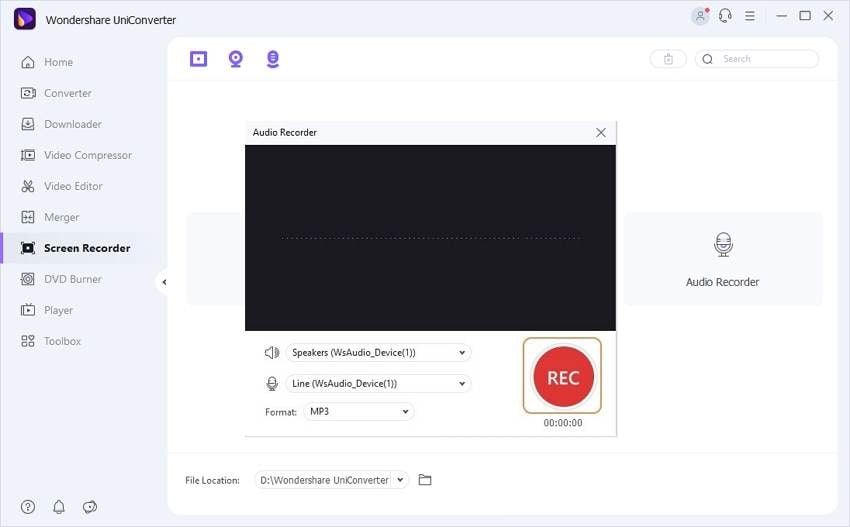 Conclusion
In summary, the audio recorder you use plays a significant role in how well your recorded audio file turns out. That is why this blog has introduced you to the best online mic recorders you can find. In addition, if you prefer an audio recorder you can use offline on Windows and Mac, we got you covered with Wondershare UniConverter Audio Recorder. Cheers!