Learning how to remove lyrics from songs is an appealing skill for music amateurs, music creators, and of course, lyricists. There are several reasons why people generate lyrics from songs or remove vocals from songs. These reasons include creating a new song to the beats of the original music, listening to the instrumentals during meditation, relaxation, sleep, or study, for DJ mix during parties, creating dance choreography, etc.
This blog aims at showing you some great lyrics removers and how to use these tools to make lyrics out of a song. You will also learn how to make karaoke songs with lyrics for free.
Part 1. How to Remove Lyrics from Song in 1 Step [Free]
A vital part of removing song lyrics is an excellent lyric remover. This section is a simple guide on removing lyrics from a song with just one automatic click. The lyrics remover online tool you will use for this purpose is Media.io Online Vocal Remover. With Online Vocal Remover, you can extract lyrics from a song in a few seconds. This online tool uses Artificial Intelligence to easily remove the vocals or lyrics from songs, so you get both the acapella and karaoke versions of the song online.
The main features of this lyric remover include the following:
It is a free tool to extract lyrics of up to 100MB for one audio.
It allows for vocal removal in one click as it is super fast and straightforward to operate.
It produces an incredible audio quality of music lyrics without compromising its original quality.
It is accurate in extracting the lyrics from songs with the embedded AI-based technology of the tool.
It comes with additional editing features that allow for media file cropping, separating and merging, and trimming.
A robust music video maker helps in combining songs, photos & video clips.
If you want only the instrumentals of a song by removing the lyrics, then you need to follow these steps to use Media.io Online Vocal Remover:
Step 1: Choose an audio file that you want to remove lyrics. You can upload the file from your device storage directly to Media.io online site.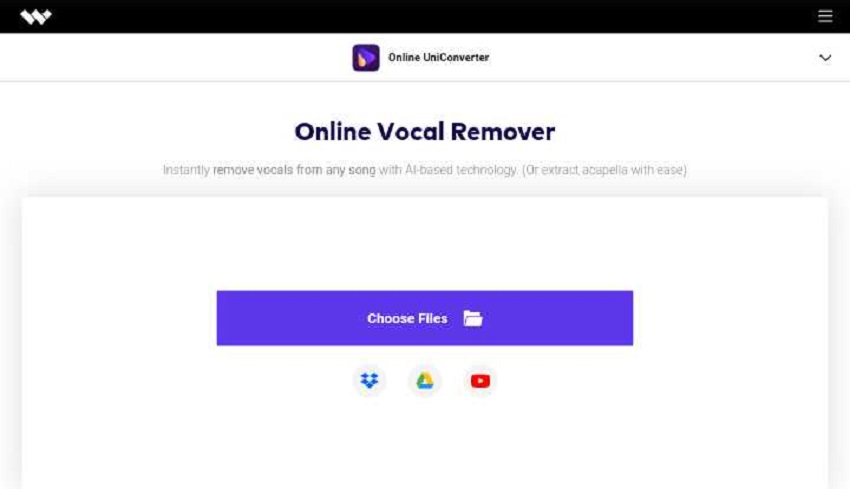 Step 2: Online Vocal Remover automatically extracts the song's lyrics after uploading. This tool works with just 1 click.
Step 3: In a few seconds, both the acapella and Karaoke versions of the song are split. You can now download the song without lyrics.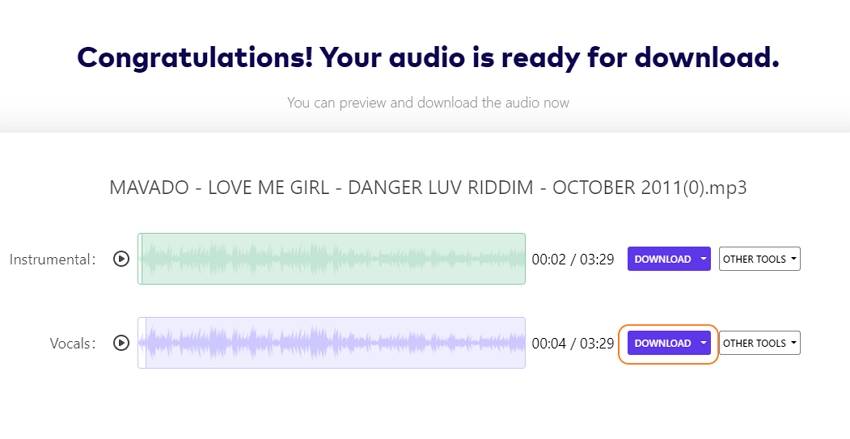 Tips: Below are some alternative tools to Media.io Online Vocal Remover with which you can also remove lyrics from songs online:
Part 2. How to Make Lyrics with Best AI Lyrics Generator
Now that you know how to remove lyrics from a song online, it would only be good to know how to generate lyrics for your song production. To do this, you need the best AI song lyric generators one can find online, and we got you covered in this aspect. You can make your lyrics-writing dreams come true with the help of our suggested Artificial Intelligence lyric generators below:
The Jarvis song to lyrics converter online tool is designed to turn your musical ideas into reality. With this tool, you can quickly generate unique lyrics for songs of any music genre. The device requires you to provide some information concerning the type of lyrics you want, thereby making it easy for this AI GPT-3 Model tool to give you precisely what you want. You can also select a song you want yours to sound like, then paste it on the Jarvis website to enable the tool to generate lyrics for you effectively. You can access up to forty music genres for free on this site.
If you are interested in using the Jarvis lyrics generator, here are the steps to use it:
Step 1: Click "Start Free Trial" to have a test run of how the tool works without paying for it. You will be required to sign up and log in first.
Step 2: Fill in the necessary information to guide Jarvis in generating the correct lyrics for your music. Once this is done, click "Generate lyrics" and wait for a few seconds.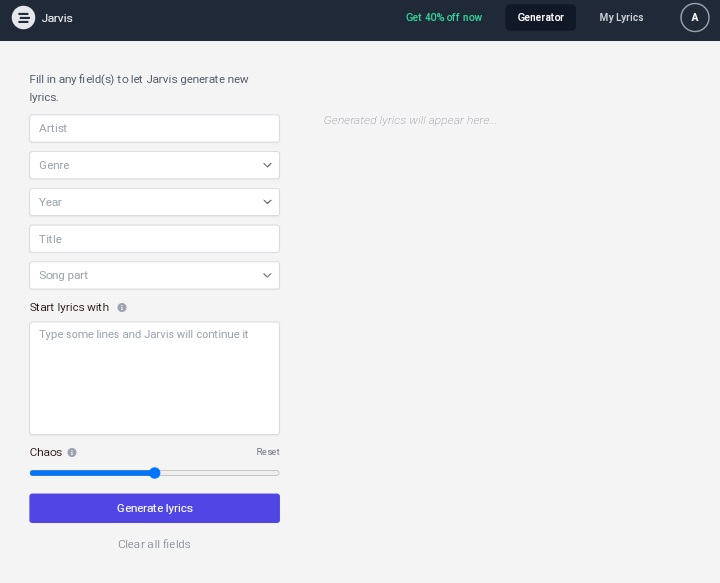 Step 3: In a few seconds, lyrics will be generated on the field by the right of the page. You can work with these lyrics to make your music.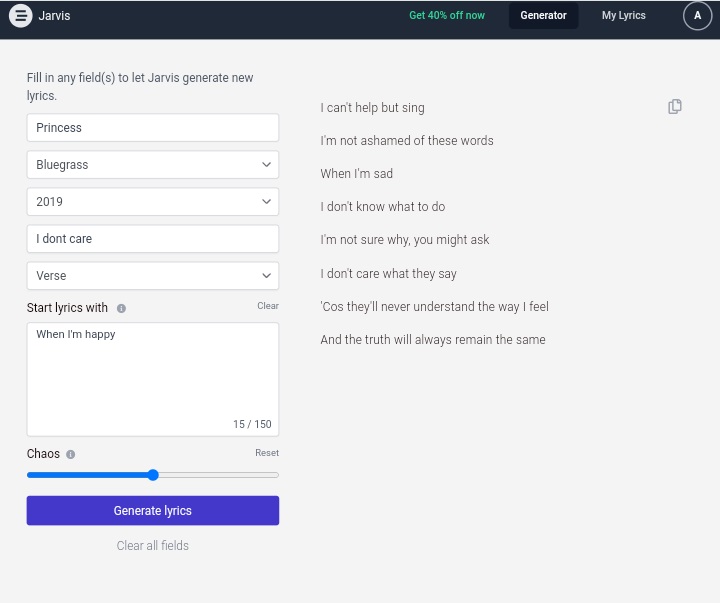 Are you looking for simple love song lyrics to compose music for your loved one's birthday? Perhaps, you want to create that song that will shoot you to stardom. Country Lyrics Generator is the AI song lyric generator for you. Note that this toolbox is meant to generate lyrics for country music only. However, other lyrics generators you can use on this site include genres like romantic music, pop, rock, rap, and music for children. It makes it easy for the tool to find the correct lyrics for the song. There is an extensive collection of lyrics to songs on this site; that you can choose from. The song lyrics and artists are arranged in alphabetical order, and you can search for lyrics using keywords.
Here are the steps to use this AI lyrics generator to generate new lyrics to songs:
Step 1: Go to the homepage and select the music genre you want to work with.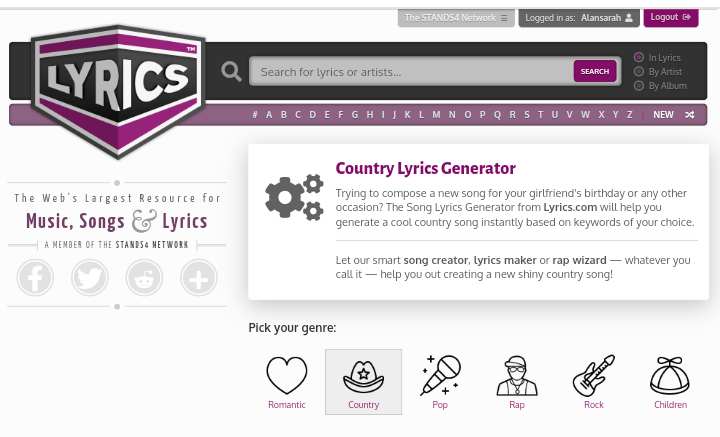 Step 2: Type in the necessary information to guide lyrics.com, including the music artist, song title, and an album image. Click the "Shuffle Options" button to change the lyrics you presented if you don't like the ones generated.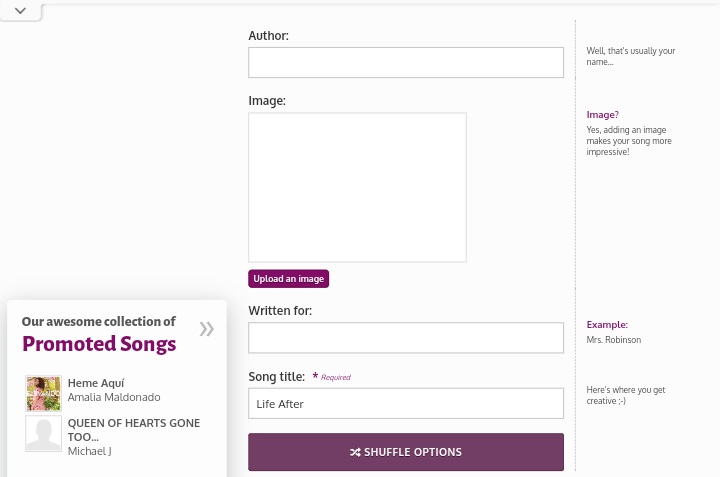 Step 3: Have fun making music with the lyrics by clicking "Generate Song."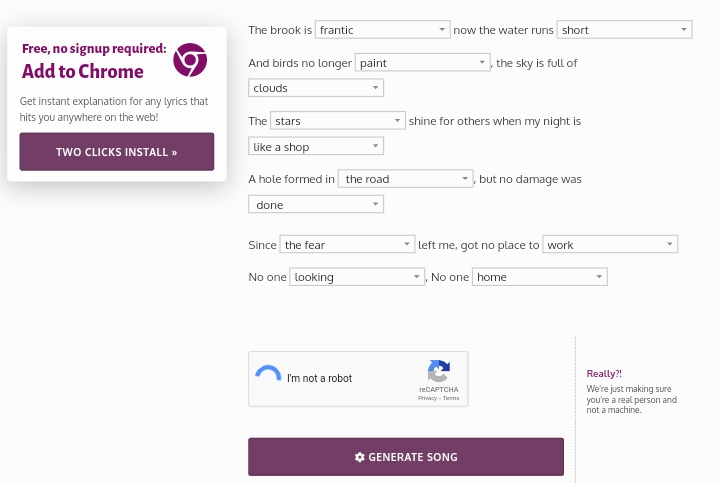 You can take your music production game to another level with the above-mentioned lyric generators. You can get lyrics for songs in different categories and genres of music. All you need to do is provide the song title, artist name, and an album photo to get the lyrics generator started on creating the best set of lyrics to suit your music.
Part 3. How to Remix a Song with your Lyrics
After extracting lyrics from songs, as shown in Part 1, and using the handy music mixers to generate lyrics, you can use workable tools to mix both outputs. To effectively know how to make Karaoke songs with lyrics, you will need to use tools that will guide you on remixing tools online. With Media.io Song Remixer, you can conveniently mix the extracted lyrics with instrumentals from your favorite songs to create a piece of whole new music.
Conclusion
Now you know how to easily remove lyrics from songs with our best recommended online lyrics remover. Also, you can generate lyrics for your songs. Then, create a piece of new music that combines the instrumentals left after removing vocals from songs and the new lyrics you generate. The steps to do all these are simple. So, even if you are not a pro musician, you can experiment and be creative with songs, lyrics, and instruments.